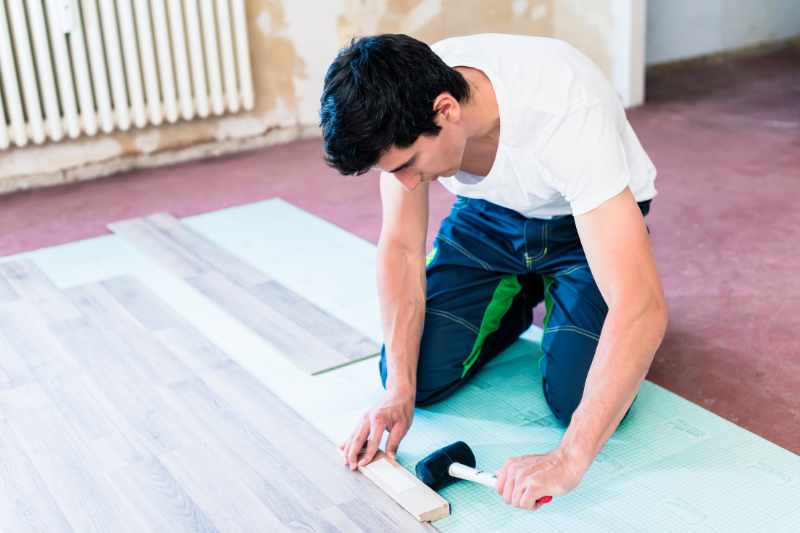 There are many important aspects of maintaining a rental property. But none are as important as ensuring that the floors in your tenants' units are maintained and replaced once signs of wear set in. And there's nothing better to replace old carpet with than renter-friendly flooring.
Property managers must know the best ways to keep their units appealing and livable. Keep reading to get a better understanding of the types of flooring options available to enhance any property!
In this post, you'll discover:
How does new flooring improve a rental property?
Curb appeal, convenient access, and personable staff are terrific ways to improve the tenant experience and invite more prospects. However, once you get them in the front door, your ability to maintain interiors will speak volumes.
This is especially true when it comes to rental property flooring.
Believe it or not, flooring is a deal breaker for many renters. So, new flooring often sweetens the deal when enticing prospects to sign a lease. Additionally, the promise of floor maintenance (or replacement) can also help indecisive tenants decide to re-sign their lease.
Discover more multifamily design trends:
How often should floors be replaced?
There's no hard and fast rule about floor replacements. But it's important to know that most rental carpets have a lifespan of about five years. On the other hand, vinyl and laminate can last closer to 10 years.
However, there are exceptions. For example, sometimes flooring can wear sooner if the unit hosts several tenants within that time frame.
Reasons to replace the flooring in a unit:
Bad smells: If your property is pet-friendly, you can guarantee that the flooring will need replacing every few years, regardless of the type of pet. This is not only courteous to incoming tenants, but it's also hygienic.
Wear and tear: Even if tenants are responsible, wear and tear are inevitable in high-traffic properties such as rentals. For instance, moving furniture in and out will likely scratch and tear flooring.
Water damage: Damage in a multifamily building is inevitable when you have so many people living close by. Sometimes water leaks, pipes burst, and flooring become damaged. Not only do you need to fix the flooring for aesthetic purposes, but also for safety.
Replacing floors is a lot of responsibility, and your maintenance budget will dictate how much you can do. But many inexpensive flooring options also look nice and offer peak durability.
4 renter-friendly flooring options
The point of renter-friendly flooring is to enhance livability. The floor of rental units should be durable, comfortable, and easy to clean. Additionally, it doesn't hurt that nice flooring adds to the overall aesthetics of a property. Below, we'll outline the four best renter-friendly flooring options.
4 renter-friendly flooring types:
1. Vinyl flooring
There's been a lot of hype surrounding vinyl flooring in the last several years, and it's for good reason. Vinyl floors are not only durable, but they're also extremely customizable and affordable.
The benefits of vinyl flooring include:
Budget-friendly: Vinyl flooring is perhaps one of the most budget-friendly materials for rental floors. Pricing depends on the thickness of the vinyl, the design you choose, and the brand you opt for.
Varied designs: With vinyl, the chances of having to settle for lackluster designs are slim. Instead, you'll be able to pick anything that matches the rest of the unit, including faux wood, faux tile, and much more.
Durable material: Vinyl is one of the most durable flooring materials you can find. Not only does it wear well, but it's also water-resistant and scratch-resistant. As a bonus, vinyl flooring is also easy to clean and maintain.
Easy installation: Installing new vinyl or replacing portions of existing flooring is fairly simple. For instance, do you want more temporary flooring? If so, you can choose renter-friendly peel-and-stick floor tile vinyl, which takes only a few hours to install.
In general, removable vinyl flooring is the easiest, most affordable flooring option you could choose. If you're looking for the most durable type of flooring, vinyl is a good choice.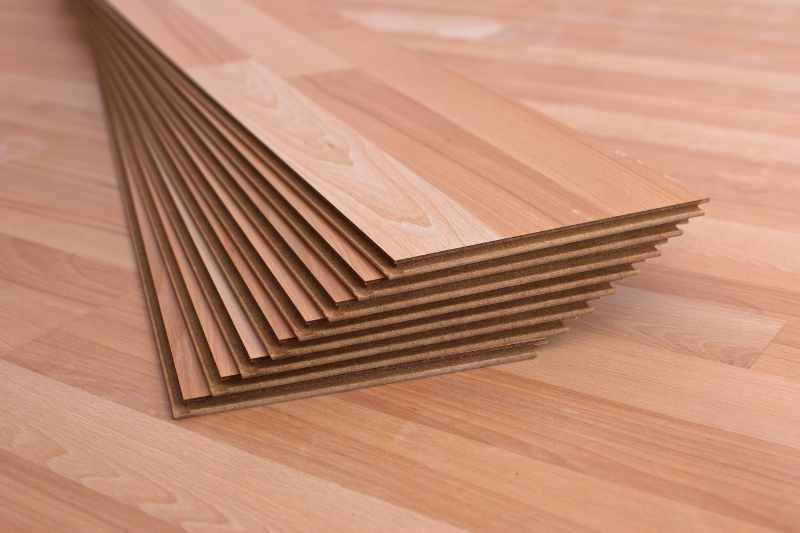 2. Laminate flooring
When you picture laminate flooring, what comes to mind? Probably the outdated faux wood floors of your older relatives!
Fortunately, laminate flooring now is nothing like the laminate our parents and grandparents had. Now, you can find trendy patterns and efficient types if you look hard enough.
The benefits of laminate flooring include:
Easy installation: Laminate flooring is simple to install, much like vinyl. In most cases, most of your effort will be piecing the laminate tiles together cohesively.
Affordability: Because laminate is easy to install and made of simple materials, it's one of the most affordable options. You can get plenty of bang for your buck with this type of flooring.
Easy maintenance: Lastly, laminate is easy to maintain. It doesn't need special oils or products to keep it healthy the way hardwood flooring does.
All in all, laminate is a good choice for rentals because it's cheap and easy to clean. The only downside to laminate flooring is that it's not water-resistant like vinyl is.
3. Tile flooring
Are you looking for flooring at a higher price point than laminate that's less expensive than hardwood? Tiles might work for you!
Tile flooring is renter-friendly because it's long-lasting — but that's not its only benefit.
More benefits of renter-friendly tile flooring include:
Water-resistance: Tile flooring, when sealed and grouted correctly, is water-resistant and easy to clean. People like tile flooring because it rarely stains and doesn't require much maintenance.
Eco-friendliness: The eco-friendly benefit of tile floors can't be understated. This is because they contain fewer chemicals and plastics than other options. But it's also because they help cool down buildings in certain climates. As a result, they reduce the use of electricity to cool rooms.
Resale value: If you're looking to increase the resale value of your property, tile floors in certain units can help. Additionally, they can help persuade prospects to sign a lease since tile is desirable.
However, tile flooring in upper-floor units isn't advisable as they aren't soundproof.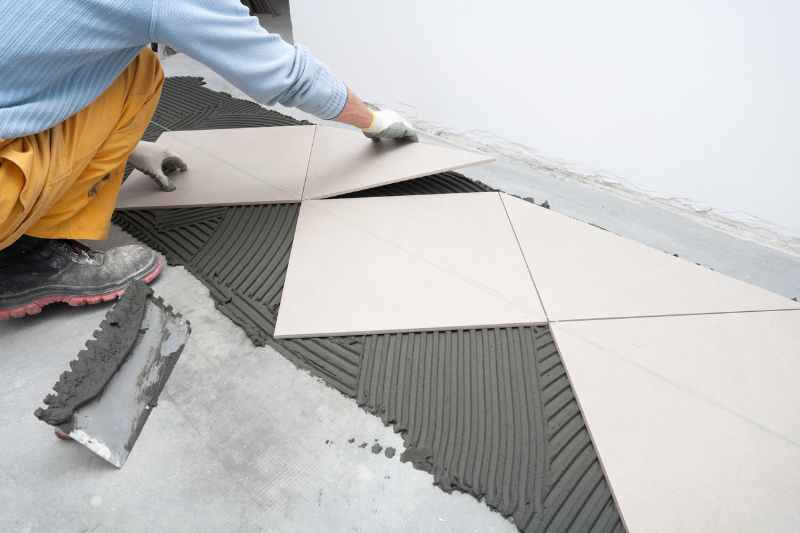 4. Carpet flooring
Last but not least, carpet tiles can be a renter-friendly flooring option if done right. In fact, most people like carpet in living rooms and bedrooms as it creates a cozier atmosphere.
The benefits of carpet tiles in rental properties include:
Easy installation: Carpet is not only affordable, but it's easy to install. Especially when you consider carpet tiles instead of rolls. Additionally, carpet tiles can be removed and replaced in sections instead of as a whole — saving money and time.
Noise reduction: Carpet is the perfect solution for upstairs units because it reduces the noise between the floor and ceiling. Also, neighbors are happier because footsteps and dropped objects aren't as loud with carpet as with hardwood.
Dirt concealing: Believe it or not, carpet is great for concealing stains and dirt. In fact, it's a good choice for pet owners as it hides pet hair that clings to shoes. It also hides some of the dirt that pet-tenants track inside in their paws!
When using carpet, consider the 80/20 rule — carpet should make up only 80% of the unit (living rooms and bedrooms), while 20% (kitchens, bathrooms, and entryways) should be harder floors.
Maintaining rental flooring
Rental properties must be maintained for revenue purposes, tenant experience, and building safety. If you fail to deliver proactive preventative maintenance, then the value of your rental property will decrease over time.
A great way to maintain the value of your units is to offer carpet cleaning and flooring inspections. Additionally, encourage tenants to speak up about flooring concerns in their units. If you work together, you can reduce the frequency of flooring replacements and create a beautiful living environment for everyone!
Takeaways
Successful property maintenance includes making sure that renter-friendly flooring is maintained and replaced as needed.
New flooring improves rental properties by increasing prospect interest and keeping up the appearance of units for existing tenants.
Property managers should replace flooring every 5-10 years, as needed, to fix wear and tear.
Four renter-friendly flooring options include vinyl, laminate, tile, and carpet flooring.
Practice preventative flooring maintenance in units to increase the lifespan of your floors.