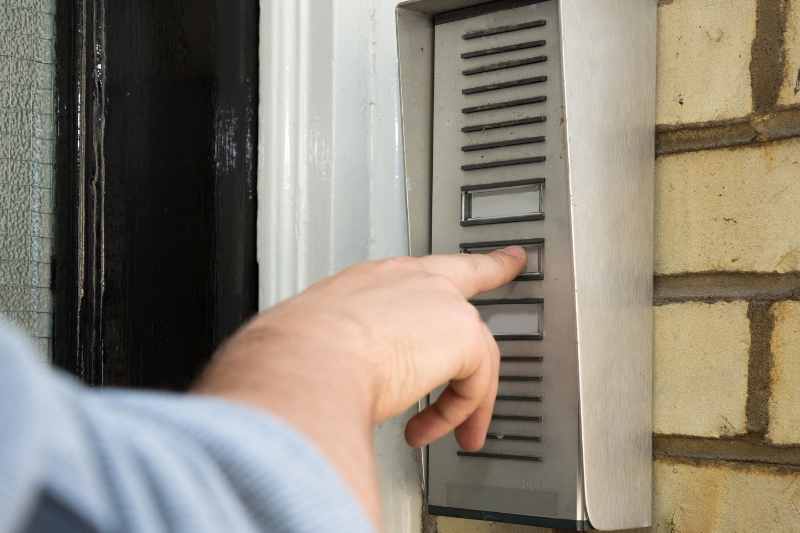 Whether you're looking for an entry system for a building in development or retrofitting one into an existing property, you might be considering a wireless apartment call box. You already know that you need a way for visitors to contact tenants, and you want to reduce installation costs by choosing a wireless system. But is a wireless call box the right system for your property?
Read on to learn more about wireless call boxes and their uses, as well as a better alternative to the call box.
This post covers:
What is a wireless call box?
A wireless call box is a communication device that allows a visitor to call a tenant in a building or on a property. Most wireless call boxes also provide a way for tenants to remotely grant property access to their visitors.
Wireless door call boxes are a form of access control for buildings. They ensure that doors remain locked to prevent unauthorized people from entering, while granting access to authorized tenants and visitors. You can also install a wireless gate call box at a gated property to control vehicle access.
Wired vs. wireless call boxes
The difference between a wired and wireless call box is in how they transmit audio (and sometimes video) data between devices.
Wired call boxes require a wired connection between the hardware at the property's entrance (the base station) and the hardware within the building (the substations). Similar to a telephone entry system, a wired call box transmits audio from one device to another via wiring. As a result, wired call boxes require additional wiring that is expensive to install and maintain.
In contrast, a wireless call box system transmits data wirelessly, generally over a cellular or WiFi connection. So, you don't need to physically connect the system's base station to each substation throughout your property. This eliminates the additional material and labor costs.
Watch how ButterflyMX works:
Types of wireless call boxes
If you're considering a wireless call box for your property, you might be wondering what your options are.
There are three main types of wireless call boxes:
1. Two-way radio call box
Historically, the first wireless apartment call boxes were systems that enabled communication between people via two-way radio frequencies. Similar to walkie-talkies, these rudimentary push-to-talk devices allow two people — such as a visitor and a building tenant — to talk to each other by pressing a button.
When one person pushes the 'talk' button on a two-way radio call box, the system transfers their audio data to the other person's device through radio waves. These devices can either be hand-held or wall-mounted. More advanced two-way radio call boxes can also be connected to a door release, which allows tenants to remotely open the door or gate for visitors.
Keep in mind: Some radio call box systems may require an FCC license to operate.
2. Cellular network call box
Considering the advancements in cellular technology, some wireless call boxes now operate over cellular networks. These types of call boxes — also called cellular telephone entry systems — can dial any landline or mobile phone.
Compared to radio call box systems, cellular call boxes offer a greater range, since they aren't limited by the distance the radio frequencies can travel. However, they can be pricey since they require you to pay for an additional cell service plan.
When cellular network call boxes are connected to an electronic or magnetic lock, they also enable tenants to open doors and gates with their cell phones.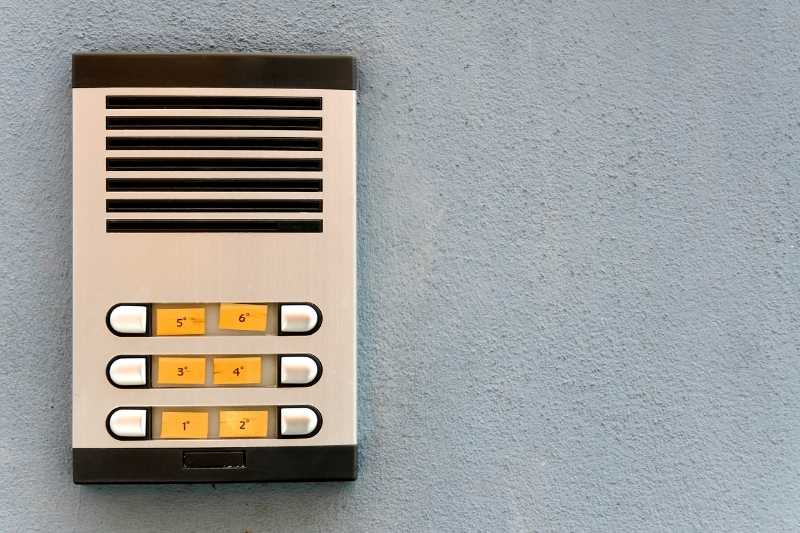 3. WiFi call box
Instead of operating over a cellular network, WiFi call boxes place calls via WiFi. Some systems also allow for a wired Ethernet connection, which may be more stable.
As an internet-based entry system, a WiFi call box is generally the simplest to use and manage. Some systems even pair with a mobile app for smartphone-based access. However, WiFi call boxes require a strong and stable connection and are affected by internet outages.
Where to use a wireless call box
You can install and use a wireless call box on any property that needs controlled access or a solution for people to easily communicate from a distance.
You'll likely find wireless call boxes at:
Apartments
An apartment call box allows visitors to easily contact the building's residents, and enables residents to buzz them in remotely. Multifamily buildings benefit from having a call box because they ensure that residents never miss a visitor. Additionally, they prevent property staff from having to vet visitors and grant them access around the clock.
Wireless call boxes also reduce missed deliveries and package theft at apartments. With a call box at the property's entrance, delivery carriers always have a way to alert residents they've arrived and request property access.
Apartment building owners and operators appreciate wireless call boxes because they're easier and more affordable to install. Wireless call boxes that operate over a cellular network or the internet are preferable, as they eliminate the need to install hardware in every apartment unit.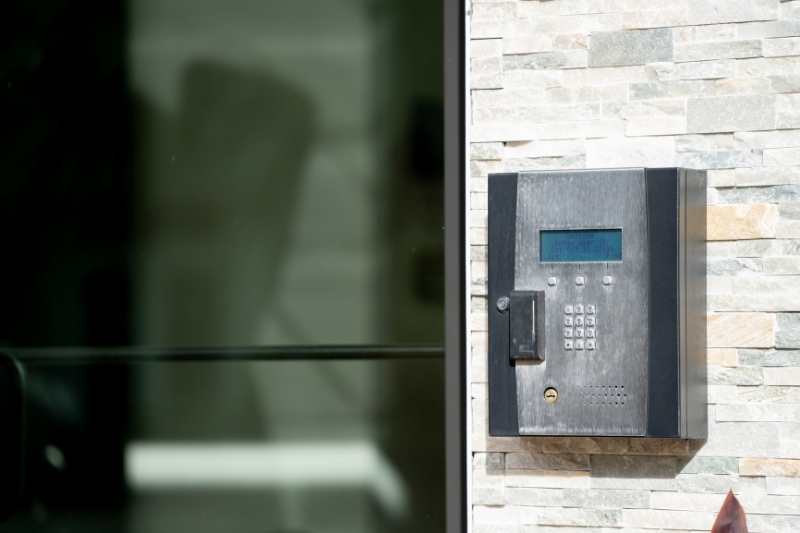 Commercial buildings and offices
Commercial buildings benefit from having a wireless call box to manage visitors and increase security. With a call box at the entrance to your commercial building, you can leave the doors locked to keep tenants safe while providing a reliable way for visitors to request access.
Wireless call boxes can be installed at entrances to offices and businesses with or without a front desk. If your building does have a front desk with staff to greet visitors, the call box can place calls directly to that staff member. Alternatively, you can program the system to allow visitors to call individual tenants.
Gated communities
A wireless call box is one common way to control access at gated communities. Gated properties in particular benefit from a wireless call box because you don't have to lay extensive wiring between the gated entrance and each unit or building on the property. Additionally, having an entry system allows tenants to open the gate for their guests remotely, without having to physically go to the property entrance.
Every gated property — both multifamily and commercial — needs some sort of gate access control. Controlling access at gated entrances ensures property security and adds convenience for tenants, visitors, staff, and delivery carriers.
For best results, choose a gate call box with a camera. That way, tenants can see who's at the gate when talking to them, maximizing security. However, keep in mind that most camera-equipped call boxes only provide one-way video footage. This is because call box base stations rarely have a screen to display video. As a result, visitors can't see residents when calling them, which isn't an ideal experience.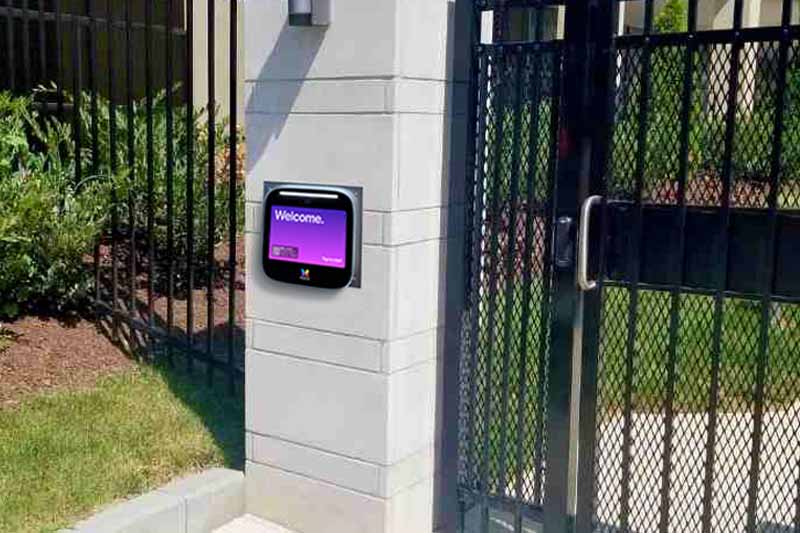 A better wireless entry system
If you're considering a wireless call box intercom for your property, you're probably interested in the benefits of going wireless. It's true — a wireless entry system is generally easier and cheaper to install, manage, and maintain.
However, a call box remains an outdated property access solution, offering little in the way of convenience and security compared to more modern entry systems.
Instead of a call box, choose a wireless video intercom with a mobile app for smartphone-based access.
Here are just a few reasons why you should choose a wireless video intercom instead of a call box:
Remote access management. Unlike call boxes with in-unit hardware, wireless video intercoms allow residents to unlock doors and gates from anywhere. That means they can let in their guests even when they're not home.
Several property access methods. Call boxes only allow tenants to open the door or gate remotely when they receive a call from a guest. In contrast, a wireless video intercom enables residents to open the door for themselves and their visitors in several ways, from swiping to open in a mobile app to asking Siri to open the door with a voice command.
Convenient access solutions for guests and delivery carriers. Modern video intercoms offer visitor access features such as virtual keys and delivery passes. These access credentials enable authorized visitors to enter the building seamlessly.