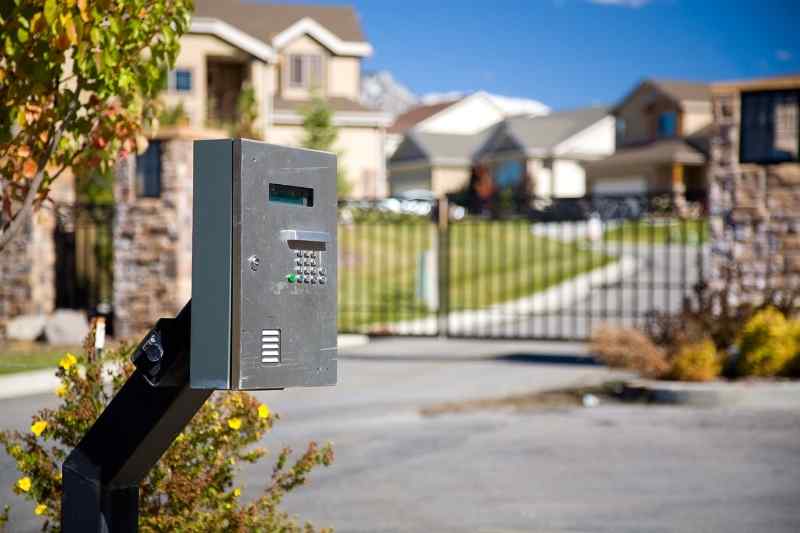 If you're looking for an access control solution for your gated property, you might be considering installing a gate call box. But you also know that your property has complex gate access needs. You have to balance the demands of tenants who want a convenient way to grant access to visitors and deliveries with the need to maintain security at your property. So, are gate call boxes the best way to control gate access?
In this post, we explain what a gate call box is and how it works. Then, we go over some of a gate call box's drawbacks and offer alternatives.
This post covers:
What is a gate call box?
A gate call box is a hardware device installed at a gated entrance that guests use to speak with the tenant they're visiting and request property access. Gate call boxes are also known as gate intercoms.
You'll find gate call boxes at gated properties of all kinds, from residential gated communities to high-security office complexes. And when a call box is installed at a door instead of a gate, it's called a door call box. Regardless of the type of building or the entry method, all call boxes have one thing in common: They all need to securely accommodate different types of visitors while providing convenient access for the property's residents and staff.
Gate call boxes are a type of visitor management system that includes:
Substations. A substation is a piece of hardware that allows a tenant to speak to a visitor at the gated entrance from inside a building. Depending on the type of gate call box you have, 'substation' can mean different things. Sometimes, gate call boxes direct all calls to one, singular substation monitored by a front desk, security office, or receptionist. Other times, gate call boxes direct calls to individual substations that are installed in every tenant's apartment or office.
Gate opener. When a tenant wants to let their visitor in, they press a button on their substation. In turn, the motorized gate call box relays a signal to a sliding or swinging gate opener. In some cases, the gate can open automatically.
How does a gate call box work?
Gate call boxes work by allowing tenants to communicate with their visitors via the master station and its substations. When the tenant has confirmed that the visitor can access the property they press an 'open' button, which tells the electronic security gate to open.
Since many gates are not near an internet or telephone connection, it's common to see wireless gate call boxes. These call boxes are usually connected to their substations via a cellular network — eliminating the need to install additional wiring.
Here's how a visitor uses a gate call box:
Visitor finds and calls a tenant. Call boxes have directories that a visitor can use to select their intended tenant.
Gate call box signals substation. Whether the call box is part of a telephone entry system or it's using a radio or a WiFi signal, the call box establishes a line of communication with the correct substation.
Tenant uses substation to speak to visitor. Tenants talk to their visitors like they would through a traditional phone call. Though most call boxes don't offer video calling, gate call boxes with cameras do.
Tenant grants entry to visitor. If a security gate call box is hooked up to a tenant's cell phone, the tenant presses '9' to unlock the gate. Otherwise, the substation has a button the tenant can press.
Substation sends signal to gate opener. When the gate opens, the visitor can enter the property.
Watch how ButterflyMX works:
Gate call box limitations
Now that you're familiar with how an entry gate call box works, let's review some of the ways a call box fails to meet your property's needs.
Here are a few drawbacks to gate call boxes:
No software integrations. Call boxes can't integrate with other smart building platforms. In contrast, more advanced IP gate intercoms can integrate with your property management software to automatically sync your rent roll between both platforms.
No integrations with other access control systems. A call box can't integrate with other door entry systems, such as keypads and fob systems, for access beyond the gated entrance. So, if you want controlled access throughout your entire building, you're better off with a front gate intercom that integrates with your other systems.
Limited visitor access options. Most call boxes require a tenant to be in their unit to unlock the door for a visitor. And even cellular gate telephone entry systems don't offer any solution for visitors to enter the property without requesting access first. In contrast, modern IP gate intercoms offer virtual keys, which residents can send to visitors for managed access.
No package delivery solutions. Online deliveries are growing more popular by the day. Gate call boxes lack features like delivery passes or PINs that ensure seamless access for carriers.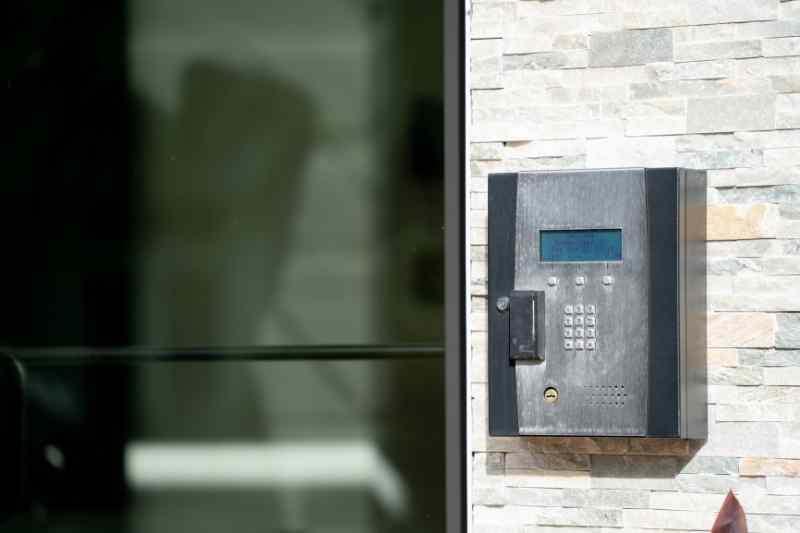 Alternatives to gate call boxes
For a robust, feature-rich alternative to gate call boxes, consider a video intercom with a mobile app.
Video intercoms with mobile apps have features call boxes don't have, such as:
Smartphone functionality. If tenants can use their smartphones as substations, you save money by not having to install physical substations throughout your property!
Remote gate access. With their smartphones, tenants will be able to open their gate anywhere they have an internet connection — even if they're halfway around the world.
More gate unlock options. The best mobile app intercoms prepare tenants for every kind of access scenario with features like customizable virtual keys and one-time delivery passes.
ButterflyMX gate intercom
A gate call box only lets tenants manage access to your property's gate. However, your gated community or HOA has many more access points that a gate call box cannot integrate with or control. By choosing a call box, you're forced to install entirely separate entry systems to manage entry into your building and amenity spaces.
In contrast, ButterflyMX's suite of intercoms and keypads simplifies access throughout your property by forming one complete ecosystem. Staff, tenants, and visitors alike can navigate from the front gate throughout the property with ease.
ButterflyMX is a mobile gate entry system that residents control with their smartphones. Instead of just transmitting audio, like a call box does, ButterflyMX offers video calling and a mobile app. And from the app, residents can even assign virtual keys, create delivery passes, and swipe to open the gate.
Property management is also much simpler for staff in a ButterflyMX building. Management can control access from a web-based dashboard and integrate their gate intercom with other proptech.
Takeaways
While gate call boxes offer a way to manage visitors, a ButterflyMX mobile access control system is better positioned to anticipate access needs for staff, residents, and guests alike. With more than 7,000 five-star ratings, it's your turn to join thousands of property managers around the country in using ButterflyMX to make property administration easier.