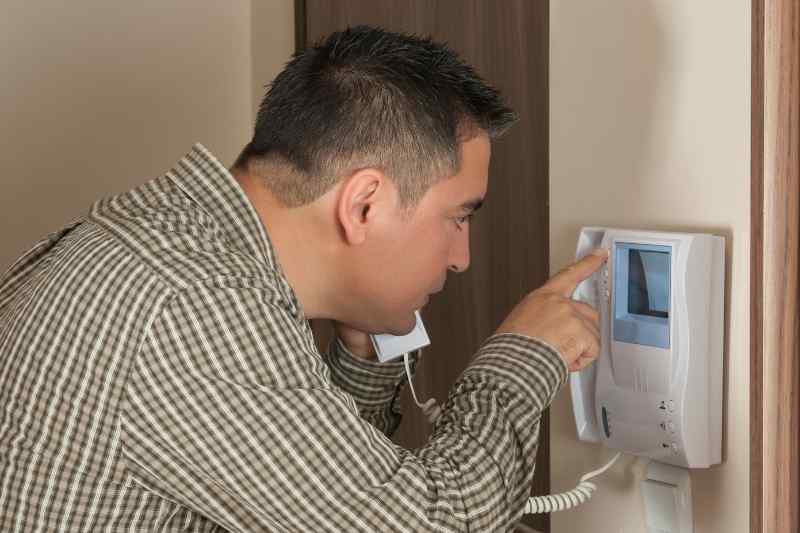 Looking to install or replace your property's door entry system? You have a lot of choices. Ensuring convenient yet secure access for residents, visitors, and couriers is one of the most crucial aspects of property management. You might be looking for a wireless video door phone, but is it right for your property?
In this post, we explain what a wireless video door phone is and how it works. Then, we go over the limitations of a wireless video door phone and offer alternatives.
This post covers:
What is a wireless video door phone?
A wireless video door phone is a piece of in-unit hardware that a resident can use to speak to and grant entry to a visitor at the entryway of their building. As opposed to a traditional door phone, a wireless video door phone communicates with the hardware at a door's entryway using wireless technology. It also has a camera that allows a resident to see their visitor during their conversation.
Wireless video door phones are installed on every type of property. In residential buildings, each unit has its own door phone to allow every resident to interact with the front door intercom and buzz in their visitors. However, on a commercial property, commercial tenants might choose to direct all door entry requests to one, central door phone staffed by a front desk or a receptionist.
A wireless video door phone system has three components:
Door phone. Tenants use door phones to speak to their visitors and grant them property entry. A door phone might be an existing landline that's been wired into the door phone system, or it might be a piece of hardware installed expressly for the purposes of granting door entry. Usually, a video door phone will be specially installed because its handset must include a video screen for residents to view real-time video of their visitors.
Base station. Base stations are the devices installed at the building's entrance. They include directories that a visitor uses to select their intended resident and microphones and speakers that allow visitors to talk to residents. A video door phone base station also has a camera that transmits a video feed of a visitor to a tenant with a door phone.
Electric lock. The electric lock is the physical part of the door phone system that disengages to allow a visitor to open the door. Residents use a button on their door phone to disengage the electric lock without having to walk all the way down to the front door.
Watch how ButterflyMX works:
How does a wireless video door phone work?
A wireless video door phone works by establishing wireless communications between a resident using a door phone and a visitor using the master station installed at the building's entrance.
Because these communications involve transmitting video data in addition to audio data, a video door phone requires a larger amount of bandwidth than systems that only convey audio information. This makes wiring an inefficient method of carrying data. Instead, wireless door phones use the Internet Protocol or a cell network to carry data between a door phone and the master station, allowing a conversation to occur.
Here's how to use a wireless video door phone:
Visitor selects resident using base station. Using the directory on the base station, the visitor chooses the resident they want to call.
Base station connects to door phone. A WiFi video door phone will use the internet to establish this connection. Other systems might use a cellular network.
Resident grants entry. The visitor and resident can talk to each other, and thanks to the system's camera, the resident can see their visitor, too. Depending on the type of door phone installed, the resident can grant entry by either pressing '9' on the phone's keypad or a designated 'door open' button.
Lock disengages. The door phone sends a signal to the electric lock. This directs the wireless video phone door to unlock, allowing the visitor to enter.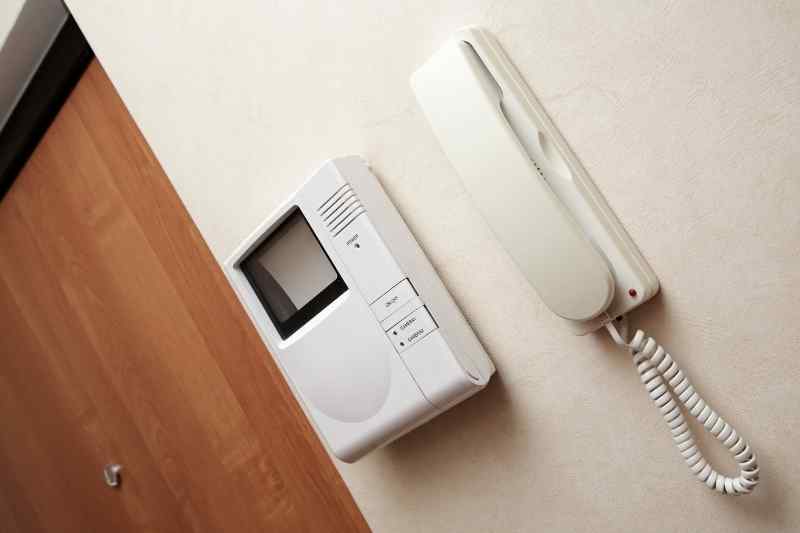 Why you should avoid wireless video door phone systems
If you're looking for an entry system for your building, avoid installing a doorbell phone system. And if your building currently has a video door phone system installed, consider replacing it.
While wireless door phones are better than their wired counterparts, they still aren't the best entry system.
Here's why you should avoid purchasing a wireless door phone intercom:
Expensive to install and maintain
Compared to a wired door phone system that involves tearing up walls and floors to install and replace wiring, a wireless video door phone is certainly a step up. But even wireless door phones come with their own headaches.
You might not have to deal with wiring, but you'll still have to install a door phone in every unit. And that involves keeping each door phone up to date and fielding maintenance requests when a device breaks down.
Instead of installing door phones, consider a solution that allows residents to open doors and manage access using their smartphones. All you'll have to install is a master station at the entrance. As a result, your installation costs plunge, allowing you to spend money on more important things like improving the resident experience.
Not cloud-based
While some wireless video door phones use the internet to communicate, their use of the internet stops at the simple exchange of audio and video data. The internet, however, is much more powerful than that.
The best door entry systems are cloud-based, meaning that you can manage them from anywhere, on any device. So, even if a staff member is offsite, they'll still be able to perform crucial tasks like updating access permissions and managing the tenant directory. Wireless video door phones don't offer this capability.
No delivery carrier access
Whether you manage a residential, commercial, or mixed-use property, your building gets dozens of deliveries every day. As online shopping rates increase, so does the number of couriers and packages showing up at your building.
To accommodate their deliveries, your tenants will expect a solution that prevents missed deliveries and lost packages. If a delivery occurs while a tenant isn't in the building, a wireless video door phone doesn't have any solutions or features that will address that. Couriers must call a tenant's in-unit door phone to request access — and if they're not home, they can't let the courier in.
Best alternative to a wireless video door phone
As you can see, wireless video door phones are difficult to install and don't fulfill your building's access needs. While wireless video door phones were an adequate entry solution for their time, today's access control systems take advantage of the internet and smartphones to deliver a convenient and powerful access experience.
The best wireless video door phone alternative is a mobile access control system that residents can operate using their smartphones. Mobile access control systems offer all the benefits of a wireless video door phone system, with none of the drawbacks — and plenty of added features.
Instead of door phones, consider investing in these mobile access control devices:
Smart video intercom: Use a smartphone-based video intercom to control access at your property's front door or gate. Tenants can grant access to themselves and their visitors from an app on their phones. And when visitors request access, the intercom places a video call directly to the tenant's smartphone — no in-unit door phone required.
Keypads: Use smart keypads to control access within your building, such as to amenity spaces and supply closets. That way, tenants can open doors and navigate the building with a PIN code or their smartphones.
Elevator access system: Choose a mobile access system that includes elevator controls. That way, authorized visitors can gain access to elevators — but can only access the floor they're authorized to visit.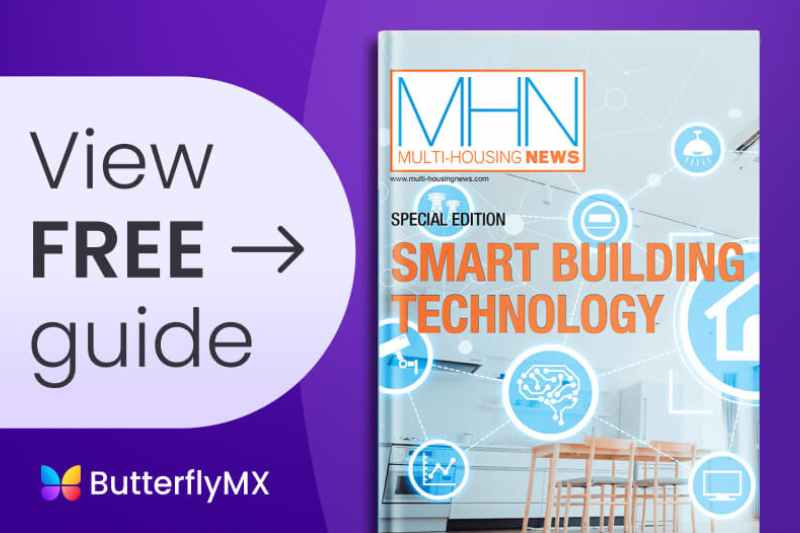 Why you should choose a mobile access control system
Smartphone-based access control has many benefits, one of which is that you don't have to install door phones in every unit. By eliminating in-unit hardware, you'll save yourself time, money, and effort.
Residents benefit as well. Since smartphones are much more powerful than the average door phone, residents can access a host of versatile features that simplify access.
Smartphone-powered access control systems offer:
Virtual keys: From a smartphone, any tenant can create digital access credentials for their guests. This allows guests to gain access even when the resident isn't home.
Delivery passes: Any time a tenant orders something online, they can include a single-use delivery pass to enable seamless, secure access for the courier.
Voice commands: If a resident's hands are full, they can simply open the door using a voice command.
Finally, your staff will appreciate the cloud-based management offered by many mobile access control systems. The best mobile access control systems integrate with other property management software and provide an audit trail of all door releases that staff can use to secure the property.
Takeaways
Wireless video door entry is an amenity that your residents will certainly appreciate, and are even coming to expect. However, a wireless video door phone is no longer your best option for providing that experience.
Wireless video door phones require you to install hardware throughout your property. That's a complicated, expensive process that you can skip entirely thanks to the rise of a better option: the smartphone-based mobile access control system.