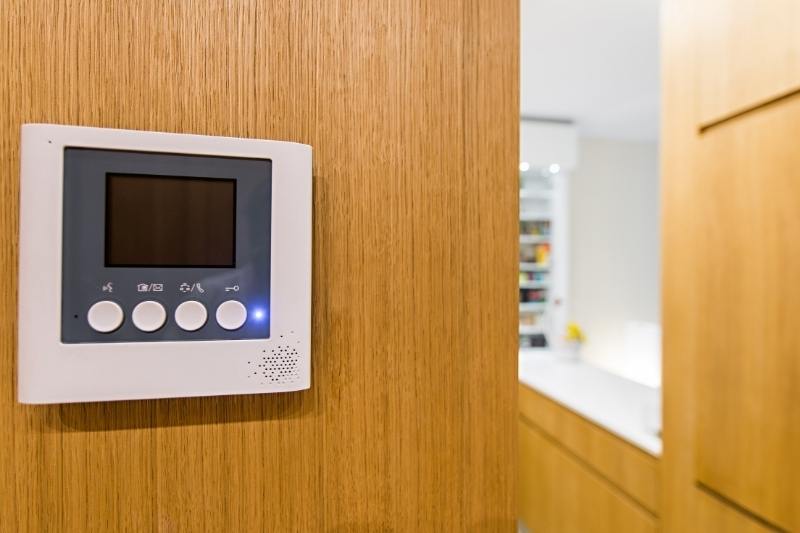 Every building that welcomes visitors needs a reliable way to manage property access. And the video door phone is one commonly used entry system.
Generally speaking, door phones with video are devices that tenants use to communicate with guests before granting them access. They're found in both residential and commercial buildings. However, door phones predate the advent of smartphones, and so you'll rarely find them in newer developments.
Read on to discover more about video door phone systems and how they work. Then, we'll provide alternative door entry systems that more effectively control access for your property.
In this post, we'll discuss:
What is a video door phone?
A video door phone is a device that allows tenants to see and talk to their visitors at the front door. Video door phones may also empower the tenant to remotely unlock the door for their guest.
A video door phone system includes an in-unit device that tenants use to verbally and visually communicate with their guests. The in-unit, video-enabled door phone also connects to outdoor hardware that's installed at the property entrance.
The most important aspect of door phones with video is that they allow tenants to visually confirm the identity of a guest before allowing them to enter the building. But although tenants can always see guests, the guest may or may not see the tenant.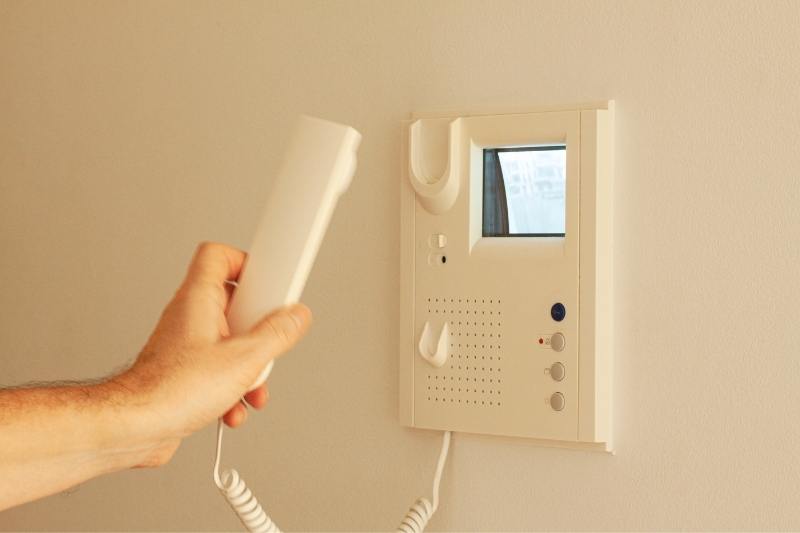 Video doorbell phone systems for doors support two-way video calls — between the visitor and tenant — if the entryway hardware has a screen for visitors to see tenants. If not, then the system supports only one-way video calls. During one-way video calls, tenants can see live footage of visitors requesting access, but the visitors cannot see tenants.
Video-enabled door phones are typically installed at:
Multifamily apartment units
Condos and gated communities
Commercial building office suites
Student housing rooms
Components of door phone systems with cameras
Door phone systems with video have both outdoor and indoor components to facilitate communication and remote property access.
The main components of video door phones:
Outdoor unit (base station): The outdoor panel — often referred to as the door phone intercom — is installed near the front door or gate. It includes call buttons (usually one for every apartment or office unit), a camera, microphone, and speaker. Some outdoor units also have monitors to enable two-way video calls.
In-unit devices (substations): In-unit devices are the core of door phone systems with video. They include "talk" and "door open" buttons, and some come with wired telephone handsets. What sets video door phones apart from other door entry systems is the video screen. These screens allow tenants to see who's at the door and visually confirm their identity before granting access.
Door release mechanism: The door release mechanism is wired to the door phone system. Once the tenant pushes the "door open" button, the door phone with lock system signals the door release mechanism to unlock the door. The door latch is powered either by electricity or magnets and removes itself from the locked position once the door release mechanism is activated.
How does a video door phone work?
Door phones with video work by providing one- or two-way video calls between visitors and tenants in a commercial or residential building. When a visitor requests access, they look up the tenant they'd like to call using the system's directory. After they press the corresponding button, the tenant's in-unit door phone rings. The door phone camera also activates on the outdoor device.
Then, the tenant answers the call and sees live video footage of the visitor at the entrance. If the door phone has a numeric keypad, the tenant presses '9' to open the door for the guest. Otherwise, they'll press a designated 'door open' button.
Watch how ButterflyMX works:
4 types of door phone systems with video
The four most common types of video door phones: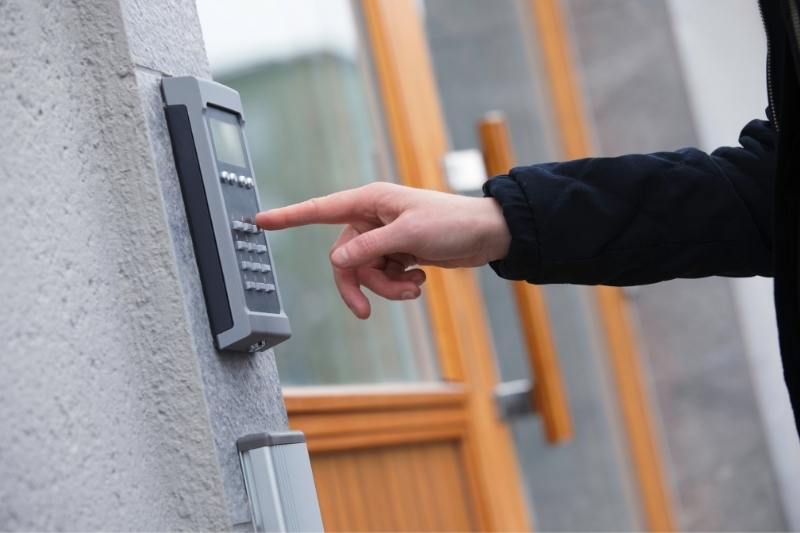 1. Standalone systems
Standalone systems are found in single-family homes or duplex apartments. The outdoor device is typically wired directly to one or two in-unit devices.
These types of video door phones are usually found in small condos, private office buildings, and private, single-family residences, where there are no more than two units. A standalone door phone system may also use SIP (Session Initiation Protocol) to transfer audio data between the system's devices.
2. Multi-tenant systems
In bigger, multi-tenant buildings, you'll need a more robust type of door phone system. Multi-tenant systems include a video phone in each unit. Every video phone device is connected to the base station by wiring.
The outdoor device either has call buttons for each unit or a directory for visitors to look up the corresponding number for tenants they're there to see. Some outdoor devices have touchscreens where the visitor can tap on the tenant's name.
3. Wireless systems
Wireless video door phones are installed at both single- and multi-family buildings. As the name suggests, wireless door phones don't require wiring throughout the building. Instead, they operate over the internet or Bluetooth.
However, Bluetooth-based systems only work when the tenant's phone is connected to the same network as the video doorbell and within the connection range.
4. IP video door entry systems
Since the advent of smartphones, video door phones have evolved into IP video door entry systems. These systems are powered by the Internet Protocol, a set of rules for internet-connected devices to wirelessly send and receive data over the internet.
IP door phone systems connect to the internet through an Ethernet cable and work with tenants' smartphones through mobile apps. This means that tenants can video chat and open doors for guests remotely — even when they're not home or in the office.
Limitations of traditional video door phone systems
Traditional video door phones weren't created for the modern world. At most, they're humble attempts to modernize an outdated system.
The major limitations of video door phone systems are:
They aren't cloud-based. Unlike newer IP-based systems, door phones aren't cloud-based. This means that they can't be managed remotely, and property staff must go on-site every time the system needs to be repaired or updated.
They lack robust video capabilities. Even though 'video' is in the name, video door phones typically lack reliable video capabilities. Most systems only support one-way video calls, where only the tenant can see the visitor. And the video footage isn't as clear or crisp on the in-unit device as the video quality that smartphones support. So, the tenant might just barely make out the video portrayed on the monitor.
They require cumbersome in-unit hardware. Door phone systems require in-unit substations. As a result, you'll spend thousands installing devices throughout the whole property. And you can't forget about the cost of running wires through each unit to connect every device to the entryway hardware. Plus, once the system breaks down, you'll have to pay a technician to uninstall all the devices in the building. You might also need to repair the walls in every unit once the device is unmounted.
Choose a better video entry system
Are you thinking about getting a video door phone system or repairing an existing one? There is a better option.
If you currently have video door phone devices installed in every unit in your building, you're wasting time and money maintaining them. Video door phone hardware will inevitably break — and then it's on you to repair or replace it.
And if you're planning to install video door phones in every unit of a new building, you should reconsider. The cost of installing all that hardware adds up quickly.
Simply put, door phones — with or without video — are outdated and they don't fulfill the needs of current tenants. With tenants welcoming more visitors and deliveries than ever before, choose an entry system rich with features, capabilities, and connectivity. Instead of a video door phone system, choose a smartphone-based IP video intercom.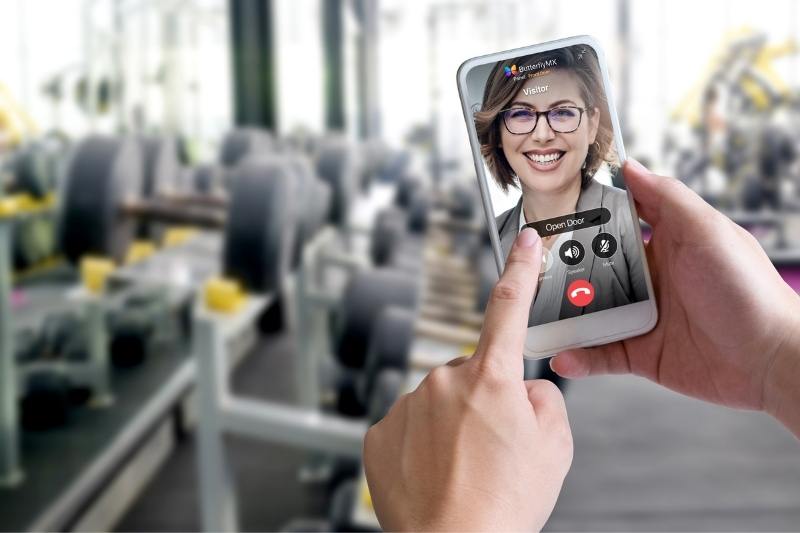 Why choose an IP video intercom
IP video intercoms offer a wide range of features that video door phones simply can't compete with. Powered by the internet, IP video intercoms support two-way video calls with high-quality audio and visuals. These keyless entry systems use tenants' smartphones or tablets as substations, so there's no need to install indoor devices inside any individual apartments or office suites. They empower residents to open doors for guests from anywhere.
What's more, since IP video intercoms are cloud-based, property staff can manage access permissions and view door entry activities even when they're off-site. These systems can also integrate with property management software, building automation systems, and other property technology solutions.
IP video intercoms improve building security, simplify property access, and enhance the tenant experience. For example, tenants don't need to rush over to an in-unit device whenever they have a guest. They can answer visitors' calls and open doors from anywhere in the building — in fact, anywhere in the world. Making IP video intercoms the best video door phone alternative.