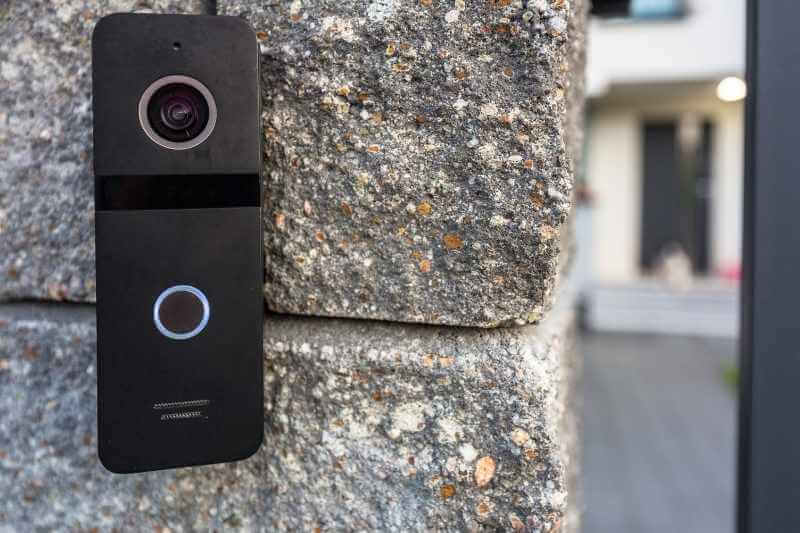 Apartment doorbells or video doorbells are increasingly popular among renters because they enhance security while providing a way for visitors to request access.
Many apartment doorbells offer wireless, no-drill models, making it easy for residents to install them without altering the property. But unlike door phones and intercom systems, most apartment doorbells don't enable residents to unlock the door remotely.
So, as doorbells for apartments gain popularity, you should know about the best apartment doorbells renters want and what types are available. Plus, discover a better, more comprehensive alternative to apartment doorbells.
This post covers:
Do apartment buildings have doorbells?
Apartment buildings typically don't have doorbells.
Instead, they may have a buzzer or intercom system. These systems allow guests to request property access from a device at the property's entryway. Using the system's directory, guests press the appropriate button to alert the resident of their presence. The resident can then remotely unlock the door or gate using an in-unit device or their cell phone.
However, some companies have recently started selling doorbell systems designed to pair with a resident's smartphone. Although they're primarily designed for single-family homes, some doorbells can be installed at unit doors in multifamily properties. That way, a visitor can alert a resident in a multi-tenant building that they've arrived at the door.
Some doorbell devices even have a camera to record activity or send live video footage to the resident's mobile app.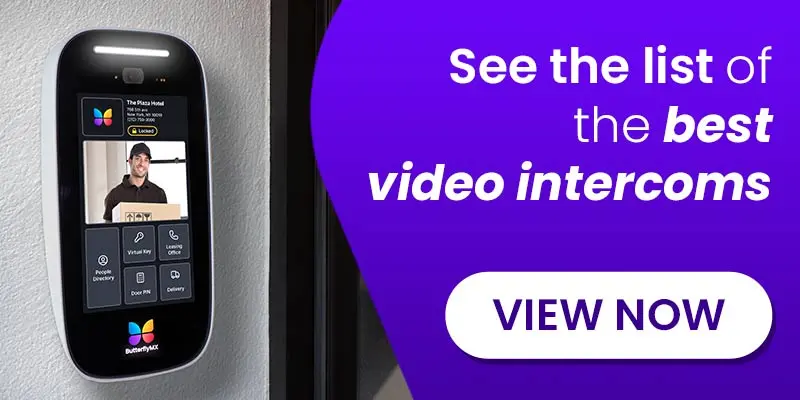 Can you put a doorbell in an apartment?
It depends on your apartment building or property.
Property managers and owners have the right to set restrictions on apartment doorbells. For example, properties may regulate where they can be placed, or they may outright prohibit the use of video doorbells. On the other hand, properties may not have any rules on apartment video doorbells.
With that said, it's important you consult the lease agreement or property staff regarding policies on apartment doorbells.
And if you own or manage a multi-unit building, consider implementing clear policies regarding doorbell use.
What types of apartment video doorbells are there?
The two types of apartment video doorbells are:
Wired
As the least renter-friendly option, a wired apartment doorbell is constantly connected to a power source. It doesn't utilize a rechargeable battery, so there is never recording downtime. It may also be physically connected to a device in every unit, which alerts residents when someone rings the doorbell.
Unfortunately, wired doorbells require a nearby power source which can be difficult for some renters. In addition, installing a wired doorbell is much more difficult, especially when renting a property since leases often prevent renters from making permanent changes to the property.
What's more, property owners and managers may want to avoid cumbersome wired doorbell systems for their apartments because installation is expensive and the wiring can deteriorate over time.
Wireless
A wireless doorbell is the best type of apartment doorbell for renters because installation is quick. Most wireless doorbells come with a mounting bracket that uses an adhesive surface to attach to the door or wall. In turn, residents don't need to drill or alter the property in any way.
However, apartment wireless doorbells generally require batteries that must be changed or recharged periodically. As a result, residents could face some inconvenience when they have visitors or deliveries while the doorbell is charging.
Nonetheless, the best doorbell for apartment buildings is a wireless model. It often provides more convenience for renters while adhering to lease agreements.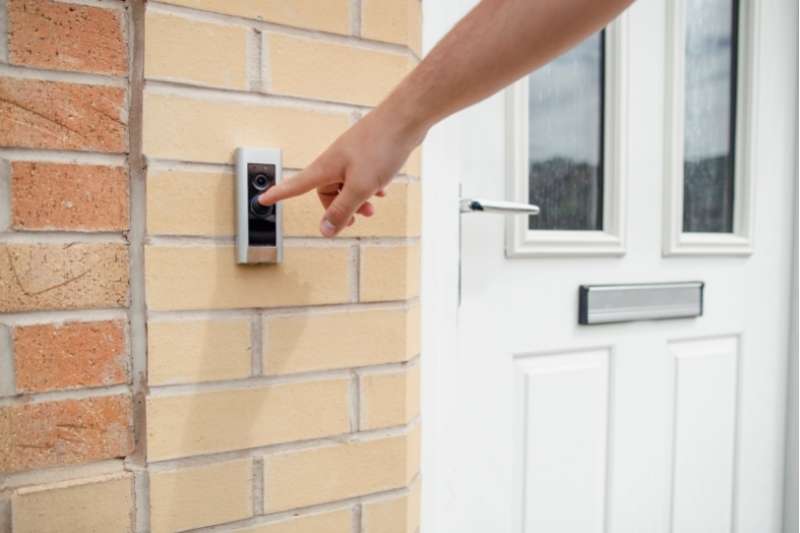 5 best apartment doorbells
When searching for an apartment doorbell, renters will find numerous options with varying features. So, here are the top five best doorbells for apartments.
The best apartment doorbells for renters are:
Ring Peephole Camera: As the most renter-friendly apartment doorbell, the Ring Peephole Camera replaces your existing peephole with a camera. Installation requires no screws or additional hardware. The apartment doorbell and peephole camera support two-way audio with a 1080p resolution and 155° field of view. That way, you can clearly see who is ringing your doorbell.
Arlo Essential Video Doorbell: The Arlo Essential Video Doorbell is available in wired and wireless models and offers a weather-resistant exterior. No additional hardware like a WiFi bridge is needed, meaning renters can get it connected in no time. What's more, replies to visitors are quick using two-way audio or the unique pre-recorded quick reply feature.
Eufy Video Doorbell: Unlike all the other apartment doorbell options on this list, the Eufy Video Doorbell is the only one that doesn't require an ongoing subscription fee. However, it does require a Eufy Homebase, which acts as a WiFi bridge and storage for the doorbell. Without the Homebase, the video doorbell can't operate.
Blink Video Doorbell: Equipped with an HD camera with infrared night vision, the Blink Video Doorbell comes in wired and wireless models. It's also compatible with Amazon Alexa, so residents can seamlessly integrate it with other smart home technologies.
Ring Video Doorbell: Unlike the peephole model, the Ring Video Doorbell offers a vast range of mounting options, giving renters the option to angle it for the best view. The removable battery makes it easy to charge. Once fully charged, the apartment Ring doorbell should last about six months, but the frequency of use can affect battery life.
The better alternative to an apartment doorbell
While apartment doorbells may work for individual residents to implement on their own terms, they don't serve as a good solution for the entire multifamily property. Instead, you need to implement a property-wide entry solution.
The best alternative to an apartment doorbell is the ButterflyMX video intercom system.
ButterflyMX introduced the smart video intercom system in 2015. Since then, the modern video intercom has been installed in more than 10,000 buildings and one million apartments. With more than 20,000 five-star reviews, the ButterflyMX video intercom's transformative design is packed with features residents love.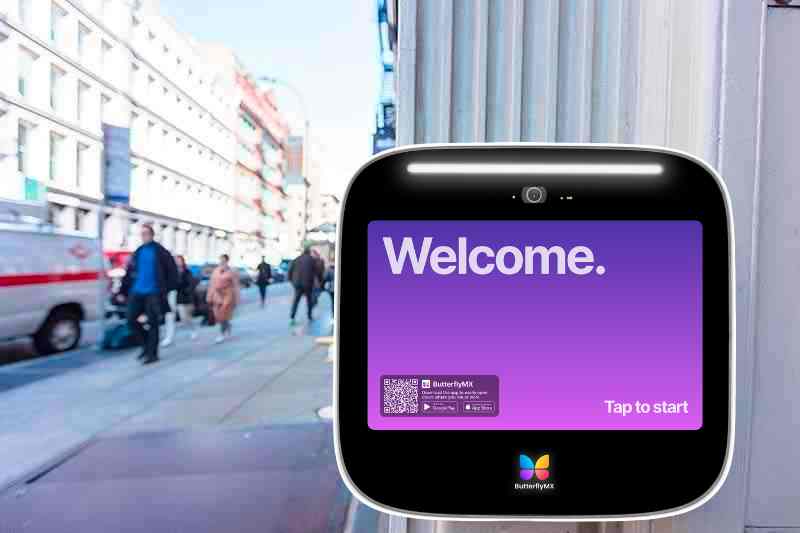 What features does the ButterflyMX video intercom offer?
Cloud-based: Because the video intercom is wireless, it stores data in the cloud rather than on an on-site server. As a result, the space needed for the system is minimal, and the system's software is updated remotely. Not to mention, the system is easier to install with no building wiring. For areas where a direct internet connection is difficult, the intercoms' 5GHz WiFi makes connecting it to the cloud simple.
Mobile app: Residents can access the property using their phones rather than a key or fob. In addition, your residents can let in guests, delivery drivers, and service providers using the ButterflyMX app.
Key cards & fobs: With built-in RFID technology, residents and staff can easily access the property using a key card or fob. This is a great solution when a user has lost their phone or it has died.
Wide-angle camera: The video intercom features a 156° wide-angle camera that allows residents to see and speak with visitors via two-way video calling. Moreover, the camera is an added security feature that takes date- and time-stamped photos of every person who enters the property.
Delivery PINs: Prevent missed deliveries by implementing delivery PINs. Assign a unique PIN code to each delivery driver so they can access the property without the help of a resident or staff member. Then, residents don't have to be home when receiving packages.
Directory: When visitors arrive at the property, they can use the video intercom directory to request access from specific residents. Then, residents receive a request on their phones. After speaking with the guest over a two-way video call, the resident may grant them access remotely.
Robust hardware: The intercom is both weatherproof and vandal-resistant.
Takeaways
Apartments typically don't have doorbells but instead use a buzzer or intercom system.
Residents should consult property staff or their lease agreement regarding rules on apartment video doorbells.
The two types of apartment doorbells are wired and wireless.
The five best apartment doorbells are the Ring Peephole Camera, Arlo Essential Video Doorbell, Eufy Video Doorbell, Blink Video Doorbell, and Ring Video Doorbell.
The best alternative to apartment doorbells is the ButterflyMX video intercom system.