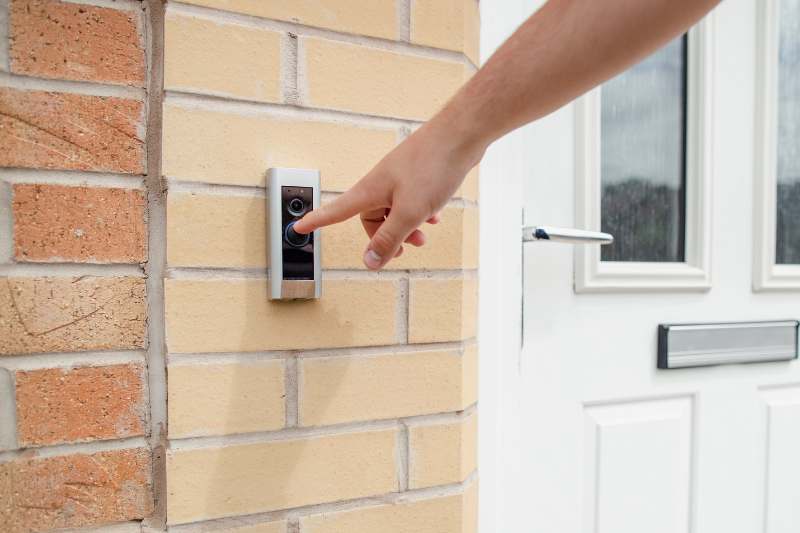 Are you wondering how you can increase security for your apartment unit? Many residents and property managers are considering installing the Ring doorbell for apartments in their own buildings. But do Ring doorbells offer the same security and convenience as other access control systems?
In this post, we explain what a Ring Doorbell is. Then, we go over Ring doorbell's pros and cons for apartments and offer the best alternatives for your building.
This post covers:
What is a Ring Doorbell for apartments?
The Ring Doorbell for apartments is an apartment doorbell that residents can install on their unit doors. With a Ring Doorbell, residents can see the immediate hallway or area outside of their doors from an app. 
You can choose between different types of Ring Doorbells for your apartment door. In fact, Ring offers two types of doorbells: wired and wireless.
Wired apartment Ring doorbells are harder to install and maintain, but once you connect them to your building's power supply, you don't have to worry about changing batteries constantly. In contrast, wireless doorbells are easier to install. However, they're battery-powered and need regular checkups to ensure battery life.
Ring's doorbell designed specifically for apartment units and renters is called the Ring Peephole Cam. It's a wireless, battery-powered doorbell device that installs over a door's peephole.
About Ring
Ring is a smart security company that was founded in 2013 in Santa Monica, CA by Jamie Siminoff. Its most famous product is the Video Doorbell. However, Ring also sells other smart security products like alarms, cameras, and lighting.
When Ring was founded, it catered only to single-family residential homes. But now, Ring sells smart devices for units in multifamily buildings. Some of Ring's apartment-focused offerings include the Door View Cam, the Ring Video Doorbell series, and the Ring Peephole Cam.
Watch how ButterflyMX works:
Ring Peephole Cam
The Ring Peephole Cam was introduced in 2019 as a doorbell solution for apartment units. In 2021, Ring discontinued its Peephole Cam but brought it back in 2023. 
The Ring Peephole Cam can be installed without permanently modifying a door, making it appealing to renters. 
Its features include:
Camera with one-way video and two-way talk
Adjustable motion detection zones
Knock detection
Wireless (battery-powered)
Integration with Amazon Alexa
Ring's Peephole Cam doorbell for apartments costs $129.99 as of February 2023.
Do I need permission to install a Ring doorbell?
You may or may not need permission to install a Ring doorbell depending on the terms of your lease.
In some apartment buildings, you can install a Ring doorbell as long as you take it down when you move out. But do you want to be covered under Ring's replacement policy? If so, you need to follow a specific installation process to mount your doorbell. What's more, there's always the risk of causing damage when you're installing or taking down the device. As a result, you risk losing your security deposit.
Even if your lease allows you to install a video doorbell, there's still one more factor you need to consider: your neighbors.
You can set your Ring to not record motions that happen in specific zones in its field of view. However, your neighbors might not be comfortable with Ring's always-on camera and system of sensors.
Pros & cons of Ring Doorbell for apartments
Whether you're a property manager considering Ring door cameras for each unit in your building, or you're a resident seeking a solution for your own unit, you'll need to weigh the pros and cons to decide if Ring doorbells are right for you.
Pros
Smartphone app. From the Ring smartphone app, users can access a host of features. Ring's doorbell devices can detect motion and the vibrations that come with knocking, decreasing the chances that residents will miss a visitor. Through the app, residents can see who's at their door.
Speaking to visitors when you're not home. As long as you're connected to the internet, you'll be able to use your phone to hear and talk to a visitor using the speaker and microphones in your Ring apartment door camera.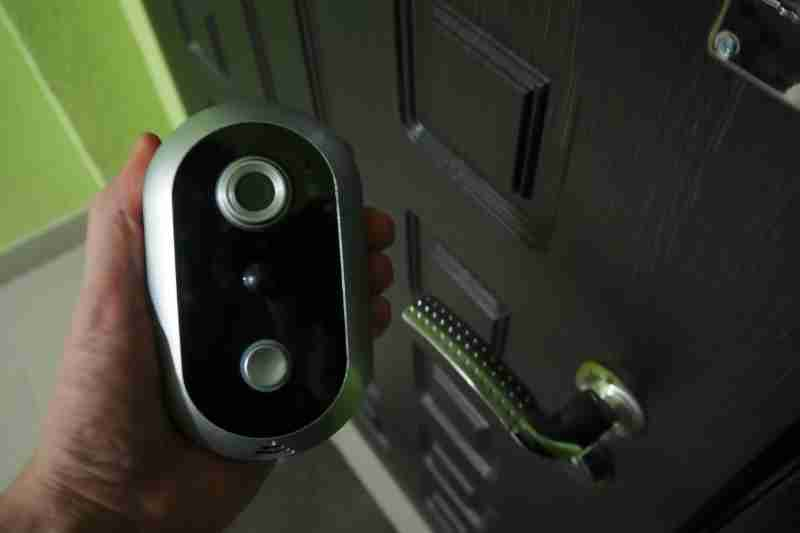 Cons
No remote unlocking capabilities. Being able to talk to somebody at your apartment's front door is certainly useful. But if you're depending on your Ring doorbell to remotely grant access, you'll fall woefully short. What if you're not home and a friend has stopped by to pick something up, or you want to let your dog walker in? You'll be able to talk to them all you want, but video doorbells for apartments can't let them inside.
Installation difficulties. Installing a Ring Doorbell might be a long, complicated process. At its worst, installing a wired Ring intercom involves ripping up floors and ceilings to lay the wiring that your doorbell will use. And if you opt for a wireless Ring doorbell, you'll still have to drill holes to mount the device. If you're installing one for every unit, this could take a long time!
Permission is required to install. Ring doorbells aren't ideal for apartments because they require drilling holes in the wall to install. Many building owners and property managers won't allow this.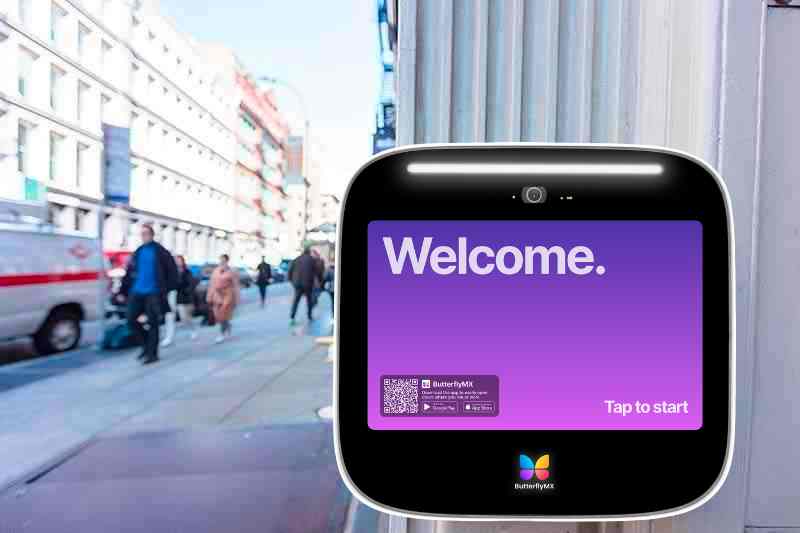 Best alternatives to a Ring Doorbell for apartments
Ring Doorbells were originally designed for single-family homes — and that's where they excel. While a Ring for apartment doors might be convenient for individual residents who want extra peace of mind, they don't work as a holistic solution that can protect and control access for an entire property.
Instead, consider a smart access system that delivers all of the features and security of a Ring Doorbell — without any of the downsides.
The best systems don't just enable communication at one door. Instead, they extend simple, convenient guest access throughout an entire property. Access control systems like ButterflyMX let approved visitors securely visit places from individual apartments to package rooms easily.
Instead of a Ring doorbell for your apartment, you should get:
A video intercom for the front entrance. This will control access at your building's front door or gate while giving visitors a way to easily request access. Residents can video chat with their visitors to confirm who's there before letting them in. Best of all, residents can grant entry from anywhere using their smartphones.
Smart locks for unit doors. Install a smart lock on each apartment unit door to enable convenient, smartphone-based entry. Residents can remotely lock and unlock the door to let in their visitors. Many smart locks even empower residents to send digital access codes to their trusted guests.
Takeaways
Can a Ring Doorbell be used in apartments? The answer is maybe: It depends on the terms of your lease. And don't forget to take your neighbors' preferences into account!
Ring Doorbells allow you to see who's at the door when you're not home, and their app allows you to access your doorbell from anywhere.
A Ring Doorbell won't actually help with getting somebody into your apartment, and you may find installing one difficult and not worth the trouble.
Instead of Ring security systems for apartments, your building would be better served by an all-inclusive access system that offers remote unlocking capabilities, like ButterflyMX.