When your guest or visitor arrives at your building, they will search for your name on the ButterflyMX video intercom. When they find your name, you have the ability to post a message for them to read before they call you.
This feature is especially important when you are in a situation in which you want to communicate something with your guest, but you won't be able to pick up the phone to let them in because you're at the gym, in a meeting, at a hair appointment, etc. This way, if they call you from the intercom, and you tap to let them in, you can still give them a message. For example, if you are letting your dog walker in, but need to let them know that Fido has already been fed, you can write that message on the intercom.
Prerequisites
How to write a directory message
Step 1: Open the ButterflyMX app and hit 'Account'
Open the ButterflyMX app and go to the account section.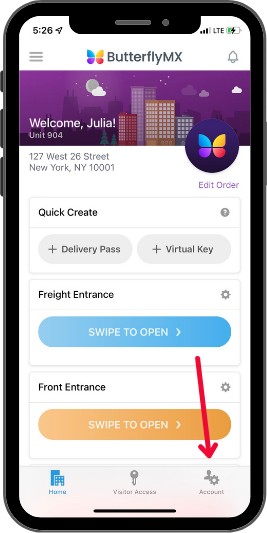 Step 2: Scroll down to 'Directory Message'
Scroll down to where it says 'Directory Message'. Hit where it says 'Not Defined' underneath.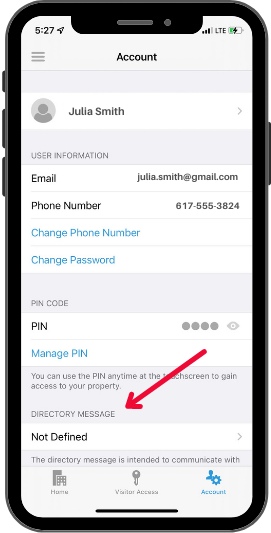 Step 3: Type your message
Type the message that you would like to have displayed on the intercom when a visitor selects your name. You can write a message of up to 140 characters.
In this example, we are leaving a message for a babysitter's arrival.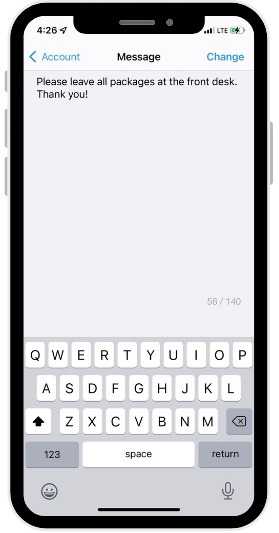 Step 4: Hit 'Change'
Hit 'Change' in the top right corner. This won't be permanent – you can change it at any time.
When your visitor arrives, this message will be displayed at the intercom when a visitor selects your name.
If you'd prefer for your guests to not use the directory, you can provide them with a virtual key.