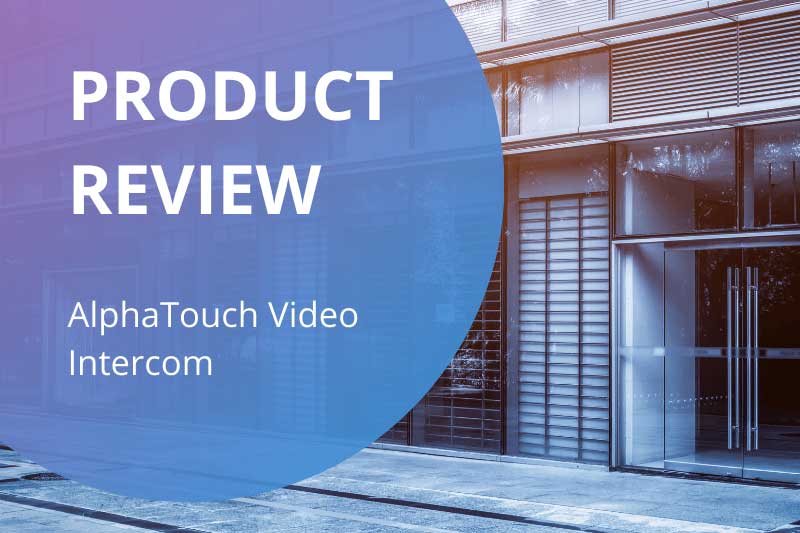 When purchasing a video intercom system for an apartment you want a system that operates smoothly, performs reliably, and brings value to your residents, visitors, and building staff. If you're considering the AlphaTouch video intercom for your property, you're probably wondering if it meets all those criteria.
Read on to learn more about the AlphaTouch video intercom and how it may stack up against other intercom systems.
In this AlphaTouch intercom review, we cover:
About AlphaTouch
AlphaTouch is a cloud-based video intercom system from Alpha Communications and is manufactured by Akuvox. Each intercom comes with AlphaTouch's own software installed on it. The intercom includes a touchscreen entry panel, a one-button entry panel, a touchscreen handset, and indoor video monitors.
Watch how ButterflyMX Works:
Overview of the AlphaTouch video intercom
The AlphaTouch video intercom is a touchscreen door entry system with an Android operating system. Equipped with a camera, the intercom allows two-way video calling between residents and guests. To receive calls, residents can either use indoor video monitor devices installed in each unit or the AlphaTouch mobile app on their smartphones. AlphaTouch also may be able to integrate with some existing analog access control systems.
Features
Display options – 7" with touchscreen, color display
Audio capabilities – Two-way audio calling
Video capabilities – Two-way video calling with a smartphone
Weather-resistant – IP65 rated hardware
Pricing
The AlphaTouch website suggests that its monthly software pricing starts at $2.50 per apartment. The cost of hardware is not listed on the website at the time of writing. You should get a quote for more information.
Pros & cons
Pros:
Smartphone-based access: Residents can video chat with visitors and open doors from the AlphaTouch mobile app.
IP65 rated: Hardware may be moisture and dust-resistant.
Cons:
Only one size option: The 7-inch touchscreen may be the only size available.
Lack of integrations: AlphaTouch may not integrate with property management systems or other smart home systems.
Low user app reviews: 1.7 rating in the Apple App Store, and only two reviews in the Google Play Store at the time of this publication
Third-party risk: Since the AlphaTouch video intercom system is not manufactured by AlphaTouch, you may run the risk of losing required updates or support, which may make the system obsolete.
Comparison of AlphaTouch and ButterflyMX
AlphaTouch and ButterflyMX both offer video intercoms with smartphone-based property access. ButterflyMX, however, may offer a more reputable product with a larger array of features than AlphaTouch.
Integrations are a key distinction between ButterflyMX and AlphaTouch. ButterflyMX integrates seamlessly with several property management systems (PMS) that you may already use. These integrations allow you to quickly and easily manage your tenant directory and sync data between your rent roll and your intercom. ButterflyMX also integrates with other devices — such as smart locks — that add value for your residents.
In contrast, AlphaTouch may not integrate with any PMS or smart home devices such as Alexa. A crucial factor to consider when choosing your video intercom system is its performance record and user-friendliness.
ButterflyMX has more than 7,000 five-star reviews from residents, property managers, and owners. These reviews illustrate how useful and reliable the ButterflyMX video intercom is. ButterflyMX has been successfully installed in more than 6,500 buildings.
AlphaTouch vs ButterflyMX
The AlphaTouch video intercom may fail to deliver a reliable and useful experience for your residents and property staff. However, ButterflyMX's durable hardware, dependable software, and powerful mobile app streamlines and simplifies property access.
| Feature | ButterflyMX | AlphaTouch |
| --- | --- | --- |
| Built-in camera | Yes | Yes |
| Mobile app & smartphone-based access | Yes | Yes |
| IP65 rated | Yes | Yes |
| Customizable intercom screen | Yes | No |
| Multiple intercom sizes | Yes | No |
| PMS integrations | Yes | No |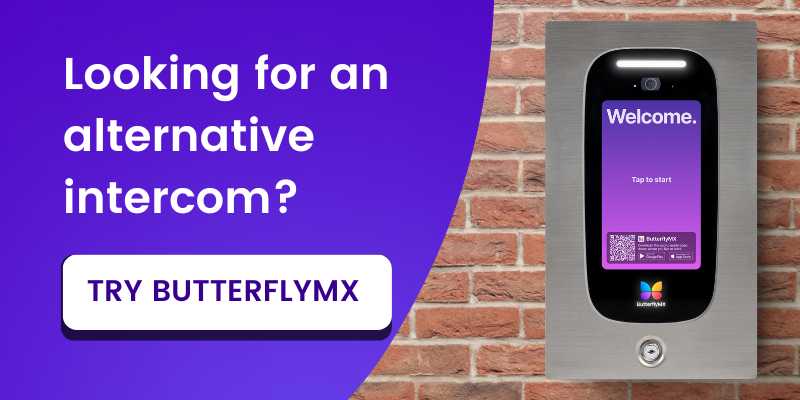 Disclaimer: ButterflyMX provides these blog posts to help our customers and potential customers make the right business decisions for them. Our blog posts are based on the information we have available to us at the time of writing.