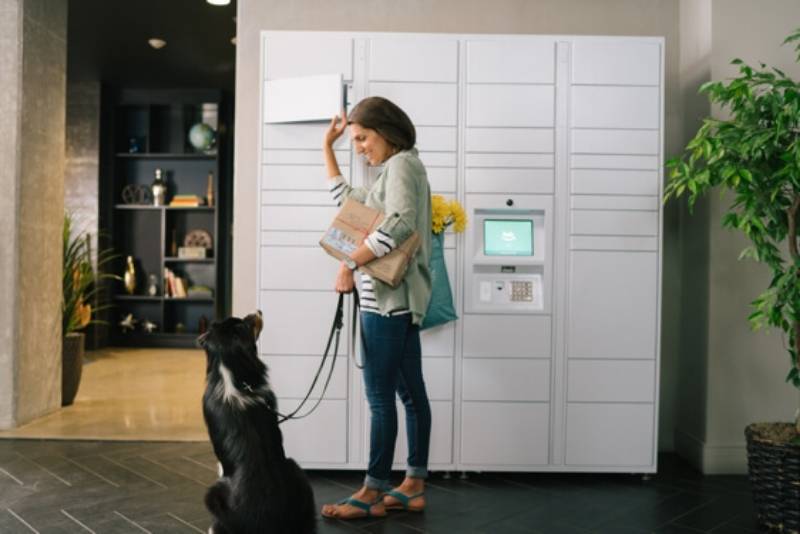 Are you overwhelmed by deliveries at your multifamily property? Thanks to online shopping there's a never-ending stream of deliveries arriving at your building. Whether you own, manage, or live in an apartment building, you need a package management solution. One solution you may have heard of is the Amazon Hub Apartment Locker.
In this post, we take a look at Amazon's apartment package locker system and discuss how it works, how much it costs, and how it stacks up against other package management solutions.
This review post covers:
About Amazon Hub
Amazon Hub is Amazon's package locker solution designed for both commercial and residential buildings. Amazon locker locations include both apartment buildings and commercial businesses, and they serve as package pick-up points for Amazon customers only.
But the Amazon hub lockers function a bit differently at multifamily buildings.
The Amazon Hub Apartment Locker is the company's package locker designed specifically for apartment buildings and multifamily communities. Amazon lockers accept both Amazon and non-Amazon packages, so couriers can drop off all your residents' packages regardless of the delivery carrier.
Amazon Hub package lockers are large structures that can be installed inside or outside your building. The structure contains several compartments to securely hold packages after couriers deliver them. Residents have 24/7 access to retrieve packages using a delivery PIN code that opens the correct compartment.
How big is the Amazon Hub package locker?
The Amazon Hub for apartments is 6 feet wide by 1 foot 10 inches deep and has 42 compartments. You can add expanders as needed, which are 3 feet by 1 foot 10 inches and have 23 compartments. Amazon also advertises oversized expander lockers but does not specify their size or number of compartments.
How long can items stay at Amazon Hub?
Items can stay at the Amazon Hub locker for a total of three days. If they're not picked up in time, an Amazon driver takes the item back and the resident receives a refund.
How do Amazon Hub lockers work?
An Amazon Hub apartment locker works by allowing residents to use smartphone-based credentials to open the locker.
Here's what happens when a resident picks up a package:
Courier makes delivery. Delivery couriers use a PIN code to access the package locker. They must select the recipient from a directory and then scan each package for that resident. After scanning an item, a compartment door of the correct size opens.
Resident receives a notification. When a resident receives a notification that they have a package, they'll also receive a unique pick-up code and/or barcode. They can visit the Amazon Hub Apartment Locker at any time to retrieve their packages.
Resident uses a credential to unlock the door. To pick up at an Amazon locker, the resident enters their pick-up code or scan the barcode they received. The door to the correct compartment pops open automatically. When the resident takes the package and shuts the door, it locks automatically.
Does Amazon Hub take all packages?
Unfortunately for some, the Amazon Hub Apartment Locker only accepts Amazon deliveries. You'll need a separate access control system for residents who order items from other companies or services.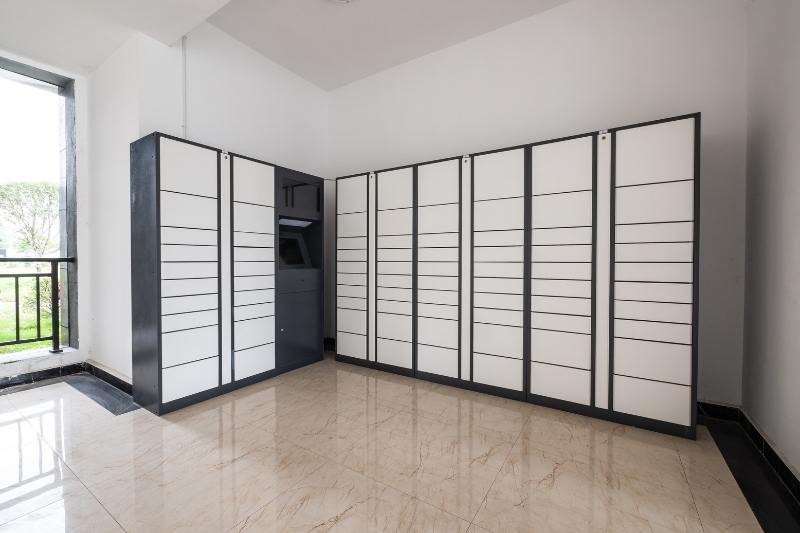 Should you get an Amazon Hub Apartment Locker?
If you're a multifamily owner or operator, you know your building requires a package management solution. If you've considered Amazon pickup lockers, read on for more details about the product and how it compares to other package solution providers.
Amazon Locker Hub Features
Modular system with optional expander units
The base unit has 42 compartments
Touchscreen and keypad interface
Amazon Hub Apartment Lockers cost
Amazon does not provide exact pricing for its Amazon Hub locker, but it does claim that the Amazon Hub lockers are available at an "affordable upfront cost." At any rate, to get a quote, reach out to Amazon directly.
Pros and cons
Pros:
Contains compartments of various sizes, including oversized compartments
Automatically sends email and/or text notifications to residents when they have received a package
Cons:
You can't purchase an Amazon apartment package locker without submitting a request to Amazon and waiting for approval. Submitting the request does not guarantee approval.
Even with oversized compartments, the package locker system may not be big enough to accommodate particularly large or long packages, like furniture.
The Starter Apartment Locker likely isn't large enough for mid-sized or large apartments.
The Amazon Hub's location on your property might present some difficulties. For example, if you place the Amazon package locker behind a locked door or gate, you'll need a separate access control system to grant delivery couriers access to the building.
Amazon Hub locker alternatives
Now that you know more about the Amazon Hub dropbox and how it works, you're probably wondering how it compares to other package management solutions.
Every multifamily property needs a system to accept deliveries, organize and store packages, and distribute them to residents. The two most popular multifamily delivery management solutions are package lockers and package rooms.
Instead of requesting an Amazon Hub locker or purchasing another package locker system, invest in the better alternative: a package room.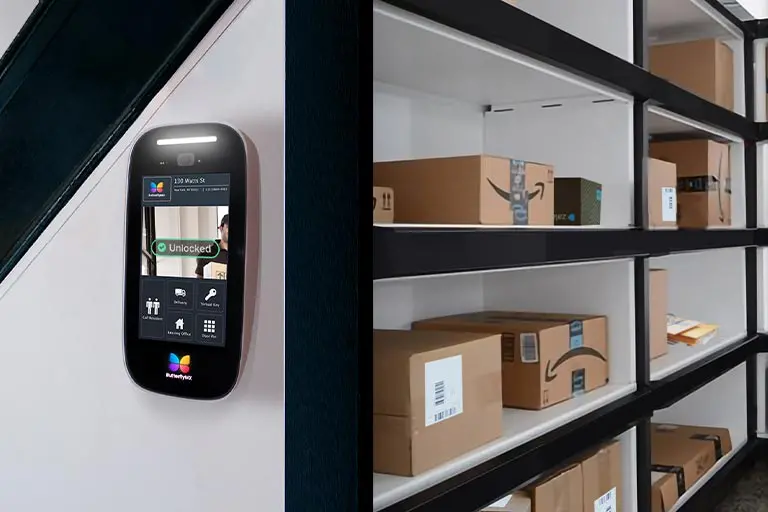 Why a package room is better than package lockers
There's no need to spend time researching package lockers when you can set up a package room instead.
Here's why package rooms beat out package lockers:
Greater flexibility: Package lockers are limiting because you can't adjust the size of the compartments. As a result, package lockers can't accommodate packages of all sizes. In contrast, package rooms don't confine deliveries to compartments. Additionally, once there's a package delivered, it doesn't take up an entire compartment, but rather a small amount of shelf space.
Make use of existing space: To install a package locker, you'll need a large, open space in a communal area, like your building's lobby. However, not all properties can accommodate that. But package rooms make use of existing space — you can turn an unused office or storage closet into your package room. 
More affordable: Package lockers cost thousands — possibly even tens of thousands — of dollars. With a package room, all you need to purchase and install is a video intercom to manage access at the door.
Watch how ButterflyMX's package room works:
Comparison of Amazon Hub Apartment Locker with ButterflyMX package room
An Amazon Hub package locker provides a place for couriers to leave packages, but the system may be inconvenient or even unfeasible for many properties. First, package lockers take up a lot of space, so property staff must find a good spot with enough square footage. Additionally, Amazon Hub locker compartments are limited to packages of a certain size — they can't accommodate bulky or long items.
A ButterflyMX package room, on the other hand, is convenient for couriers, property staff, and residents. Chances are you already have a room in your building that you can turn into a package room. With a video intercom at the door and shelving in the room, you're all set!
Once your package room is set up, couriers can deliver packages of all sizes. Then, residents receive an automated notification every time they receive a package.
You should also consider how many multifamily properties report that couriers don't bother using their package locker system, opting instead to just leave packages in the lobby or with the front desk staff. On the other hand, couriers are much more likely to use package rooms because the drop-off process is far simpler than placing every package in a different compartment.
Finally, the Amazon Hub requires Amazon's approval — which means you might not even be approved to install the locker! In contrast, you can contact the ButterflyMX sales team anytime to request a quote, view a demo, and purchase a package room solution.
Amazon Hub vs. ButterflyMX
Although it carries the Amazon brand, Amazon Hub Apartment Lockers may not be the best package management solution. Amazon's package locker may not deliver the flexibility of alternatives such as a package room. Package rooms offer a robust yet easy-to-use solution to manage the dozens of deliveries your building receives day in and day out.
| Feature | ButterflyMX  | Amazon Hub  |
| --- | --- | --- |
| Flexible space | Yes | No |
| Purchase without approval | Yes | No |
| No extra charge for additional storage space | Yes | No |
| Automated resident notifications | Yes | Yes |
Disclaimer: ButterflyMX provides these blog posts to help our customers and potential customers make the right business decisions for them. Our blog posts are based on the information we have available to us at the time of writing.