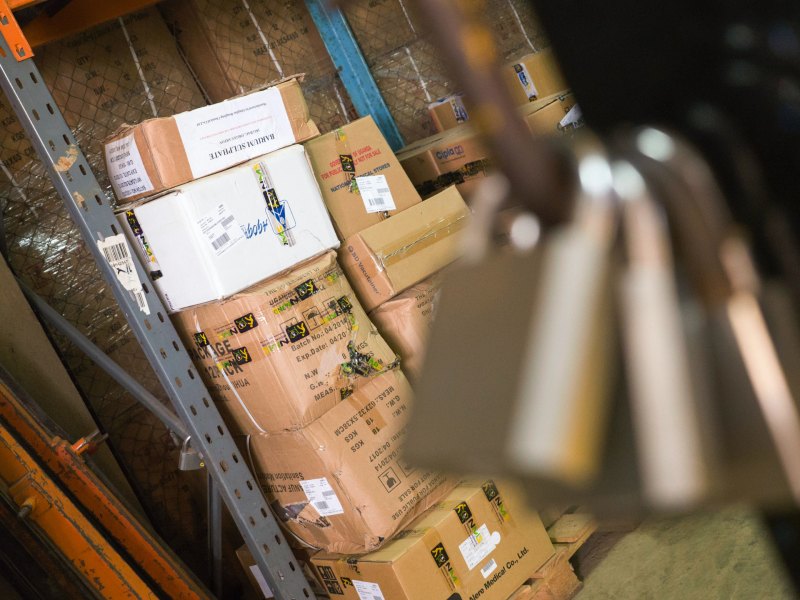 We're living in a time where billions of packages are being delivered every year.
And as the number of deliveries continues to increase, the cost of having building staff manage package delivery is growing with it. Consequently, many buildings are considering alternatives to building staff accepting packages on their residents' behalf.
Some real estate professionals believe that package lockers are best; however, they often don't provide the flexibility needed to accommodate large items nor do they offer the ease-of-use that delivery people and residents require to actually use them — fussing with each individual locker quickly becomes tiresome.
Not to worry, there is a better solution: package rooms. Delivery people love them because they don't have to fret with putting packages one-by-one into individual lockers, residents love them because their packages (no matter the size) are safe but easily accessible, and building staff love them because they no longer have to manage packages!
There's more good news: with a bit of creativity, you can convert almost any space into a package room. And, if you already have a designated space, there are a few things you should do to optimize it for both security and scale.
Tips for improving an existing package room:
If you already have a package room, here are some ways you can improve it.
Install an automatic door closer mechanism on the package room door. It will help to keep your residents' packages secure at all times.
Invest in motion-sensor lighting or motion-sensing bulbs. The motion sensor will turn the lights on when it senses activity inside the room and keeps carriers and residents from entering a dark room and having to search for a light switch.
Add video surveillance and signage. More often than not, the idea that someone is watching is enough to deter a would-be thief from stealing a package that does not belong to them. For more on this, see below.
Install a package room solution to not only make package management at your property more efficient but also add an additional layer of security to your existing setup.
Tips for setting up a new package room:
1. Location:
If you have not yet selected a location for your package room, follow these recommendations:
At a minimum, designate a 10′ x 15′ room for an average 300-unit property. (Ideally, select the largest room you can procure in order to account for future package volume growth).
Look for a space in which you will be able to install shelving to keep resident packages organized.
The room should be easily accessible to both residents and carriers, but be sure that it is not publicly accessible.
If you are planning on installing ButterflyMX's package room solution for added security and efficiency, be sure that you have the necessary wiring in place. Try to select a location in which you can install the touchscreen against the wall, preferably on the door strike side to avoid additional wiring.
2. Power & internet:
Make sure that whatever room you choose has access to power and the internet. Many products and services you will want to add such as electronic door locks, cameras, and package management solutions require it. If you have a light switch and an ethernet cord available in the room, you should be good to go. If not, your electrician should be able to get you set up.
3. Shelving:
Shelving inside the package room will help keep the packages organized, tidy, and most importantly easy for your residents to find! We recommend using adjustable wire or metal shelving, as these allow for changes in the future.
In terms of placement and sizing, here's what we recommend:
Height recommendations:
Shelf 1 – the bottom should be 30″ from the ground.
Shelf 2 – the bottom should be 46″ from the ground.
Shelf 3 – the bottom should be 60″ from the ground.
Shelf 4 – (optional) should be 72″ from the ground.
Depth recommendations:
Shelves should be between 18-24″ deep depending on the depth of the room.
Width recommendations:
Use fewer columns to support the shelves, as they can limit the acceptable width of packages that will be placed on the shelves.
4. Video surveillance and signage:
If you'd like to add another layer of security inside of your package room you can install simple video surveillance and signage.
Many companies now offer simple-to-install cameras that require little to no wiring. Amazon has their Blink Cam and Google has its Nest Cam. These cameras offer free video and audio recording. And if you combine that with a sign inside the package room that states, "This room is under video surveillance", it's usually enough to scare any would-be thief from attempting to take a package that does not belong to them.
Following the steps and recommendations above will ensure your building cuts down on package mismanagement and theft — saving you time and money.
To see what your current package management process is costing your building, use our package calculator.