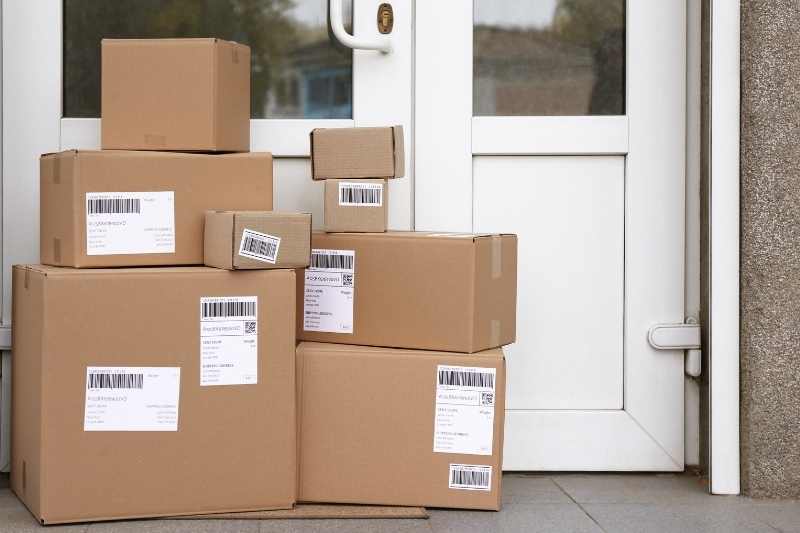 Package theft is a widespread issue and a serious concern for apartment residents. And it's not just buildings in cities or urban areas that are prone to theft — apartments across the country experience it every day. As a property manager or owner, you need an effective package management solution, like a package room or package lockers, to prevent theft and keep your residents' deliveries safe.
Read on to learn more about the pervasiveness of package theft and what you can do to combat it. We'll also explore the top three package theft solutions for apartment buildings.
In this post, we cover:
What is package theft?
Package theft — also known as porch piracy — is the act of stealing packages that haven't yet been picked up by the intended recipient. It most often occurs after delivery, when parcels are left unattended. That said, it can also occur at other stages of the shipping and delivery process.
Package theft occurs most frequently from the porches or front steps of single-family homes and from stoops or lobbies of apartment buildings. 
Package theft statistics
Whether or not you've ever had a package stolen, it's important to understand the prevalence of this problem.
Here are 10 shocking package theft statistics:
49 million Americans have had at least one package stolen in the past year.
Of all 50 states, Alaska experiences the highest package theft rate (29% of Alaskans have reported they've been the victims of package theft.
Maine has the lowest rate of package theft at 12%.
53% of people report that they've changed their plans at least once to make sure they're home when they have a package being delivered.
41% of people say they've decided not to purchase something from an online retailer due to fear of package theft.
The package delivery industry has grown by at least 5% every year since 2014.
33% of people believe that package theft occurs because of where packages are dropped off and how easy it is for anyone to grab them.
Package theft rates are increasing across the country — in fact, the LAPD has reported a 600% increase in package theft in Los Angeles since 2010.
Roughly 40% of package theft incidents occur in multifamily communities and apartment buildings.
Package delivery — and therefore, package theft — increases dramatically around the holiday season. 
How common is package theft?
Package theft is a common problem that affects multifamily buildings of all sizes throughout the country. Every year, roughly two out of five Americans have at least one package stolen. And as online shopping rates increase, so does package theft.
3 ways to prevent package theft
A whopping 80% of Americans shop online regularly — and experts believe online shopping rates will only increase in the future. On top of that, 41% of Americans receive three to five package deliveries per month. So for a 100-unit apartment building, that's up to 500 packages delivered every month!
Your building is responsible for accepting a lot of packages. That's why you need a reliable way to keep those parcels safe. By investing in package theft prevention solutions, you'll enhance the resident experience, boost retention rates, and provide peace of mind for your residents.
The top three ways to prevent package theft at your apartment building are:
1. Install a reliable access control system
The best way to prevent package theft is to ensure that packages are left inside the building, not outside on a porch or stoop. So, you'll need a way to get delivery carriers through the front door.
The best property access solution is a modern, cloud-based video intercom system. Today's video intercoms offer many ways for carriers to leave packages behind your building's locked front door. They also have a built-in camera, which takes a time- and date-stamped photo every time someone enters the building for added security.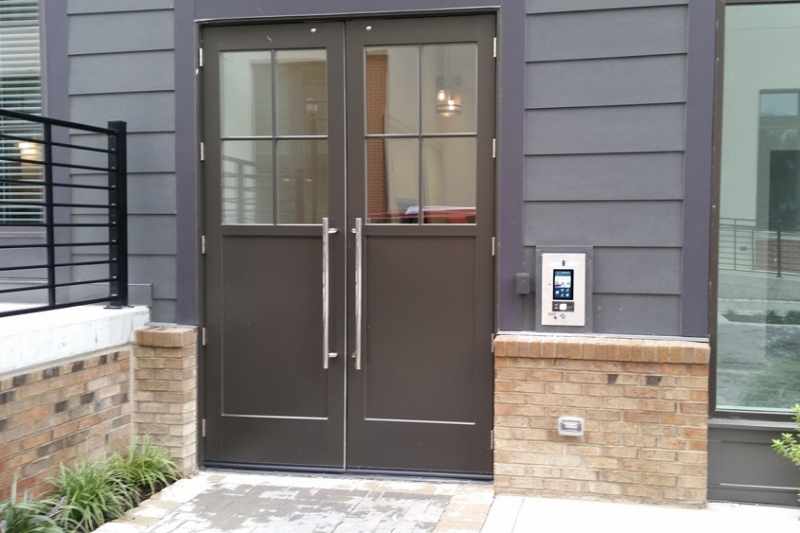 Benefits of a video intercom for courier access
With a video intercom at your property's entrance, couriers use a unique code to gain access. Once they've entered, couriers can leave packages within the building, out of sight of would-be porch pirates.
Alternatively, if a courier doesn't have an access code, they can simply call the resident they're delivering to. It's in your best interest to install a video intercom with a mobile app so that residents can answer calls and open the door right from their smartphones. That way, residents can grant access to delivery carriers even if they aren't home.
You can also program your intercom with a button to contact the building's staff. This way, if all else fails, couriers can request property access from staff to complete their delivery.
Finally, be sure to choose a video intercom with two delivery-friendly features: delivery PINs and passes.
Delivery PINs
Delivery PINs are unique PIN codes that property staff assign to each carrier. Couriers enter their PIN at the video intercom to instantly gain access.
Delivery PINs streamline the delivery process by ensuring carriers can enter the building quickly — without contacting residents or staff. Staff can assign, update, or revoke PIN codes at any time.
Delivery passes
A delivery pass is a single-use, six-digit code that residents send to delivery carriers to provide property access. All a resident has to do is create a pass in the mobile app and paste the code in the "special instructions" box upon check-out.
If you have a video intercom with a delivery pass feature, encourage your residents to use it! Delivery passes are easy to use, guaranteeing access for Amazon couriers, food delivery drivers, and other carriers.
2. Invest in a delivery management solution
Even if you've installed a video intercom at the front door, your building could still be susceptible to package theft. Without a secure place to store packages, couriers must leave parcels in a vestibule or lobby. That's better than the front porch, but still not as secure as it could be!
So, you should also invest in a package delivery system solution in addition to your video intercom. Having a delivery management solution will free up time for property staff while ensuring packages are dropped off in a secure spot for residents to pick them up.
The two best delivery management systems are:
A package room
A package locker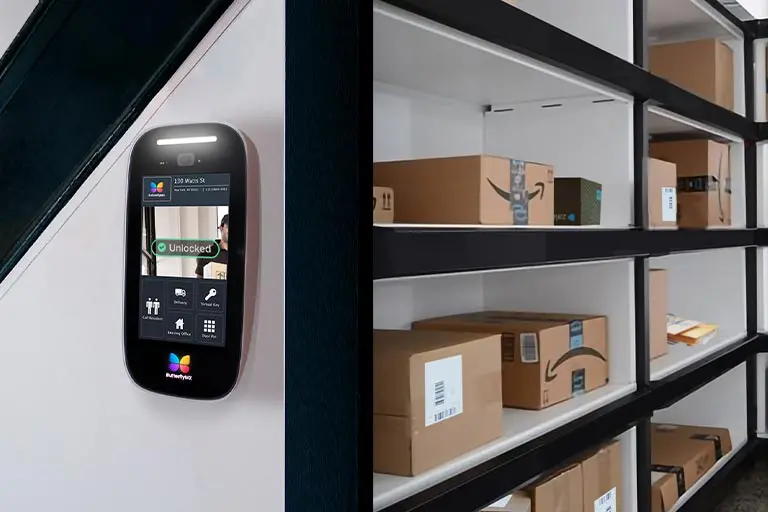 Package room
A package room is a secure room in an apartment building where couriers can drop off packages and residents can pick them up.
To set up a package room, you'll need:
A video intercom at the entryway. Couriers can use the same PIN code to access the package room that they used to gain property access.
Shelves. Install shelves in your package room to keep parcels organized.
When a courier arrives at the package room, they use their delivery PIN to enter the room and select which residents have received packages. Then, they simply leave packages on the shelves for residents to collect. Residents get an automated notification when they've received a package. They can access the room 24/7 to retrieve deliveries.
Watch how the ButterflyMX package room works:
Package locker
A package locker is a parcel storage system with several compartments where couriers can securely drop off packages. Most package lockers require staff to assign a unique code to each courier. Couriers use that code to unlock locker compartments and place packages inside one by one. Then, residents can pick up packages by entering a PIN code to unlock the correct compartment.
Why package rooms are better than package lockers
Both package rooms and package lockers will streamline deliveries and help prevent package theft. But a package room is the better and more efficient option.
Here's why:
Package lockers require a lot of space, but offer minimal storage.
Large or odd-shaped packages won't fit in a locker.
Delivery drivers don't want to fuss with putting packages into the locker one-by-one, so they'll leave them with building staff.
Once you invest in a package locker, it's difficult to add more lockers or expand the system.
Package rooms are more affordable — locker systems cost between $6,900 and $20,000.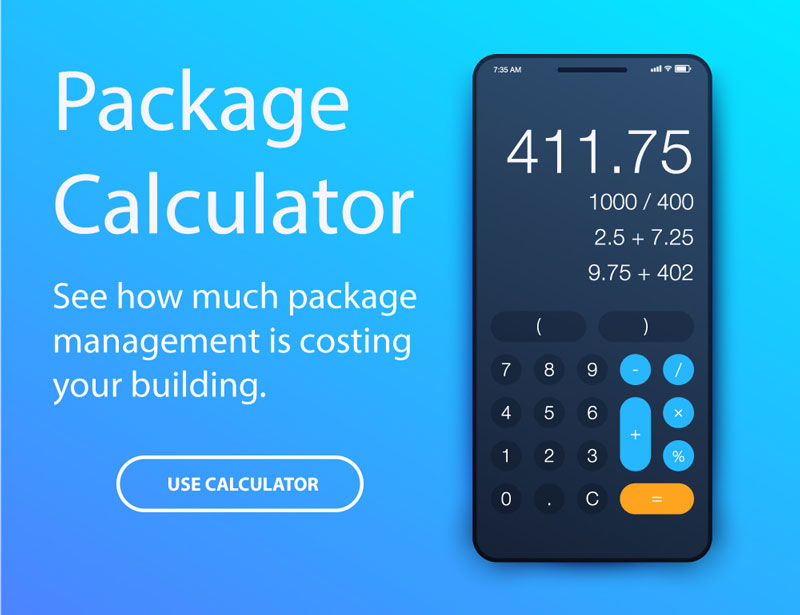 3. Install security cameras
Even if you have a video intercom system and a package management solution, you can add an extra layer of security by installing security cameras around your property.
Security cameras are effective in two ways:
They deter would-be thieves. Sometimes, knowing they're being filmed is enough to deter porch pirates.
They help catch package thieves. In the event that package theft does occur, having strategically placed security cameras can help you pinpoint the thief and hold them accountable.
Install security cameras in at least two places: at the building's front entrance and within the package room (or nearby the package lockers if you have those instead). Having video surveillance at these key points will help you spot anyone taking a package that isn't theirs.
Prevent package theft with a package room from ButterflyMX
ButterflyMX's package room solution makes it easy to ensure successful deliveries and prevent package theft.
Here are the top five benefits of choosing ButterflyMX to manage package deliveries:
Simple property access and delivery for couriers.
Time- and date-stamped photos of every courier who enters the package room.
Automatic notifications — either a push notification through the mobile app or a text message/email — sent to residents upon receiving a delivery.
Delivery PINs and passes for streamlined deliveries.
Easy and affordable installation.
With more than 7,000 five-star reviews and 7,500 installations, ButterflyMX is a top-rated access control provider you can trust. Prevent package theft, delight your residents, and ditch package lockers in favor of a better solution.