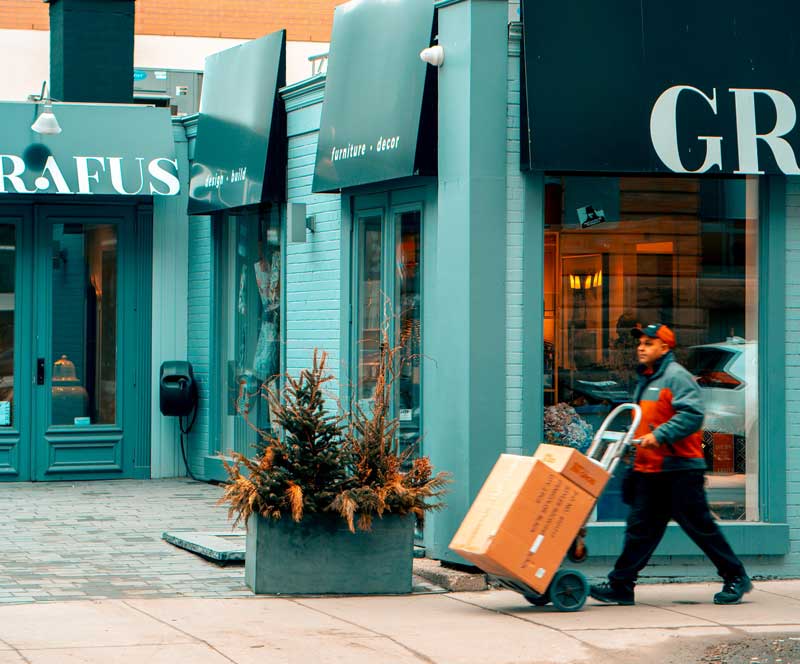 Every day, online shopping and on-demand services grow increasingly popular. As a result, it's impossible to ignore the need for package management in apartment buildings. In fact, there's a good chance you're struggling to keep up with the countless deliveries made to your building each day. But managing deliveries in apartment buildings doesn't have to be a hassle anymore, thanks to technology and modern package solutions.
There are better ways to address those packages piling up at your property. By investing in a more efficient solution, you'll save time, cut costs, and spare your sanity.
Read on to learn:
The evolution of managing deliveries in apartment buildings
Traditional high-touch buildings rely on front desk staff to greet residents, announce visitors, and maintain security. Quite often, they're also tasked with managing apartment package delivery. Front desk staff may have to sign for packages, organize daily deliveries, and distribute packages to residents. But in the age of Amazon, DoorDash, and Wag, modern front desk activities have completely changed.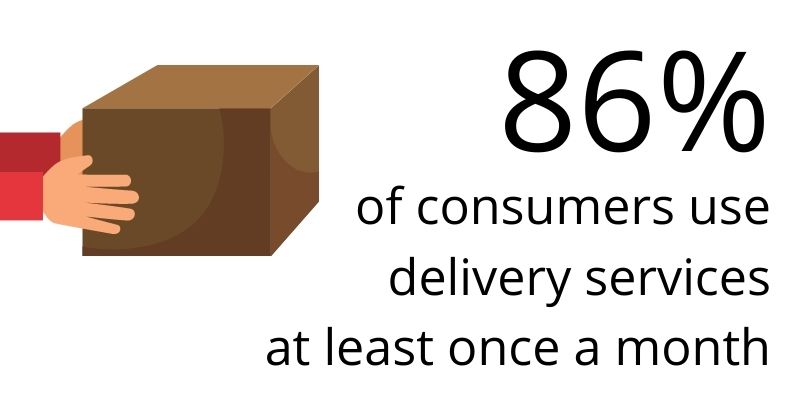 Given that more than 21 billion packages were delivered throughout the U.S. in 2021, front desk staff has much less time to do what they were hired for. Instead, they're now focused on managing an endless stream of packages.
They're also tasked with managing an onslaught of couriers. Today, it's not just UPS and FedEx drivers arriving at your door. Now, the front desk must also handle food delivery services like Postmates and grocery deliveries like Instacart. What's more, as properties continue to partner with service providers such as house cleaning and dog walking, the front desk is left coordinating access.
And if your building doesn't have a front desk? In that case, it's on your residents to coordinate access for couriers. Unless you've invested in technology like a delivery door that lets tenants seamlessly grant building access, your residents must leave their apartments to open the door for delivery people themselves.

Why you need a better way to manage deliveries
If your building relies on one staff member to manage every delivery, it's time to upgrade to a better system. Today, property technology (proptech) has made managing deliveries in apartment buildings a breeze. With technology, you can streamline deliveries and easily distribute packages to residents without relying on a front desk. In addition, residents no longer have to leave their apartments to accept deliveries.
Here are the benefits of upgrading to a tech-powered delivery management system:
Save money. There are hidden costs to managing deliveries the traditional way. If your staff is handling package intake, part of the salary you pay them goes toward package management.
Save time. When a staff member spends time handling apartment parcel deliveries, they can't tackle other more important tasks, like greeting visitors or addressing residents' concerns.
Improve efficiency. It's no surprise that implementing technology creates greater efficiencies. With a tech-powered package management solution, you'll get couriers into the building effortlessly, ensure packages are dropped off quickly, and get those packages into residents' hands faster,
Delight residents. Your residents order everything online (especially around the holidays), and they expect to receive their packages without a hitch. Effective package management solutions significantly improve the resident experience. Happy residents are key to your bottom line, so anything that helps retain residents is a plus.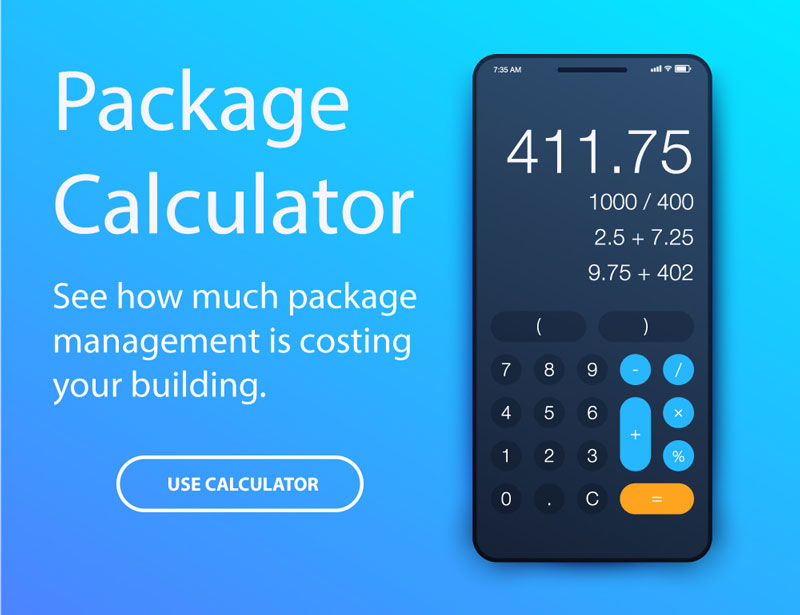 4 modern package solutions for apartments
Now that you know the benefits of using technology to manage apartment package deliveries, you'll want to know your options. There are many different kinds of package management systems for multifamily buildings. Below, we explore four of the most common solutions.
Here are four proptech solutions for managing deliveries in apartment buildings:
1. Package rooms
A package room is a room within your building where delivery people can drop off packages, and residents can retrieve them at any time. Package rooms for apartments capitalize on existing, unused space and turn it into a valuable amenity.
To set up a package room, you just have to install a video intercom to manage access at the door. Add some shelves to the room and you've got a functional, secure space to store parcels.
An apartment building package room is the best way to manage deliveries because it:
Ensures couriers can enter the building. Couriers use a unique PIN or a single-use delivery pass to enter the building and the package room. If they don't have a credential, they can call the resident or an on-site staff member, who can grant them access remotely.
Keeps packages safe behind a locked door. Packages are never left outside or in the lobby. Only residents and staff can enter the package room.
Automatically notifies residents of deliveries. Couriers use the intercom to select the residents who have received packages. The system then sends an automated notification to those residents, alerting them of the delivery.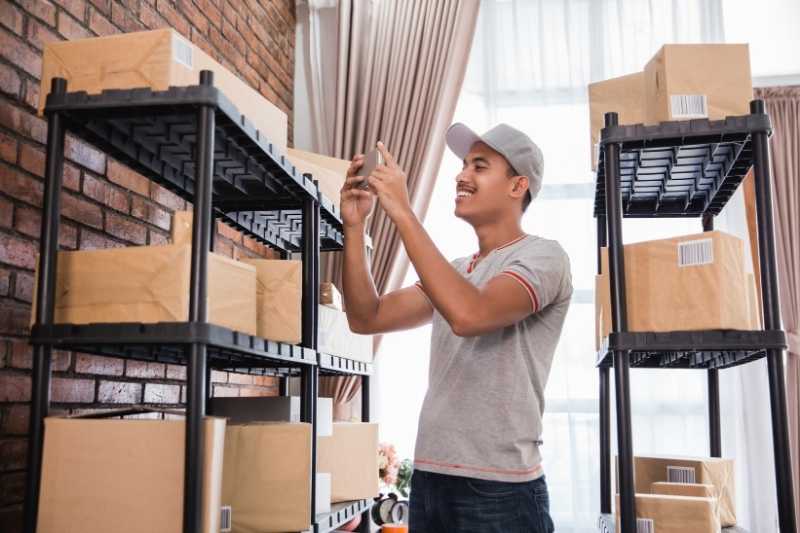 2. Package lockers
Package lockers for apartment buildings are large storage containers where couriers can securely leave packages. You install package lockers in a common area of your building — usually a lobby.
When a courier arrives, they use a screen built into the locker system to sign in and select the residents who are receiving a delivery. One by one, the courier places each parcel into a different locker compartment, and each compartment door locks automatically. Then, the system notifies residents, who use a PIN code or barcode to open the locker and retrieve their packages.
Package lockers do provide security and prevent package theft, but they have some drawbacks:
Not all couriers use package lockers — some may still drop packages at the front desk.
Package lockers are expensive — the hardware itself can cost $10,000 or more, and you'll have to pay monthly service fees, too.
They take up a lot of space in your building.
They can't be adjusted — if you need more space, you have to purchase and install more lockers.
Since the locker compartments are fixed, they don't fit very large or oddly shaped packages.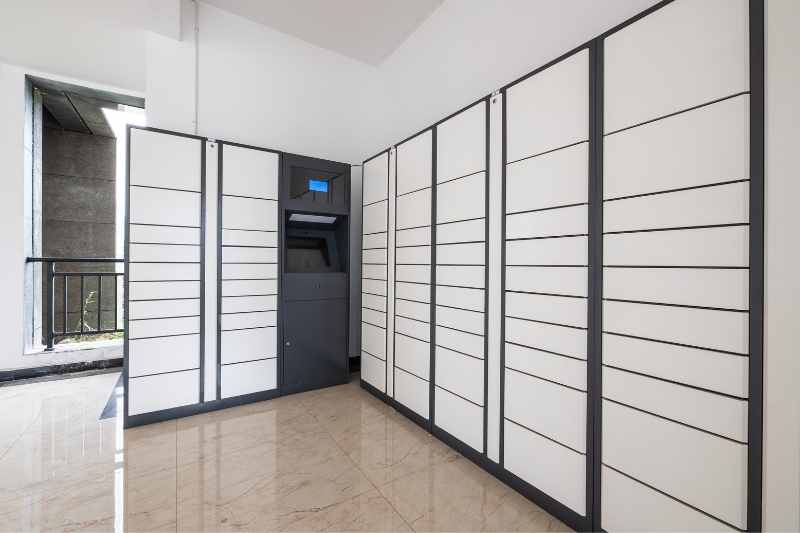 3. Remote doorman
A remote doorman is a building entry system that comprises a video intercom and an off-site team of operators. It acts as an alternative to an actual, in-person doorman.
A remote doorman can manage deliveries in apartment buildings by serving as a way to grant property access to couriers 24/7. At any hour of the day, a courier can request access to the building through the remote doorman.
The drawback of using a remote doorman for package management is that you may still need an additional solution, like a package room, to keep parcels safe and prevent theft. For example, even if a courier can access the building through the remote doorman system, they'll still need to drop all their packages somewhere. In medium or large apartment buildings, couriers won't want to go door-to-door to deliver every parcel. So, they'll opt to leave packages in the lobby, where they're more susceptible to theft.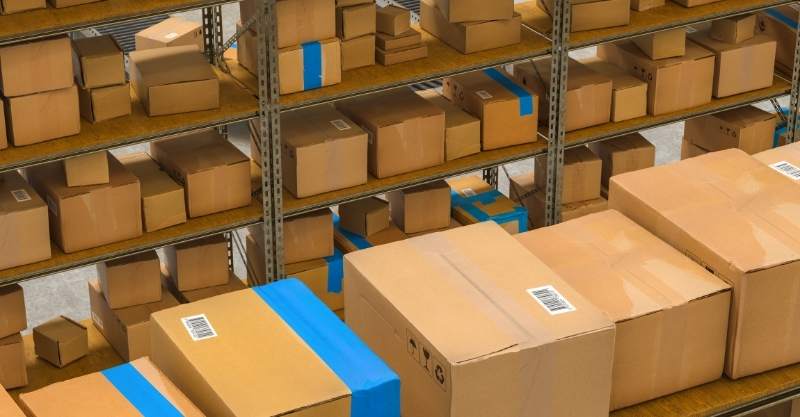 4. Third-party package storage and delivery
One outside-the-box solution for managing deliveries in apartment buildings is a third-party service that accepts, stores, and delivers packages right to residents' doors. Companies like Fetch offer this service as a way to ensure deliveries and prevent package theft.
Here's how the process works:
The original carrier (i.e., USPS, FedEx, UPS) delivers your resident's package to the third-party, off-site facility.
The third party notifies your resident that they have received a package at the facility.
Your resident schedules a delivery window to receive the package.
The third party delivers the package straight to your resident's door within the delivery window.
Although this solution removes the responsibility of accepting and distributing packages from your staff, it's not the best solution.
The drawback is that you'll still need an access control system to ensure the company's couriers can get into the building. What's more, residents still have to designate a delivery window and ensure they're home to accept the delivery. Most residents want to avoid this hassle, so this solution may not appeal to them. Finally, this system won't accommodate all deliveries, such as Postmates food orders and grocery deliveries.
Summary
Managing deliveries in apartment buildings used to require staff involvement. But these days, technology takes the work out of accepting, sorting, and distributing packages in multifamily properties.
Package rooms and package lockers are the two most common forms of package management, though package rooms are the more convenient and affordable option.
ButterflyMX's package room solution checks all the boxes: It provides building access to couriers, keeps packages safe, alerts residents of deliveries, and eliminates staff involvement in the package management process.