The 2020s are the age of smart everything — and smart lockers are no exception. As the name suggests, smart lockers are the next evolution in apartment building package storage for residents.
More people than ever order packages and goods online — thanks to Amazon and grocery delivery services like Instacart. What's more, reports of package theft are on the rise all over the country. So, ensuring that your property can protect your residents' packages is extremely important. And smart locker systems are one potential solution.
However, smart lockers might not be best for your multifamily property. Read this guide to learn everything you need to know about smart package lockers, including how they work and how much they cost. You'll also learn the pros and cons of smart lockers and what your best alternative may be.
This guide covers:
What are smart lockers?
Smart lockers are secure storage systems that contain a computer and sensors to automate the package delivery and pick-up processes.
While they may be used as a temporary storage facility — for example, for travelers to store luggage during a long layover — smart lockers are primarily used as a package delivery system for multi-tenant buildings.
Smart lockers serve as a secure place where mail carriers can leave packages behind a locked door to ensure successful deliveries and prevent package theft. And while they're most prevalent in multifamily properties, smart lockers can also be used in commercial buildings. Smart lockers for offices streamline deliveries for tenants and their employees.
You'll usually find smart lockers located in the front of a building, like in the lobby. Package delivery people use a digital code to unlock compartments in a locker system and drop off packages. Overall, smart lockers may cut down on package theft and "sorry we missed you" slips from mail carriers.
The components of a smart locker system are:
Cubbies. These are the locked compartments where packages are stored. Couriers unlock a compartment by entering an access code and scanning a package. Then, after they place a parcel inside a cubby, it locks automatically.
Smart locker software. The software is what makes a smart locker 'smart.' It powers the locker system's user interface, which allows couriers to enter a digital code to unlock compartments and securely deliver packages. The software also allows building staff to upload a tenant directory and assign access codes to carriers. Finally, the smart locker's software sends automated notifications — by text, email, or mobile app — to residents when they receive a delivery.
How much do smart lockers cost?
On average, smart lockers cost anywhere from about $5,000 to $21,000.
However, keep in mind that these prices don't include possible installation costs or ongoing service fees.
How do smart lockers work?
Smart lockers work by allowing delivery carriers to enter a digital code to electronically open locker compartments, then place parcels in the lockers to ensure secure deliveries. As a result, property staff members don't have to manage deliveries manually, and residents can pick up their packages from the smart locker anytime.
Here's the process of using a smart locker system:
A courier enters an access code at the locker, which usually has a touchscreen or otherwise digital interface.
The courier scans each package and marks which resident each parcel is for.
After placing a package in a locker, the courier shuts the door, which locks automatically.
Then, the smart package locker system sends an automated notification with a unique PIN or QR code to each resident who received a delivery. The notification could be a text, an email, or an app notification if the system comes with a mobile app.
Residents use their QR or PIN code to unlock the correct locker compartment and retrieve their packages.
Watch how the ButterflyMX package room works:
Are smart lockers safe?
Yes, the best smart lockers are reasonably safe.
Every year, tens of millions of Americans have at least one package stolen. Smart lockers help keep packages away from prying eyes. Smart lockers are extremely difficult to break into without a code. There's also no readily available way to hack them or pick the lock.
However, some valid safety concerns are:
An unauthorized person acquiring a courier's or a resident's access code.
Couriers choosing not to use the lockers, instead leaving packages out in the open.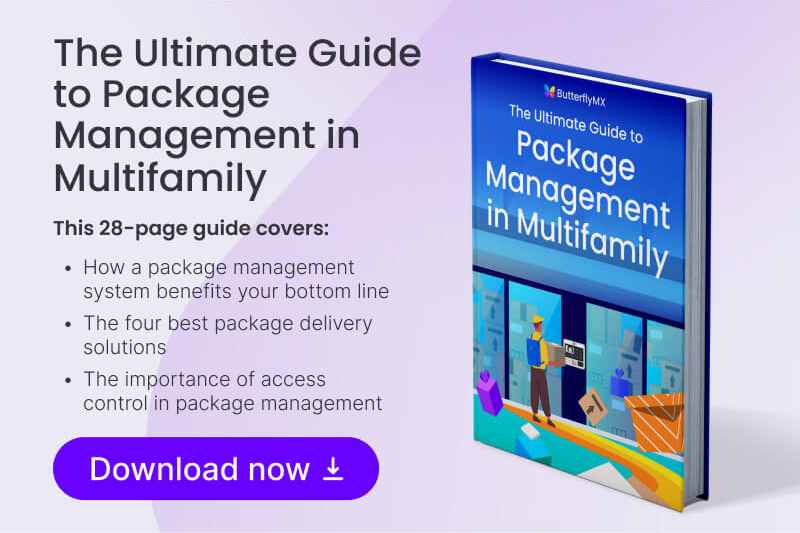 The pros & cons of smart lockers
Smart lockers are a decent package delivery system compared to the alternative: forcing staff to manually manage deliveries or leaving packages out in your building's lobby.
So smart locker technology is certainly a step up, but is it good enough?
Pros of smart lockers:
They're available 24/7 for residents to access. So, residents can pick up packages at any time.
They offer a form of contactless delivery.
They save time for staff, who won't have to handle the package intake and storage process.
Residents can use their phones to unlock them.
They help deter porch pirates.
Cons of smart lockers:
Compartment size is really restrictive. Big or odd-shaped packages such as TVs and furniture will still be left out in the open.
There's no surveillance process monitoring who accesses the lockers.
They're bulky and take up a lot of space in your building.
Smart lockers are expensive and require a huge upfront investment.
Many delivery carriers ignore package lockers and opt to leave packages at the front desk, by the front door, or in the lobby instead. This defeats the purpose of installing lockers in the first place and leaves parcels susceptible to theft.
Smart lockers don't come with any built-in building access control features. So, if the lockers are in your building's lobby and your front door is locked, couriers will have trouble accessing the lockers.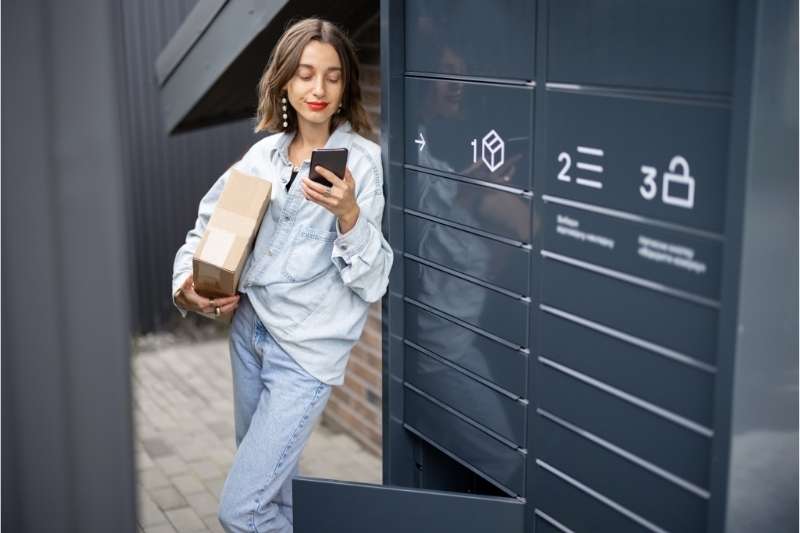 The best alternative to a smart locker
A package room is the best alternative to a smart locker. Instead of a series of cramped cubbies that won't fit boxes of all sizes, why not give residents a whole room protected by advanced security features?
Package rooms do everything that smart lockers do but better. They guarantee a resident 24/7 access to their packages. Residents can also operate them entirely from their phones, and they prevent package thieves.
Here's why package rooms are better than smart lockers:
1. Ample storage space
These days, people order everything from furniture to groceries online. So, many parcels are oversized or oddly shaped.
Additionally, many residents also have multiple packages delivered in one day — and during the holiday season, this number multiplies even more.
As a result, you need a package management solution that provides ample storage space. Unfortunately, smart lockers limit deliveries to the size of the largest compartment. In contrast, a package room can accommodate parcels of all shapes and sizes.
2. Scalability
A package room is more accommodating to the ever-changing nature of your building's residents.
For example, a single smart locker might be enough for an individual or couple who live in your building's units, but if that unit's occupancy reaches three or four, a smart locker might not be able to accommodate their packages.
In contrast, a package room is endlessly customizable for tenants. When you set up a package room, you can easily add or remove shelves or move them around to accommodate your building's needs at any time.
3. More affordable
As opposed to investing up to $21,000 on individual lockers for your building, package rooms are substantially more affordable. All you really have to worry about purchasing is a video access control system that secures the room, and some shelving to help manage and organize packages.
Additionally, instead of worrying about maintenance costs for multiple lockers, you'll only have one system to keep up to date.
4. Easy installation
Package rooms are also easy to set up. All you have to do is add shelving, ensure that the room has electricity and an internet connection, and install a video intercom at the entryway to control access.
From here, you can also opt to install additional video surveillance within the room for added security. That way, you can monitor activity as needed.
|   | Smart Lockers | Package Rooms |   |
| --- | --- | --- | --- |
| Storage for packages of all shapes & sizes | No | Yes |   |
| Large upfront investment | No | Yes |   |
| Scalable | No | Yes |   |
| Easy to install & maintain | No | Yes |   |
Takeaways
Smart lockers are secure containers where delivery carriers can leave packages for residents.
The primary way smart locks work is by electronically locking. They can only be opened with a secure PIN or QR code.
Smart lockers are beneficial because they cut down on package theft and don't require hands-on package management. Their cons include not accommodating larger packages and a big price tag.
A package room is better than smart lockers because they're more inclusive in the packages they accommodate, more affordable, and offer more security options.