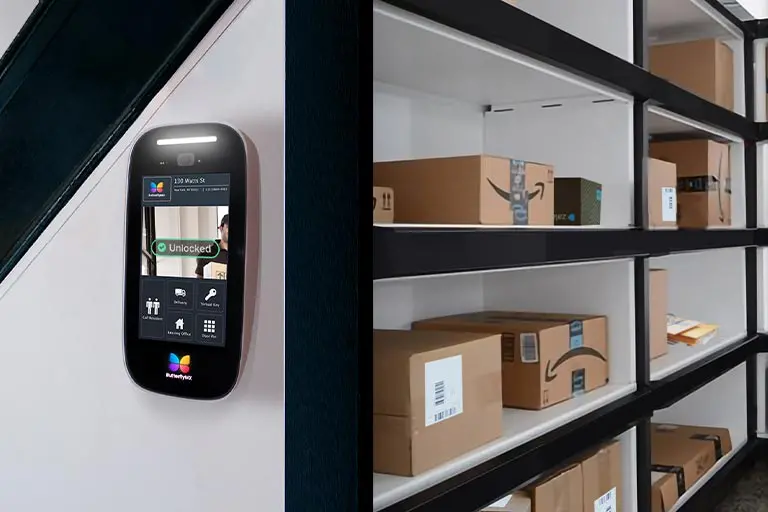 If you're sick of managing deliveries at your apartment building, it's time to invest in a package room — it's the best delivery management system for apartment buildings.
But what is a package room, and how does it work? Read on to learn more and discover why it's the best solution for your building.
This post covers:
What is a package room?
A package room is a designated room within an apartment building where couriers drop off packages and residents pick them up. Most package rooms include shelving to store parcels and keep them organized.
Parcel rooms can be left unlocked or can be locked and managed with an access control system. You can also opt to install a security system or video surveillance in the room to prevent package theft.
Most buildings opt to make package rooms available 24/7. That way, couriers can drop off packages and residents can pick them up at any time.
Package room cost
A package room is a more affordable package management solution because you use existing space within your building. The primary expense to consider is an intercom or other type of entry system to control access to the room.
An access control system for your package room may cost anywhere from $200 to $3000 for hardware, plus possible monthly service fees. Keep in mind that a dedicated access system for your package room is a worthwhile investment because it keeps parcels safe and prevents unauthorized people from entering the room.
You may also want to budget for:
Shelving in the room
A video surveillance system
Signage to keep packages organized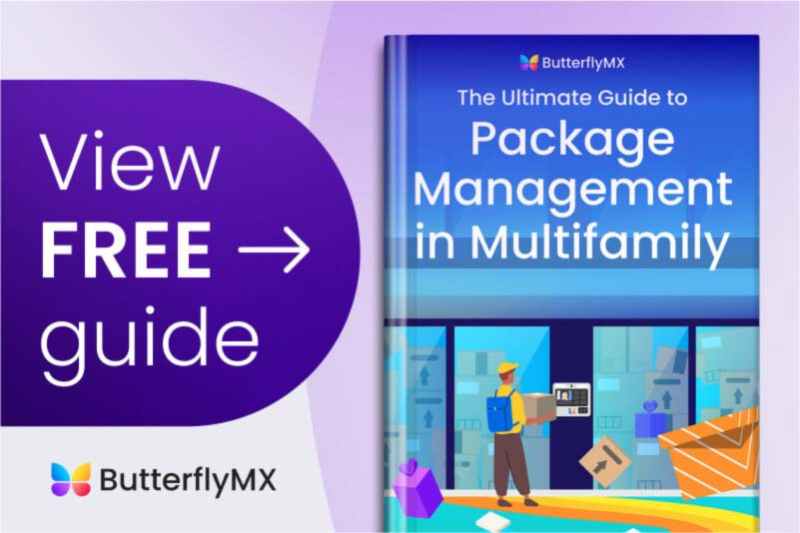 Package room vs package lockers
If your building needs a package management system, you might be considering a package room or lockers. Both are viable options, but a parcel room is a superior solution.
Package lockers are essentially large storage containers with several locking compartments. Most are electronic and have a digital screen where couriers enter a credential (such as a PIN code) and scan each parcel before placing it in a designated compartment. Residents usually receive a notification with a credential that they use to unlock the correct compartment and retrieve their package.
The drawbacks of a package locker system are:
Limited storage space, especially for large or oddly-shaped items.
Likelihood that couriers won't bother using the lockers, and leave parcels in the lobby or at the front desk instead.
Bulky and take up a lot of room.
Expensive, with some of the best locker systems costing up to $30,000.
In contrast, a package room for apartments makes use of existing space and doesn't require you to purchase and install a bulky storage system. All you'll need is a way to securely and conveniently manage access into the room.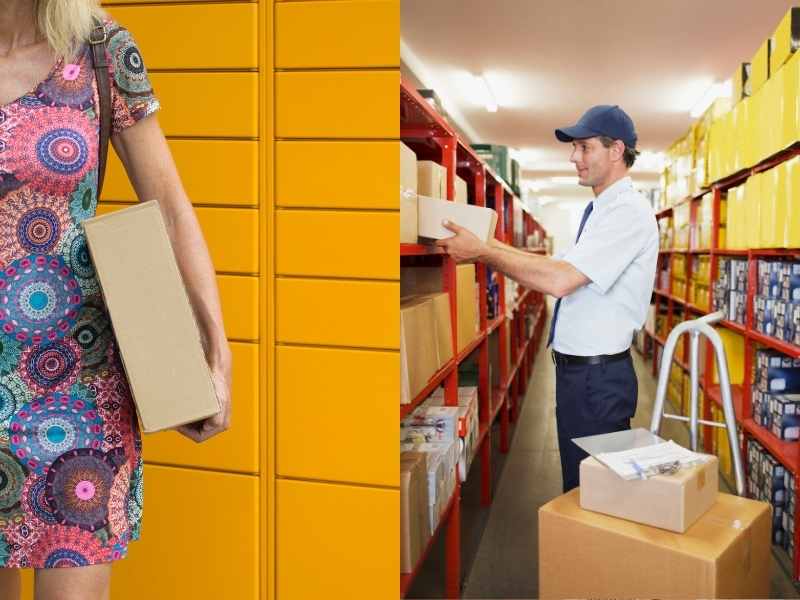 How do package rooms work?
Here's how a package room works:
Access the room. Delivery carriers enter the room either by requesting access from a staff member or, ideally, by using a specially-designed access control system installed at the package room entrance.
Leave packages. Once inside, couriers drop off packages within the room. Preferably, they can use the access system to scan packages and/or select which residents are receiving packages.
Alert residents. The best package room solutions automatically alert residents when they've received a delivery via text or email.
Residents pick up packages. Depending on the system controlling room access, residents may enter a PIN code, scan a QR code, or use another type of credential to enter the room and retrieve packages. At most buildings, residents can access the package storage room 24/7.
Watch how the ButterflyMX package management solutions work:
Access-controlled package rooms
The best package rooms have controlled access to prevent theft and keep parcels safe.
There are a few ways to control access to an apartment package room:
Fob or key card system. You can implement fobbed access at your parcel room. However, this isn't the ideal solution because it doesn't provide a way for couriers to access the room. Instead, building staff would have to grant them access.
Keypad. A keypad with a delivery PIN system is a viable solution for mailroom access, as residents can enter the room using a PIN code. However, couriers still must request access from staff as they won't know the PIN code.
Intercom. The best way to control access to a parcel room in an apartment is with a video intercom. Video intercoms allow delivery carriers to seamlessly access the building and the package room by entering a delivery PIN, using a Delivery Pass, or video calling a resident. Additionally, these intercoms can take a time- and date-stamped photo of everyone who enters the room, creating an entry log for added security.
How to set up a package room
Follow these steps to set up a package room:
Choose a location. The room should be conveniently located and easily accessible by all residents. Make sure the room has power and internet access.
Add shelving and optional video surveillance. Set up enough shelves to accommodate your daily package intake, plus some extra space to store packages while you wait for residents to pick them up. Hang signs on the shelves to organize packages alphabetically or by unit number. You can also opt to install a video camera for added security.
Install an access control system. Control entry into the package room with an access control system. For best results, choose a smart video intercom.
Top 5 benefits of a package room
If you need a delivery management system for your apartment building, you should choose a package room. They offer the perfect combination of security and convenience while boosting the resident experience.
The top five benefits of an apartment package room are:
1. Package theft prevention
Without a doubt, package theft is one of your residents' top concerns. In fact, many residents report having packages shipped to their offices or other locations to prevent theft when they're not home.
Give your residents the peace of mind they deserve by protecting their parcels. With a package room in your building, delivery carriers won't have to leave packages in unlocked vestibules or lobbies where anyone can take them. Instead, parcels are left in a locked room that only carriers and residents can access.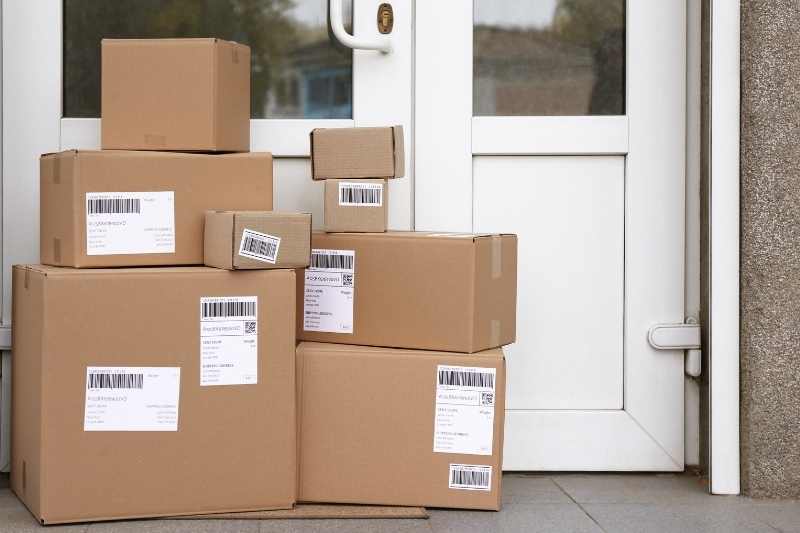 2. Improve resident experience
A package delivery system consistently ranks as one of the most-desired apartment amenities. Given the exponential increase in online shopping over the last few years, it's no surprise that residents rely heavily on delivery services. And when they miss deliveries, lose packages, or have to wait a long time to receive their items, residents feel upset.
Package management systems double as an apartment amenity that residents love — and they benefit the most from a package room.
Package rooms enhance the resident experience by:
Allowing residents to pick up packages 24/7.
Ensuring courier access to prevent missed deliveries.
Preventing package theft.
Ensuring residents can receive packages even when they're not home.
3. Maximized storage space
Without a package management system, there's nowhere to store all those daily deliveries. And even if you have a system like a package locker, there's a good chance you'll often get deliveries — like bulky furniture — that don't fit in the lockers. Then, you're stuck leaving them on the floor where they're susceptible to theft, or sticking them at the front desk where they take up space.
Package rooms eliminate that problem by providing ample package storage space. Since you have an entire room dedicated to parcels, you won't have to worry about bulky items not fitting in lockers or packages crowding your lobby. And with the right shelving units, you'll truly maximize your storage space.
4. Save time and money spent on package management
Without a package room, you probably spend a lot of time and money on package management. Think about it: You're paying a staff member to spend their time accepting and signing for deliveries, organizing and storing parcels, and distributing them to residents. This process takes more time than you might realize! And that time would be better spent on other more important tasks.
With a package room, you relieve your staff of the burden of handling every delivery. Instead, couriers can access the room on their own, and residents can receive automatic delivery alerts and pick up packages at any time. And with the right access control system, you won't even need a mailroom attendant.
5. Accommodate deliveries during peak delivery times
If you're used to manually managing deliveries at your building, you know how time-consuming it can be — especially during peak delivery times, such as around the holidays. When your building is receiving double or triple the number of packages in November and December, you need a better solution.
Having a parcel room is the best way to accommodate Black Friday and holiday deliveries. Not only does a modern package room provide seamless carrier access, but it also automatically notifies residents to retrieve parcels. You and your staff don't have to lift a finger!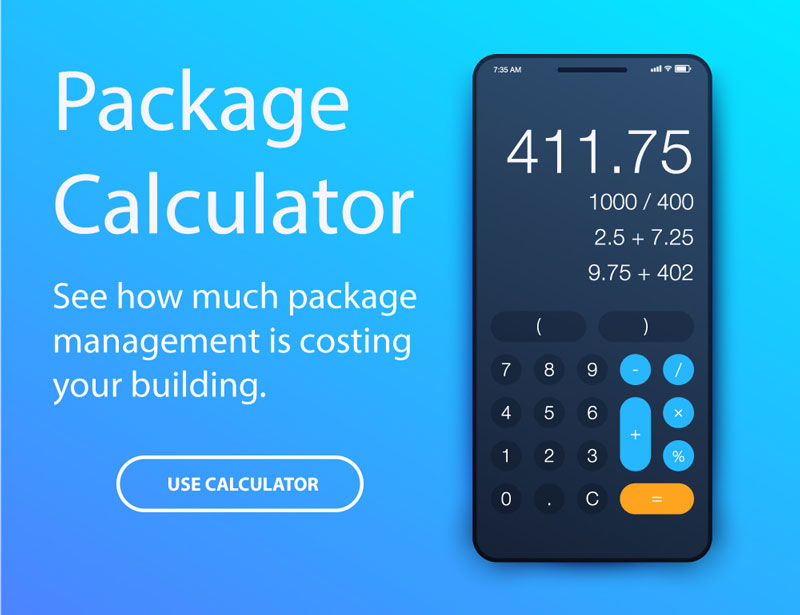 What's the best package room solution?
While there are many options, the best system package room on the market is ButterflyMX.
The ButterflyMX package room solution consists of a sleek video intercom paired with powerful software to:
Control room access. Installed at the package room entrance, our video intercom allows you to keep the door locked while ensuring easy access for couriers and residents. Authorized people can enter the room with just a PIN code.
Wide-angle camera. The 156º wide-angle camera empowers you to see both delivery couriers and residents as they enter the package room. So, you can capture every moment and have insights into all entry activities.
Modern design. The sleek LED screen design is visually striking and easy for both residents and delivery couriers to spot and use. Further, the cast aluminum casing can withstand extreme weather conditions and vandalism.
Provide credentials to delivery carriers. Through the ButterflyMX OS, property managers can assign delivery PINs to each carrier (and change them any time). Residents can also send a Delivery Pass to carriers for one-time access, which is great for food delivery and Amazon drivers. And not to worry if a carrier doesn't have a credential — they can always video call a resident or front desk staff to request access.
Maintain security. ButterflyMX enhances security and prevents theft by allowing you to keep doors locked without impeding access. Plus, the 156 degree wide-angle camera takes a time- and date-stamped photo whenever someone enters the room, which you can view at any time in the ButterflyMX OS.