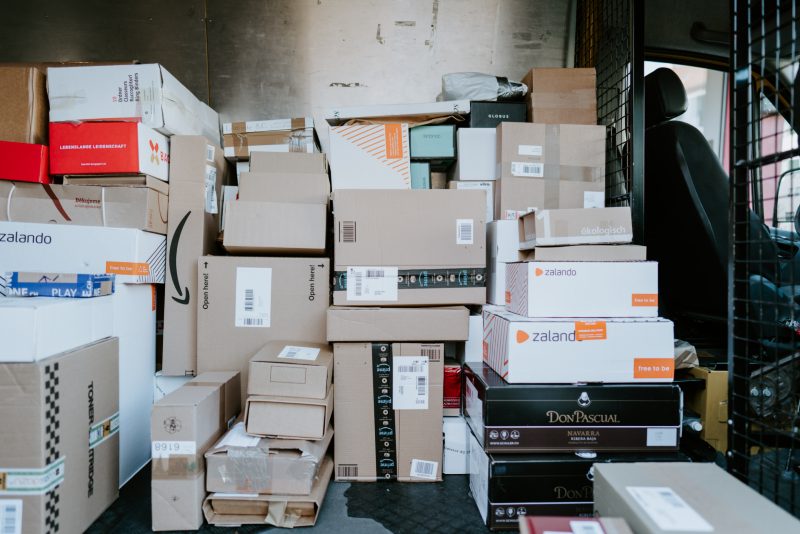 It's not surprising that package lockers have become the standard for managing deliveries at apartment buildings. But with so many options, how do you pick the right one for your building? You've come to the right place. As you look for a package delivery system for your apartment building, we're here to help you find the best package locker.
In this post we'll cover:
What is a package locker?
A package locker is a package delivery solution that simplifies the process of package intake, storage, and pick-up. Usually located in a convenient common area or building lobby, package lockers make it easy for couriers to quickly and safely deliver packages.
Sometimes, package lockers have compartments designated for specific apartment units. In these systems, packages for a specific unit are always left in the same compartment. Alternatively, other locker systems have unassigned compartments. For lockers with unassigned compartments, residents receive an alert telling them which compartment holds their packages.
Since most package lockers are electronic, residents and couriers can open them with a PIN code instead of a key.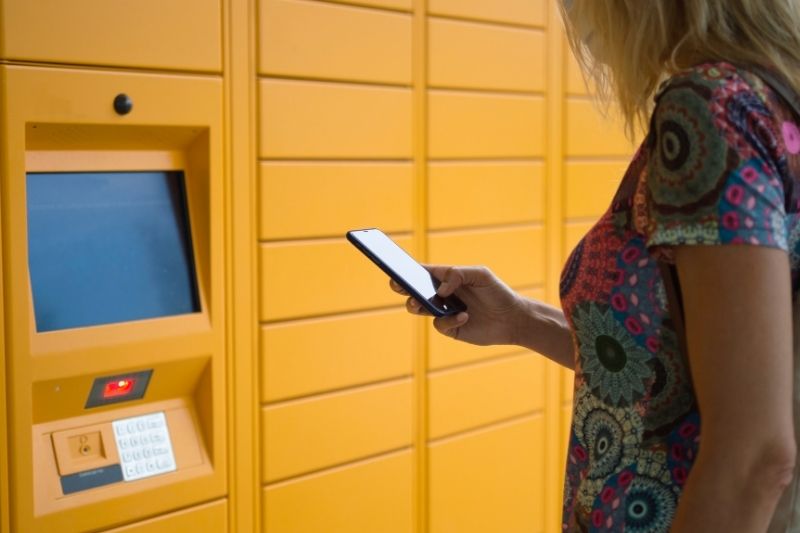 How do package lockers work?
Generally located at the building entrance or another common area, package lockers are designed to offer residents secure, 24/7 access to package deliveries.
When package locker compartments are assigned to specific tenants in the building, residents receive a notification (an email or text message) when a package is placed in their designated locker. Then, they use their unique PIN to open the locker and retrieve the package.
When lockers are unassigned, residents receive a notification telling them which compartment holds their packages. After that, they'll also receive a PIN code to open the smart locker.
In either scenario, the process of using a package locker is the same:
A courier accesses the building and enters their designated PIN into the system.
The courier selects which residents received a package and places the corresponding packages in the correct compartments.
The courier closes the compartment door, which locks it automatically.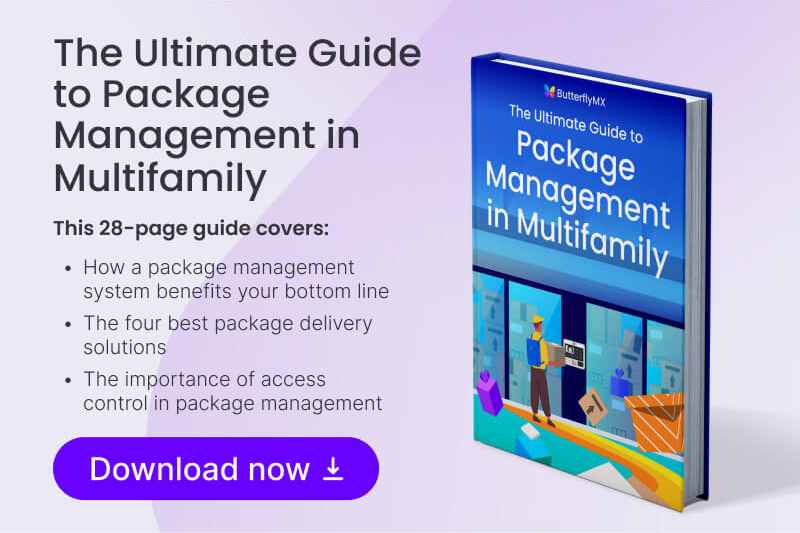 Why every building needs a package management system
Most multifamily professionals can agree: Package deliveries are a headache and a timesuck. That said, you can't just ignore the problem. You need an effective solution to intake, organize, store, and distribute packages efficiently.
Package management systems benefit your building by:
1. Ensure deliveries
Have your residents ever complained that the UPS driver couldn't deliver their important package? Do they often receive "Sorry we missed you" notes?
If so, the first step to successful package management is simply making sure couriers can get packages to the building. Comprehensive package management systems like package rooms and package lockers offer effective methods of ensuring deliveries.
2. Prevent package theft
As package delivery continues to increase, so too does the number of stolen packages. In 2019, 90,000 packages disappeared daily in New York City. Package theft is primarily the result of buildings lacking a solution to secure packages for their residents. Package management systems provide a safe place for couriers to store packages and prevent theft.
3. Save time for building staff
Residents aren't the only ones who suffer from poor package management. Building staff also regularly struggle with accepting large deliveries, organizing countless boxes, and storing packages securely until residents pick them up.
Unfortunately, this process can take hours or even days. So, that's why you need an efficient package management system. Cutting down on the amount of time your staff spends managing deliveries will allow them to focus on more important tasks.
Watch how ButterflyMX's package room works:
Types of package management systems
Now that you know the importance of a package management solution, what are your options?
There are several different kinds of package management systems, including:
Package lockers
Package rooms
Offsite package storage services with direct-to-resident delivery
Package lockboxes
The right system for your building depends on your needs, goals, and infrastructure. That said, we recommend package rooms or package lockers for multifamily properties.
What to consider when deciding between a package locker and package room
So you've narrowed down your options to package lockers or a package room. Now, how do you decide which is best for your apartment building?
When deciding between a package locker or a package room, there are three important questions you should ask yourself:
How much space do I have available? Take some measurements and determine how much space you can devote to a package storage area.
Is it easy to use for both delivery people and residents? There's no point investing in a package management solution if couriers don't use it or residents don't like it. Choose a system that both parties will want to adopt.
Does it integrate with my other systems? To ensure maximum efficiency, you'll want to make sure your package management solution integrates with other systems, like your property management software.
Here are the 9 best package lockers for apartment buildings:
1. Amazon Hub Apartment Package Lockers
Let's start with the Amazon Hub package lockers. With great success in the e-commerce and cloud storage market, Amazon has turned its attention to package delivery. Now, Amazon offers a package locker solution for both residential and commercial real estate.
In addition to Amazon packages, Amazon Hub can also receive packages from any other vendor or delivery person.
Amazon package lockers:
Offer 24/7 access
Provide couriers and residents with touchless pickup options
Are modularly designed to fit anywhere
What's more, Amazon has partnered with ButterflyMX to ensure all of Amazon's delivery drivers can easily access a building where ButterflyMX is installed.
How it works:
Amazon delivery drivers receive unique six-digit PINs that work at properties where ButterflyMX is installed. When that delivery PIN is used, the smart video intercom grants one-time property access to that delivery person, eliminating the need for building staff or residents to facilitate their entry.
Delivery people can then put their deliveries into the Amazon package lockers or a ButterflyMX package room. To ensure security, the intercom also takes a time- and date-stamped picture of the delivery person, which is stored for review for 365 days.
Contact us to learn more about our partnership with Amazon and how we can streamline deliveries at your property.
Read the full Amazon Locker review »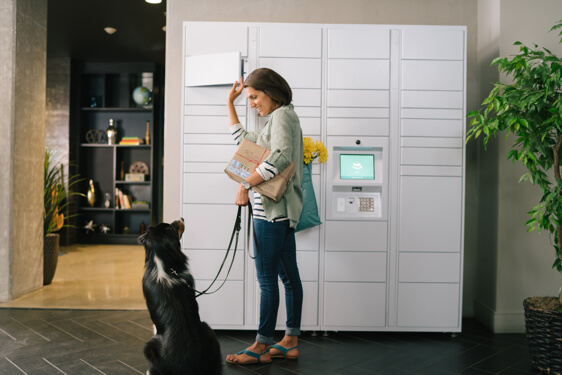 2. Parcel Pending Smart Package Lockers
Quadient founded Parcel Pending to help manage deliveries for property managers, couriers, and residents. The company offers customizable parcel lockers for universities, residential properties, retail spaces, and commercial businesses.
If you need something different, Parcel Pending offers a wide range of package locker configurations based on your unique needs. They offer indoor, outdoor, and refrigerated package lockers. Their lockers are durable and weatherproof. Parcel Pending package lockers have a modular design and are ADA compliant to ensure accessibility.
Plus, Parcel Pending comes with a mobile app. Through the app, residents can receive notifications and manage their packages and deliveries.
Read the full Parcel Pending review »
3. Luxer One Apartment Package Lockers
Provider Luxer One offers commonly used package lockers as well as other package delivery-related products.
Luxer One's package lockers may offer enough space to accommodate large boxes. Also, all of its package lockers come equipped with standard HD surveillance cameras to ensure security.
Luxer One package lockers also include outbound shipping. This benefits residents, who can easily send packages when they're trying to make a delivery or return.
Read the full Luxer One review »
4. Smiota Smart Package Lockers
Is contactless delivery and pick-up important to you? Then Smiota package lockers may meet your needs.
Smiota's smart lockers help to slow the spread of germs through app-based pick-up. It's also easy to add extra standard or specialty units. And residents who are picking up their packages don't need to worry about crowded lines or multiple touch-points because Smiota offers staggered pick-up notifications via the mobile app.
Read the full Smiota Lockers review »
5. Package Nexus Package Lockers
If missing packages are a problem at your building, worry no more. Package Nexus package lockers help prevent lost or stolen packages. Package Nexus offers package lockers for businesses, multifamily communities, and apartment buildings.
Apartment package lockers like Package Nexus come with an overflow feature to ensure package delivery during busy seasons. What's more, they offer a 15″ industrial-grade touchscreen monitor as well as an ADA-compliant Braille keypad. They even offer standard, refrigerated, and even freezer lockers to meet just about any need.
Package Nexus also has a mobile app to notify residents when they have a delivery. Each locker system comes standard with many sensors to keep deliveries safe.
Read the full Package Nexus review »
6. Package Concierge Package Lockers
Package Concierge may be a solid choice for people looking for a simple and secure locker system. The system offers numerous features, such as 24/7 access when needed and up to 7′ lockers for oversized packages. Furthermore, the lockers have a simple design, allowing for customization with various configurations.
Package Concierge lockers are both modern-looking and rugged and may be a good choice as an indoor or outdoor package locker system.
Read the full Package Concierge review »
7. American Locker Package Lockers
American Locker is a storage and locker solution provider founded in the 1930s. Although the company doesn't specialize in package lockers, its Electronic Parcel Lockers are a solution for apartments, student housing, retail spaces, and commercial buildings.
American Locker package lockers feature a touchscreen interface and 28 compartments of varying sizes. They're ADA compliant and come in several colors.
American Locker isn't a leader in the package locker space, so there isn't much information about the system available online. It's unclear how property staff manages the lockers and updates the tenant directory. American Locker package lockers also don't appear to integrate with other systems or smart products.
Read the full American Locker review »
8. SpaceSaver Package Lockers
SpaceSaver Storage Solutions is a Virginia-based company selling a wide range of storage products, including locker systems, shelving solutions, sorting stations, cold storage, and other specialized containers. The company doesn't specialize in package lockers, but it does sell a package locker system designed for apartments, student housing, and other multi-tenant buildings.
SpaceSaver package lockers for apartment buildings feature compartments of varying sizes and a touchscreen interface. They can be stylized to match your building's appearance with metal, wood, or laminate finishes.
Read the full SpaceSaver review »
9. ParcelPoint
Pitney Bowes introduced the ParcelPoint Smart Locker in 2021. Pitney Bowes was first established in 1920 and has remained one of the foremost leaders of global shipping and mailing.
Designed for any property with a large amount of inbound packages, the ParcelPoint Smart Locker features compartments of multiple sizes. Further, ParcelPoint can be integrated with all of the software offered by Pitney Bowes.
Read the full ParcelPoint review »
What is the best package management solution for you?
Now that you've read this guide and done your research about package locker systems, you may be realizing that package lockers might not fit your building's needs.
If this is the case, request a demo of ButterflyMX's package room solution. Our package room quickly turns any spare room into a secure space to accept, store, and retrieve packages. Delivery people appreciate how convenient it is, and residents and property managers love the security.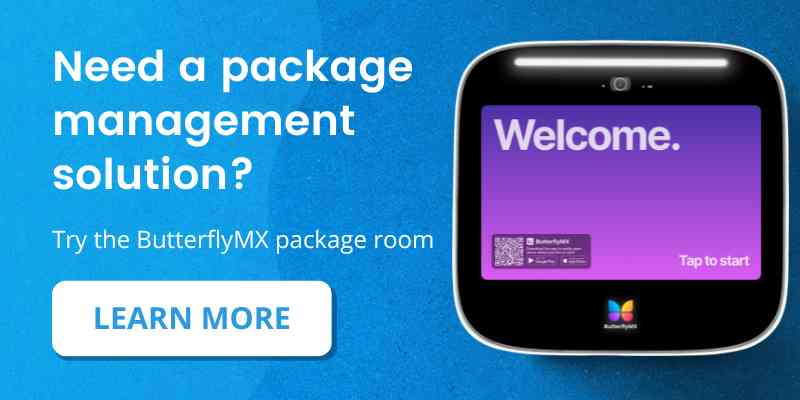 Disclaimer: ButterflyMX provides these blog posts to help our customers and potential customers make the right business decisions for them. Our blog posts are based on the information we have available to us at the time of writing.