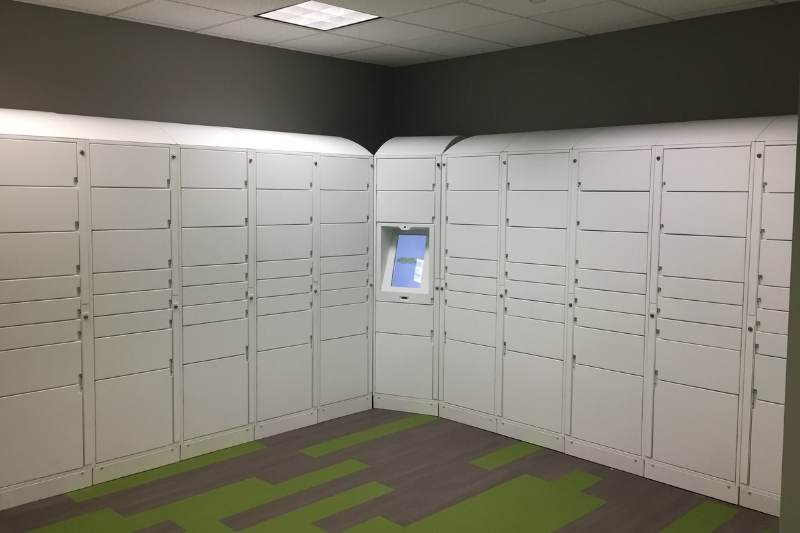 If your property staff is sick of sifting through countless deliveries every day, you might be considering purchasing package lockers. American Locker is one provider offering an electronic parcel storage solution. But does American Locker provide the best apartment building package lockers?
In this post, we review the American Locker package locker system. We also compare it to alternative package management solutions for apartment buildings.
This review covers:
About American Locker
American Locker manufactures and sells a wide range of lockers and storage solutions for a variety of uses across industries.
The business was founded in the 1930s by the U.S. Voting Machine Company to provide storage, distribution, and inventory management solutions for companies like Greyhound Bus and Union Railroad. In 1953, American Locker invented the world's first coin-operated locker, revolutionizing public storage solutions in places like train stations and airports. And between the 1970s and 1990s, American Locker grew to become the nation's leading provider of storage lockers for businesses, recreational facilities, and the United States Postal Service.
Today, American Locker sells everything from self-serve kiosks to cell phone charging stations to package lockers. Its Electronic Parcel Lockers are a package management solution designed for apartments, student housing, commercial buildings, and retail spaces.
How big are American Locker's parcel lockers?
American Locker Electronic Parcel Lockers measure 84 inches wide by 24 inches deep by 83.5 inches high. The standard configuration has 28 compartments of varying sizes: nine small compartments, 15 medium compartments, and four large ones. However, you can customize your system with up to 60 compartments.
How American Locker Electronic Parcel Lockers work
American Locker's package locker system operates similarly to other popular parcel lockers on the market.
When a delivery carrier arrives at a building with the Electronic Parcel Locker system, they use the touchscreen interface to select a recipient from the directory. Property staff must program this directory with their tenants' information.
Once the courier has selected a tenant, they scan each package with the system's 2D barcode scanner. Upon scanning the packages, the system automatically opens a compartment. The carrier then places the parcels in the compartment and shuts the door, which automatically locks it.
American Locker Electronic Parcel Lockers send an automated text or email to each recipient alerting them of their delivery. Tenants use a unique PIN code to unlock the compartment with their parcels. The package locker system is available 24/7, so tenants can retrieve packages any time of day.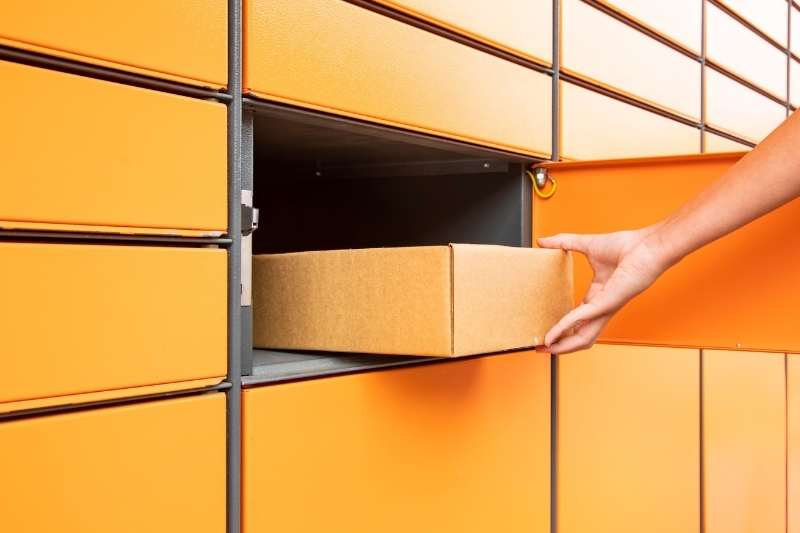 Should you get American Locker package lockers?
Every multi-tenant building should invest in an effective package management solution. Read on to learn more about American Locker package lockers and see how they compare to other package solutions.
Features
Automatic text message or email notifications
Transactional USB fisheye camera
Configurable and expandable
Touchscreen interface
American Locker package locker cost
American Locker doesn't list pricing for its Electronic Parcel Locker system online. However, pricing likely varies depending on the number of compartments and locker size you want. You can request a quote through American Locker's website.
Pros & cons
Pros:
Optional additional extension columns.
Automatic notifications to tenants when they receive a package.
Several colors to choose from.
Cons:
American Locker isn't a leader in the electronic package locker space, so there isn't much information available about the product.
There are no customer reviews of the system online.
No mobile app for residents.
It's unclear how property staff programs and updates the locker system.
Inability to integrate with other products/services at your property.
Alternatives to American Locker
Now that you know more about American Locker's Electronic Parcel Lockers, you might be wondering if it's the best way to manage deliveries at your apartment building.
It's safe to say that you do need a package management solution. But package lockers may not be your best option — we think there's a better solution available. Instead of package lockers, invest in a package room to streamline deliveries while ensuring seamless access for couriers.
Why package rooms are better than package lockers
Package lockers are large, clunky, and intrusive, taking up valuable space in your building. Plus, most of them are expensive and can hit you with hidden costs.
In contrast, package rooms make use of existing space in your building. Additionally, you can set them up wherever and however you see fit. And on top of that, you can fit far more packages in a room than in the small compartments of a package locker.
Here are three reasons why you should choose a package room instead of package lockers:
Package rooms are more secure than lockers. Package lockers are prone to technical glitches and physical damage. But a package room — with ButterflyMX at the door — maximizes security. ButterflyMX's built-in camera takes a photo every time someone enters the room, providing a handy audit trail for added security.
Package rooms are easier to use. Package lockers aren't always intuitive. Delivery carriers might not bother figuring out the system, and residents might inundate staff with questions about how to use the lockers. But with a package room, it's as simple as entering a code and leaving or grabbing a package.
Package rooms are less expensive. You'll save thousands of dollars by choosing a package room over a package locker. Lockers can cost tens of thousands of dollars to install and maintain — and most come with annual maintenance fees.
Comparison of American Locker package lockers to ButterflyMX package rooms
American Locker apartment package lockers may be a bulky and expensive investment. Further, they may fail to provide the most convenient and secure package management solution. Not only could the lockers be damaged, but it can be a hassle just to get delivery carriers to comply and use them. Plus, oversized or odd-shaped packages won't fit in American Locker's parcel lockers.
In contrast, the ButterflyMX package room is easy to install and use. And since you're making use of existing space in your building, all you have to purchase is a video intercom to secure the package room door. Perhaps the greatest benefit is that packages of all sizes will fit in the room.
Simplify package management for property staff and residents by investing in ButterflyMX. With a package room, property staff spends less time accepting and organizing parcels and more time focusing on the resident experience. And residents enjoy automatic delivery notifications with a seamless pick-up process.
Watch how ButterflyMX's package room works:
American Locker vs. ButterflyMX
American Locker package lockers may not be the best delivery management solution. They may require a substantial upfront investment in bulky storage compartments that can't accommodate packages of all sizes. You're better off with the ButterflyMX package room, a more flexible, convenient, and effective solution.
| Feature | ButterflyMX | American Locker |
| --- | --- | --- |
| Flexible space | Yes | No |
| No extra charge for additional storage space | Yes | No |
| Automated resident notifications | Yes | Yes |
| IP65 rated | Yes | No |
| Integrates with other proptech | Yes | No |
Disclaimer: ButterflyMX provides these blog posts to help our customers and potential customers make the right business decisions for them. Our blog posts are based on the information we have available to us at the time of writing.