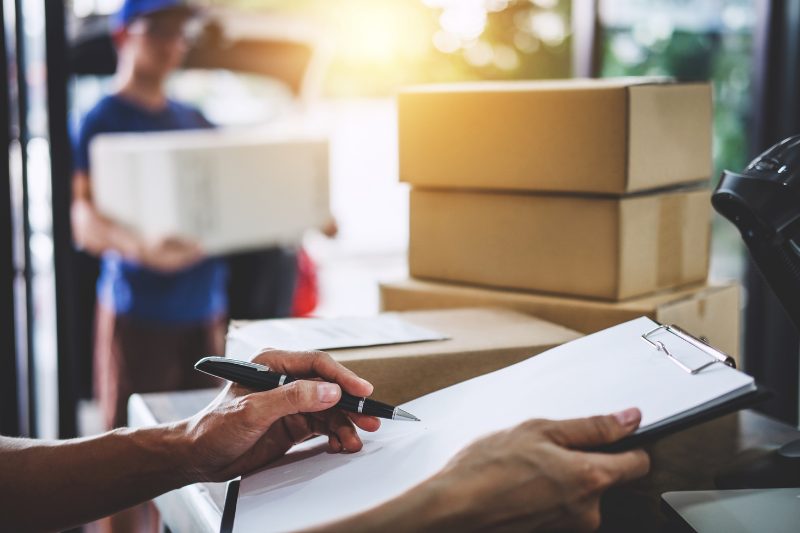 Takeaways
A delivery management system is important because it helps residents easily access their packages and cuts down on the time spent sorting deliveries.
ButterflyMX offers a delivery management system that includes a mobile app, video calling, delivery pins, and a secure package room.
With deliveries reaching never-before-seen levels and ecommerce only expected to grow, it's nearly impossible to manage deliveries without a system in place. To make things more difficult, you have to accommodate all kinds of delivery operations, not just packages. This includes groceries, prescriptions, food, furniture, and everything else your residents get delivered to them. The costs for effective delivery management alone can be sky-high.
So, how can you ensure your residents never miss another delivery while also saving your building staff the time and headache of managing property access? First, we'll explain why the delivery management process is important. Next, we'll review the four ways ButterflyMX provides efficient delivery management for all property types.
This post covers:
Why is a delivery management system important?
The greatest challenge with accommodating all of your building's deliveries is getting them through your front door. When delivery people can't access your building themselves, you're often the one left facilitating property access and package management. And the cost of delivery management at a typical 200-unit property can often be thousands of dollars per year. What's worse is that if packages aren't dealt with, it can lead to package theft or the dreaded "sorry we missed you" note on the front door — which could result in upset residents.
As a result, the two biggest benefits of delivery management systems are:
Satisfied residents
Less time spent having your staff physically manage deliveries
How ButterflyMX provides the delivery management software and hardware that you need
Four ways ButterflyMX ensures seamless delivery management at your building:
1. Delivery Pass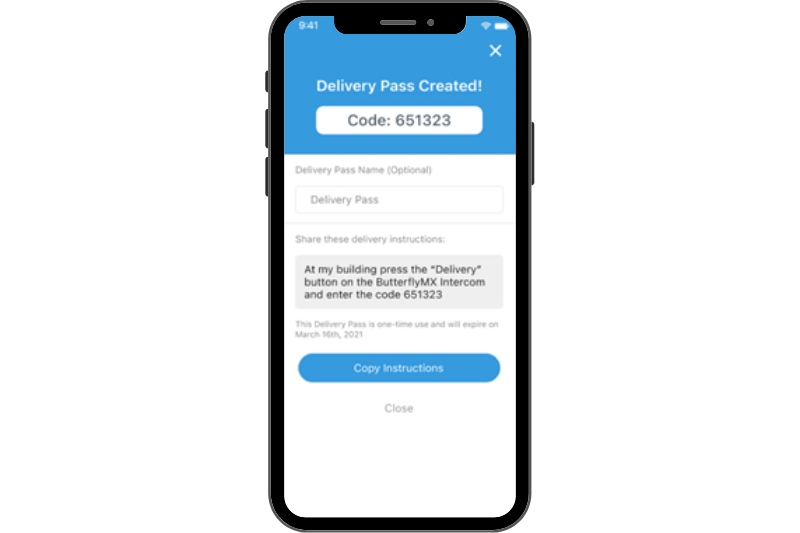 Delivery Pass empowers your residents to create a single-use, six-digit PIN for delivery carriers within the ButterflyMX mobile app.
If, for example, they order dinner from Grubhub, tenants can copy and paste the code into the delivery instructions at checkout. Their delivery driver uses that code at the ButterflyMX video intercom to get access to the building. They can only use the PIN once, and the intercom takes a time- and date-stamped photo of the delivery person for added security.
2. Video calling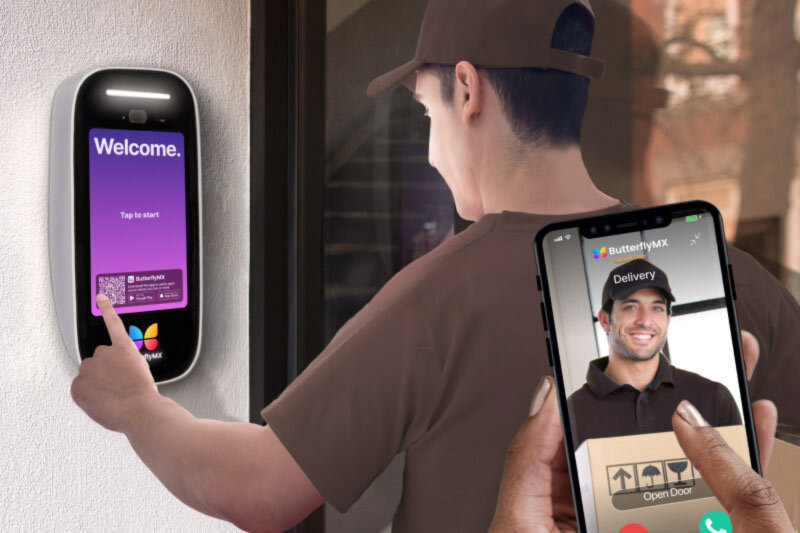 If a courier doesn't have a delivery PIN to enter the building, they can place a video call to the resident instead. With ButterflyMX's video intercom, residents can see who's at the door and let them into the building from anywhere.
Video calling is great for a surprise or unannounced visitor, like a partner sending flowers or a parent stopping by to see their child. Residents get a video call from the visitor, verify who they are, and let them in right from their smartphone. This feature is also useful for property managers and remote building staff who want to provide secure access to maintenance people, service providers, or even self-guided tours.
3. Delivery PINs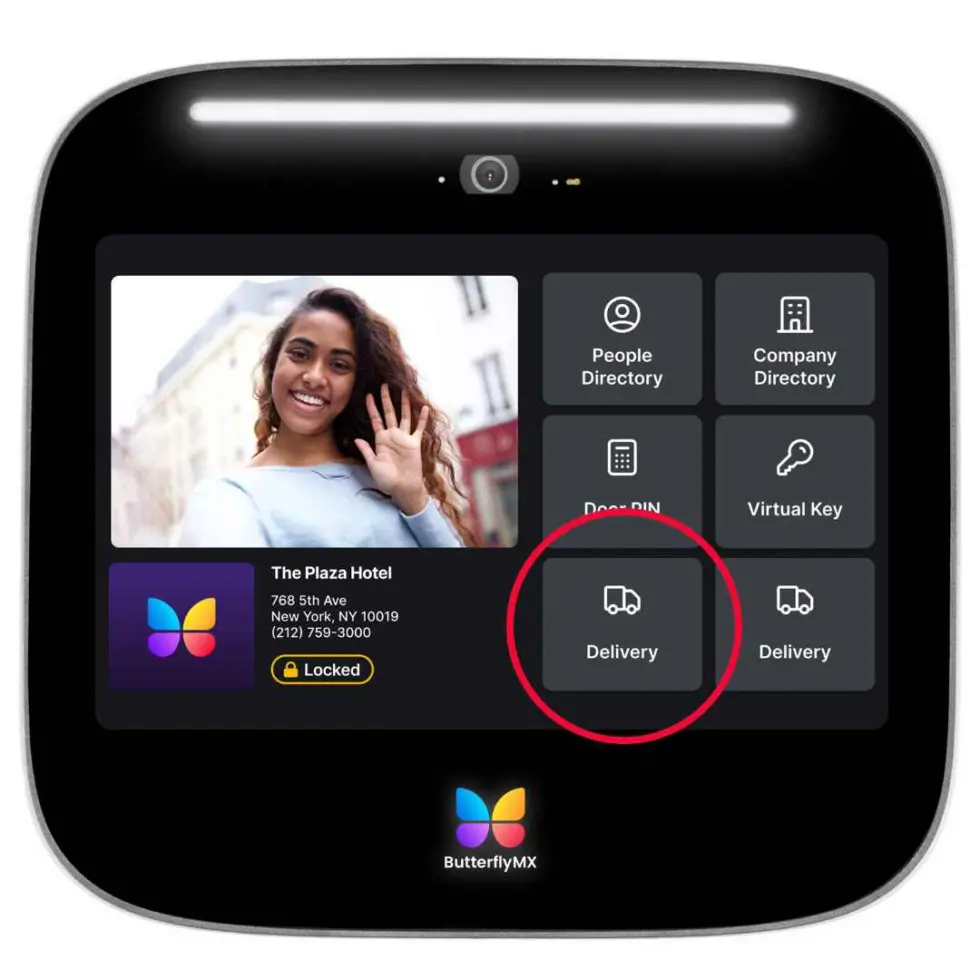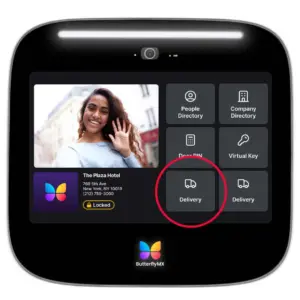 As a property manager, you can create a delivery PIN for carriers that frequent your building. Think USPS, UPS, Amazon, etc.
When you assign a delivery PIN to a carrier, they simply enter the code at the intercom to gain property access and drop off their packages. If you have a package room, they can use the same PIN to enter the package room.
4. Package rooms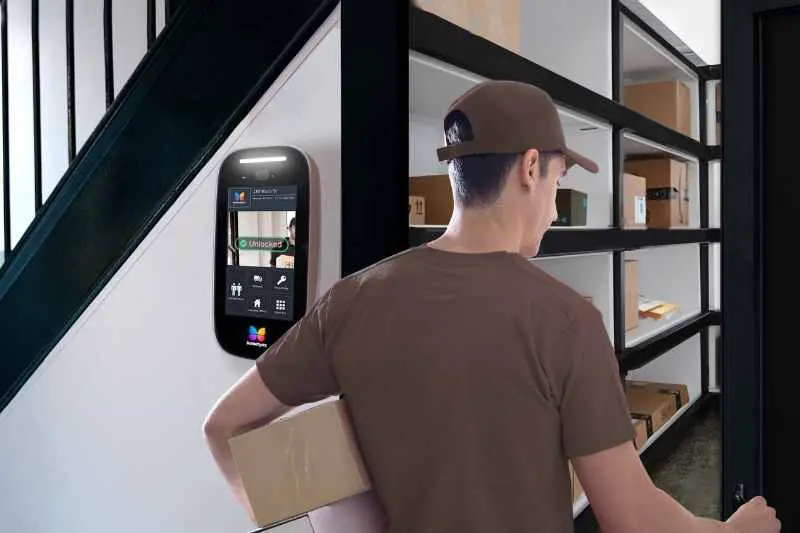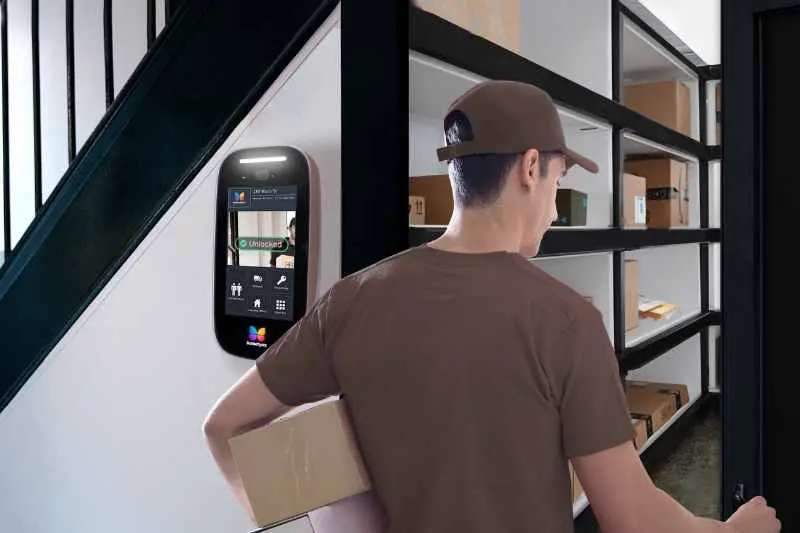 With our package room solution, couriers have a secure place to store deliveries inside your building. This prevents package pile-ups in the lobby. Package rooms are easy to set up since you can repurpose an existing room in your building. We've seen buildings repurpose all types of rooms, from unused storage closets to offices.
Couriers use the same delivery PIN to enter the building and the package room. And as with all of our products, as the courier enters the package room, the intercom takes a time- and date-stamped photo for added security.
When the courier completes the delivery, ButterflyMX sends a notification to residents on their smartphones.
How to set up a package room »
Watch how the ButterflyMX package management solutions work:
Manage deliveries at your building & more with ButterflyMX
ButterflyMX products are featured in over 10,000 different properties and they have over 20,000 five star ratings. Many ButterflyMX access control products were designed with package and delivery management in mind.
ButterflyMX products related to delivery management include:
Package rooms. Designated spaces in your building can be turned into a package room thanks to the ButterflyMX keypad. Delivery personnel can be given temporary PIN codes that they can use to safely store packages within. Residents can enter by tapping a button on their mobile devices. Date-and-time stamped video recordings are taken of every entry event to further improve security.
Video intercoms. Residents can communicate directly with delivery personnel from their smartphones. They can remotely allow deliveries into the building. Furthermore, residents can use the 156° wide-angled video camera to watch their deliveries arrive.