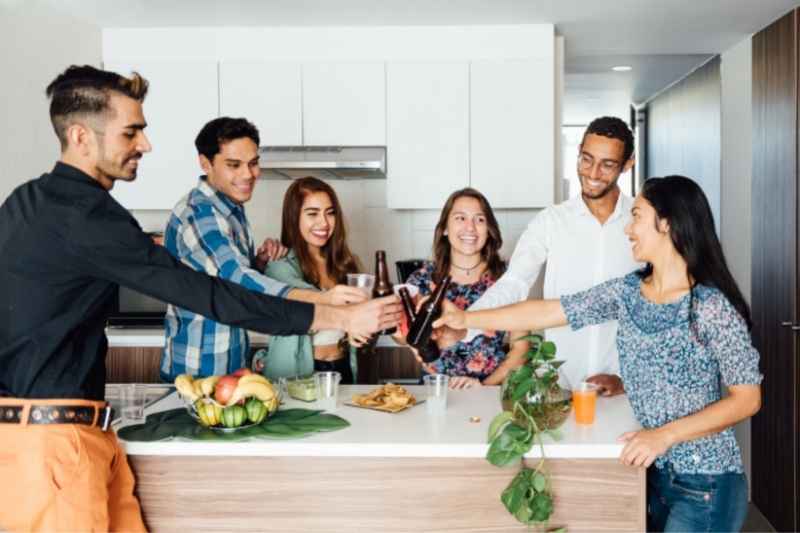 Key takeaways:
The resident experience refers to your approach to residents' well-being and sense of community. 
In order to improve the resident experience, consider your residents' hierarchy of needs, including physiological, self-actualization, belongingness, and safety. 
Five easy ways to improve the resident experience is to make a good first impression, facilitate smooth move-ins and move-outs, automate processes with proptech, offer amenities that residents really want, and invite feedback.
Today, an apartment isn't just a place for shelter — it also defines a resident's lifestyle and personality. We live in an era where personalization means everything, and the resident experience is no exception.
As a multifamily property owner or manager, you must remain vigilant in retaining residents year after year. Move-outs mean the loss of rent and higher operating costs, which will inevitably hurt your building's NOI. This guide will give you insights on why the resident experience matters so much and how to improve your residents' quality of life.
Navigate this guide:
What is resident experience in multifamily buildings?
Resident experience refers to a resident's living experience in a multifamily building. It doesn't solely rely on trendy amenities, great designs, or flashy decor. Instead, the resident experience encompasses a holistic approach to residents' well-being and fosters a sense of community within their living space. Delivering a great resident experience is an integral component of any successful apartment.
Since 2008, we've been increasingly living in a renter's market, which makes it more difficult for multifamily professionals. Property owners and managers have to provide amenities, reduced rental rates, and offer other concessions in order to attract new renters.
But still, nearly half of renters move out when their lease ends, according to the National Center for Housing Management. So, to retain renters once you find them, you need to keep them happy.
And that starts with the resident experience.
Multifamily property owners and managers know that satisfied residents lead to:
Increased lease renewal rates
Higher referral rates → higher occupancy rates
Maximized net operating income (NOI)
Loyal residents, tight-knit communities, and better reviews
The importance of resident experience
Today, millennials and Gen Z make up the majority of the active renter population — young adults comprise 65% of renters in the United States. And nearly 80% of Gen X and millennials aren't planning on buying homes anytime soon.
Even older generations — namely, baby boomers — are selling their single-family houses and significantly downsizing as they become empty nesters. As a result, real estate professionals must adapt to avoid costly turnover expenses in the current renter market. According to the National Center for Housing Management, turnover expenses — forgone rent, capital improvements, and lease-up fees — average around $1,500 per unit.
The good news is that nearly 60% of all resident turnover is controllable.
A study by Zillow Renters found that the most significant contributors to turnover are poor staff performance and dissatisfaction with the building. While some factors by always be out of your hands, such as a resident needing to relocate for a new job, there are still many improvements you can make to keep residents renewing leases year after year.
Watch how ButterflyMX elevates the resident experience:
Residents' hierarchy of needs
You probably remember learning about Maslow's Hierarchy of Needs in your psychology 101 class back in high school or college. As a refresher, the theory says that people need to achieve specific requirements before others.
For instance, human beings must have their basic physiological needs (food and sleep) met before they can start achieving safety, a prerequisite for developing a sense of belonging within a social group.
Here's the order of the hierarchy:
Physiological
Safety
Belongingness
Esteem
Self-actualization
However, we can modify the order of the hierarchy to better apply to the resident experience. After all, society has advanced since Abraham Maslow created the concept in the early 20th century.
These are residents' four basic needs, in order of importance: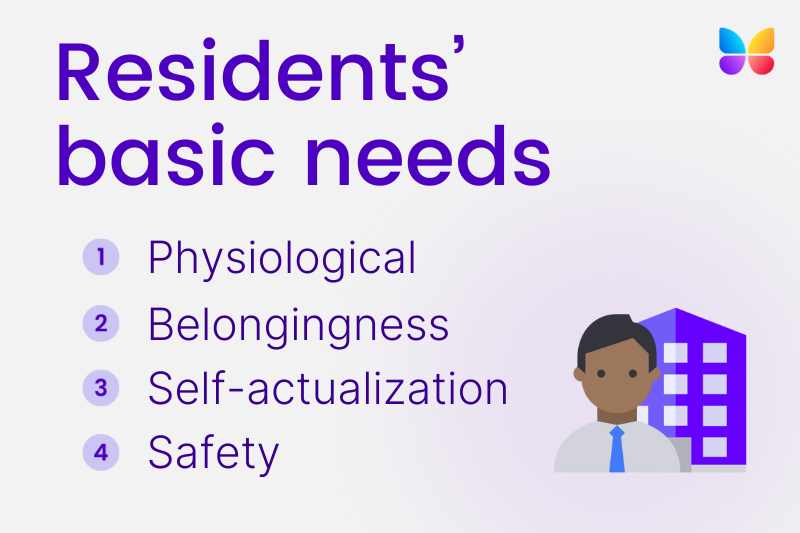 1. Physiological needs
Your residents have a roof over their heads, thanks to your building. But it takes much more than that to fulfill needs these days.
When marketing your apartment to prospects, make sure to discuss the nearby grocery stores, restaurants, bars, and entertainment centers. Location is vital for many residents and prospects alike, so you want to sell the surrounding neighborhood, too.
In addition, facilitate a seamless line of communication between residents and your staff.
Here are some examples of great resident communication:
Conduct regular resident satisfaction surveys to gain a better understanding of the resident experience you're providing.
Around the winter holidays, send them an email with helpful reminders and safety tips.
When residents request maintenance, address them quickly — and follow up after the repair is complete to ensure they're satisfied.
Check in once a quarter to request feedback and see how residents are enjoying your building.
Send residents a handwritten note on their birthdays or other special occasions.
Address residents' complaints quickly, ideally in person. If you can't meet in person, reach out by phone.
2. Self-actualization
In this context, self-actualization means ensuring residents that they made the right choice to lease your property rather than any of the dozens of other apartments out there. Your property must exceed their expectations for them to feel it's worth staying year after year.
So, stay on top of what your competitors are doing to entice residents, and make sure to do it better. Your residents must feel confident that your property is the best one for them and that they're getting the most bang for their buck.
You and your team can help residents achieve self-actualization by:
Prioritizing their comfort and needs
Maintaining building appearance and functionality
Staying ahead of the competition and on top of market trends
Keeping your building pet-friendly
3. Belongingness
According to an NMHC/Kingsley Apartment Renter Preference Report, 60% of residents indicated that their living space reflects their identity. This means that multifamily residents seek connections and belongingness within their residential community. So, get to know each resident on a first-name basis and take every opportunity to show your appreciation towards them.
The faster you accept the fact that you're in the service industry, the more naturally catering to the resident experience will come. Having residents feel like they belong in your community requires much more than organizing resident events. It entails major investments of time and energy from your staff to deliver a personal touch to each resident's experience.
So, it's essential to get to know the demographics of your residents and create a highly personalized resident experience. To do this, curate resident programs that feel natural to the demographics of your buildings.
For example, millennials care a whole lot about the environment and climate change.
So if your residents are mostly millennials, organize resident programs that:
Encourage recycling household materials
Minimize waste production, like clothing swaps
Sources materials and produces locally, like farm shares
If you want insight into what your residents want from their living experiences, don't hesitate to ask them directly!
Pro tip: Incorporate an apartment community app into your property management system to facilitate open communication with residents. The app will also encourage residents to forge connections amongst themselves.
4. Safety
Last but not least: What good is any home if it doesn't provide security and comfort? Although you can't prevent crimes and accidents from happening in your residential community altogether, there are specific steps you can take to maximize your residents' safety.
Examples of preventive actions for ensuring resident safety:
Install a video intercom system: Video intercom systems allow residents to verify a visitor's identity before granting access to the building. What's more, some modern intercom systems log every visitor's entry, so residents and staff can review who's entering the property at any time.
Prepare detailed emergency evacuation plans: Although emergencies happen at unexpected times, you can best prepare residents by providing them with a detailed emergency response plan. Depending on your local laws and regulations, you might want to have emergency evacuation drills. If you're in an area where natural disasters like hurricanes or earthquakes happen frequently, you definitely should hold practice drills.
Invest in other proptech to make security simple: Investing in smartphone-based proptech for your building will empower residents to easily control various building functions, such as granting access to on-demand service providers, locking unit doors, and turning lights on or off.
5 ways to improve your resident experience
Improving resident retention starts with delivering top-notch resident experiences. While it might be easy to leave a rental space behind, it's pretty hard to leave your home behind. And if you put in the time and effort to improve the resident experience, you'll create a place your residents call home.
The top five ways to improve the resident experience: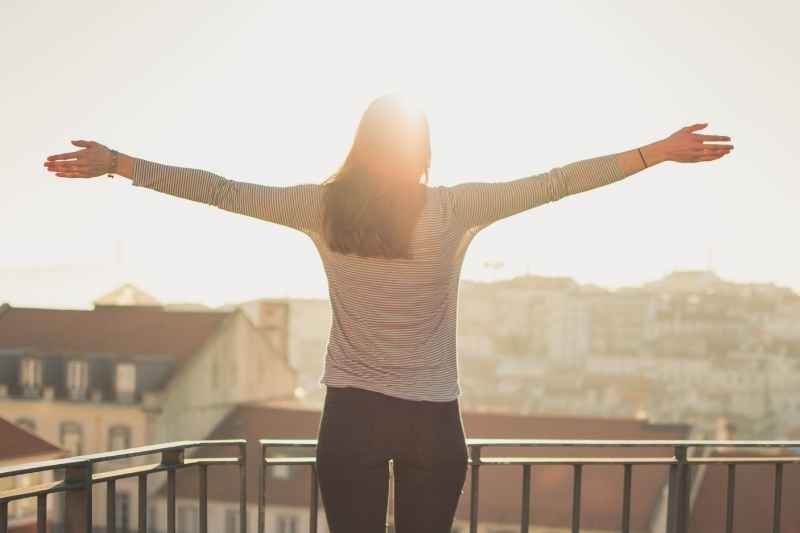 1. Make the best first impression
Believe it or not, resident retention starts before the resident moves in. Residents want to feel they're moving into a building where they can truly be "at home."
That's why you should welcome new residents as soon as they sign their lease.
But don't stop there – continue to check in on them even long after they've settled into their new apartment.
Send welcome letters ASAP
New residents will be anxious to find out more about their new homes and the move-in process. So, in your welcome letter, outline all the crucial information they need to move and settle in.
For example, the welcome letter should include:
Information for the utility service providers your building uses
Key pick-up date and location
Apartment access control information
Personalize their move-in day experience
Make sure the resident is moving into a sparkling clean apartment unit. And of course, double-check that all maintenance repairs are completed.
To add an extra personal touch, leave a little surprise – like a bouquet of flowers or a basket of treats with a handwritten note – for them to see when they first walk through the door.
Curate a neighborhood guide
The resident isn't just moving into your building — they're also moving into the surrounding neighborhood.
Some residents might be moving across the country while others just across town. Regardless, all residents will appreciate a neighborhood guide from you and your staff. If you partner with local businesses to offer residents unique perks, include that information in the guide as well!
2. Facilitate smooth move-in/move-outs
Moving is stressful for your residents. For residents moving out, it's the last experience they'll remember about your property. And for new residents, it's one of the first. For both parties, you want to ensure the process goes as smoothly as possible.
Here are some essential steps to facilitate the best moving experience:
Get residents to sign an Intent to Vacate document as soon as possible. Don't rely on a verbal agreement. Saying they'll move out on a certain date is one thing; signing a form documenting their intent is another. Communicate thoroughly with the new tenant about when the unit will be available. Remember to give yourself and your staff enough time between the move-out and move-in for repairs and repainting.
Keep an emergency stock of moving supplies. There are so many things residents need to remember on moving day, whether they're moving in or out. So, they're likely to forget something at the last minute. Save the day by having some essential moving supplies and on-demand services readily available — packing tape, bubble wrap, toiletries, cleaning services, food delivery, etc. It's a little gesture that goes a long way.
Communication is key to managing expectations. Avoid surprising your residents with any changes by informing them exactly what to expect during the moving process. If your building has a service elevator used for moving, inform residents to reserve them as soon as possible. Also, ensure both the old and new residents thoroughly document any existing damages to the unit.
3. Automate processes with proptech
Investing in proptech benefits both property staff and residents.
With proptech, you can automate repetitive processes to save time. With more free time, building staff can focus on renters' needs and curate an impactful resident experience.
Here's how you can automate processes with proptech:
Use property management software. Property management software helps you organize tenant, operational, and financial information all in one place. It simplifies and automates day-to-day tasks and streamlines essential business operations.
Invest in a vacant unit detection system. Vacant unit detection systems are sensors that direct heating and lighting systems. When the sensors detect a vacancy, they automatically shut off services like electricity to the vacant unit — saving you time and money.
Set up a package room for deliveries. Accepting, organizing, and distributing residents' packages takes up a lot of the building staff's time. By setting up a package room, you'll ensure that delivery carriers can safely drop off packages without staff involvement. Plus, residents can pick up packages on their own at any time.
Watch how a package room works:
4. Offer amenities that residents really want
Amenities like a fully equipped gym and a rooftop pool are excellent, but at the end of the day, they're just bells and whistles. The apartment amenities that residents really want have changed over the years.
Residents' desires have gone back to the basics: They crave security and convenience. So, focus on providing residents with the amenities that ensure their safety, help add day-to-day comfort, and simplify their work-life balance.
Top amenities residents want in 2021:
Coworking spaces
Even before the Covid-19 pandemic forced millions of people to start working from home, 70% of workers worldwide worked remotely at least once a week. That's why many apartment buildings currently being developed are equipped with shared coworking spaces.
Even if your property doesn't have a business center or coworking space, you can turn existing spaces into workstations. For example, the lounge can be transformed into a coworking space. Replace the couches with individual lounge chairs with tablet arms.
Visitor management systems
Today's residents get lots of visitors – including friends, family members, and, most of all, delivery people. With the right visitor management system, residents can quickly grant access from their phones rather than go to the lobby to open the door for them.
What's more, the best visitor management systems allow residents to give one-time delivery passes to food or package couriers so they'll never miss a delivery. And authorized guests can also use virtual keys to let themselves in even if the resident isn't home.
Outdoor space
Outdoor amenities are becoming increasingly popular. After an entire year spent mostly indoors, renters now appreciate the outdoors more than ever. That's why you should put some real effort into creating spacious outdoor amenities for your residents.
For example, designate some green space on your courtyard or terrace for residents to create a community garden. Planting a garden is an excellent way for residents to connect with nature and develop relationships with their neighbors.
Regardless of which outdoor amenities you choose to add, remember that design matters. Creating an aesthetically pleasing and tranquil space will have a huge impact on the resident experience.
Pro tip: Secure your outdoor amenities by installing keypads at entrances. This way, only residents and authorized guests will have access to that space.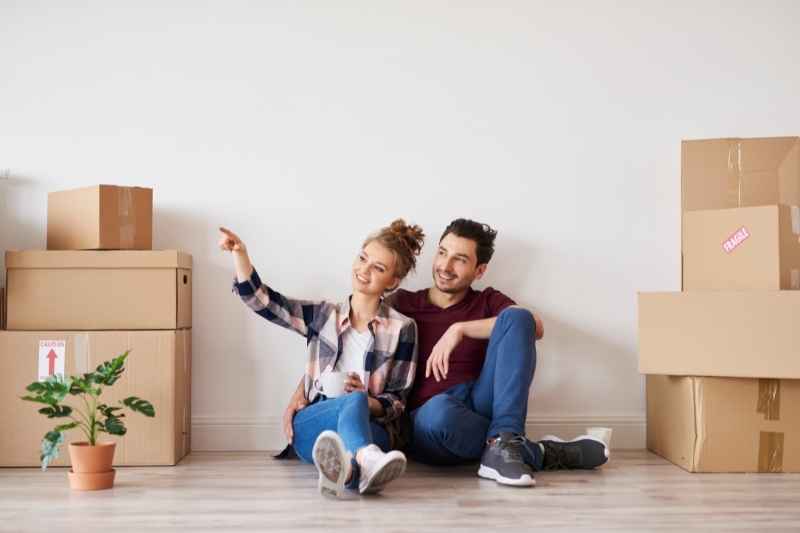 5. Invite feedback & make necessary changes
Inviting residents to provide feedback about the property and its management allows them to voice their opinions and concerns. Ask for feedback frequently, such as when a new resident moves in or after completing a service request. Accept the criticisms with grace and use them as suggestions to improve the building and staff.
Even if a resident's move-out is beyond your control, at least they'll have great things to say about your property. Encourage them to leave positive reviews on Google or Yelp. Depending on the feedback, you might want to invest in new real estate technology to improve your processes. Also, if people read authentically positive reviews of your property, more people will want to lease with you.
Benefits of investing in the resident experience
Property management is entering a new era as renters' preferences evolve. Cleanliness and fair rent rates are no longer the only criteria for ensuring a great resident experience.
Just as the tech industry has seen a substantial shift to personalization, so has multifamily real estate. The first step to investing in the resident experience is to stop viewing your tenants as customers but rather as integral members of your community.
Keep in mind that your investment in the resident experience may not pay off immediately. But if your residents value and appreciate the lifestyle that you've created at your property, they'll renew their leases and tell their friends. And that's an investment that will pay off for years to come!
Start improving the resident experience today
The "keeping the customer happy" principle applies to property management, too. But in the multifamily space, residents are much more than just "customers" — each resident plays a crucial part in your building's success.
But don't be fooled. Creating the perfect resident experience takes practice and time – it doesn't occur overnight.
So, that's why you should start improving the resident experience as soon as today.
There are many things you can start doing today, such as:
Welcoming new residents effectively
Hosting community events
Investing in proptech amenities
This way, you and your staff will have more time to focus on what matters: creating a resident experience worth paying for.