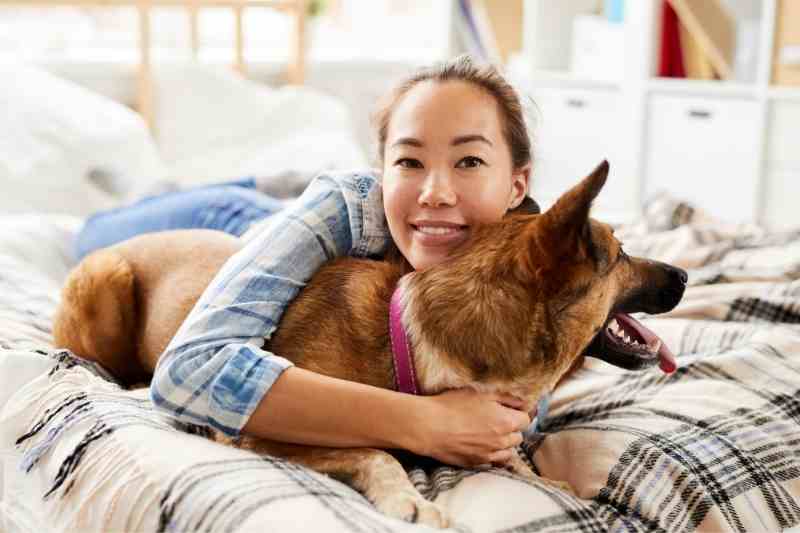 Accommodative housing for furry, four-legged roommates is becoming one of the most important factors for renters when looking for a new home. Yes, we're talking about pets!
Pet ownership in multifamily properties has exponentially increased over the years. And by implementing clear and straightforward apartment pet policies, you'll enhance your building's resident experience and reduce turnover.
Pet policies outline the rules and regulations around pets for residents in their lease agreements. These policies protect the property, staff, and residents by clearly stating pet ownership and conduct expectations. While some properties can't allow pets for specific reasons, pet-friendly buildings tend to attract more prospective renters.
Here are five apartment pet policies that you should implement: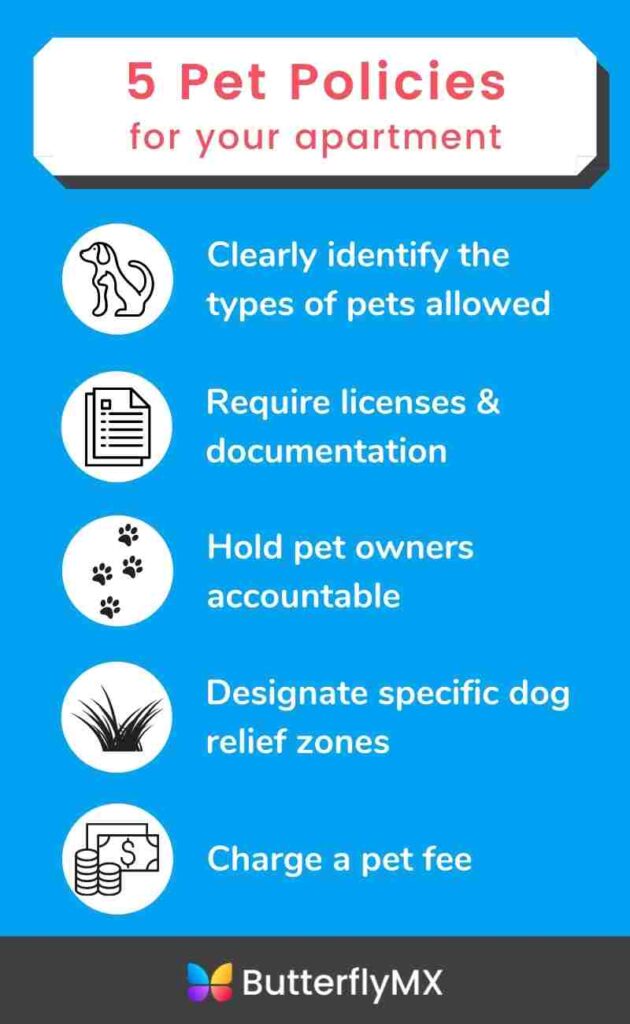 1. Clearly identify the types of pets allowed
First, you should clearly state which types of pets are allowed in the lease agreement that residents sign. This includes specifications on the breed, size, and the number of pets allowed per household. For example, you can allow one dog or cat or two hamsters.
For dogs, you may need to go into detail about the breed, as some breeds could be more dangerous than others. Setting a weight limit — for example, no pets over 30 pounds — is often a way to rule out certain breeds without specifying them by name.
That said, you must accept all service animals, regardless of the type or size, and even if you have a no-pet policy. Under the Americans with Disabilities Act and the Fair Housing Act, housing providers are obligated to allow (as a reasonable accommodation) animals that provide assistance with physical tasks or emotional support to residents with disabilities.
2. Require proper identification, licenses, and vaccinations
Once you've specified the types of pets permitted on your property, the next step is to process all necessary paperwork. Just like you typically screen residents before accepting rental applications, you should do the same for their pets. Obviously, you can't run background checks on animals, but you can ask residents a series of questions when they're registering their pets.
Example of questions to ask pet-owning residents:
How long have they had the pet?
Does the pet have a history of violence or destroying property?
Has the pet ever bitten a human?
Where is the pet from (i.e., shelter, breeding center, a stray)?
Also, depending on your local state laws, residents might need to show proof of certain vaccinations. It's common for property managers and owners to require all pets to wear a collar, identification tag, and remain on a leash at all times outside the owner's apartment. The identification tag is often referred to as a license, which includes the pet owner's information and proof of vaccination.
3. Hold pet owners accountable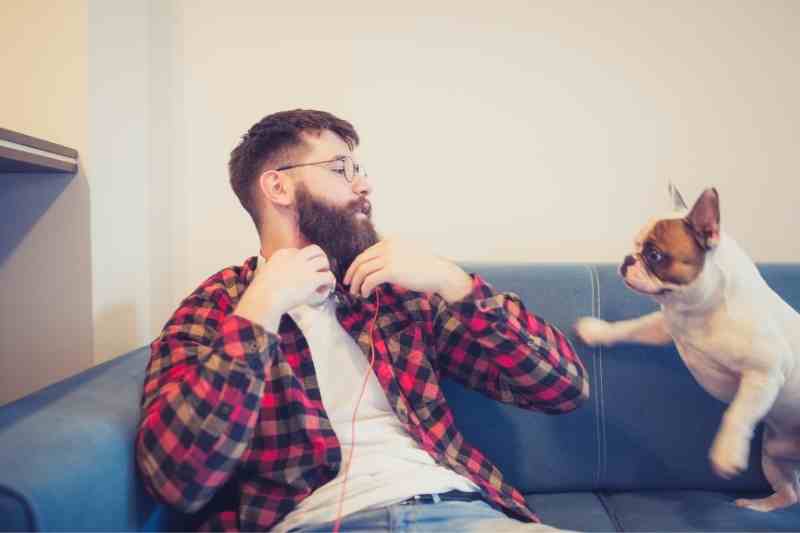 If a resident violates a pet policy, that's considered a violation of their lease. As such, the resident could lose rights to the rental apartment, be required to give the pet away, or, in extreme cases, both.
To minimize disturbances to other residents and the property, ensure that pet-owners keep their pets under control. This includes requiring residents to clean up after their pets, accompanying them at all times, and enforcing good behavior. You might want to also require residents to carry pet insurance in the event of accidents or damage.
Pro tip: Empower residents to allow property access to their dog walkers and pet sitters by installing a modern wireless video intercom system. Residents can assign virtual keys to their dog walkers so that they can enter the apartment even when the owner isn't home.
Watch how Virtual Keys work:
4. Designate specific dog relief zones
No one likes to see or smell dog waste. If your property isn't kept clear of dog waste, this can lead to tons of resident complaints and could even turn prospects away. So, making sure that pet-owning residents are mindful of where their dogs go is crucial for maintaining a clean building.
Dog waste shouldn't be anywhere in or near the property. If possible, designate specific areas for walking dogs — for example, certain parts of the parking lot or a "doggy park." Make sure to keep other outdoor amenities clean and free of dog waste and other pet elements that might negatively impact other residents.
Pro tip: If your building has a dog park, consider securing the area with a gate controlled with a keypad. That way, only residents who signed up to use the spot will have access to it. Keypads allow residents to unlock the door or gate to the park by entering a PIN code or using their smartphones.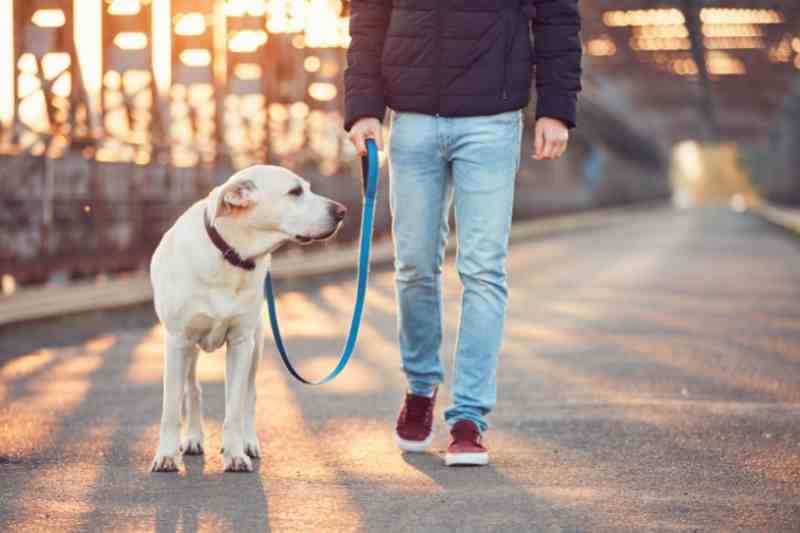 5. Consider charging a pet fee
You may want to consider charging pet-owning residents pet fees or deposits to cover any potential property damages and maintenance costs caused by the pet. Typically, residents understand why, and they are happy enough to pay if it means keeping their pets with them. (Note: Residents with service and support animals are exempt from paying pet fees since the animal's purpose is to accommodate a disability or condition.)
However, each state has different laws and regulations regarding pet fees. Most states generally allow property owners to charge a separate pet fee in addition to the security deposit. But some states have a specified limit on how much you can set as a pet fee. Typically, the pet fee amount depends on the size and type of pet and the property value.
You might want to add a grandfather clause that exempts existing pet-owning residents from paying a newly-created pet fee. This might help retain those residents and reduce turnover fees.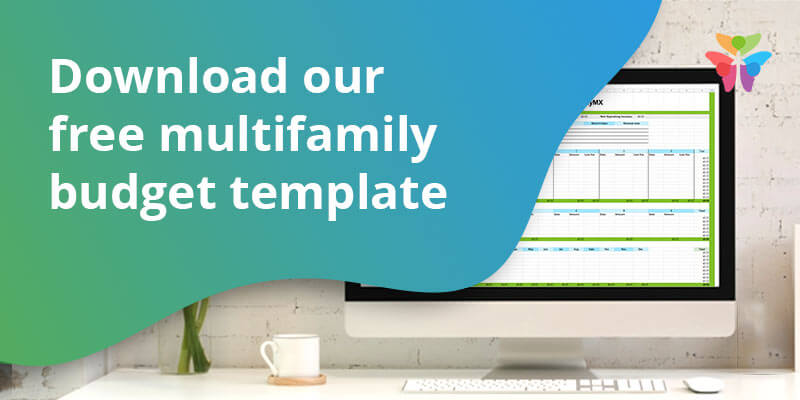 How these pet policies improve the resident experience
Having clear and detailed pet policies in place will keep everyone safe and satisfied in your apartment building. These policies help minimize risk and set ground rules for acceptable behavior for the animals at your property.
You want residents to have the optimal experience living in your building with their pets while also satisfying those without pets. Also, setting expectations for pet owners helps keep your property in optimal condition so you don't have to worry about repair costs. Residents will diligently look after their pets by cleaning up after them and training them to be well-behaved around others.
When done well, fostering a pet-friendly apartment community will attract prospective residents and retain existing ones. Pet-friendly properties help save animals' lives by providing shelter for them and elevating residents' quality of life by allowing them to reap all the benefits of owning pets.
Fun bonus: organize events for your furry residents
Last but not least, don't forget to have fun with the furry residents of your building! Pets bring human residents the utmost joy and happiness. So, pets also deserve to be appreciated and celebrated.
Organize pet-friendly resident events that'll get pets and their owners mingling with each other. It's the small things that make the most significant difference. Building a sense of community and improving the overall resident experience will lead to lease renewals and loyal residents year after year.