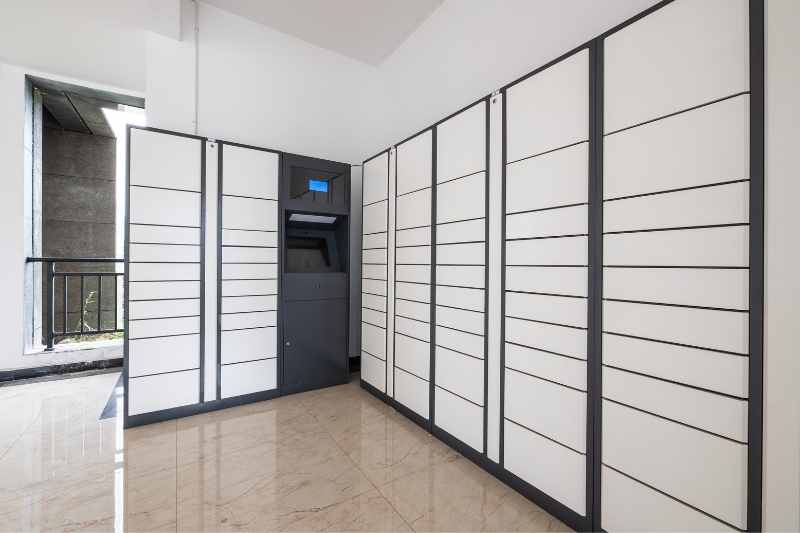 Online shopping is on the rise, which means a high volume of package deliveries at your multifamily apartment building. It can be tough to track and manage all your residents' packages. Luckily, there are plenty of package management solutions out there. As you consider your options, one solution you may have come across is Parcel Pending package lockers.
In this post, we take a look at the Parcel Pending apartment package locker system and discuss how it works, how much it costs, and how it compares to other package management solutions.
This review post covers:
About Parcel Pending
Founded in 2013, Parcel Pending is a package management solution for multifamily, commercial, and retail properties. Quadient, formerly known as Neopost, acquired Parcel Pending in 2019. Parcel Pending indoor and outdoor lockers accept deliveries from all couriers.
Parcel Pending offers various package locker systems, including indoor and outdoor lockers, Locker Lite, and refrigerated lockers. Additionally, Parcel Pending has a mobile app that tenants can use to access the lockers and receive delivery notifications.
How big are Parcel Pending lockers?
The standard Parcel Pending indoor locker is 79 inches tall, 39.5 inches wide, and 24 inches deep. The company instructs to allow 1-inch side and back clearance for installation.
Parcel Pending lockers can be configured with various compartment sizes. If a package is too big to fit in a locker, the tenant receives a delivery notification with information on where to pick up their oversized package based on their community's guidelines. This means the oversized package could be at the on-site manager's office or at the courier's local delivery hub.
Parcel Pending's Locker Lite solution is designed for smaller communities with 100 apartment units or fewer. Locker Lite can have one or two locker tower configurations.
How Parcel Pending lockers works
When a delivery person arrives at a property with Parcel Pending package lockers, they enter their unique delivery PIN at the locker's touchscreen. Then, they scan a package and specify its size (options are small, medium, large, x-large, and oversized). A compartment of the correct size automatically opens, and the courier places the package inside.
Parcel Pending's mobile app notifies residents when they have received a package. Residents receive a barcode and an access code, which they use to open the locker and pick up their delivery.

Should you get Parcel Pending apartment lockers?
Package management solutions are a must for any multifamily owner or operator. If you're considering Parcel Pending package lockers, keep reading to learn more about the product and how it compares to other package solutions.
Features
Built-in camera to capture delivery and pickup
Infrared scanner to detect packages or items in each locker
Mobile app to manage deliveries
Touchscreen and keypad interface
Parcel Pending cost
Parcel Pending pricing isn't available online. So, reach out to the company to get a quote.
Pros & cons
Pros
Customizable locker size configurations
Accepts deliveries from all couriers
The mobile app sends push notifications to tenants' phones when they have a package delivered (no text messages or emails)
Cons
The package lockers may not be able to accommodate oversized packages, such as furniture.
Mobile app system is only compatible with smartphones.
No text message or email notification options.
Parcel Pending locker alternatives
Now that you've learned about Parcel Pending's package lockers and how they work, you may be wondering if they're the right solution for your building.
Every multifamily property needs a system that can easily accept, store and distribute packages. The two most common solutions are package lockers and package rooms.
While package lockers seem like a great solution for your building, a package room may be a better investment in the long run.
Why package rooms are better than package lockers
There's no need to worry about comparing different package lockers when you can set up a package room instead.
Here's why a package room is better than a package locker:
Greater flexibility: Package lockers are limited to the size of their compartments. You will still have to manage oversized packages yourself or find an alternative solution until residents can pick them up.
Make use of existing space: To install a package locker, you'll need to create a large, open space in a communal area that is convenient for your residents — which might take up more space than you'd like. But package rooms make use of existing space — you can turn an unused office or storage closet into your package room.
More affordable: Package lockers are expensive. Be prepared to spend tens of thousands of dollars on the locker hardware, plus ongoing software fees and maintenance costs. With a package room, all you need is a video intercom to manage access to the room.
Watch how ButterflyMX's package room works:
Comparison of Parcel Pending package lockers with ButterflyMX package room
Parcel Pending's electronic lockers can store some of your residents' packages, but the system may not be as convenient as it seems.
First, a package locker system may take up a lot of space. You must find a place in your propertythat is convenient for residents to access and large enough to fit bulky lockers. In addition, the package locker compartments are limited in size, unable to accommodate odd-shaped packages or larger deliveries such as furniture and appliances. If residents do receive an oversized package, the tenant may have to visit the on-site management office or the local distribution center. This could create a huge inconvenience for residents.
In contrast, the ButterflyMX package room is convenient for everyone, including residents, couriers, and property staff. You don't have to worry about the square footage or dimensions of lockers to fit in your property because you can convert existing space into a package room.
All you'll need to purchase is a modern ButterflyMX video intercom to control access and shelving to organize packages. From there, couriers can easily deliver to the package room through the intercom's bright 8" or 12" LED display without worrying about finding an available locker that is the right size. Residents receive automated notifications whenever they get a delivery.
It's also crucial to consider that many couriers don't bother using package lockers because of the hassle they create. Some couriers may just leave packages in the lobby or with staff to deal with, which defeats the purpose of the package lockers entirely. Package rooms are a simpler option for delivery people to use because they don't have to spend time putting every package in individual lockers.
Parcel Pending vs ButterflyMX
Parcel Pending's package lockers are one option for those seeking a package management solution. However, ButterflyMX's package room offers much greater flexibility, a simple setup, and a far more versatile solution for properties managing deliveries on a daily basis.
The ButterflyMX package room solution offers unmatched features like:
Sleek design. Modern and stylish, the ButterflyMX video intercom is easy for both residents and delivery couriers to use. So, you can boost the aesthetics of your property's interior while making package management easier.
8" or 12" display. The bold high-definition LED display is intuitive and user-friendly for couriers who have never used a video intercom before.
Wide-angle camera. Capture every moment without any blindspots with the state-of-the-art 156 degree wide-angle camera.
Robust hardware. The intercom is vandal-resistant and weatherproof.
| Feature | ButterflyMX package room | Parcel Pending lockers |
| --- | --- | --- |
| Automated resident notifications | Yes | Yes |
| Flexible space | Yes | No |
| Text and email notifications | Yes | No |
Disclaimer: ButterflyMX provides these blog posts to help our customers and potential customers make the right business decisions for them. Our blog posts are based on the information we have available to us at the time of writing.