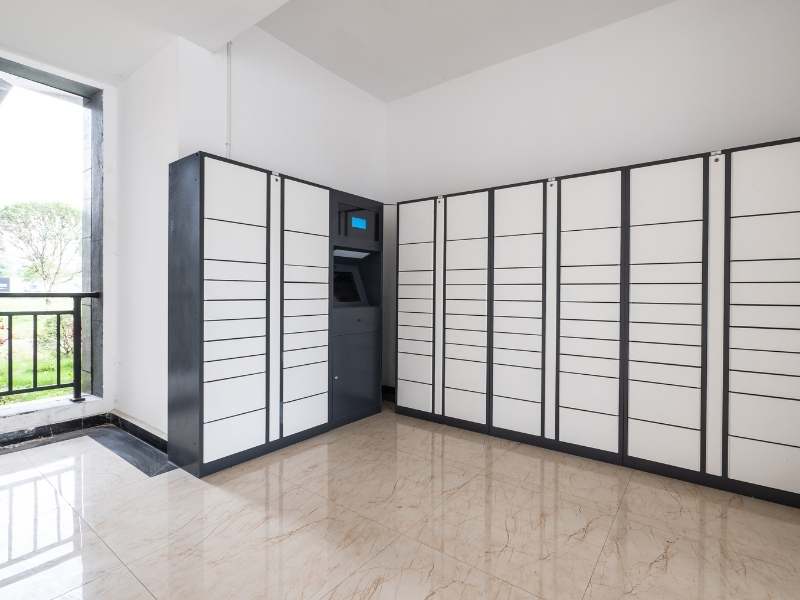 The modern-day dilemma for multifamily property managers is handling tons of package deliveries each day. Unfortunately, many multifamily apartment buildings are not equipped to manage mountains of packages. The deliveries end up crowding the leasing office or spiral into a massive mess in the lobby. Also, poor delivery management often leads to package theft, upsetting the residents. Luckily, the package locker industry has been providing solutions to these problems. One solution you might have heard of is Package Nexus lockers.
In this post, we go over Package Nexus Smart Parcel Lockers and see how they compare to other package management solutions.
This review post covers:
About Package Nexus
Package Nexus is a package management solution used by multifamily communities, retailers, pharmacies, and offices. It offers a different kind of system for each industry.
For example:
Retail stores can use Click-and-Collect Smart Lockers for "buy online, pick up in-store" (BOPIS).
Pharmacies can use Smart Pharmacy Kiosks for prescription pick-ups.
Commercial offices, corporations, and factories can use Smart Parcel Lockers for employee and member package deliveries.
Smart Package Lockers for multifamily properties
Multifamily buildings can use the Package Nexus Smart Package Locker solution. Most postal carriers can register with Package Nexus to deliver packages. Its internet-enabled technology automatically manages deliveries and pick-ups. An email or text notifies the recipient of a delivery. Residents then enter an access PIN into the kiosk to retrieve their packages from the locker.
How Package Nexus Smart Package Lockers work
Delivery couriers deliver packages directly to Package Nexus's secured lockers. They must select the recipient from a directory before scanning each package with a 1D/2D barcode reader. The courier places the package(s) inside, closes the door, and repeats the process with the next resident's package.
After each package is placed in the locker, the resident receives an automatic email and/or text notification for each package they have received. Each notification has a unique access code that opens the locker compartment with their package. Package Nexus also has a mobile app that residents can use to track their packages.
When retrieving a package, the resident must enter the access code they received. Then, the door to the correct compartment pops open automatically. The compartment door locks after the resident takes their package and closes the door. The resident repeats this process for each package they received.
Should you get a Package Nexus Smart Package Locker?
For property managers, package lockers or rooms can be a huge time saver, allowing you and your staff to focus on more important tasks! Read on to learn more about Package Nexus package lockers and how they compare to other package solution providers.
 Features
15" industrial-grade touchscreen
Options to add on refrigerated and freezer lockers
Each module is 62 cubic feet
Separate ADA-compliant Braille keypad
Infrared sensors that monitor packages
Package Nexus apartment locker cost
Package Nexus does not display its pricing online. To get a quote, reach out to the sales team directly.
Pros and cons
Pros:
Sends email, text, and/or app notifications to residents for each package
Sensors can detect even thin or flat packages in lockers
Ability to operate with or without an internet connection
Cons:
No option to customize locker sizes
Limited options for compartment sizes
May be unable to integrate with existing products/services at your property
Alternatives to Package Nexus package lockers
Now that we've reviewed Package Nexus, you're probably wondering if it's the best package management solution for your multifamily property. Or are there better options out there?
No matter the type of property you own or manage, you undoubtedly need an effective system to streamline deliveries. However, package lockers may not be the best option to go with. Instead, consider getting a package room to tackle those never-ending package deliveries.
Why a package room is better than package lockers
Most package lockers come with hidden costs and take up valuable space on your property. A package room, on the other hand, makes use of existing space. And package rooms can be set up in any way that best accommodates your building's needs.
Here's why package rooms are more convenient than package lockers:
They're often more secure than package lockers. Even the best package lockers may experience annoying tech glitches – or worse, develop physical damages, like on the locker doors. When issues occur, it's easy for people to take – either purposely or accidentally – packages that aren't theirs. However, with ButterflyMX installed at your package room door, you'll get a time- and date-stamped audit trail with photos each time someone enters the room. So, you can review the footage if a package goes missing.
They're easy for both couriers and residents to use. There's no reason to invest in package lockers if they're too complicated to use. Delivery people may end up ditching the lockers and leaving packages in the lobby or leasing office. Residents also might constantly ask building staff to help them figure out how to use the lockers. However, a package room is straightforward and easy to use! If you already use ButterflyMX for property access, then residents will already be familiar with the interface.
They're very simple to set up. Setting up a package room just involves installing a video intercom at the door. For an extra layer of security, you can install security cameras to monitor the room. Other than that, there's nothing else to do to set up or maintain the room.
Comparison of Package Nexus apartment locker with ButterflyMX package room
Package Nexus lockers may not have the best sizes or configurations for your multifamily property. Even worse, the lockers can take up more space than you have available, which may interfere with other aspects of residential life. They could potentially make package management more complicated than it has to be.
On the other hand, the ButterflyMX package room makes good use of space that already exists in your building. You just need to install the video intercom at the door, and, just like that, you'll have an easy-to-use package room! After installing the smart intercom system, you can literally forget all about it since the room maintains itself.
Tackle package deliveries with ButterflyMX. Having a working and easy package management system will make residents happy, especially as they continue to shop online. And happy residents equates to more lease renewals!
Watch how ButterflyMX's package room works:
Package Nexus vs. ButterflyMX
Package Nexus package lockers are one package management solution; however, there may be better solutions for your property. If package lockers are too expensive or cumbersome, go with a secure, easy, and simple package room from ButterflyMX.
| Feature | ButterflyMX package room | Package Nexus package lockers |
| --- | --- | --- |
| Flexible compartments | Yes | No |
| Easy integration with other services | Yes | No |
| Saves valuable space | Yes | No |
| Automated resident notifications | Yes | Yes |
Disclaimer: ButterflyMX provides these blog posts to help our customers and potential customers make the right business decisions for them. Our blog posts are based on the information we have available to us at the time of writing.