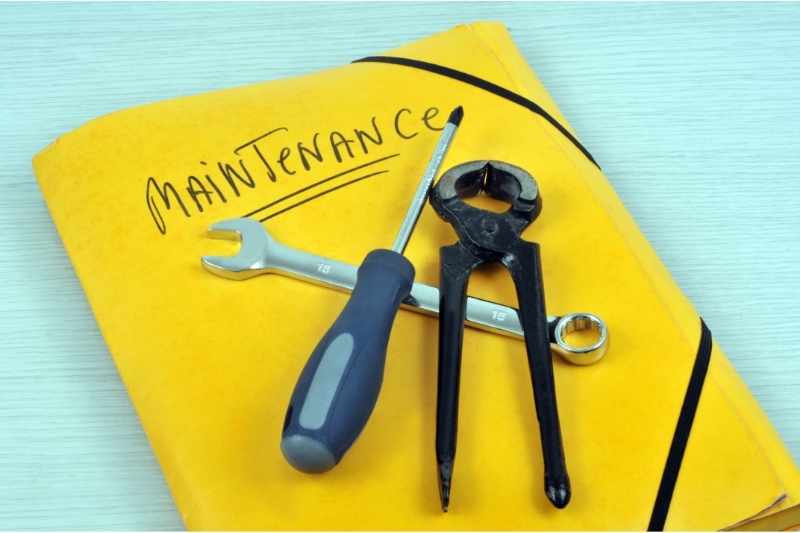 Successfully managing a property involves putting together a building maintenance plan. Timely maintenance and even preventative maintenance are essential to your building's operations.
Not sure how to start creating a building maintenance checklist? Our guide will cover what a building maintenance checklist is, what belongs on your checklist, and five tips for creating a comprehensive checklist. Finally, we offer a free checklist template that you can use!
This post covers:
What is a building maintenance checklist?
A building maintenance checklist is an organized guide that a property manager uses to keep track of necessary maintenance on a property. A building maintenance checklist includes preventative maintenance.
It can't be overemphasized how much a checklist helps keep a property manager organized. While maintenance is a high priority, it's far from the only urgent responsibility a property manager has to worry about. Many aspects of a property manager's job can't be neatly organized into a checklist like maintenance can, which is why it's important you take the opportunity to do so.
Additionally, seasonal maintenance makes it necessary for property managers to have separate maintenance checklists for different times of the year (depending on the property's location).
Keep in mind: There isn't much difference between an office building maintenance checklist and a residential building maintenance checklist. That said, residential buildings typically require more outdoor maintenance in the form of a yard and an outdoor recreation area. But of course, all properties commercial and residential are unique in terms of the maintenance they will require.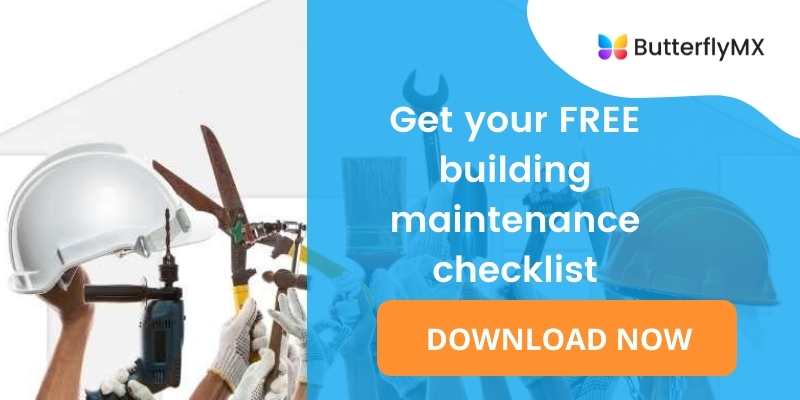 Tasks to include in your building maintenance checklist
Plumbing and electricity-related tasks are probably the first things that come to mind when undertaking property maintenance. But there are a lot of other tasks to keep in mind when making your building maintenance checklist.
Tasks to put on your building maintenance checklist include:
Fire equipment and fire safety inspection
Access control assessment
Parking lot and garage inspection
Elevator inspection
Window and door integrity
Roofing and gutter assessment
HVAC efficiency
Security system functionality
ADA (Americans with Disabilities Act) compliance
6 tips for creating a building maintenance checklist
Operating costs for buildings have never been higher, especially in older buildings. Prioritizing maintenance in a timely and organized fashion can immediately save you money. Implement the tips below when building a maintenance checklist.
6 tips for building maintenance checklists include:
1. Highlight what you can do yourself
At the top of your building maintenance checklist should be what you can do yourself as a property manager. These are the tasks that will only take you a few hours at most and won't distract you from your other responsibilities.
You want to highlight what you (or another staff member) can do in order to save money. For example, hiring an electrician to change a lightbulb is a massive waste of your budget. Conversely, hiring an electrician to rewire smart bulbs in your lobby is a wise investment.
Tasks a property manager can likely do themself include:
Changing batteries in smoke detectors
Tightening bolts
Patching drywall
Cleaning gutters
Safety check-ups
Power-washing the exterior of the building
Window-cleaning (on the ground floor)
Not everybody is a skilled maintenance professional. So, it's okay to reach out for help from a professional if you can't do something yourself. After all, attempting to perform maintenance yourself can lead to an even worse repair issue if you're not confident. Be honest with yourself and your immediate abilities when creating your checklist.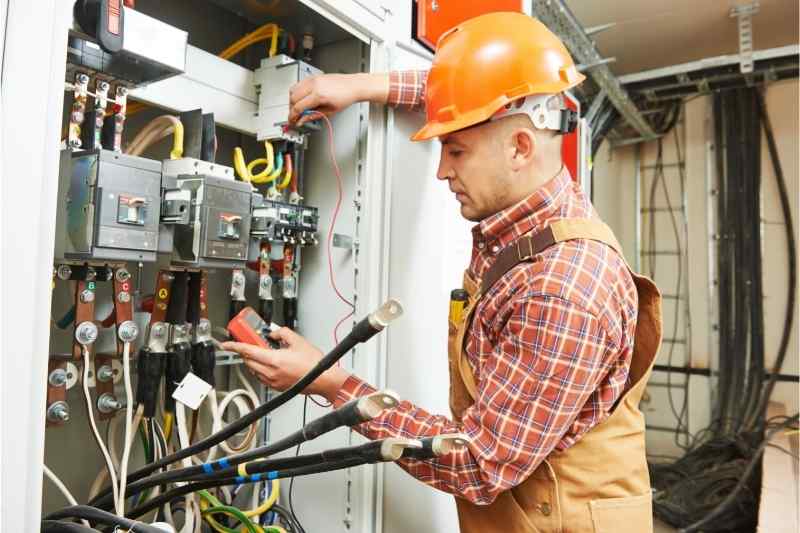 2. Delegate what needs to be given to a team
There are many tasks that only a professional can do correctly. Make sure to highlight the different contractors you'll need in your maintenance checklist. If you have prior people that you've found success working with, include their names and contact information if handy.
Tasks that necessitate a professional include:
Plumbing
Electrical
Carpentry
HVAC
Roofing
Pest extermination
Hedge trimming
Landscaping
Software installation
Work that requires professionals can often be the most costly and difficult to schedule. Prioritize hiring these professionals to get the work done as soon as possible.
3. Prioritize risk
Preventative maintenance can save you a ton on your budget and nothing says preventative like prioritizing a property's risks. By risks, we mean anything on your property can that can cost a lot of money to fix, or that can negatively affect a tenant's satisfaction with your property.
Risks that should be prioritized in your maintenance checklist are:
Electrical hookups in order to prevent fires.
Roof integrity to prevent leaks.
Pipe integrity to prevent flooding.
The structural integrity of fire escapes.
Access control systems to ensure that people can enter and exit the building.
Elevator functionality to ensure that they don't get stuck between floors.
Watch how ButterflyMX works:
4. See what can be augmented
You can use your building maintenance checklist to see what can be upgraded in your building. Many common features of a property can be replaced with smart technology that saves money and requires less complicated maintenance.
Augmentation ideas include:
An overhauled access control system. This can include video intercoms and keypads that allow people to control access through their mobile devices. All-in-one security systems are much easier to maintain compared to multiple devices.
Smart bulbs. These last longer than regular bulbs and need to be replaced less frequently.
Smart thermostats. These can reduce the wear and tear on HVAC systems.
Upgraded laundry room. Laundry machines infused with smart technology use less water and require less maintenance than normal machines.
5. Include expected costs
While filling out your maintenance checklist, it's important to be aware of how much everything will likely cost. Use your best judgment when filling out the checklist; this can help you immensely when it comes to planning your budget.
If you don't have old records from your property's previous maintenance to determine the cost, you can always use the internet.
As you complete the checklist, you can include the actual cost versus your estimate. This will be especially handy in the future. Speaking of record-keeping….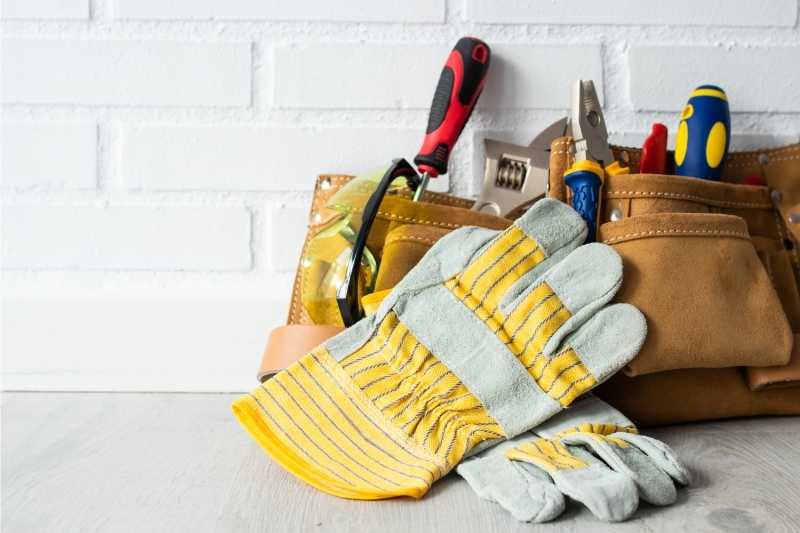 6. Use your checklist for record-keeping
Many maintenance tasks are not yearly requirements. So, your maintenance checklist should have a notes section that includes the date of when something — such as a door hinge or window pane — was last replaced. At the five-year mark (or the recommended replacement time) you'll know when to replace them. As a result, you can budget accordingly.
You can also leave notes in your maintenance checklist concerning whom you hired for which repairs. If they didn't do a good job, you can leave a reminder that you'll want to hire somebody else next time. You should also record any advice that contractors and repairmen give you (such as a warning that your water heater will need to be replaced in a few years).
Remember: Hold onto your building maintenance checklist after you're finished with it. File it away with all of your other record-keeping so you can go back to it for the above information.
Takeaways
A building maintenance checklist is a list of maintenance tasks you will need to perform on your building.
A maintenance checklist is important because it keeps you organized and can help you categorically prioritize different tasks.
Your maintenance checklist should differentiate between what you can do yourself and what you need to hire professionals for.
You should also use your maintenance checklist to deduce what can be augmented, prioritize risk, and keep notes on budget and utility expiration dates.