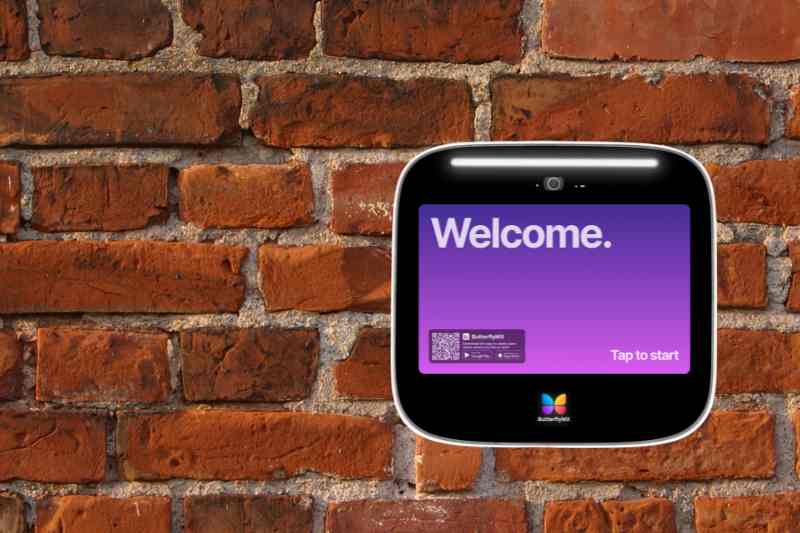 One of your most important responsibilities as a property owner or manager is ensuring that access to your building is secure yet convenient. Residents, their visitors, and even delivery couriers all need a building entry system that accommodates each of their needs. For decades, call boxes have been used at apartments, gated communities, and commercial properties to facilitate property access. But is a call box the best building entry system for your property?
In this post, we explain what a call box is and how it works. Then, we go over the different types of call boxes, review call box limitations, and offer alternatives.
This post covers:
What is a call box?
A call box is an access control device installed at a property entrance that allows visitors to contact and request access from someone in the building.
While they have their limitations, call boxes are one of the most widely used entry systems today. They can be found on all types of multi-tenant properties, serving every kind of renter. Gated properties and buildings alike use call boxes to facilitate communication between residents and guests, and to empower tenants to grant property access.
Call box entry systems include three pieces of hardware:
Master station. Installed at the entryway of the property, a master station is used by a visitor to contact a resident.
Substations. Substations are the hardware that residents use to communicate with their visitors. These substations can take many shapes, from simple receivers that can transmit audio to a mobile app on your tenants' smartphones.
Door strikes. Door strikes can take multiple forms depending on the type of entrance but are often either electric or magnetic.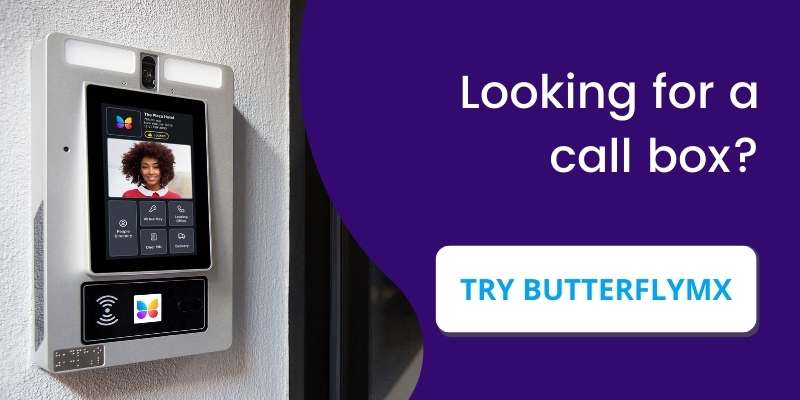 Call boxes vs. other entry systems
While you might be familiar with the term 'call box,' there's a wide range of terminology used by both residents and entry system providers. So, what's the relationship between a call box and other types of entry systems?
Building entry call boxes are comparable to:
Telephone entry systems: You may refer to a call box as a telephone entry system if your system relies on a telephone line to make calls to your residents and notify them of their visitors.
Buzzer systems: Call boxes are sometimes referred to as door buzzers when the system uses hardware that makes a buzzing sound when a visitor calls a tenant.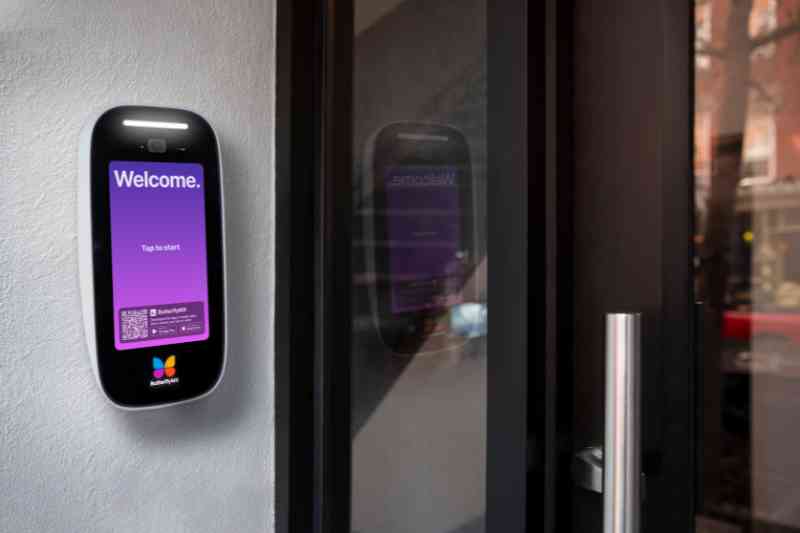 Where to install call boxes
Call boxes are commonly installed at both residential and commercial properties of all types and sizes.
You'll likely find a call box at:
Apartments
Apartment building call boxes save a lot of time for residents. Property staff also benefit from apartment call boxes because they don't have to spend time granting access to visitors.
Apartment residents use call boxes to:
Buzz in visitors without physically going to the entrance.
Open the door for delivery couriers.
Manage visitor access without relying on a doorman or front desk.
Commercial buildings and offices
Commercial buildings and offices benefit from call boxes.
Tenants receive a constant stream of visits from clients, job applicants, and vendors who need building access. Delivery carriers also need a way to enter the building. In these contexts, a call box for business has simplified building entry for everybody involved.
Call boxes for commercial buildings can be set up in a few different ways. You might install substations in every employee's office. Or, you might just have one substation at a front desk, where a staff member manages all visitor access.
Gated communities
Gate call boxes are designed for gated properties, like secure office campuses or gated residential communities. These kinds of properties place a high premium on security and use call boxes to manage entry and maintain property security.
When compared to a door buzzer system for apartments, a call box for gates needs to enable communication over greater distances. This is because the gate call box at the property's entrance could be hundreds or thousands of feet from the buildings or apartments it serves. It might also be far away from a power source. Gate call boxes also have to be designed for the outdoors, with considerations like underground wiring to ensure consistent communication in cases of harsh weather.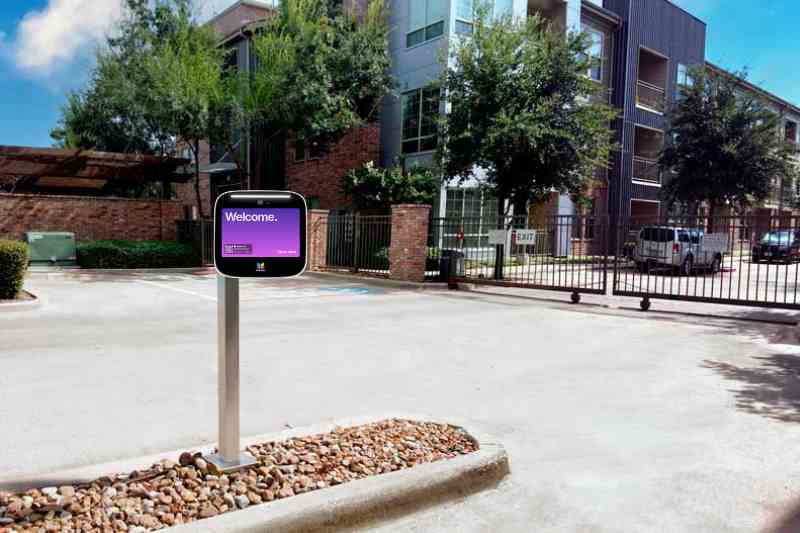 How does a call box work?
Call boxes work by sending electrical signals from the device installed at the property's entrance to a substation installed in the resident's apartment. Depending on the kind of technology powering your intercom call box, the signal travels from the call box to the resident's substation in different ways.
Most door call boxes require wiring. If your call box is wired, signals travel from the call box to each substation along the same kind of wiring that telephones use. In contrast, wireless call boxes transmit signals via either a cellular network, radio waves, or the internet.
How do you use a call box?
To use a call box, a visitor first has to find the right tenant in the system's directory. Once they have found the tenant, the call box will display a PIN code to dial that tenant. Enter that code using the call box's keypad. To initiate the call, you may have to then press the '#' key or a call button.
Alternatively, the call box may simply have a single 'call' button for each tenant or unit. In that case, all you have to do is press the button labeled with the right unit number or tenant name.
Once the tenant answers your call, you can speak to them through the call box's microphone. When they open the door or gate for you, you'll likely hear a buzzing sound alerting you that it's unlocked.
Watch how ButterflyMX works:
How do you let someone in with a call box?
If you manage, live, or work in a building with a call box, you'll have to know how to answer visitors' calls and let them in.
Here's how to let someone in using a call box:
Visitor uses call box to contact you. You'll be notified in a few different ways depending on the kind of substation you have. If you're using a telephone, you simply answer it just like a regular phone call. Otherwise, a door buzzer installed in your apartment unit may be the device alerting you of your visitor.
You speak to your visitor. The call box communicates with your substation either through building wiring or wirelessly, allowing you and your visitor to communicate.
You grant entry to your visitor. On a phone, you let someone in by pressing '9.' If you have an in-unit buzzer device, you grant entry by pressing the 'door open' button.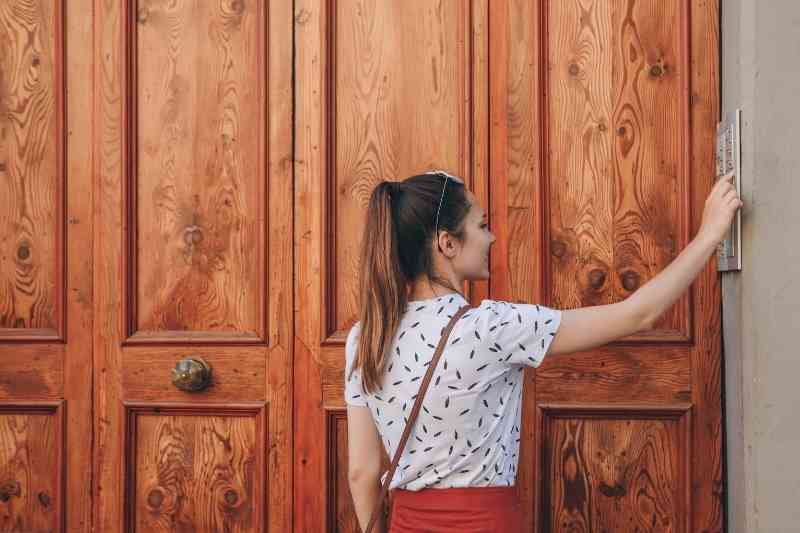 Types of call boxes
Now that you know how a call box works and how to use one, you're ready to dive into the different types of call boxes.
Some of the most popular types of call boxes are:
Call box with camera
A few building entry system manufacturers have begun adding cameras to their call boxes to allow residents to see their visitors. This offers the benefits of increased security and convenience since residents can see who's requesting access before letting them in. But some call boxes with cameras have their downsides.
Traditional, wired call boxes were originally designed to only carry audio. So, adding a camera to your current call box system requires several extensive modifications, like installing an entirely different camera system which would have to be managed separately.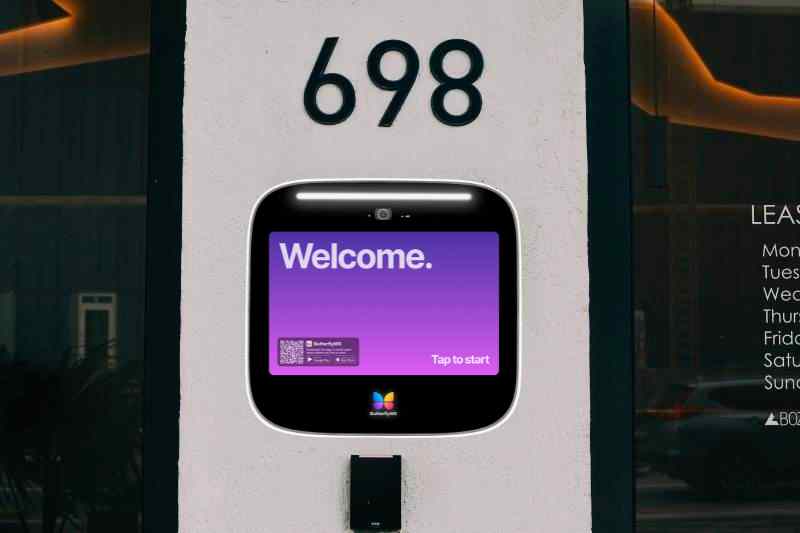 Wireless call box
While most call boxes today are still wired, call box technology has always taken cues from advances in telephone technology. In the past, when wired telephones were popular, call boxes were installed with similar wiring. But today, with the advent of wireless technologies like cellular networks, WiFi, and high-speed internet, some call boxes are now wireless.
Wireless call boxes have several advantages over wired call boxes. For example, you'll save money on installation and maintenance when you don't have any wiring to purchase, install, and maintain.
But while they're a step in the right direction, many wireless call boxes still don't offer the modern features that building staff and residents need. For example, they fail to offer features like Delivery Passes for one-time or recurring property access for couriers.
IP call box
IP call boxes are a type of call box that use the internet to send communications. These call boxes can either use a wireless or a wired internet connection.
Wired IP call boxes typically use a CAT5/6 ethernet cord connected to a modem or switch to access the internet. Wireless IP call boxes, on the other hand, use radio frequencies called spectrum. Spectrum is a broad term and covers a lot of technologies including WiFi, Bluetooth, NFC, cellular, and even radio waves.
The IP in 'IP call box' stands for Internet Protocol, which is a set of rules computers use to transmit data over the internet. Another popular protocol is the Voice over Internet Protocol (VoIP), so IP call boxes are also sometimes called VoIP call boxes.
4 limitations of call boxes
Now that you know the different kinds of call boxes and how they work, let's discuss their limitations.
Here are four problems with call boxes:
1. Not cloud-based
Call boxes don't store their data in the cloud. As a result, your staff must manually update the system onsite instead of managing it remotely from any phone or laptop. You may even need to install a computer server and hire an outside technician just to update the call box.
2. Fails to control access for other areas of your property
It's true that managing access into your property is important. But you know that keeping your residents satisfied means simplifying access for every area of your property.
An apartment intercom call box will still require separate access control systems, like keypads or key fobs, if you want your residents to easily access other areas of your building.
3. No features for guaranteed delivery access
Today, your residents have the power to order anything from food to furniture right to their doorstep. But traditional building call boxes don't have any tools that guarantee property access for couriers.
If a resident isn't home or doesn't answer their phone, they'll miss their delivery. In contrast, more modern intercom systems offer delivery PINs and passes to ensure successful deliveries every time.
4. No mobile app
While some call boxes allow residents to open doors with their telephones, this takes place in the form of a regular phone call. The superior option is an intercom with a mobile app that residents can use with their smartphones.
Compared to a phone call, apps have features like live video and virtual keys that residents can send to visitors for easy access.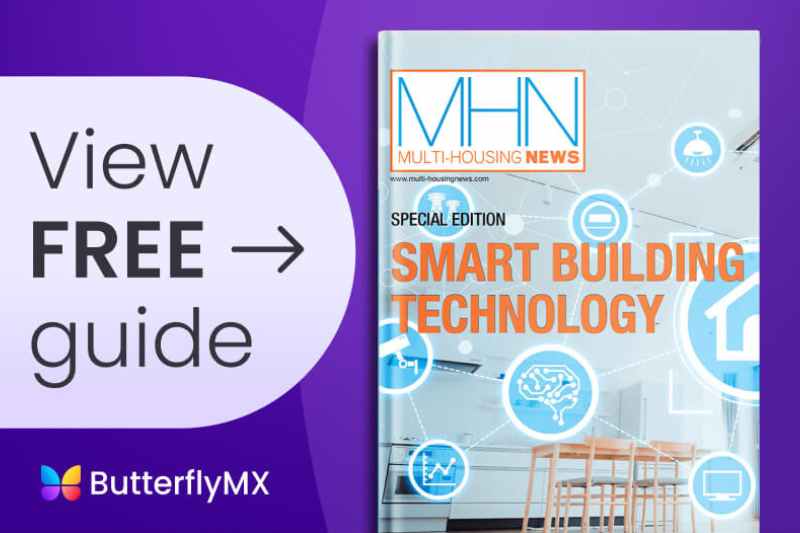 A better alternative to call boxes
Call boxes may fulfill basic access control needs. But call boxes are outdated, and your residents deserve an entry system that takes advantage of all of today's technology.
To facilitate a flawless property access experience, ditch your call box in favor of a modern video intercom.
Here's why video intercoms are better than call boxes:
Video communication. Unlike audio-only call boxes, video intercoms were designed to transmit both audio and video. With a video intercom, residents can see visitors before granting them access, which boosts security at your property.
Cloud-based software. A cloud-based system empowers you to manage access from any device, saving save you and your staff a lot of time. Instead of having to manually input each resident into a call box — and manually removing that resident as they move out — a video intercom simplifies this process by putting it online. The best video intercoms will even automate this process entirely by integrating with your property management software.
Integrations. Call boxes aren't technologically advanced enough to connect with the latest smart building technology. In contrast, modern video intercoms can seamlessly integrate with other hardware, like smart locks and thermostats.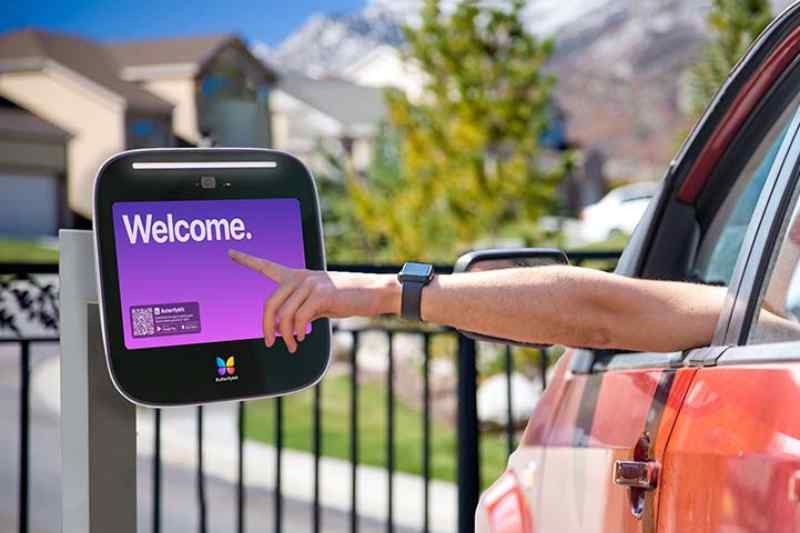 ButterflyMX entry system
Video intercoms are the most comprehensive access control solution. And when it comes to security, convenience, and features, ButterflyMX is the best choice.
ButterflyMX's top-rated video intercom system has all the features of a call box and more. And when paired with ButterflyMX's suite of access control products like keypads and key lockers, you can create a consistent, unified access control experience for your entire property — not just the entryway. In addition, ButterflyMX offers features that enhance security and save time for staff and residents alike.
Staff can sign into ButterflyMX's cloud-based dashboard from any device to manage access on the go. They can also integrate ButterflyMX with other property management systems to spend less time on administrative work and more time focusing on enhancing the resident experience.
Residents appreciate how ButterflyMX empowers them to open doors and gates for themselves and their visitors right from their smartphones. And with features like one-time delivery passes and virtual keys for recurring visitors, ButterflyMX ensures that residents have all the tools they need to manage access.
Unlike a call box, ButterflyMX lets you manage access for every area of your property, not just its entrance. Don't just limit yourself to the front door; choose ButterflyMX and easily manage access to gyms, parking garages, rooftops, and your other amenity spaces. Join the 7,500 buildings and over 750,000 apartments that are making property access simple with ButterflyMX.