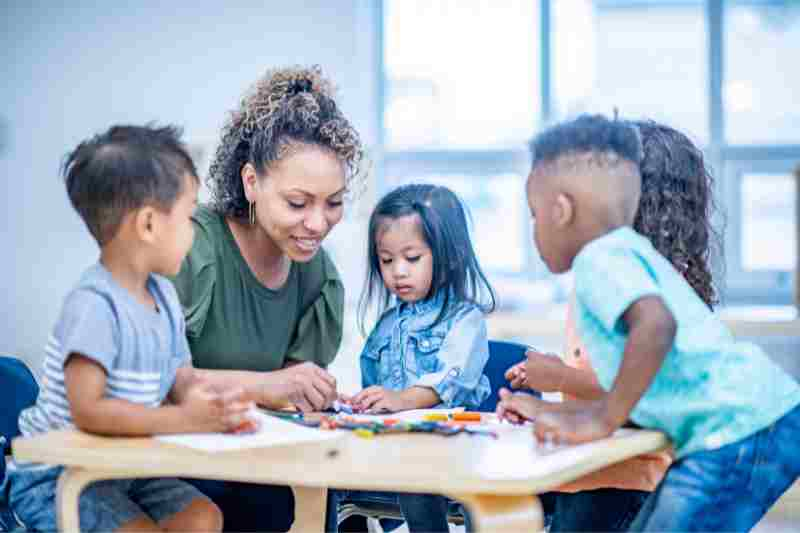 Key takeaways
The best daycare intercom system is ButterflyMX.
A daycare intercom system is a commercial access system that controls who can enter a childcare facility through credentials and two-way communication.
The benefits of a daycare intercom system include convenient access, security for staff and children, and easier access for parents.
For daycare facility operators, staying ahead of the curve in terms of technology is crucial to the security of a daycare facility and its occupants. That's where a commercial intercom system for daycares comes into play.
A daycare PA system not only increases communication between staff and parents but also improves safety in a variety of scenarios. Below, we cover what an intercom system is, how to choose one, and how they can increase childcare security at your facility!
In this post, discover:
Which is the best daycare intercom system?
The best daycare intercom system is ButterflyMX because it provides convenience and safety via a robust access control system. ButterflyMX video intercoms are user-friendly and offer people-focused features such as two-way video, an audit log, and virtual keys.
ButterflyMX products that are perfect for daycare facilities include:
Video intercom system
One of the most popular video intercoms on the market is ButterflyMX. With this video intercom for child daycare facilities, you can remotely view a date- and time-stamped photo audit of entry events from the dashboard.
What's more, the ButterflyMX video intercom is perfect for retrofitting into old buildings because it doesn't require in-unit hardware or wiring. This saves both time and money for facilities that may not have unlimited funds.
Access control
ButterflyMX access control is comprised of keypads and card/fob readers that are perfect for secondary entrance methods for daycare staff.
Staff and parents using keypads simply create their own PIN or use the ButterflyMX app to access the locked area. So, if your staff prefers key fobs, you can opt to install ButterflyMX mullion or single-gang readers at entry points.
Smart lock integrations
Smart locks for daycare facilities save time and money for building management because they no longer have to cut keys for every staff member. Instead, employees use credentials such as PIN codes or smartphones o access doors.
Furthermore, permissions for each employee can be customized. This ensures that each member only has access to the spaces they're authorized to enter.
What is a daycare intercom system?
A daycare intercom system is a commercial access system that controls who can enter a childcare facility through credentials and two-way communication.
Visitors must use the two-way video or audio platform to request access to the building. With smart intercoms, authorized users — such as staff or parents — can use their smartphone, PIN, or keycard to access the building.
Daycare facility intercom use cases
Use cases for daycare facility intercoms include:
Convenient access for employees. Intercom access control systems are perfect options for employee access. They not only make it easier for staff to enter and exit the building with ease, but they also help restrict access to unauthorized visitors.
Security for staff and children. An intercom or access control system monitors who is coming in and out of your facility for greater child security. Nothing is more important than ensuring the children in your building remain safe until their parents pick them up.
Easier access for parents. Providing an easy-to-use system for tired parents will help streamline pick-up and drop-off at your daycare facility.
Discover how access control works with ButterflyMX:
What are the benefits of an intercom system for a daycare facility?
Benefits of an intercom system for a daycare facility include:
Monitor access logs in real-time. With a smart intercom system, you can view who accesses a certain room and when. Additionally, you can access time- and date-stamped photos of the person requesting access.
Control access permissions. Decide who can access certain areas by managing credentials for authorized users. Furthermore, you can revoke a member's permissions at any time from anywhere.
Grant or revoke access permissions during specified times. Allow access at specified times so there's no unauthorized access before, during, or after certain hours.
Manage access remotely. Empowers daycare owners and managers to manage access from anywhere using the cloud-based dashboard.
How do I choose an intercom system?
Choosing an intercom system for your building can be a challenge. Below, we provide a few ideas on how to narrow down your search.
Here are some things to consider before choosing an intercom system for your daycare business:
Understand your building's wiring, structure, and access needs.
Take into account the security levels needed for your business.
Have an understanding of the number of occupants and their schedules.
Make sure the overall cost of services, hardware, and software aligns with your budget.
Check ratings and reviews of the product as well as the company to make sure they are reputable.
Verify licenses and certificates that support the company's product and service claims.
How much does an intercom for daycare facilities cost?
The price of an intercom for daycares can range anywhere from $1,000 to more than $7,000. However, that doesn't include software, maintenance, and recurring fees.