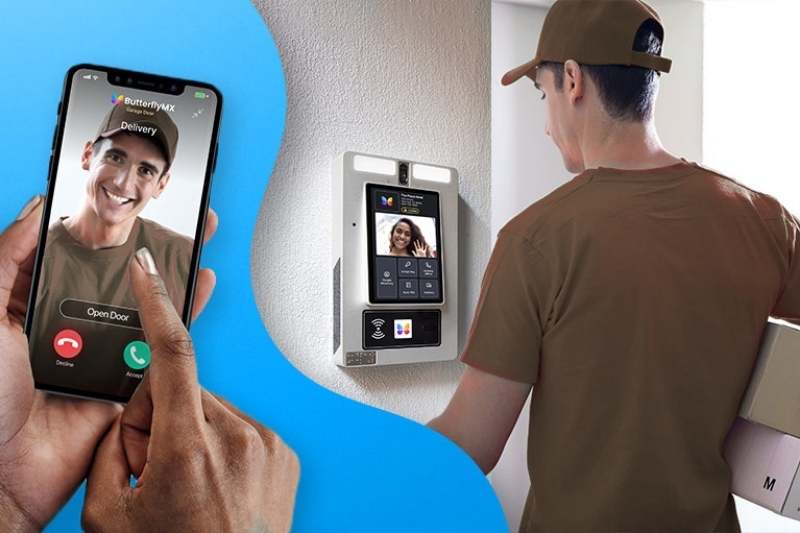 To maintain security at any building, the front door remains locked. Tenants and staff members will have a key or credential to unlock the door, but what about visitors? To manage access through any door, you need a door entry intercom system.
A door entry intercom enables visitors to request property access — and in many cases, it also provides easy access methods for tenants, too. If you need help choosing an intercom door entry system for your building, read on to learn more about how they work and what to consider when purchasing one.
Navigate this post:
What is a door entry intercom system?
A door entry intercom system is an electronic device that controls access at a door by allowing visitors to request entry from tenants. Door access intercoms allow you to keep doors locked for security while providing a way for tenants and authorized visitors to easily enter. Visitors call a tenant using the intercom system, then tenants remotely unlock the door with the same system.
Door entry intercom systems consist of hardware installed at the door. In addition to the hardware at the entrance, these systems also include devices that residents use to grant remote access. These hardware components are called intercom door stations.
What is an intercom door station?
An intercom door station is one component of an intercom entry system. And there are two kinds of intercom door stations: base stations and substations.
Base stations are installed at the front door to control access into the property. Visitors use intercom base stations to request property access by calling a resident.
Substations are installed within the building, often within each unit. Tenants use these intercom door stations to answer calls from visitors and grant them property access remotely. An intercom substation could be one of many devices, from wall-mounted screens to tenants' own smartphones.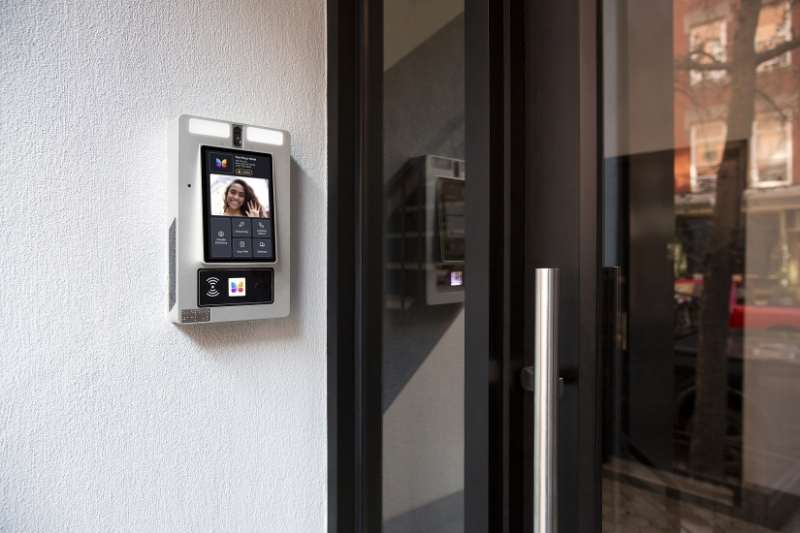 How does a door entry intercom system work?
Door entry intercom systems work by establishing a connection between base stations and substations, which enables visitors to communicate with tenants and request building access.
First, when a visitor arrives at the door, they contact a specific tenant (or a staff member, if the building provides that option). Then, when a visitor calls a tenant, the door entry system's base station establishes a connection with that tenant's substation.
After a tenant answers the call, they can choose to open the door for their visitor. Door entry intercom systems require a door release mechanism, which unlocks the door upon receiving a signal from the intercom. You'll need to make sure your door has an electronic or magnetic lock to enable remote access.
Watch how ButterflyMX works:
What to consider when buying a door entry intercom system
When shopping for a door entry intercom, consider a few factors before purchasing one.
The top five things to consider before buying a door entry intercom include:
1. Type of building
First, consider the type of building where you'll install the entry system. For a multifamily property, you'll want an apartment intercom system. But for an office building, you'll need a commercial door entry system.
Some intercom entry systems are designed specifically for one type of building. However, others are multipurpose and can be installed at virtually any kind of property.
So, when researching intercoms, be sure to double-check that the system works in the kind of building you own or manage.
2. Video capabilities
Outdated buzzer systems only allow visitors and tenants to talk to each other — they can't see each other. But some modern intercom entry systems include video calling capabilities.
A video door entry system includes a camera built into the base station at the entrance. When a visitor uses the system to contact a resident, the camera enables a video call so residents can see who's at the door. And if the system's substations include a camera, visitors can also see tenants during the video call.
Having a video door entry system enhances security by empowering residents to visually confirm who's requesting access before letting them in. Whether you're replacing an old intercom or purchasing one for a new development, it's in your best interest to buy a video intercom system.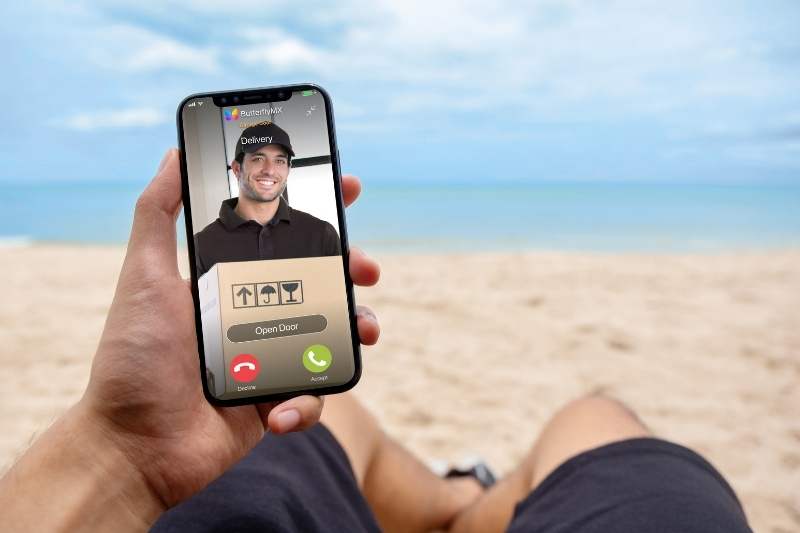 3. Wiring
Door entry intercom systems can be wired or wireless. For best results, choose a wireless front door intercom.
A wireless door entry system enables communication between visitors and tenants without any wired hardware. Since the system operates over a wireless connection, you don't have to spend time or money ripping up floors or tearing down walls to lay wiring. In contrast, a wired door intercom is difficult to install, and the cost of wiring plus hardware adds up quickly.
The benefits of choosing a wireless door intercom include:
Simpler and cheaper installation
Easier maintenance
No need to purchase expensive wiring
It's easier to replace the system if you want to upgrade in the future
4. Hardware options
When purchasing a door entry intercom, pick a system with durable yet easy-to-use hardware. Remember, you'll need two hardware components: the base station at the entrance and the substations within the building.
For best results, choose a system with base station hardware that:
Has a touchscreen
Is IP65 rated (especially if you'll be installing an outdoor intercom system)
Adds curb appeal to your building
A modern touchscreen intercom is the way to go because it's intuitive to use and looks sleek at any building.
As for substation hardware, it's actually better to eliminate the in-unit hardware altogether. Instead, choose a door entry intercom that operates with tenants' smartphones. That way, you'll save time and money installing hardware throughout the building. And tenants will enjoy the convenience of using a device they already have in their pockets.
5. Features
There's not much to an old apartment buzzer system — just a few buttons to talk to a visitor and open the door. But modern door entry intercom systems offer a wide range of additional features that improve the access experience.
To enjoy all the best features, choose an IP door entry system. IP entry systems operate over the internet, which enables tons of great convenience-focused features. Not only will those features simplify access, but they'll help improve the resident experience at your building.
Look for these desirable features when choosing an intercom system:
Virtual keys or digital access codes for guests
Delivery PIN codes and passes for couriers to easily gain access
Keyless entry methods (the best keyless entry solution is mobile app-based access)
Remote system management, ideally from a cloud-based dashboard
Integrations with other proptech
The best door entry intercom system
The ButterflyMX video intercom is the best door entry intercom system. With more than 20,000 five-star reviews, the ButterflyMX video intercom is the most trusted entry system on the market.
As an IP intercom, ButterflyMX empowers residents and staff to manage access from anywhere. With ButterflyMX, there's no need to copy keys, hand out fobs, or worry about lockouts. Tenants can gain access with just a smartphone or PIN code — and they can remotely grant access to visitors and delivery couriers, too.
Building owners and operators love ButterflyMX for its simple cloud-based software. Powered by the ButterflyMX OS, the property management dashboard allows you to adjust access permissions and oversee your tenant directory on the go. You can even connect ButterflyMX to other proptech you're already using, like smart locks and property management software.