Designed for modern living, PropTech is a financially sound investment for any property owner desiring to stay one step ahead of the competition in a renter's market. 
And, while choosing the amenities to integrate into your property may seem pretty straightforward, there are important factors that should be taken into consideration.     
When investing in PropTech amenities, property managers need to look at the big picture:
What do residents want? Security, convenience, and something that works with their smartphones.
Improved building operations related to accepting, sorting, and distributing packages.
What is best for the property? Operational efficiencies, lower costs, strong ROI.
What can the property accommodate? It depends on available space and existing infrastructure.
How do you ensure success? Do your research and select PropTech amenities that play nicely with each other.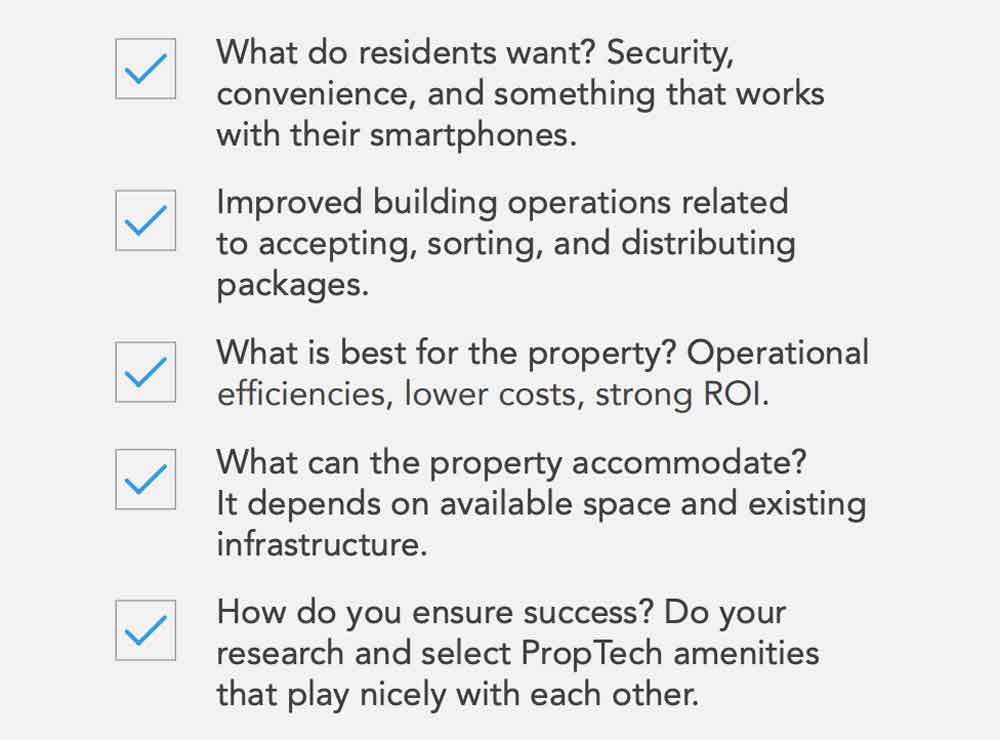 Here are five pro tips to keep in mind when investing in residential PropTech:
1. Make sure your building's infrastructure can support new technologies
Many property technologies require wiring to support the additional data or electrical transmission, and both the wiring and its installation can add significant costs to your PropTech investment. Before making commitments to any PropTech amenities, confirm whether you can use the building's existing wiring or if you need new wiring. The goal of adding any amenity is to improve tenant retention, operational efficiency, or both. However, if the upfront investment is too large, it may not make economic sense to invest in an otherwise desirable amenity.
2. Match amenities to the resident — and always default to millennials
The primary goal with smart-home technology is to empower residents to use it to its full potential to create the most convenient, seamless living experience.  
The primary reason property managers invest in amenities is to add value to their buildings for the purpose of tenant retention. Therefore, make sure the amenities you choose are desirable for the type of residents on your property. Remember that millennials will represent the largest market of renters for the next couple of decades. So when you're uncertain, skew amenities in their direction.
3. Focus on intuitive, easy-to-use amenities that increase safety and convenience
Is the technology easy to set up and use? If it's too complicated or user-unfriendly, no one will use it. Focus on simple solutions for simple problems. Struggling to find keys when your hands are full is a frustrating and common issue for most residents. Having Bluetooth locks that automatically detect nearby residents is a small investment with big returns. Conversely, fancy on-premises theaters look nice, but they're costly to build and maintain, can be extremely complicated, and most residents already have large flat-screen TVs in their units. When it comes time to renew their leases, they won't be thinking of the theater as a reason to stay.
4. Consider future maintenance efforts and costs
Always ask your vendors how much post-installation maintenance is required. In a perfect world, once you install a new technology, you hardly ever have to think about it again. However, technology moves quickly, and your system may become outdated in just a few years. Does your vendor push out regular updates? Will new hardware be required? If so, how much will it cost and when?
5. Understand that most PropTech requires installation
Purchasing your new PropTech amenities is just part of the process. Now you have to get it installed. This can not only add substantial costs to the investment but also adds the risk that it will be installed incorrectly. Vetting your installer is essential. Ask for references, similar jobs they've completed, and certifications. If you're unsure, ask the company that sold you your PropTech to provide a list of trusted installers in your area. This way, you can get right to the good ones.
Ideally, property managers will provide residents and visitors with a remarkable living experience – one that begins at the front door and extends throughout the entire building into each unit.  The dream of modern living is here! And it is easily within reach with PropTech Amenities.