Industrial intercom systems are best suited for specific properties with unique challenges. But how do they compare to other types of intercom systems on the market?
This blog details everything you need to know about industrial intercoms. You'll learn what an industrial intercom system is, how it works, the types of industrial systems available, and the advantages of selecting such a solution. Most importantly, you'll discover the best industrial intercom system.
This buyer's guide covers:
What is an industrial intercom system?
An industrial intercom system is an electronic device made to enable two-way communication between visitors and tenants and designed to withstand harsh environments.
You'll find these types of intercoms installed outside or in areas where the device is exposed to the elements. In addition, industrial intercom systems have an ingress protection rating, are impact resistant, and offer vandal-proof housing. This means industrial entry systems can withstand a wide variety of situations.
An industrial intercom system can withstand:
Water
Ice
Dust
Direct sunlight
Extreme temperatures
Debris
Heavy impact
Malicious tampering
How long do intercom systems last?
When installed correctly and properly maintained, industrial intercom systems can last up to 20 years.
What is an industrial intercom system priced at?
An industrial intercom system is priced between $3,000 to $10,000, depending on the system. However, these costs do not include installation, maintenance, or software.
Learn more about ButterflyMX:
How do building intercom systems work?
A building intercom system works by allowing visitors to request access at the base station located at the main entryway, notifying staff of their presence.
Once notified, the property staff can speak with the visitor via a two-way video or audio call. Then, if the property staff would like to grant them access, they press a button on their substation, sending a signal to the door release. Finally, the visitor may enter the property.
What are the parts of an intercom system?
The main parts of an intercom system include:
Base station. The base station is the intercom itself, located at an entryway. It's connected to the door release and the substation via wires or a wireless signal.
Substation. The substation is located inside the property. In some cases, substations are hard-wired in certain areas of the property. However, modern industrial intercom systems use smartphones as substations.
Door release. Lastly, the door release is what keeps the entryway locked. This could be a door, turnstile, vestibule, gate, or even a parking arm. The base station is connected to the door release, so when a tenant grants access, it receives a signal to let the user inside.
What are the different types of intercom systems?
Commercial intercom systems come in all shapes and sizes, utilizing various technologies to connect visitors with property staff and tenants. For the best experience, you must know what options are available for your industrial facility.
The types of intercom systems for industrial facilities include:
Industrial IP intercom system. An IP intercom, also known as a digital intercom system, is a system that utilizes the Internet Protocol to transmit audio or video signals from the base station to the substation. These intercoms may be hard-wired to the internet or connected via WiFi.
Wired video intercom system. A wired video intercom system transmits video and audio from the base station to the substation. Visitors can be seen from the substation and are recorded upon entry. These systems are wired directly to the door release and substations, so they require extensive installations.
Two-way wired intercom system. Two-way wired intercom systems allow both parties to speak with one another when a user requests access. These systems are wired directly to the internet, power, door strike, and substation.
Two-way wireless intercom system. Finally, two-way wireless intercom systems allow tenants and visitors to see and speak with one another without many wires. Instead, they utilize smartphones as substations, reducing installation costs. Audio and video feeds are sent via the internet, which the intercom system is directly connected to.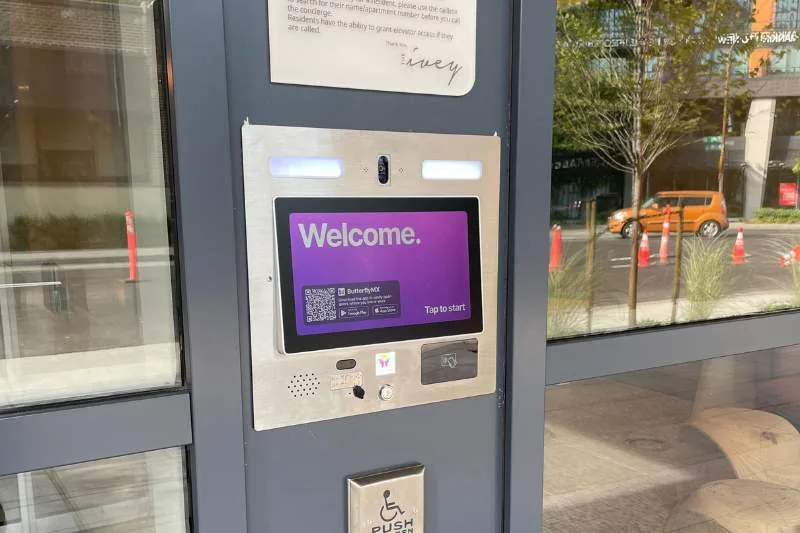 Advantages of an industrial intercom system
Industrial intercom systems come with many benefits, which is why many industrial facilities and manufacturing plants utilize them.
The advantages of industrial intercom systems include:
Highly durable. Unlike other intercom systems, industrial intercoms are built to withstand a variety of conditions, both indoors and outdoors. As a result, your intercom will require less maintenance.
Easily scalable. A cloud-based industrial intercom can easily expand to meet your facility's needs, ranging from small facilities to full-scale complexes. Additional hardware isn't necessary as the system utilizes the cloud to expand upon your needs.
Seamless integrations. By selecting a system with many integrations, you can establish a cohesive security solution for your facility. With integrations, you can manage all of your systems through a single dashboard, simplifying security overall.
Better communication. Intercom systems allow both tenants and visitors to communicate more clearly, especially with two-way video and audio. In turn, you can have peace of mind when granting access to visitors.
Improved emergency responses. If integrated, industrial intercom systems work alongside alarm systems for safe emergency evacuations. In the event of an emergency, the intercom system will unlock the entryway for personnel to exit as quickly as possible.
Can you upgrade an old intercom system?
Yes! Upgrading to a modern intercom is the best way to replace your old intercom system.
When looking to upgrade, consider systems that are cloud-based and wireless. With these features, your tenants or staff can use their smartphones as substations. Additionally, you can cut installation costs by eliminating hard-wired substations throughout the property.
Above all, your system will last longer as it'll receive new features and updates long after it's installed, thanks to its cloud-based software.
What is the best industrial intercom system?
The best industrial intercom system is the ButterflyMX video intercom.
ButterflyMX was founded in 2014 when it introduced its flagship video intercom. Since then, ButterflyMX has been installed in more than 10,000 buildings with more than 1 million daily users.
Thousands of buildings — including industrial properties — have chosen the ButterflyMX video intercom system because of its unique features:
IP65-rated. The ButterflyMX video intercom is IP65-rated, meaning its casing protects it from dust and water. Thus, the video intercom system is more than suitable for industrial properties.
Cloud-based. Since its software is cloud-based, the ButterflyMX video intercom system is easier to install and lasts longer than legacy systems. It can receive software updates remotely while reducing the number of wires needed to be installed.
Mobile app. Property staff can edit access permissions, view entry logs, unlock doors and gates, and do so much more from the ButterflyMX mobile app or web-based dashboard. Tenants or employees can also access the property using the mobile app rather than a traditional metal key.
Audit log. The video intercom system takes time- and date-stamped photos of every entry so you can view any entry from the last 365 days.
Integrations. ButterflyMX integrates with a variety of third-party hardware and software, such as surveillance cameras, smart locks, and property management software, so you can seamlessly unite your facility's solutions.
Two-way video calling. When guests request access via the intercom, tenants can see and speak with them before letting them inside. As a result, they can feel safe knowing who is accessing the property.
Takeaways
An industrial intercom system is a device that allows for two-way communication between guests and tenants and is built to withstand various elements.
Industrial intercom systems consist of three components: a base station, a substation, and a door strike.
The different types of intercoms include industrial IP intercoms, wired video intercoms, two-way wired intercoms, and two-way wireless intercoms.
Industrial intercom systems are very durable, scale easily with the size of your property, integrate with other security systems, provide better communication, and improve responses to emergencies.
The ButterflyMX video intercom is the best intercom system for industrial facilities.