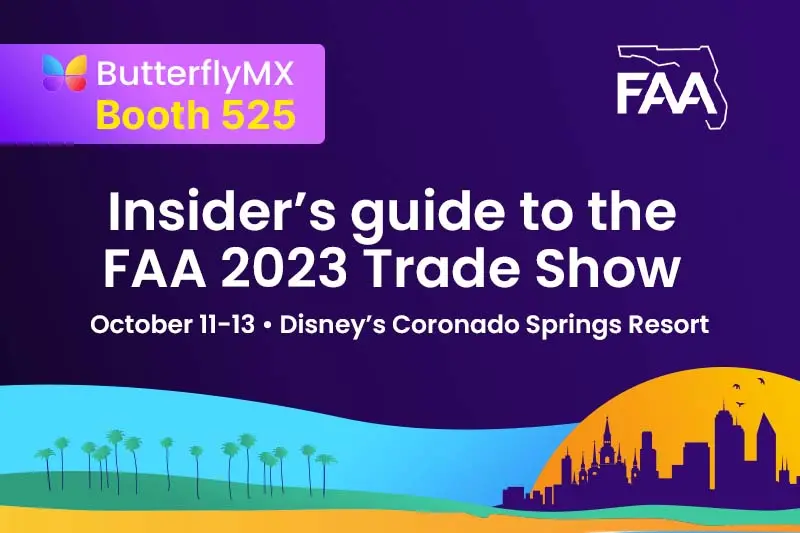 Florida's premier event, the Florida Apartment Association Annual Conference & Trade Show, is set to make its return this October! This highly anticipated trade show brings together individuals with a shared passion for the rental housing sector, offering rare networking opportunities and the chance to establish valuable connections.
Attendees will have the opportunity to explore innovative solutions, tackle industry challenges, uncover new products, and exchange valuable insights in the ever-evolving world of rental housing. Held at the renowned Disney Coronado Springs Resort, this three-day event in vibrant central Florida promises to be an unmissable experience for industry professionals.
Mark your calendars for October 11-13 — this is an event you won't want to miss. To make the most of this event, we invite you to read this guide to discover all that the Florida Apartment Association Trade Show and its host city have in store for you.
In this post, we cover:
Travel tips
Prepare to make the most of your FAA 2023 trade show experience with these valuable travel insights.
Event venue:

The Florida Apartment Association is holding its annual conference at the memorable Disney Coronado Springs Resort in Lake Buena Vista, Florida. 

Location highlights:

Situated in the Greater Orlando area, Lake Buena Vista is a tourist-friendly neighborhood with tons of shopping, entertainment, and restaurants. 

Weather:

In October, Lake Buena Vista is mild, ranging from high sixties to mid-eighties. So, it's the perfect warm escape from chilly fall weather. 

Room booking:

Information on booking a room at the resort can be found in your conference registration confirmation email. 

Booking deadlines:

The final deadline to reserve your room at the discounted FAA rate is Monday, September 11, 2023. 

Early reservations:

Due to FAA being such a popular event, previous years have seen the room block sell out well before this cutoff date. So, don't hesitate to book your room soon!

Accommodation flexibility:

Feel free to book your stay anywhere you'd like. However, to make the most of your time at FAA, it's best to book at the resort or within walking distance. 

Time and money saver:

Staying close means you can get from your room to the conference as quickly as possible. Moreover, booking within walking distance means you'll save money on car rentals or ride-sharing fees!
Tips for making the most of your time at FAA 2023
The FAA Annual Conference & Trade Show is an incredibly exciting and informative event, but it can be intimidating. But don't fret, we're here to help! With our guide on what to wear and bring to FAA, you can spend more time focused on preparing for the things that matter.
Consider the following when it comes to your attire and materials:
As for dress code, FAA provides no formal guide. However, business casual attire is typical.
Be prepared for Florida's humidity and the chance of heat waves, but keep in mind that FAA is being held in a conference center. Indoor spaces are likely to be air-conditioned to combat heat and humidity. So, bring a light jacket in case it's chilly.
Bring something to write with and something to take notes on. Additionally, bring a stack of business cards with your information to hand out.
This year, FAA is featuring more than 15 sessions and 200 company exhibitions. With so many things to explore, it's best to plan ahead. Check out the exhibitor floor plan of the Veracruz Exhibit Hall to learn which companies you can expect to see. Additionally, check out the conference schedule to learn more about each session. 
Furthermore, discover our top must-see sessions below!
Sessions you shouldn't miss while attending FAA 2023
Get ready to take your industry knowledge to new heights at the Florida Apartment Association Annual Conference & Trade Show! The FAA 2023 conference will host plenty of Industry professionals speaking on a wide range of topics. These sessions offer remarkable opportunities for learning and networking. In addition to the incredible knowledge gained from attending the sessions, you'll have the chance to network with fellow industry professionals who share your interests. To make things easy, we've handpicked one can't-miss event from each day!
These sessions offer remarkable opportunities for learning and networking: 
Wednesday, October 11: Legislative Platform Setting Meeting
Day one, you should head to the Legislative Platform Setting Meeting* located in Yucatan 1-3 from 12:00 – 3:00 PM. In this session, you'll learn about the most important legislative issues affecting Florida's multifamily industry. Additionally, you'll have the opportunity to help determine FAA's legislative priorities for the upcoming legislative session!
*This session requires a separate registration.
Thursday, October 12: Add Your Personal Touch to Customer Service in this Digital Age
Day two, a session you should check out is Add Your Personal Touch to Customer Service in this Digital Age, located in Fiesta Ballroom from 5:00 – 6:00 PM. While the digital age has ushered in a new era of convenience, it's also left consumers craving a personal touch. During this session, you'll learn how to cater to this need for customer service with a personal touch while remaining competitive. Presenters from Lantower Residential and the Bay Area Apartment Association will share their proven tips on bringing a human touch back to customer service in the digital age.
Friday, October 13: Mastering Renter Objections and Complaints
Make the most of the last day of education sessions and attend Mastering Renter Objections and Complaints located in Monterrey 1-3 from 2:30 – 3:30 PM. The panelists at FAA know there's no such thing as a perfect apartment. But that doesn't stop you from striving for perfection — especially when it comes to attracting prospects and retaining residents! One way to do this is to follow a simple eight-step process for handling resident objections and complaints! This session will teach you that eight-step process, including how to adapt it to your unique situation.
See how ButterflyMX works:
Things to do in Lake Buena Vista outside of the trade show
FAA will keep you plenty busy, but you're probably also excited about the attractions Lake Buena Vista and the Coronado Spring Resort has to offer. It's not every day that you wake up within walking distance of Disney World! So, we've gathered our picks for the top three non-conference activities you should consider adding to your agenda this October.
1. Iguana Arcade
Looking for something fun to do without leaving the beautiful Coronado Springs Resort? Check out the Iguana Arcade to play like a kid and escape the sun! The Iguana Arcade is the only arcade located in Coronado Springs. Small but mighty, this arcade offers a fun variety of new and vintage arcade games that are fun for everyone. Located next to the main pool, dip into the Iguana Arcade to try your luck at air hockey or test your skills in a basketball shootout.
2. Jogging trail
Take advantage of Florida's warm fall weather with a jog on the grounds of Disney World. Since 1994, the Walt Disney World Marathon has been held at Disney World each January. While a 26.2 mile jog probably isn't your idea of fun during your time off, taking advantage of the routes drawn by race planners is ours! Check out course maps of previous years' Walt Disney World Marathons to discover plenty of unique running and walking paths that'll take you through Disney Worlds' most memorable spots.
3. Movies Under the Stars
What better way to commemorate your time in Florida than cozying up in the evening with a fun outdoor Disney movie showing? As previously mentioned, the weather in Central Florida in October is warm during the day but cool and breezy at night. So, it's the perfect time to catch an outdoor movie screening as a part of your perks as a guest at the Coronado Springs Resort!
Conclusion
Thanks for reading our guide to the FAA 2023 Annual Conference & Trade Show! If you're attending the event, be sure to stop by booth 525 to learn more about ButterflyMX and discover why we're the property access control choice of more than 10,000 multifamily, commercial, and student housing properties.