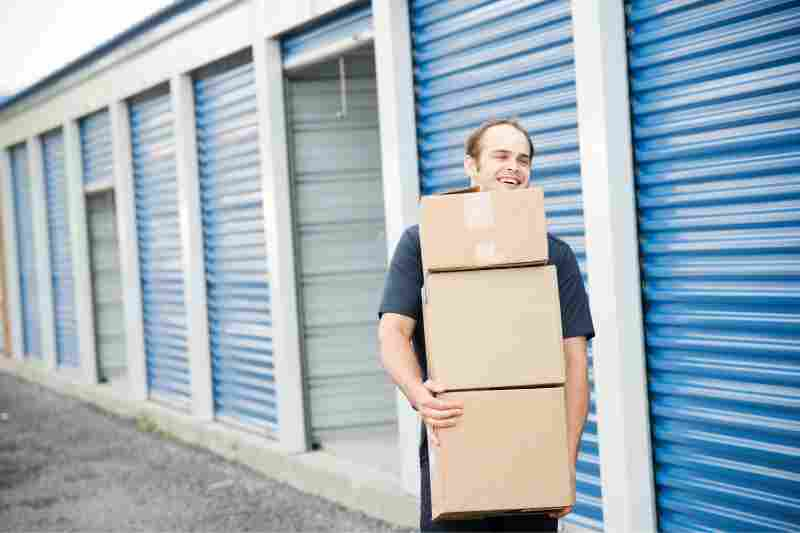 Self-storage companies are integral to our society, helping people store their belongings in safe, contained units. As a self-storage facility owner or manager, it's your job to maintain that sense of security for customers with a commercial intercom system for self-storage.
Closed-circuit television (CCTV) security cameras are the self-storage standard. But did you know that an intercom for self-storage is actually more secure, efficient, and convenient for your property? Not only does an intercom monitor those coming in and out, but it can also help make access simpler for everyone.
So, keep reading to learn how a state-of-the-art intercom system can improve everyday operations at your self-storage facility!
In this post, we cover:
What is an intercom system?
An intercom system is a device that allows visitors to request property access from an authorized tenant or building staff member. Typically, intercoms enable two-way communication between people. Most intercoms also give credentialed tenants or staff a way to gain building access themselves. Further, they come in many different shapes and sizes.
While there are plenty of applications for intercom systems, the primary purpose is to enable communication and smooth property access.
For instance, you can find these common types of intercoms:
Wireless intercom
Wired intercom
Video intercom
Apartment intercom
Commercial intercom
Touchscreen intercom
Intercom systems with door release
What is an intercom for self-storage?
A self-storage intercom system is a two-way device that makes it easier for facility managers and storage unit renters to access the facility.
So, intercom systems for self-storage range from basic steel call boxes to state-of-the-art video intercoms. Additionally, they all grant access privileges to anyone with the passcode. However, they don't all offer the convenience of a more modern security solution.
The best intercom for self-storage has the following features:
Photo entry log. With a video intercom, each entry and exit is captured with a time-stamped photo of the visitor. With most systems, this entry log is saved to the cloud and can be viewed when needed.
2-way video calling. Smart video intercoms make it easy for guests to call managers to gain access. Managers can use their smartphones or in-unit hardware to receive video calls and grant or deny access.
Multiple credential options. Smart intercoms empower people to access your property in multiple ways. They can use a unique PIN, a smartphone app, or voice-controlled access.
Integration with smart locks. Some modern intercoms offer smart lock integrations. Employees and managers will have access throughout the property when a WiFi smart lock is integrated with your intercom system.
How do I secure my self-storage facility?
To secure your self-storage facility, you can do several things:
Install security cameras around the property
Encourage tenants to keep an inventory of their items
Keep a detailed log of who enters and leaves the property
Invest in a modern intercom system
In order to keep their properties safe, many self-storage companies use the standard metal call box where customers punch numbers and wait for the gate to open. However, there's a whole new world of intercoms and self-storage access control systems that will upgrade your facility at a reasonable cost.
What you get with a modern self-storage intercom:
Two-way video calling
Smartphone-based building access
Database of renters and visitors
Remote management
Touchless entry
Audit trails of entry events
Temporary digital access codes for trusted visitors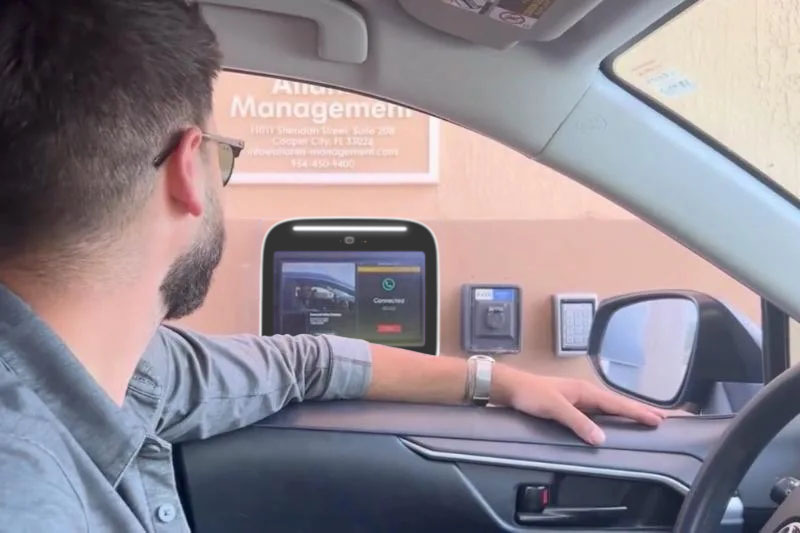 How do you use an intercom system for self-storage?
Many intercoms are purchased to be used as a security system for self-storage. However, you may be wondering how you can incorporate an intercom at your self-storage facility.
Here are three ways to use an intercom system with camera for self-storage:
Video calling. Imagine a storage unit renter can't access the front gate. With a video intercom, customers can simply use the intercom to video chat with a property manager to request access.
Visitor management. With a modern self-storage access control system, managers or customers can remotely grant access to trusted guests through their smartphone app. Visitors, such as maintenance or service members, can simply call when they arrive and be granted access without someone having to be on-site.
Smartphone entry. The most annoying thing about driving up to a public storage gate is having to remember your passcode. But with a smart intercom, all customers have to do is swipe on their smartphones to open the gate.
How much does an intercom system cost?
An intercom system can cost anywhere from $500 to $5,000 or more, depending on the brand, features, software, and hardware.
Note: This does not include the price of installation or maintenance.
What are the advantages of an intercom for self-storage?
The benefits of investing in an intercom system for your public storage facility include:
1. Increased convenience
With an intercom system for public storage, renters can easily enter your facility, and managers can control property access without a hassle.
Investing in an intercom at your self-storage property:
Eliminates the struggle of tracking traditional keys.
Empowers customers to control property access via a user-friendly app.
Makes it easier for customers to grant access to service workers and guests.
Managers and owners enjoy more robust control over customer access permissions.
2. Enhanced security
A self-storage intercom not only deters would-be intruders but may also create a digital trail of customers in its database.
For example, robust intercom systems feature a photo audit trail that takes time- and date-stamped photos of entry events.
This way, managers and staff can quickly view the time-stamped log showing who has entered the premises, at what time, and for how long.
3. Easy installation
If you opt for a wireless intercom system as public storage security, you can expect a quick and easy installation process.
As opposed to wired intercoms, wireless intercoms are less expensive to install and can usually be retrofitted to existing buildings and gates.
4. More efficiency
As a self-storage owner or property manager, you have a lot to deal with on a daily basis. The inefficiency of an outdated intercom system shouldn't be one of them. When you upgrade to a newer, more efficient intercom, you'll notice that some things take less time.
For example, you can:
Remotely view customer databases and make changes from anywhere in the world using the online portal.
Accept video calls and grant or revoke access without stepping foot in the office.
Discover how to use your cell phone to open a gate: 
What is the best self-storage intercom system?
The best intercom system for self-storage is ButterflyMX.
ButterflyMX's video intercom system simplifies access and adds convenience to everyday operations. You can easily streamline access and cut down on frustration for those entering the front door or gate with the video calling and smartphone app functions.
ButterflyMX products perfect for self-storage facilities include:
Video intercom
The ButterflyMX video intercom system is one of the most popular video intercoms on the market. With this video intercom, you can remotely view a date- and time-stamped photo audit of entry events from the dashboard. Further, you can give virtual keys to trusted guests and manage visitors from anywhere.
What's more, the ButterflyMX video intercom is easy to install and future-proof because it doesn't require in-unit hardware or wiring.
Vehicle access control
With the ButterflyMX vehicle access control system you can easily streamline gated vehicle access.
With the vehicle access control system, entry to your self-storage facility is simplified into two steps:
First, each customer places a windshield tag on their vehicle.
Second, they're automatically granted access each time they approach the gate.
This is one of the most efficient options for self-storage units because it all but eliminates the tedious functions of the old intercom buttons. This can also help cut down on gate traffic on busier days.
Keypads and card readers
ButterflyMX keypads and card/fob readers are perfect for secondary entrances to storage buildings or individual storage units.
Customers using keypads simply create their own PIN or use the ButterflyMX app to access the locked area. Furthermore, customers and managers can create temporary PINs for visitors needing access without supervision.
If your customers prefer key fobs, you can opt to install ButterflyMX mullion or single-gang readers at entry points. There, customers simply hold their key fob up to the reader to gain access.
Takeaways
An intercom for self-storage is an important tool for controlling access to and from public storage units.
The advantages of an intercom system for self-storage include increased convenience, enhanced security, easy installation, and more efficiency.
The best self-storage intercom system is the ButterflyMX video intercom.