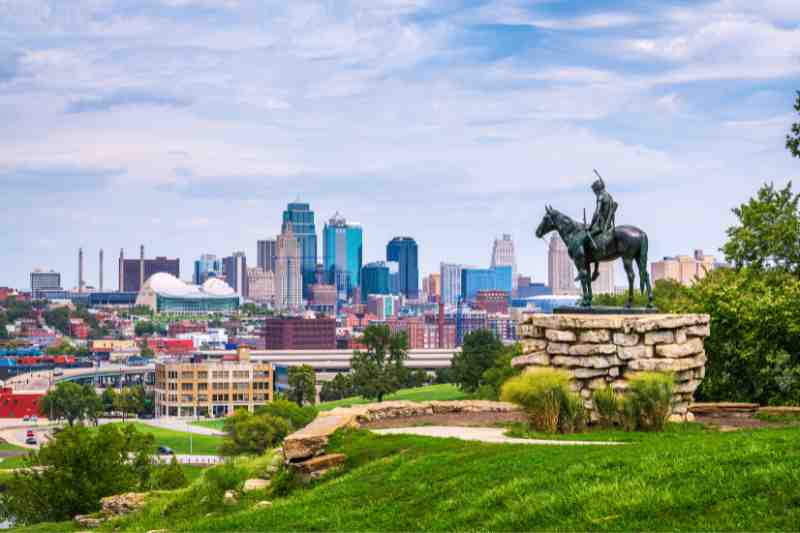 Key takeaways
The benefits of implementing Kansas City access control at your property are heightened security, convenience, and flexibility.
Choosing the right Kansas City access control system for your apartment, commercial building, gated community, or parking garage helps guarantee secure access throughout your property.
The best access control installers in Kansas City are Jade Alarm, Atronic Alarms, Kenton Brothers, and Kansas City Fire and Security.
The best access control system in Kansas City is ButterflyMX.
Commonly referred to as the heart of America, Kansas City has a rich and diverse community that's home to over half a million residents. So, you need an access control system that's just as robust as the culture to manage the flow of tenants and visitors throughout your property.
Read on to delve into the benefits of access control. Then, learn how to choose the right Kansas City access control system for your property. Next, explore five of the best Kansas City access control installers. Finally, discover the best access control system in Kansas City.
This post covers:
What are the benefits of having an access control system in Kansas City?
Kansas City is a dynamic area known for its diverse neighborhoods and thriving businesses. So, ensuring the safety of your residents, employees, and assets is crucial.
Here are the ways access control enhances your Kansas City property:
Security
Access control systems provide a higher level of security for your property by granting automatic access to authorized tenants and guests while restricting entry for unauthorized visitors.
Moreover, building-wide access control systems empower you to manage, monitor, and control who can access your property. As a result, access control systems give you valuable insights into who's entering your property and when — reducing the risk of trespassing or potential safety hazards.
Convenience
Access control systems are incredibly convenient because they grant access to authorized individuals automatically. This reduces the need for tenants to fumble around with physical keys while eliminating the cost of having to replace lost or stolen keys.
What's more, access control systems help facilitate easy visitor access for service providers, delivery couriers, and guests.
Flexibility
Access control is flexible and often scalable — adapting to your evolving security needs. As a result, this makes them great for properties of all types. If you have a high-traffic Kansas City property and are looking to seamlessly facilitate access throughout your building, access control is the best solution.
How to choose a Kansas City access control system
From residential complexes to commercial offices, the advantages of access control extend far beyond traditional security measures. So, choosing the right access control solution that's tailored to your property's specific needs is essential.
Kansas City properties that use access control include:
Apartments
Access control is ideal for managing access to and throughout apartment complexes in Kansas City because it enhances safety for residents and staff. Access control not only prevents trespassing but also deters unauthorized solicitation and unwelcome visitors.
What's more, access control helps facilitate seamless visitor management. As a result, this allows convenient access for guests, service providers, and delivery couriers.
Additionally, a robust access control solution also helps enable self-guided tours, so prospects can tour your property securely.
Discover how to enable self-guided tours with ButterflyMX:
Commercial properties
If you own commercial office spaces, you may be wondering how to manage access to your building. Fortunately, access control allows tailored access privileges for employees, contractors, and visitors, enhancing workplace security.
What's more, access control helps streamline workflows for administrative staff by granting automated access to visitors — empowering them to focus on other essential tasks.
Additionally, access control ensures that only authorized personnel can enter restricted areas such as server rooms or executive offices.
Popular methods of apartment access control are:
RFID keycards and fobs
Keypad entry systems
Mobile-based access control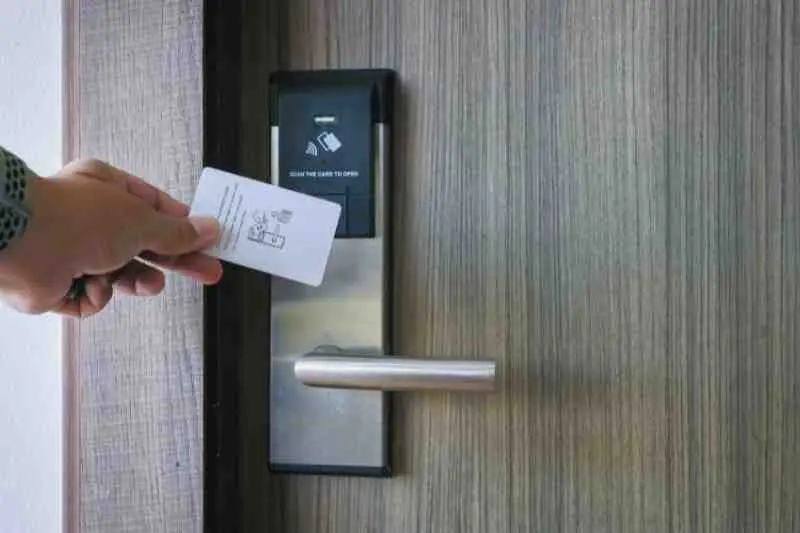 Gated communities
Because access control regulates entry for gates, it helps reduce the risk of tailgating and prevents unauthorized vehicles from entering your community.
Additionally, implementing gate access control in Kansas City empowers residents to enjoy a higher level of privacy with controlled access to the property.
What's more, access control can limit access to shared amenity spaces like pools or gyms to verified residents only.
Parking lots and garages
If you're looking to secure your parking areas, vehicle access control is a great solution for ensuring that only authorized vehicles have access. What's more, access control grants access to verified vehicles automatically — reducing vehicle pile-ups at your entryways.
Popular methods of vehicle access control are:
License plate recognition systems
Vehicle readers and windshield tags
Automatic barrier gates
Best Kansas City access control system installers
Are you looking for access control in Kansas City but don't know who's the best installer for the job?
Here are our picks for the best Kansas City security system installers:
1. Jade Alarm
Google rating: 4.9/5
From Bonner Springs to Topeka, Jade Alarm is one of the leading installation companies for door access control in Kansas City.
Jade Alarm offers:
RFID and biometric readers. The Jade SecureCard system utilizes access key cards and fobs, as well as state-of-the-art biometric hand readers. So, you can tailor your security system to your property's specific needs.
Custom photo ID badging. Jade Alarm photo ID badges are ideal for establishing secure access in and throughout commercial office spaces.
CCTV control. CCTV cameras allow you to monitor camera activity for enhanced security and safety.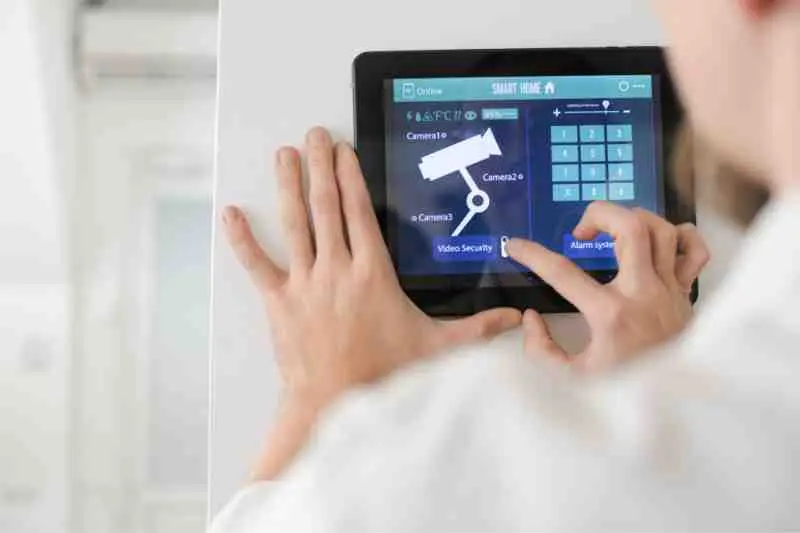 2. Atronic Alarms
Google rating: 4.7/5
With locations throughout Kansas City, Springfield, and Wichita, Atronic Alarms empowers you to take command of your security. So, it's no surprise that it's emerging as one of the premier installers for Kansas City security systems.
Atronic Alarms specializes in:
Outdoor perimeter protection. Atronic Alarms offers fence, wall, and perimeter sensors that alert you of suspicious activity.
Video surveillance. Track live and recorded footage activity from anywhere with 24/7 video surveillance cameras.
Fire safety. Monitor heat, smoke, and carbon monoxide and expedite the evacuation process for building-wide safety.
3. Kenton Brothers
Google rating: 4.5/5
From residential to industrial warehouses, Kenton Brothers is one the best installers for access control systems in Kansas City.
Kenton Brothers offers:
Integrated solutions. From smart home solutions to access control, Kenton Brothers specializes in integrated solutions that are designed to work harmoniously together.
Emergency communications. Kenton Brothers offers emergency alarm devices that send mass notifications to residents in the event of an emergency.
Locksmith services. The expert locksmiths specialize in securing doors and frames with architectural-grade door locks.
4. Kansas City Fire and Security
Google rating: 4.8/5
KCFS is a certified fire alarm company that offers fire alarm and safety systems, monitors, security systems, and more!
Kansas City Fire and Security specializes in:
Card access systems. State-of-the-art card and biometric systems offer elevated security for business and industrial buildings.
Alarm monitors. Alarm monitoring systems can be customized to your building's specific needs.
CCTV systems. Comprehensive surveillance systems provide real-time and recorded footage monitoring.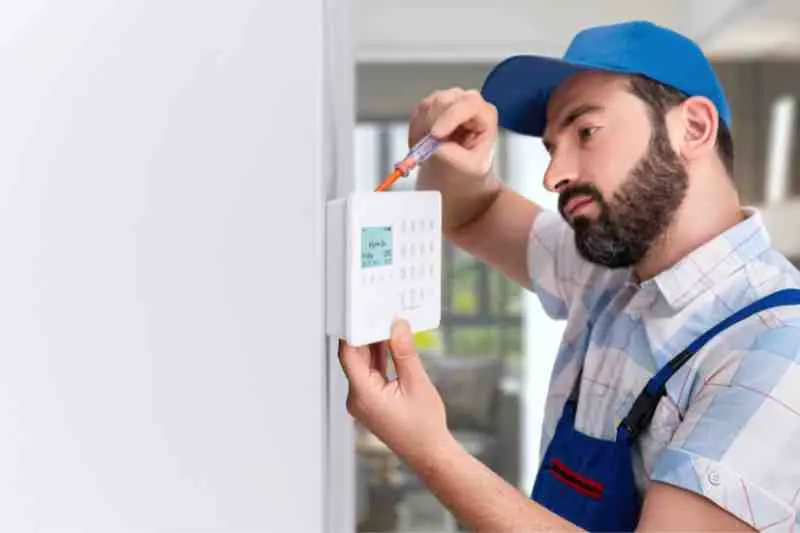 Best access control system in Kansas City
The best access control system in Kansas City is ButterflyMX.
ButterflyMX offers a comprehensive approach to granting property-wide access, empowering property owners and managers with the power to regulate entry and monitor activity from anywhere.
ButterflyMX is the best Kansas City access control solution because:
Modern and user-friendly interface. ButterflyMX offers an intuitive and user-friendly interface that residents and property managers in Kansas City can easily navigate. With this purpose in mind, the sleek design and touch-screen functionality provide a seamless experience for both tenants and administrators.
Video intercom. The ButterflyMX video intercom allows residents to communicate with visitors remotely using their smartphones. This is especially useful in Kansas City's dynamic environment, enabling secure access even when residents aren't physically home.
Cloud-based system. ButterflyMX operates on a cloud-based platform, enabling remote management and updates, which is great for property managers who manage buildings in multiple locations.
Elevator controls. If you have a key-fobbed elevator, ButterflyMX can help you manage access to certain floors for complete elevator-controlled access in Kansas City. This is especially convenient for enabling self-guided tours since you can control which floors a prospect can access.
Package room. In a city where package theft can be a concern, ButterflyMX's package room helps ensure the safe delivery of packages by empowering couriers to securely drop off packages. What's more, it sends residents real-time notifications once a package is delivered.
Vehicle access control. ButterflyMX vehicle readers and windshield tags empower hands-free entry for vehicles throughout your property.