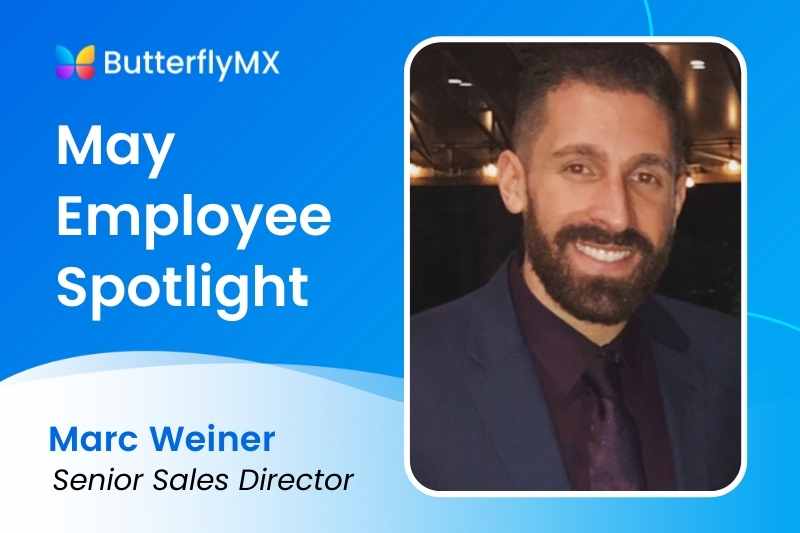 Do you want to know what makes ButterflyMX thrive? Our incredible employees, whose ambition and reliability have made our company what it is today.
ButterflyMX was founded in 2014 as a mostly distributed workforce, and we're proud to continue hiring the best of the best from around the world. Now, eight years later, in 2022, we're committed to hiring even more talented people to join our team. We're proud to have a team that's spread across the United States, Croatia, Ukraine, Spain, Austria, and beyond.
As of May 2022, the ButterflyMX family consists of more than 200 hardworking employees, from engineers and designers to customer success, sales, and marketing professionals.
In order to maintain a successful and thriving business, we've placed supporting our growing workforce at the forefront of our company mission. So each month, we spotlight an employee who's a part of facilitating success at ButterflyMX. And this month, we're introducing Marc Weiner, Senior Sales Director, who shares his experience working with ButterflyMX.
This employee spotlight covers:
Meet Marc
Location: Miami, Florida
Position & Department: Senior Sales Director, Sales
Start Date: November 18, 2018
In a few sentences, tell us about what you do here at ButterflyMX.
Basically, I sell to prospective clients in order to drive revenue for the company. In addition, I work to ensure we meet our quarterly and yearly sales goals and draft sales reports.
What's your favorite part about working at ButterflyMX?
The company culture and dedication to mentorship.
Working remotely for a company can be challenging — but the leadership at ButterflyMX has cultivated a strong work culture. This positive, engaging environment has helped us grow significantly in the three years that I've worked here.
What's more, every employee I've met is ready and willing to help out whenever needed. Not only has this taught me so much about the proptech and real estate industries, but it's facilitated longevity within the company.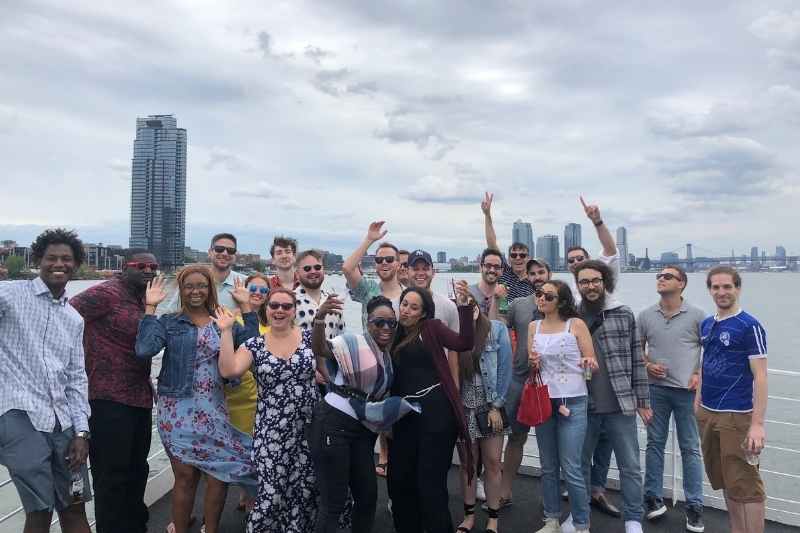 What's the most significant thing you've learned while working here?
During my time here, I've learned how a successful company operates on a daily basis.
There's a wealth of knowledge, meaningful communication, and a real passion for creating and selling an amazing set of products.
What's your proudest accomplishment so far during your time at ButterflyMX?
I'm proud to have maintained consistency since starting with ButterflyMX. This has helped me overachieve my quota each quarter and has helped the company grow, transform, and evolve to the next level.
Tell us about your favorite day/event at ButterflyMX. What makes it so special/memorable?
Finally getting the chance to meet my sales coworkers in person!
Not only do our wonderful sales meetings give us a chance to collaborate in real-time, but it also puts a face to the people I work with every day. By periodically inviting us to meet up at the NYC office, ButterflyMX demonstrates its dedication to creating a positive employee experience.
What has been the best part about working remotely? The most challenging?
The best part of working remotely is that I'm able to focus on my tasks without disturbance.
The most challenging part is learning to collaborate with my teammates intentionally. Because we're not together daily, it can be challenging to remember to check in with one another. However, most employees are in the same boat, so we're able to handle that learning curve together!
Learn more about ButterflyMX:
Three fun facts about Marc
1. If you could live anywhere in the world, where would it be and why?
Tokyo, Japan.
The city is a dense neon playground where it's easy to get lost in just about anything.
2. Do you have a secret talent (*cough* superpower) you want people to know about?
Not to brag, but I can sing Celine Dion songs better than Celine Dion.
Okay, I can sing Celine Dion songs just as good as Celine Dion.
Okay. I sing Celine Dion at karaoke.
3. What is your favorite thing to do after work or on the weekends?
I love live music, and I go to as many concerts as I can manage (Celine Dion, anyone?).
I also love to jetski off Biscayne Bay.
Come fly under ButterflyMX's wings
Interested in joining our team? ButterflyMX is growing fast — which means we've constantly got job openings in nearly every department. Take a look at our careers page for an up-to-date list of our open roles.