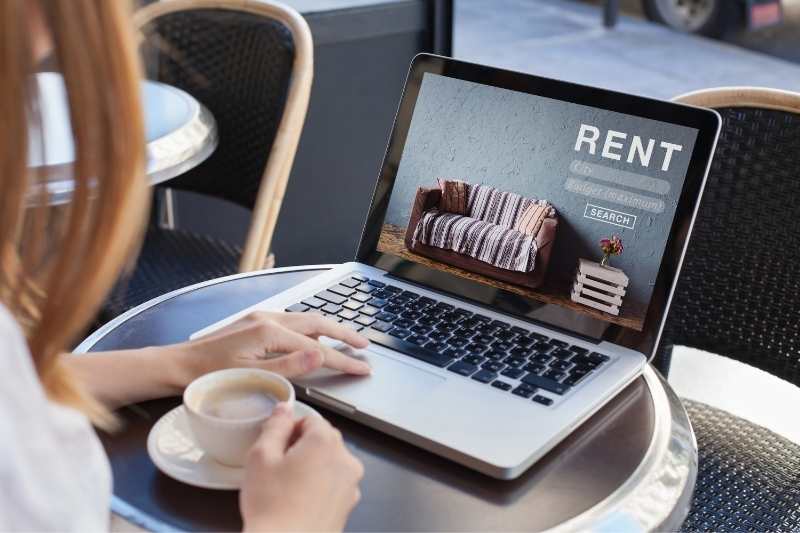 With the rising popularity of remote work, more people than ever can live and work from anywhere by simply having an internet connection. So how has this impacted the real estate industry and what trends should you expect in housing for remote workers?
Technology has created new opportunities for individuals to travel, work, and play all over the world. Luckily, property technology also continues to develop rapidly, so keeping up with new real estate trends can be as easy as the push of a button.
To help you understand the impact of digital nomads on real estate, we cover:
What is a digital nomad?
Digital nomads are remote workers who take advantage of their location-independent jobs to travel and live wherever they choose.
Since the COVID-19 pandemic, at least one in every three Americans telecommutes. What was once a trend is becoming a standard part of the corporate culture. Remote work is here to stay, so the real estate industry has to adapt.
Are all remote workers digital nomads?
Not all remote workers choose to travel extensively. Many remote workers take advantage of the location-independent lifestyle to find cheaper housing for their families and a lower cost of living.
Remote workers who choose the digital nomad lifestyle have a different impact on the real estate market, such as increasing the demand for short-term rentals. Meanwhile, remote workers who stay in one location are more likely to purchase a home.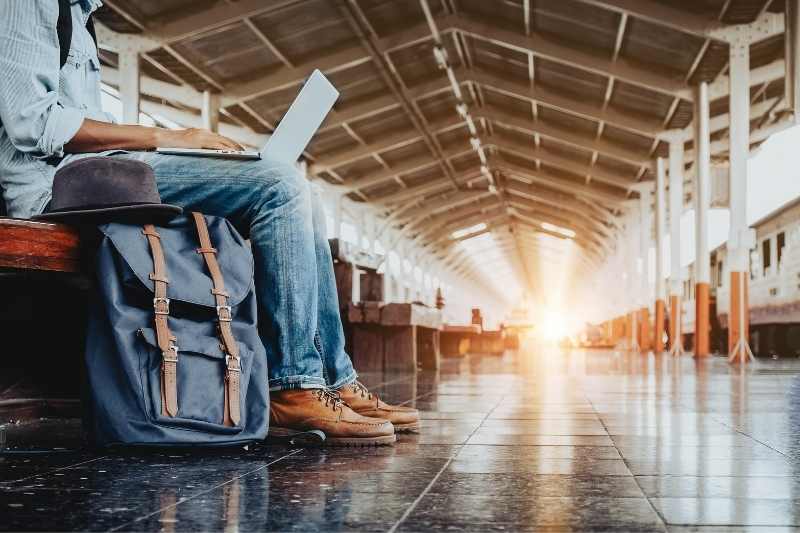 How is housing for remote workers different?
The impact of remote working on real estate is hard to predict long-term. However, the immediate effects have been remarkable. Many digital nomads are leaving expensive, metropolitan cities like San Francisco and New York City in favor of small towns or destination spots. Long-term remote working could transform this Rural Boom into permanent change, bringing tech and other remote industries into previously blue-collar areas. As a real estate professional, this is an opportunity for you to invest in emerging markets.
However, the differences in digital nomad housing go beyond just location. Since remote workers now also have to live where they work, the architecture of the home changes. So, remote housing solutions need to be multifunctional.
The remote workers who settle in one location and purchase a home are more comfortable renovating a space to fit their needs. However, digital nomads are, as the name suggests, nomadic. Therefore they'll seek rentals that can suit their needs right away.
The most desirable features of digital nomad housing include:
Fully furnished units including a quality workspace (desk, chair, lighting, etc)
Month-to-month or flexible lease terms
Fast and reliable internet access
Quiet, soundproof spaces for Zoom meetings
Community activities to foster connection, especially with other digital nomads
Support for finding local restaurants, grocery stores, nightlife, healthcare, and more
Plants, greenery, and green space for a connection to nature and improved mental health
Convenient, high-tech resident experience
Watch how ButterflyMX works:
What is remote co-living?
One of the biggest trends in digital nomad housing is the rise of coliving. These community-focused properties offer fully furnished rentals where digital nomads can rent by the room for flexible lease terms.
Co-living buildings often house five or more adults who share common areas like coworking spaces, living rooms, and kitchens. These short term rentals are a great investment if you're looking to attract digital nomads. Companies like Bungalow, SplitSpot, and more have been successful in offering rent-by-the-room options across the United States.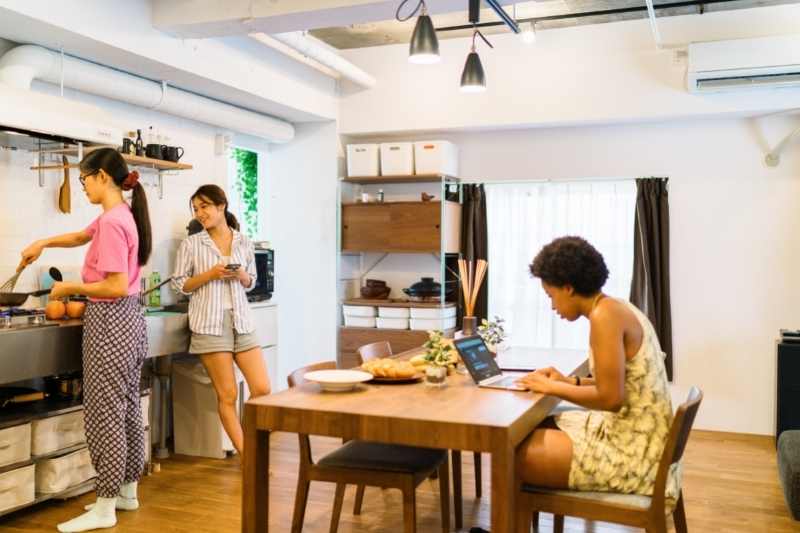 How does remote work affect real estate?
As everyone hunts for the best places for remote work, the real estate market is shifting. Prices have increased in suburban and rural areas due to a sudden rise in demand for digital nomad housing. On the other hand, many urban areas saw record low rental prices in 2020 as remote workers left cities. Now that many social distancing measures have subsided, many remote workers have ultimately returned to urban areas. Recent data on rentals in New York City suggests that some, though not all, renters will return to urban areas in the coming years.
The location component of housing for remote workers in the future is still up in the air. However, the practice of working from home is here to stay. So what does this mean for real estate?
Well, the features that remote residents look for will change. As a result of the remote work culture, the importance of internet connectivity, noise reduction, and dedicated office space is greater than ever before. Landlords can no longer count on residents being gone during the day to complete noisy construction work or shut off the water for maintenance.
Property owners and managers now have to reevaluate their strategies for property maintenance. Communication with residents is more important than ever before as remote workers are spending more time at home than away. Additionally, smart technology is a great way to improve the management of your property and is a growing trend in multifamily housing.
Where should I live if I work remotely?
Remote workers all around the world are asking themselves this question. While the freedom that comes with remote work is a huge opportunity, it can also be overwhelming to have so many options. 
If you own, manage, or develop apartments and want to cater to digital nomads, make sure your buildings offer the best resident experience possible for remote workers. One important amenity to include is a smart access control system. Investing in convenient, secure access control for residents shows them you understand their lifestyle.
Installing a smart video intercom system can give your residents access to features like:
A powerful mobile app to open doors from their smartphones
Virtual keys so residents can offer time-restricted access to guests
Seamless deliveries to let couriers into the building even if residents aren't home
How do digital nomads find housing?
The best options for finding digital nomad housing are online. Finding housing for remote workers is not all that different from residents who work out of the house. The most common places to find housing are still online listings through websites like StreetEasy, Facebook, Apartments.com, and more. 
In order to market housing for remote workers and attract digital nomads, your listings should highlight the features digital nomads are looking for, like a quality internet connection and work-from-home office space. Many digital nomads also work in tech so they will appreciate hearing about any smart technology you have invested in for your property. 
Where do most remote workers live?
Remote workers can, and do, live anywhere. A study by the HireAHelper moving company found that some states, like California and New York, lost the most residents while others, like Idaho and Vermont, saw the greatest gains in during the pandemic. As a result, data continues to suggest that remote workers want to live where their dollar goes farther instead of paying for expensive, smaller homes in urban areas. However, many people stayed in urban areas regardless. 
It's also worth noting that the New York Times reported a surprising comeback in the NYC real estate market as residents returned to the city in 2021 following the vaccine rollout. Since then, prices have quickly returned to pre-pandemic levels.