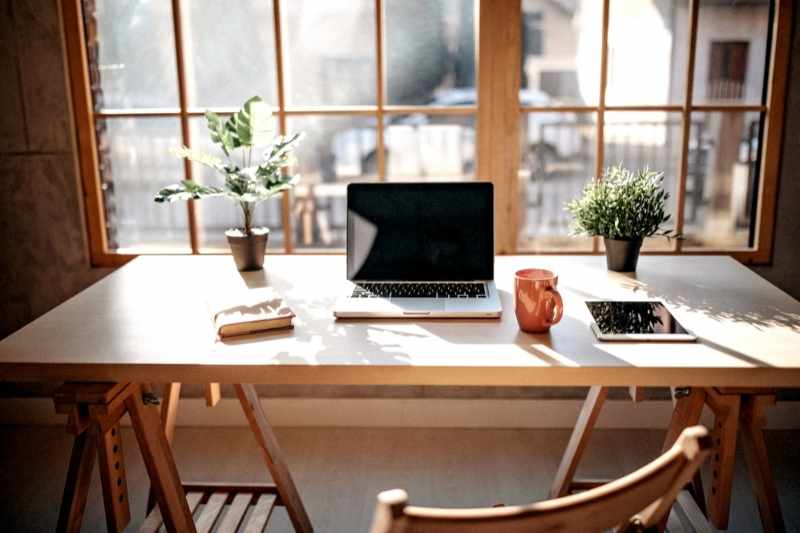 In April 2022, one-third of the American labor force worked remotely full-time, while 62% worked remotely at least once a week. And these numbers are expected to grow, suggesting that remote work is here to stay. So, how do you adapt to this future of work as a property manager? One way is to provide work-from-home amenities that attract and retain residents working remotely.
Luckily, appealing to remote workers is simple! In fact, just a few upgrades can accommodate remote workers without disturbing other residents. In this post, we dive into the work-from-home lifestyle and why it's important to cater to residents working remotely. We also share our top 10 work-from-home amenities to appeal to remote workers.
This guide covers:
Evolution of the work-from-home lifestyle
Despite the recent meteoric rise in remote work, it's not a new concept. In fact, it was once the norm! It wasn't until the Industrial Revolution in the late 19th century that many Americans switched from working at home (on farms and in-home workshops) to working in office buildings.
So, when did remote office work gain popularity?
As a part of the clean air movement of the 1970s, IBM began a slow transition to remote work to reduce gasoline usage in cars. Then in the late 1990s, the internet allowed employees to complete their work from anywhere. By 2004, all federal employees had the option to telecommute.
In 2020, many companies decided to allow employees to work from home.
And experts predict that this boom in remote work is here to stay, meaning work-from-home amenities must be, too!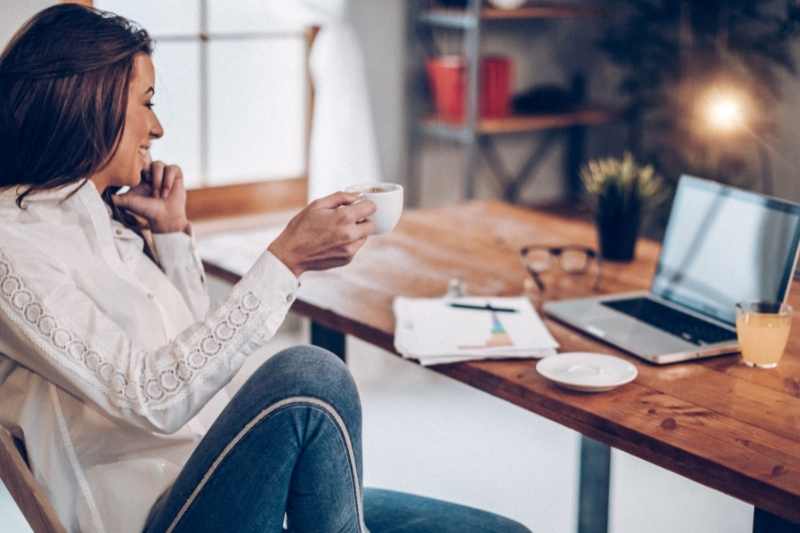 Why do employees prefer working from home?
Instead of focusing on a fast-paced work-centric lifestyle, work-from-home allows people to prioritize their personal lives. And, of course, it empowers employees to live and work from anywhere in the world.
So, remote workers can afford to be pickier in their apartment search. But what does this mean for you as a property manager? Now you must put in extra work to appeal to remote workers by offering premier work-from-home amenities.
Why should you add work-from-home amenities to your property?
Since remote workers can now work from anywhere, you must cater to their evolving needs. Not doing so will put you at risk of losing residents, both existing and prospective. For example, in 2020 there was a 23% higher rate of renters moving out of large cities in favor of smaller towns.
As a result, many multifamily communities in urban areas are facing massive turnover rates of residents working remotely. But thankfully, upgrading your property with new work-from-home amenities may entice these renters to stay at your urban property.
Conversely, if your property's located in a small town, implementing work-from-home amenities brings city luxuries to a less dense area. Outfitting your suburban property with these new additions could draw in a young crowd of residents.
Pro-tip: Work-from-home amenities aren't limited to in-house perks! Offering flexible leases will attract digital nomads who want to rent for less than one year.
10 work-from-home amenities to attract remote workers
Remote work isn't slowing down. So, now is the time to provide work-from-home amenities that accommodate residents working from home. Implementing remote work amenities today will increase lease renewals — and may even bring more prospects your way through referrals.
10 best work-from-home amenities that attract remote workers: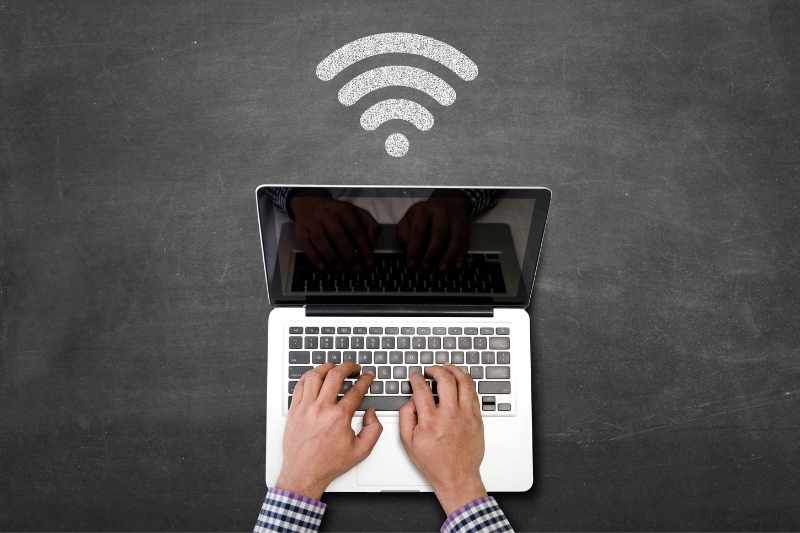 1. High-speed internet
Fast in-unit WiFi is essential for all residents. However, installing routers throughout common areas helps you appeal to remote workers specifically.
Advanced technology contributed to the work-from-home trend, and it's often the most desirable work-from-home amenity for remote workers. High-speed internet is a must for enabling that technology.
What's more, you can cover the cost of the internet for shared spaces through amenity fees. Or you can consider raising rent prices! After all, multiple surveys show that residents are willing to pay higher rent for high-speed internet.
2. Reliable phone reception
In addition to high-speed WiFi, reliable cell reception is crucial for at-home workers. Spotty cell service is a distraction that prevents remote workers from focusing and interferes with productivity.
To combat this, invest in a cell phone signal booster that will amplify existing 3G, 4G LTE, and even 5G signals. As a result, your residents will experience fewer dropped calls and unsent texts.
Even better, cell phone signal boosters are a one-time purchase! So, this small investment will save you money in the long run by increasing resident satisfaction and, as a result, decreasing turnover rates and costs.
3. Co-working spaces
While the benefits of working from home are plenty, many remote workers want a communal spot to work. This way, they can break up the monotony of being in their home offices.
With this in mind, consider turning an empty or unused space into a trendy co-working space! And you may already have the perfect spot if your apartment has an old, underutilized business center.
While business centers may be at many multifamily apartments, younger renters tend to steer clear of them due to their sterile feel. But don't let this room (or any other empty office space) go unused! Instead, make use of this space by revamping and renaming it as your new co-working space amenity!
Here are some small changes you can make to transform an underutilized office space:
Invest in new furniture. Ergonomic office chairs, standing desks, and comfortable armchairs are easy replacements for old furniture.
Free up desk space. Replace archaic desktop computers with empty desk space for remote workers to place their own laptops.
Install a wireless router. Place a WiFi router directly in the co-working space to guarantee reliable, speedy internet.
4. Reservable private conference rooms for video calling
Don't be afraid to stretch the limits of your co-working space amenities! Many remote workers spend the majority of their workday in video-conferencing meetings. To accommodate these residents, turn a small room (or even a large closet!) into a reservable conference room.
Remember to install extra lights and paint the walls a single solid color. This creates a non-distracting background and good quality lighting that's perfect for video conferencing.
Pro-tip: Make sure this room has a quality WiFi connection. Do this by installing a wireless router or a WiFi extender to boost the signal from another communal space.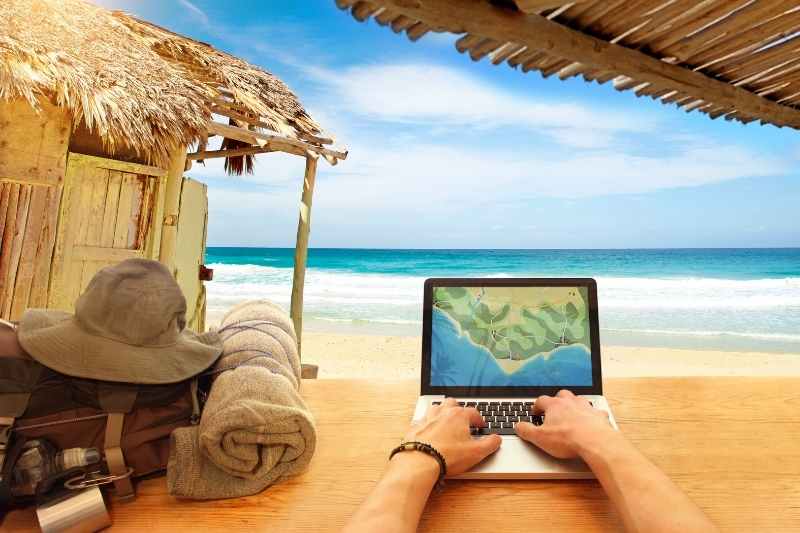 5. Short-term rentals
As a result of pandemic-related shutdowns, many remote workers have decided to change their lifestyles and become digital nomads. Digital nomads are fully remote workers who travel full-time and live wherever they choose.
As such, digital nomads prefer short-term rentals that don't tie them to one location for long. By offering leases between one and six months, you appeal to digital nomads. And while they represent a small percentage of renters, their numbers will continue to grow in the coming years.
Pro-tip: Offering short-term rentals for remote workers means you'll have to invest more in turnover costs. However, you can charge higher rent for month-to-month leases to protect your property's NOI.
6. Sound reduction
One concern employers have regarding remote work is the possibility of distractions that will affect productivity. And this worry isn't unfounded — focusing on work in a noisy apartment building can be difficult. To prevent distractions, consider building noise-canceling features into floors and walls.
But are you concerned about a noise-canceling project creating noisy disruptions? Ensure that construction and renovations are completed outside of normal business hours.
Enforcing quiet hours can also go a long way toward creating a productive work environment for everyone. So, in addition to nightly quiet hours, consider putting daytime quiet hours into effect during work hours.
7. Smart video intercoms
Installing property technology has been proven to increase resident satisfaction by enhancing building security and efficiency. But did you know proptech can also increase productivity?
Sometimes, work-from-home residents are too busy at their home offices to make or pick up lunch. But with a smart video intercom with a delivery pass feature, they can easily grant access to food delivery drivers. This way, their food will be brought right to their doors! So, remote working residents only need to open their unit doors to pick up lunch.
Further, the best video intercoms are user-friendly. This means that residents can simply copy and paste one-time codes into the food delivery instructions at the app checkout page.
Watch how ButterflyMX's Delivery Pass works:
8. Expanded fitness center
One benefit of working from home is having the opportunity to squeeze in a workout during the day. And many remote workers take advantage of this perk to curate a healthy work-life balance.
Therefore, you should take care of pending renovations and manage the upkeep of your on-site fitness center. As a result, you'll provide a spot for remote workers to stretch their legs and work up a sweat throughout the day.
Of course, state-of-the-art fitness centers aren't strictly a work-from-home amenity. But remote workers may want to quickly squeeze in some gym time to break up their routine. And offering a gym within the building is an added bonus because it allows workers to leave their home offices without driving or leaving the building.
9. Package management
The work-from-home trend also spurred a boom in online shopping. So, many remote workers seek apartments with robust package management solutions to ensure secure deliveries.
With this in mind, you must invest in a practical package management system to prevent package theft and loss. Solutions like a package room ensure residents receive their deliveries without a hitch.
Furthermore, installing a package room helps your staff! It frees up their time to focus on more pressing tasks rather than spending hours handling deliveries.
Watch how the ButterflyMX package room works:
10. Enhanced concierge services
As a whole, residents who work remotely are interested in what you can offer them. Every renter working from home is unique, but something they all have in common is the ability to be picky.
So, consider investing in enhanced concierge services that take care of small tasks for residents. This will increase resident satisfaction and make your property stand out to prospects.
Here are some tasks your concierge service can offer:
Picking up food orders
Dog walking
Fulfilling minor and immediate maintenance requests
Calling rideshare services
Making dinner reservations
This work-from-home amenity allows your residents to focus more on work and less on their personal responsibilities from 9:00 to 5:00.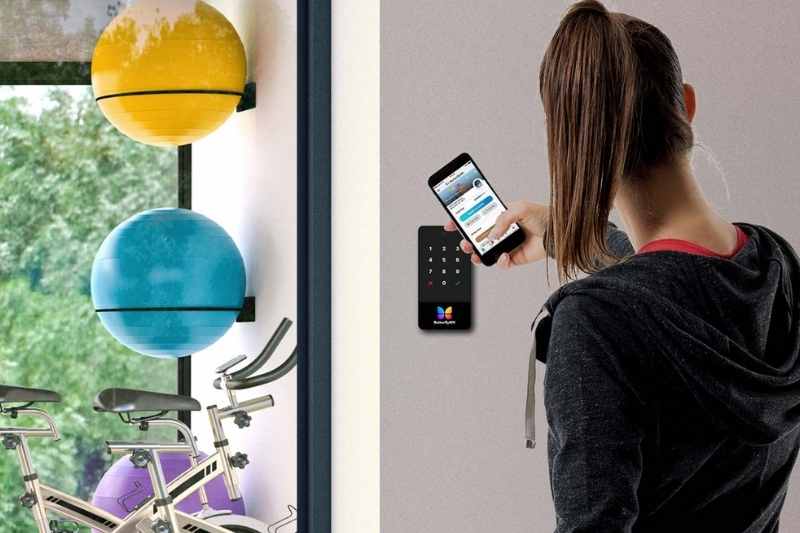 How proptech can upgrade your work-from-home amenities
The real estate industry is catering to remote workers more now than ever before. So, it's paramount to keep up with the latest market trends. And installing various proptech amenities for work-from-home residents will help you outpace the competition.
As we've discussed, proptech like a package room can guarantee that expensive professional equipment isn't lost or stolen. And video intercoms increase convenience for deliveries. What's more, keypads make accessing amenity spaces seamless! This way, remote working residents can leave their keys at home when they head to your co-working space or to the gym for a quick workout.
Overall, installing various proptech modernizes your property. And as more millennials and Gen Zers enter the workforce as remote workers and digital nomads, they'll be drawn to tech-savvy apartments.
So, installing proptech amenities will ensure you continue to appeal to new generations of residents.
Takeaways
As more residents than ever before are remote workers, it's important to install work-from-home amenities at your multifamily property.
When adding work-from-home amenities to your property, consider convenience over everything. Making life easier for your remote working residents increases resident satisfaction and improves the likelihood that they'll renew their leases year after year.
Proptech can bring your property to the next level in your efforts to appeal to remote workers by adding convenience to residential life.