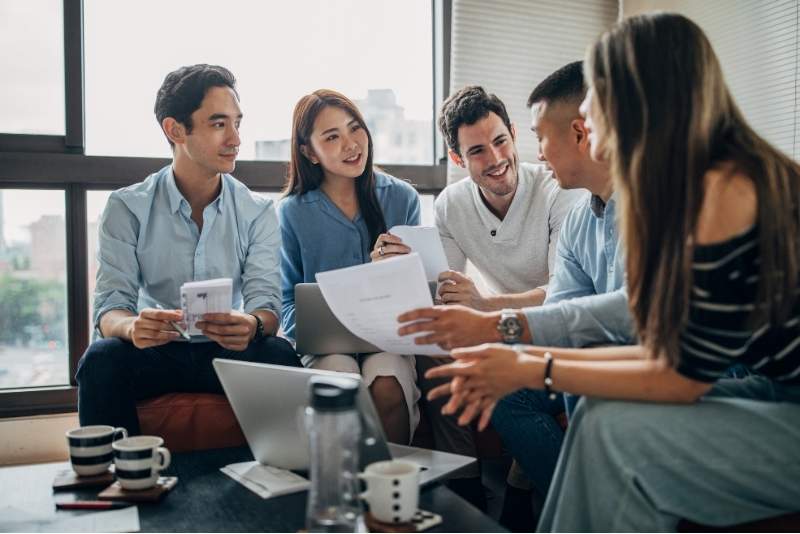 Millennials make up the majority of the rental market. And their tendency to rent rather than buy benefits you as a multifamily developer, owner, or manager. In fact, marketing to millennials can actually help you sign leases faster!
From offering digital payment options to providing smart property access solutions for their visitors and deliveries, there are many things you can do to appeal to millennials. Read on to learn more about the millennial generation, what they're looking for in an apartment, and how you can sign more leases by making your property millennial-friendly.
This post covers:
Who are millennials?
There's no firm consensus on the exact time range the millennial generation comprises, but millennials are usually defined as the generation born between ~1981 and ~1996.
As the largest generation currently on Earth, millennials matter. It's important to understand the typical millennial mindset so you can better appeal to current and prospective residents in the millennial generation.
Millennials grew up among rapidly advancing technology and are comfortable navigating smartphones and social media. They shoulder the bulk of national student loan debt, which affects their spending habits and lifestyles. Millennials are more likely than older generations to change jobs frequently and invest more in travel and life experiences than homes or tangible items.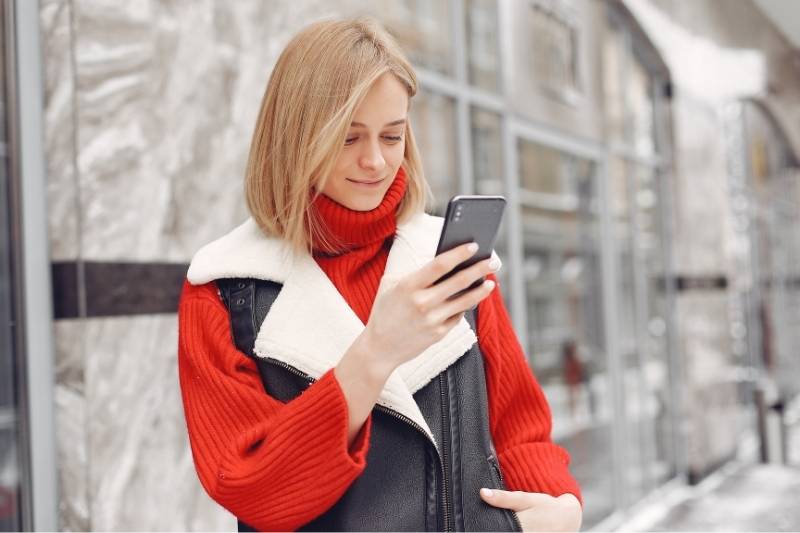 How have millennials changed the rental market?
When the baby boomer generation reached their 20s, most were eager to buy a house as quickly as possible. Gen Xers followed a similar pattern, seeking homeownership by their mid-20s. Millennials, on the other hand, don't (or can't) prioritize homeownership the way generations before them did.
In 2022, millennials are in their prime home-buying years — but they're still the least likely generation to own a home. Even with millennial home-buying rates increasing year-over-year, baby boomers, Gen Xers, and the silent generation (born 1928-1945) still beat them out. By age 35, roughly 53% of millennials own their homes. Meanwhile, over 60% of baby boomers and Gen Xers owned their homes by age 35.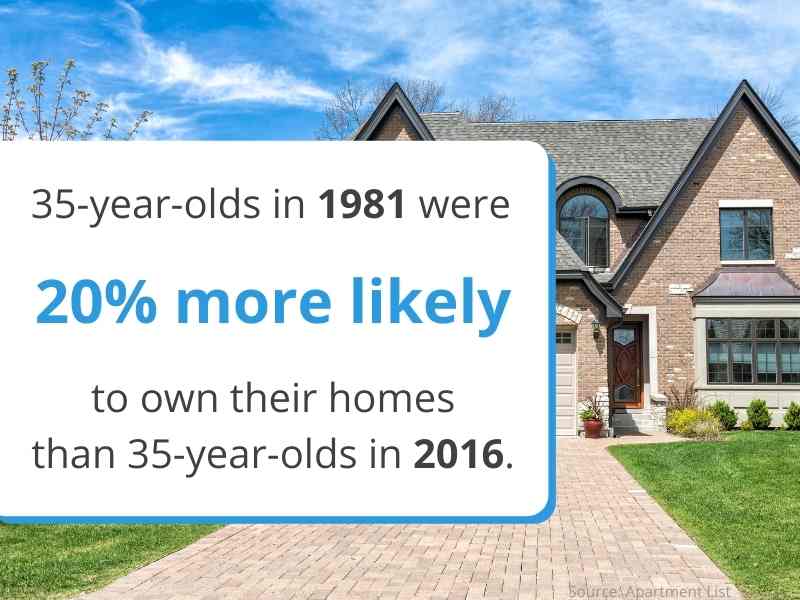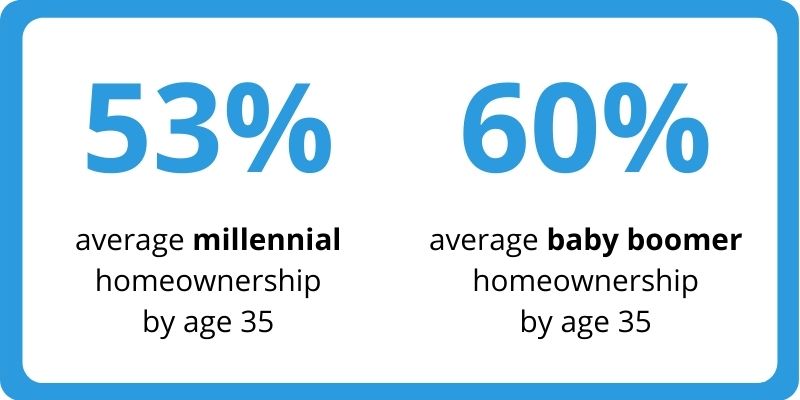 Millennials' comparatively low homeownership rates illustrate that they're the ones dominating the multifamily housing market today.
Millennials are more likely to rent longer for three key reasons:
1. Finances
The most significant factor preventing millennials from homeownership is affordability. Between student loan debt and pandemic-induced unemployment, many millennials don't feel financially stable. As a result, they're less likely (or unable) to shell out a 20% down payment to buy a house.
2. Flexibility
It's not just that millennials can't afford to buy homes — many of them simply don't want to. Millennials tend to prefer the flexibility of renting, which allows them to change jobs, travel, and move to new cities more often. For example, 73% of millennials report that they intend to move in the next 10 years, compared to 58% of Gen Xers and 42% of baby boomers.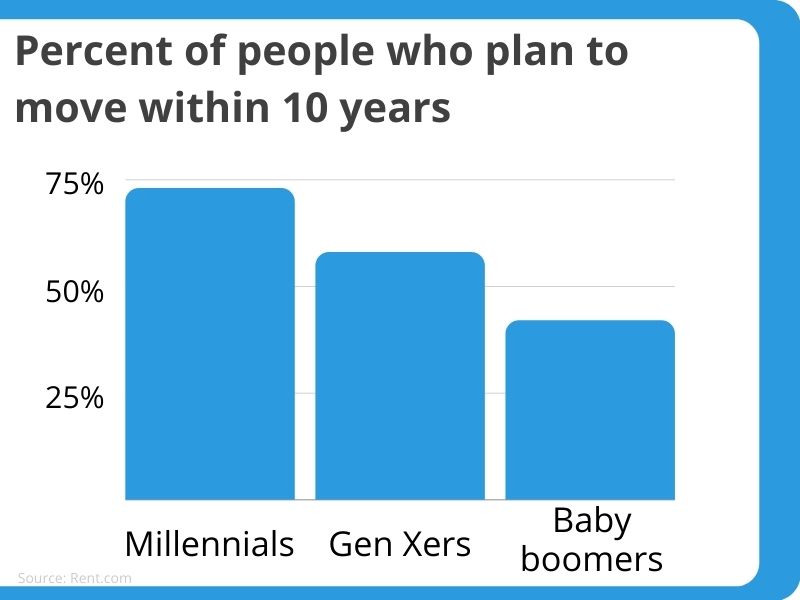 3. Settling down later in life
Millennials are in no rush to get married and start a family. In fact, they're 10 to 20% less likely to get married in their 20s than their parents were. And millennials don't want to commit to a house before committing to a partner.
Plus, they're far less likely to have children at any age than the generations before them. As a result, they're generally less worried about buying a house and settling down.
The top 5 ways to appeal to millennial renters
We've established how and why millennials dominate the rental market. Now it's time to explore how you, as a property owner, manager, or developer, can capitalize on that and appeal to your millennial customer base.
Here are the top five ways to appeal to millennial renters:
1. Accept digital payments
When paying for anything, millennials are more likely to reach for their smartphones or credit cards than cash. A study by Deloitte showed that 80% of millennials' transactions were on credit cards.
That's why you should accept digital payments wherever possible, including:
Online rent payments. Millennials don't want to write checks. Invest in a platform that lets your residents pay rent online — and advertise digital rent payments to prospects.
App-based laundry payments. If your building has a shared laundry facility with coin-operated washers and dryers, it's time to upgrade. To appeal to millennials, invest in app-based payment systems. They're easy to install, and your residents will prefer paying for laundry through their smartphones instead of scrambling to find quarters.
Paid self-serve amenities. Does your building offer self-serve refreshment amenities, like vending machines or coffee stations? If so, enabling credit card payments is a nice touch that residents will appreciate. Plus, you'll likely make more sales by accepting digital payments.
2. Offer virtual and self-guided tours
Millennial renters don't want to waste time coordinating schedules with leasing agents to book apartment tours. Instead, they prefer to search for their new home on their own time.
Virtual and self-guided touring are all the rage — and for good reason. Virtual tours allow prospects to watch a video or view 3D renderings of your vacancies online. Self-guided touring lets prospects view a vacancy in-person without a leasing agent present.
Millennials are more likely to tour an apartment if they don't have to go through the trouble of coordinating an appointment, taking time off work, and feeling pressured by leasing agents. And getting more prospects in the door is the first step to signing more leases.
Here are some tips for offering virtual or self-guided apartment tours:
Set up an easy-to-use online reservation system so prospects can book a self-guided tour with just a few clicks.
Invest in an access control system to provide contactless entry when prospects arrive at your apartment building.
Partner with a virtual tour software provider or videographer who can make your apartment units look their best online.
Pro tip: To convert more prospects into residents after tours, consider staging your apartment units. Studies show that apartment staging helps fill vacancies faster!
3. Add a community workspace to your building
When COVID-19 shut down offices nationwide in 2020, the remote workforce grew exponentially. Though some companies decided to return to the office in early 2021, many chose to stay remote or take a hybrid approach.
Millennials currently comprise the largest portion of the workforce. With so many millennials working from home, it's in your best interest to cater to their needs.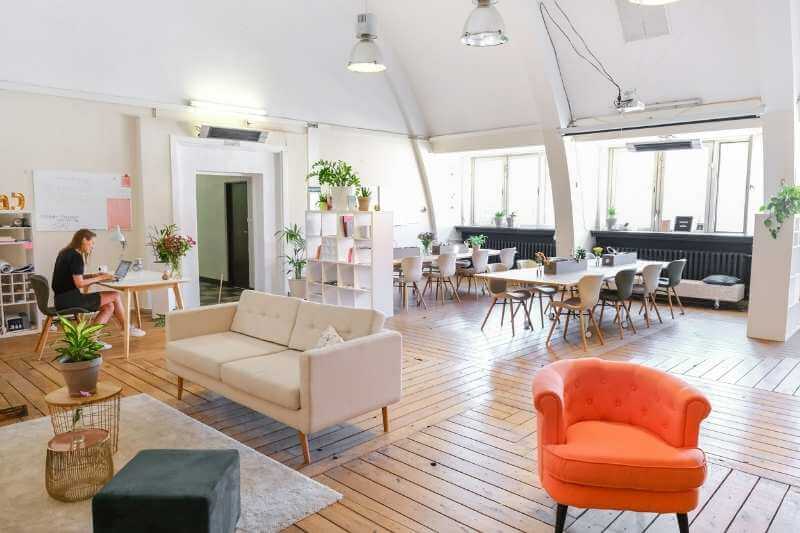 The best way to appeal to millennials working remotely is to add a community workspace to your building. Coworking space is an in-demand apartment amenity that will instantly catch millennials' attention.
Here's how to set-up a shared workspace:
Add a mix of single-person desks and large tables for collaborative work
Convert spare rooms to conference rooms for meetings
If the workspace gets crowded, set up a digital reservation system so that residents can reserve a desk or conference room ahead of time
Offer free WiFi and other office supplies like printers, stationery, and coffee machines
4. Go green
Millennials are environmentally conscious. They seek out eco-friendly products and brands, and most are willing to pay extra for them.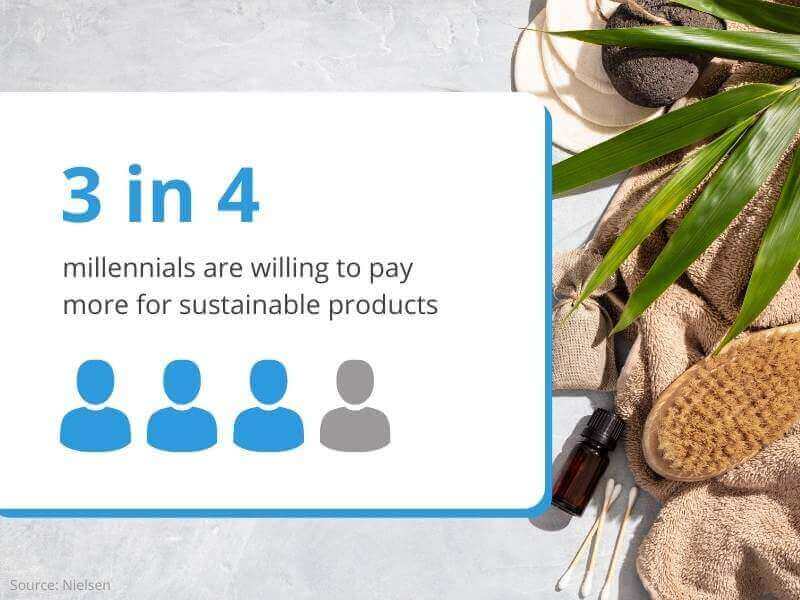 You don't have to develop a new property to implement eco-friendly products and systems. Many green solutions can be retrofitted in even the oldest buildings.
Here are some of the best ways to appeal to millennials by going green:
Install smart thermostats in every unit.
Upgrade to energy-efficient washers and dryers (whether you have in-unit laundry or a shared laundry facility).
Implement a recycling program where residents can sort recyclables by material.
If you have outdoor space, start a community garden where residents can plant and grow food.
Whenever possible, source products locally — whether that's coffee for your communal kitchen or construction materials for upcoming renovations.
5. Invest in proptech
Millennials were born and raised in the throes of the digital revolution. Many fondly remember fiddling with their family's first computer, texting friends from flip phones in high school, and witnessing the boom of the internet firsthand.
All that's to say: Millennials are used to technology, and they seek it out.
As a multifamily owner or operator, you can satisfy millennials' technology cravings by investing in property technology (proptech) amenities. Proptech encompasses a wide range of products, services, and systems that use technology to improve and streamline residents' lives. The real estate industry has been relatively slow to adopt property technology, so you'll put your building ahead of the competition by implementing these solutions throughout your property.
Additionally, if you're concerned about the cost of offering proptech, consider raising rent prices or charging residents a small amenity fee. That way, you'll recoup the costs of implementing proptech. And most modern residents are willing to pay a bit more in exchange for technology.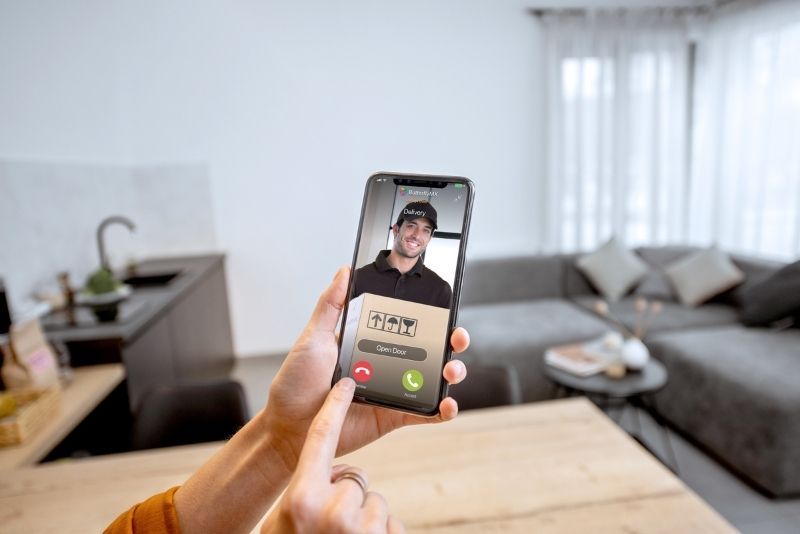 The top proptech amenities for millennials are:
Smart access control systems. Millennials are all about convenience. They want to accept deliveries and let friends into their homes seamlessly. An access control system like a smart video intercom empowers residents to use their smartphones to open doors and manage property access from anywhere.
Package rooms. In 2019, millennials made 60% of their purchases online. And when millennials buy online, they expect those digital purchases to ship quickly and be delivered without a hitch. To create the best possible experience for your residents, invest in a package room where couriers can safely leave packages. Make sure the package room solution sends residents automated notifications when they receive a package.
Smart locks. Millennials want easy access at the front entrance and the door to their apartment unit. Install smart locks on each unit door to enable residents to open doors from their smartphones. Even better: Choose smart locks that integrate with your access control system.
Small changes add up when appealing to millennials
Regardless of your location, there's a good chance you'll be renting to a lot of millennials. Making the effort to appeal to those millennials will get you far.
If you're not sure where to start, just start small. Millennial prospects will notice and appreciate even the minor details, like your building's commitment to recycling or your investment in proptech amenities for your gated community.
Above all, remember why you're investing in these upgrades: to sign leases faster and keep residents happy.