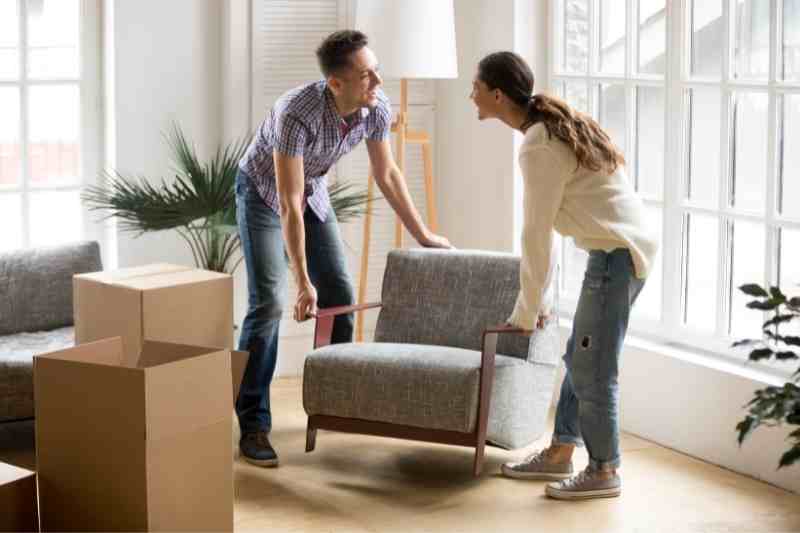 Choosing an apartment is a big decision for your prospective residents. They want to feel confident that the apartment they choose will feel like home. So, the way you present a vacant unit to your prospects has a big impact on their decision. And investing in apartment staging is one of the best ways to create that homey feeling.
Apartment staging is an opportunity to market your property, show off your open units in the best way possible, and convert more prospects into residents. Keep reading to learn how to get started staging an apartment for rent and discover the leading apartment design trends.
This post covers:
What does staging an apartment mean?
In real estate, apartment staging is the process of setting up a vacant unit with furniture and decor to improve its visual appeal and help prospective residents imagine themselves living there.
Staging for rent may include:
Decorating your property's exteriors for curb appeal
Placing artwork and fresh flowers in the lobby
Arranging furniture in each room
Removing odors such as from smoke or pets
Hanging curtains or installing new blinds
Upgrading appliances to newer models
You can do it yourself or hire a professional, but the best staging is done before an apartment is photographed and listed online.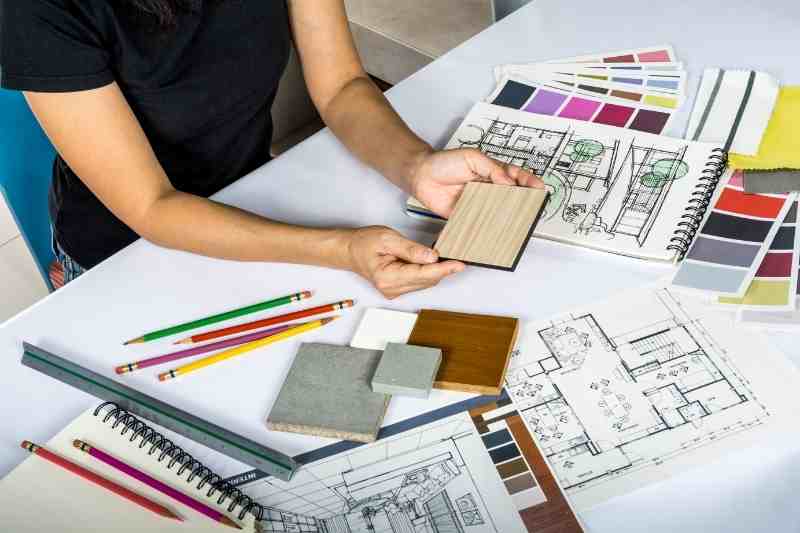 How much does apartment staging cost?
The average cost of staging an apartment is $2 per square foot. As a result, you can expect to spend around $1200 to stage a 600 square-foot apartment while a 2,000 square-foot unit would cost closer to $4,000.
However, costs vary based on location and what services you choose to invest in. Professional stagers will typically also charge consultation costs for their design services. When you factor in the cost of rental furniture, staging can get expensive quickly.
To cut costs, you can stage for rent on your own or use virtual staging software options. Some services provide static staged photos of your units for as little as $30 per image. However, more sophisticated virtual staging uses augmented reality to show prospective residents what the space would look like furnished.
How to stage an apartment like an expert
Since apartment model staging can be pricey, it's best to be strategic with how you stage to get the most bang for your buck. Prospective residents pay more attention to certain rooms and features than others, so you should prioritize staging these spaces.
Top 5 most valuable spaces to stage
Bedrooms: Don't leave prospective tenants guessing what size bed will fit. Measure at least two feet of walking space on all sides of the bed, then select the largest bed size possible. For example, in a 10×10 room, you would display a queen bed.
Outdoor spaces: Especially since the pandemic, outdoor spaces have become a top priority for renters. Highlight any outdoor space in your units with patio furniture, lanterns, and plants.
Living room: Make the space look larger using an area rug. Ideally, the rug will fill the room while still leaving a 10-12 inch gap between the rug edge and the wall. Just like in the bedroom, make sure to leave two feet of walking space on all sides of the couch to avoid making the room feel cramped.
Kitchen: A clean, minimalist look is ideal for the kitchen, so avoid placing items on the counters to clutter the space. You can also create a dining area with stools at the breakfast bar or a stylish dining table with four to six chairs. And smart technology is a great way to appeal to residents, so consider upgrading the kitchen with smart appliances.
Bathrooms: Similar to the kitchen, cleanliness is the top priority for bathroom staging. Spa-like elements such as eucalyptus, natural wood, and a plush rug are also pleasant additions.
Simple staging tips everyone should follow:
Minimize clutter to make the space look larger.
Replace lighting fixtures, cabinet handles, and curtains for a quick style upgrade.
Clean appliances and upgrade them whenever possible.
Remove any pet odors and make sure the unit smells nice with air fresheners and essential oil diffusers.
Remove personal items like family photos so prospective residents can picture the space as their own.
Choosing model apartment decor can feel overwhelming. That's why we've created a guide to help you out. Download our Apartment Design Trend Report for inspiration and tips on how to incorporate the latest styles into your interior design plan.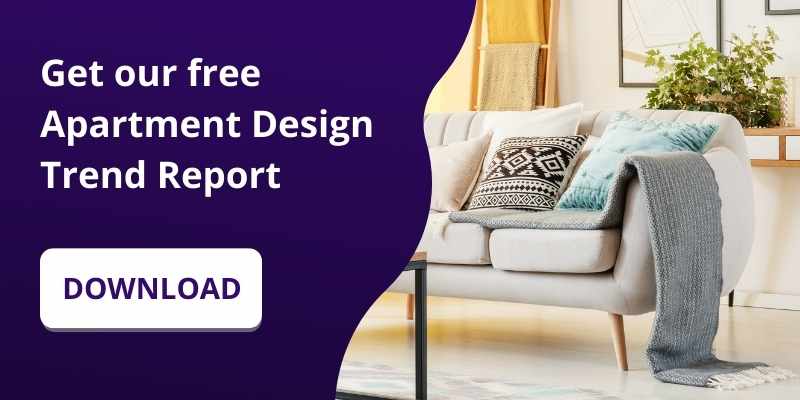 Is staging a property worth it?
Staging is an opportunity to show prospective residents what it would be like to live, work, and play in the unit. When deciding how to stage an apartment, the most important thing to remember is to appeal to your target demographic. Think about the type of person that will be renting this apartment and stage it to meet their wants and needs.
For example, if your target demographic is young families, then your staging can include spaces designed for kids. In a retirement community, consider accessibility features that could appeal to residents, such as emergency call buttons and bath safety bars.
According to the National Association of Realtors, staging decreases the time an apartment spends on the market and increases the price a resident is willing to pay by 10-15%. The extra profit often outweighs the cost of staging, which makes it worthwhile in most cases.
Apartment staging is particularly useful if you manage short-term rentals. Since most short-term renters don't have furniture, they often look for furnished rentals. Since you're already investing in furniture to stage your units, you can easily keep those furnishings for units you rent short-term.
Staging improves conversions during in-person and virtual tours. You can also use photos of your staged units in social media posts, online listings, and other marketing efforts.
How to offer self-guided tours of your staged apartments
After you've staged your units and updated your online listings, it's time to show them off. And you can save your staff time by offering self-guided tours. By offering self-guided tours at your apartment building, you reduce the need for onsite leasing agents and allow prospective residents to view your units on their own schedule. Self-guided tours also create an elevated tour experience that will improve the perception of your building and encourage prospective residents to apply.
So how do you enable self-guided touring at your building?
Watch how ButterflyMX enables self-guided tours:
With ButterflyMX's self-guided tour solution, visitors can book a tour right from your website. They'll receive a time-restricted virtual key to enter the building and even access your elevator without a staff member needing to escort them.
To provide apartment unit access, use our key locker to store keys or fobs, which residents can pick up using the same virtual key. And ButterflyMX keypads are perfect for enabling access to amenity spaces so prospects can truly tour your entire building — not only is this more convenient for your staff, but it also makes a positive impression on prospective residents.