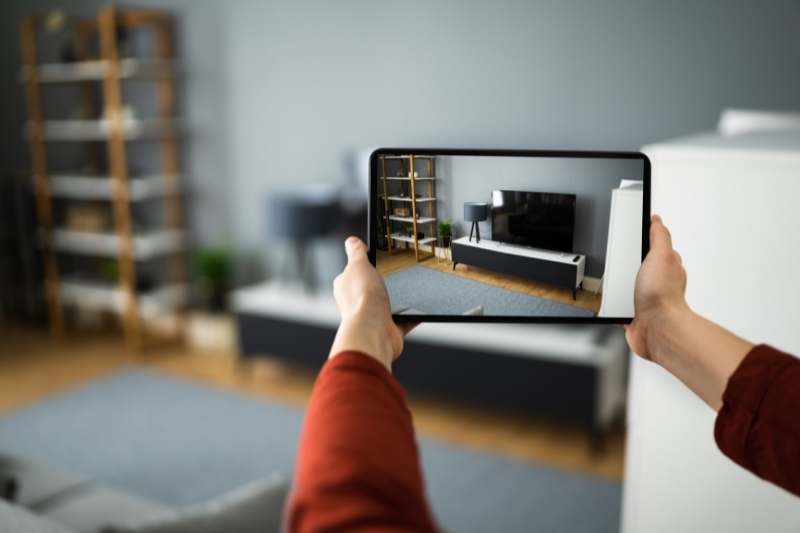 In today's digital age, you can do nearly everything online — including view an apartment! Virtual apartment tours allow prospective residents to view your building and vacant units without ever stepping foot inside.
Because virtual tours offer convenience and accessibility to prospects, it's in your best interest to offer them as part of your marketing strategy. But what is a virtual apartment tour, and how do you create one? Read on to learn more about how and why you should offer tours online.
This post covers:
What is a virtual apartment tour?
A virtual apartment tour is a convenient, technology-powered touring solution that allows prospective residents to see your apartment building from their smartphone, computer, or tablet. You can provide a virtual tour right on your apartment building's website.
Virtual tours are more than just photos of your building or unit — they allow a prospect to actually click through a digital rendering of the space. This mimics the experience of actually walking through an apartment, giving prospects a good feel for the building or unit.
Types of virtual apartment tours
There are a few different kinds of virtual tours. Depending on your desired outcome and your budget, one type may be more suitable for your marketing needs.
The three main types of virtual apartment tours are:
Recorded video walkthrough: One option is to record a video of the apartment unit from a first-person point of view. Prospects can watch the video to get a sense of what it's like to actually walk through the apartment.
3D apartment tour: Using software and a special 360 camera, you can create a 3D rendering of your unit. Prospects can "navigate" through the unit by clicking around the rendering, giving them the feeling of actually being in the unit.
Live video call tour: Virtual tours don't have to be pre-recorded. If you prefer a slightly more hands-on approach, you can offer live virtual tours, which are essentially video calls between a prospect and a leasing agent. The agent can walk around the unit, filming as they go.
Watch how ButterflyMX self-guided touring works:
How to create a virtual apartment tour
The process of creating a virtual apartment tour depends on the type of virtual experience you want to offer. But generally speaking, to make a virtual tour, you'll need a camera and possibly software to edit your footage before publishing it online.
Creating a virtual video tour
To create a virtual video tour, all you'll need is a camera. However, you may also want to purchase a shoulder mount to stabilize the camera and produce a smoother video.
Start recording while you're outside the unit. Hit record, then open the front door and walk from room to room. Go slowly, and pan around each corner of every room.
After filming the video, upload it to your website or a video hosting platform like YouTube or Vimeo. You can also share virtual tours (or links to a tour) on social media.

Creating a 3D virtual tour
If you prefer a more enhanced tour experience for your prospects, go the 3D tour route. You'll need a few pieces of equipment and an app or software to put all the footage together.
Follow these steps to create a 3D virtual apartment tour:
Gather equipment: For a more polished result, choose a 360-degree camera (HDSLR) to record footage. If you prefer a lower-budget solution, use your smartphone. You'll also need a tripod with a rotating head.
Shoot the footage: Record the tour footage on a bright day so there's plenty of natural light. Be sure to film every part of the apartment, including inside closets and cabinets, and outdoors on patios or balconies.
Edit footage and create the tour: Once you have your footage, you'll need to polish it and put it all together with software or a mobile app. Alternatively, you may pay to hire a service provider who can put it all together for you.
Creating virtual tours with a phone
If you want to make a virtual tour with a phone, you're in luck — you can do so with an iPhone or Android.
There are plenty of mobile apps that offer tools to shoot footage and edit it all together. From your phone, you can follow the steps in the app to build your virtual tour. Some apps are free, but for the best results, you may want to invest in a paid app for a more polished final product.
Pro tip: If you record a video with your smartphone, hold the camera horizontally for a landscape view.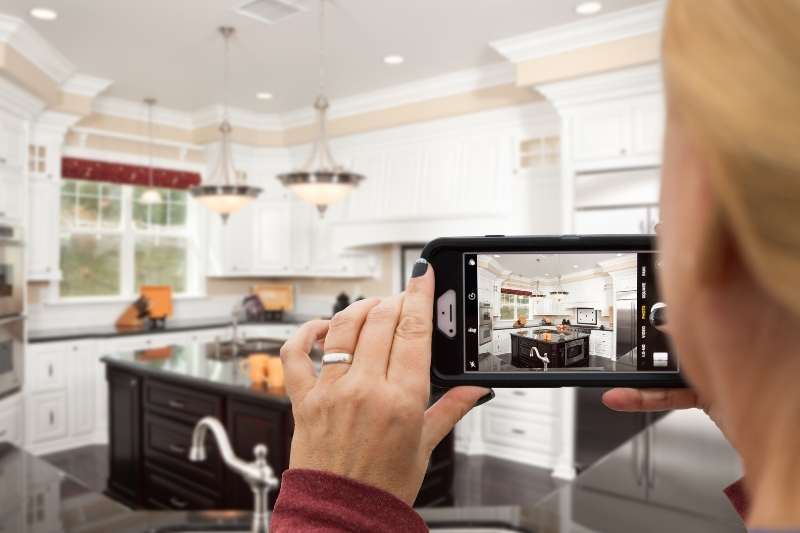 Top 7 tips for offering virtual apartment tours
Offering virtual tours gives prospects a convenient way to view your building and vacancies. But before you shoot any footage, first consider these seven tips.
1. Show every part of the unit
When touring an apartment in person, prospective residents like to check inside closets, open cabinets, and peer into every nook and cranny of a unit. Likewise, prospects taking a virtual tour want to see every inch of the unit.
So, when filming footage for a virtual apartment tour, be sure to show off every aspect of the unit. Shoot footage from various angles, and record yourself opening cabinets, closets, and other doorways. Prospects will appreciate all those minor details.
2. Stage the unit
Before recording tour footage, be sure to stage the unit effectively. Apartment staging is one of the most effective ways to lease a unit faster. Staging can even increase the price a prospect is willing to pay by 10% to 15%.
Staging your unit before creating a virtual tour will:
Give prospects a better sense of the unit's size and dimensions.
Allow viewers to really picture themselves living there.
Make the unit more appealing, leading to more conversions.
3. Provide a floor plan and unit dimensions
One of the downsides of a virtual tour compared to an in-person tour is that it can be hard to visualize the actual layout or size of the unit. So, when offering virtual tours, be sure to also include a floor plan of the unit and, if possible, the exact dimensions of each room. That way, prospects can get a better idea of the unit.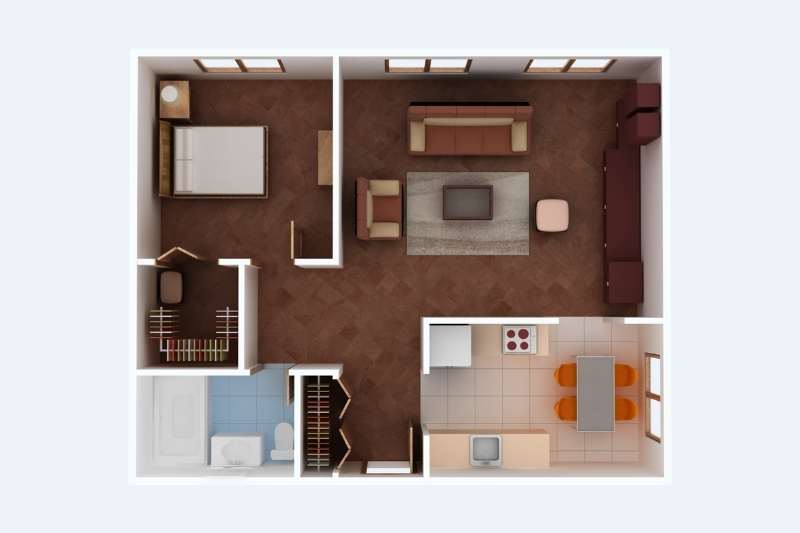 4. Ensure ideal lighting
When creating a virtual tour, you want the unit to look as appealing as possible. So, make sure the lighting is bright and inviting.
Be sure to record footage for your virtual tour during the day, not at night. Additionally, record on a bright day with plenty of sunshine, and open the curtains and blinds in the unit. This will ensure that your footage is brightened with lots of natural light, which will make the unit look its best. If you need additional lighting, consider investing in ring lights or softbox lighting.
5. Aim for a 2-minute tour
Not sure how long your virtual apartment tour should last? Aim for about two minutes.
If your tour is too short, you probably haven't captured everything effectively. This might leave prospects feeling like they didn't get a full tour. And if the tour is too long, you'll lose viewers' attention and miss out on leads and applicants.
6. Add music
A virtual tour with only visuals can be dull. Adding music to your virtual tour makes it feel more engaging and can keep prospects watching longer. Look for light, upbeat music without any lyrics to avoid distracting viewers.
Pro tip: Find copyright-free music or purchase the rights to any music you use. Otherwise, your tour could be flagged or removed for copyright infringement.
7. Upgrade the unit before filming the tour
Before you put the time and effort into recording an entire tour of any unit, make sure it looks its best. That means completing any planned upgrades or renovations and doing a deep clean before filming.
Here's how to make your apartment unit look move-in ready:
Upgrade appliances
Paint
Swap out fixtures and cabinet hardware
Scrub floors and walls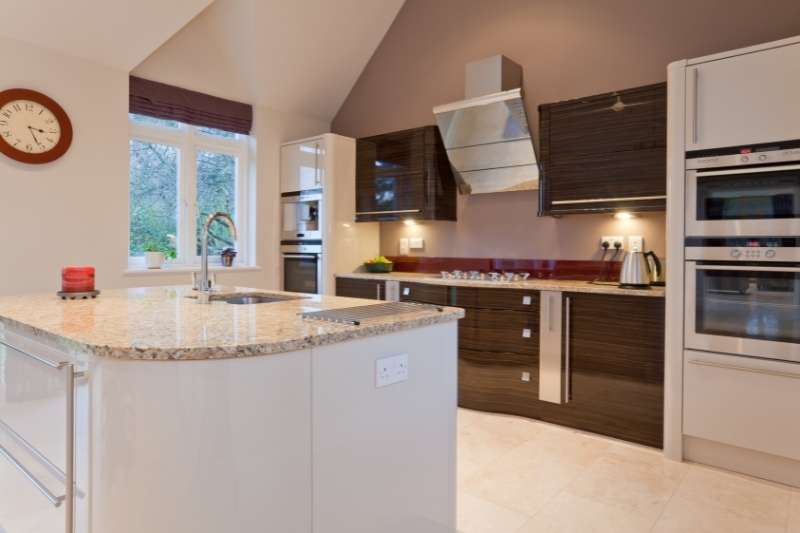 Top 5 benefits of virtual apartment tours
Better than photos: Real estate photography is important, but photos will rarely do your unit justice. Virtual tours give prospects a much clearer idea of your unit's layout, size, and features.
More conversions: Offering virtual tours is a fairly passive way to boost your conversion rate and sign more leases. Virtual apartment tours can help you earn and convert leads from prospects who may not have time to view the building in person or who are moving long distances.
Increased engagement: Rental listings with virtual tours receive a whopping 87% more views than those without. Virtual tours are particularly user-friendly, and allow prospects to view your unit any time, anywhere.
Offer more tours than you could in person: With in-person tours, you have to coordinate schedules and make sure a staff member is available at the time of the tour. As a result, you may only be able to offer a few in-person tours per day. But since virtual tours are viewed online, prospects can see your unit 24/7.
Appeal to all kinds of renters: Lots of people appreciate the hands-on experience of an in-person tour. But many others prefer to experience a tour on their own terms, from the comfort of their own homes. Offering virtual tours is a way to appeal to prospects who don't necessarily feel comfortable with a guided tour in person.
Takeaways
Virtual tours are a user-friendly touring solution that allows prospects to view your building and vacant units without needing a staff member to show them around.
There are three ways to offer virtual apartment tours: film a pre-recorded video, create a 3D rendering, or offer live video call tours.
Offering virtual tours can increase leads and boost your prospect-to-resident conversion rate.