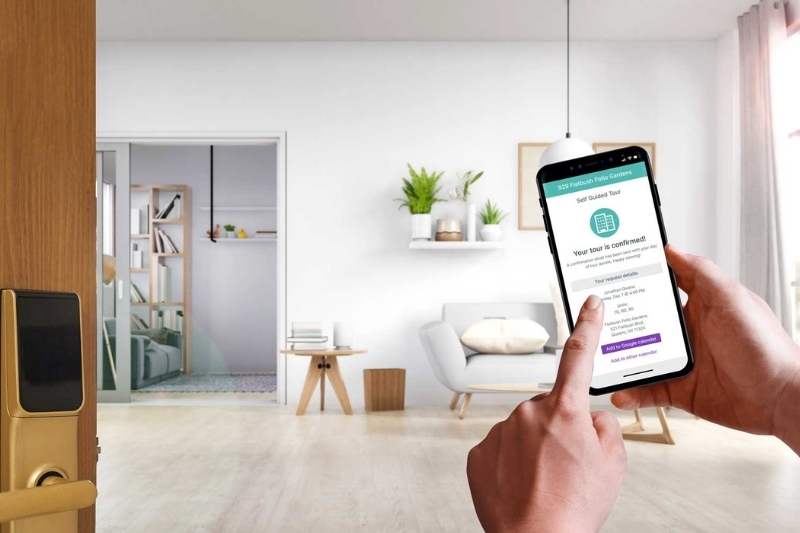 Self-showing technology is changing the way property owners and leasing agents show properties. Offering self-guided tours using technology is a convenient and contactless way for residents to view your property. Not only do self guided tours save prospects and agents time and money, but they also increase safety by enabling contactless entry.
But what is self-showing technology and how does it work? Read on to discover how self-showing technology can benefit your building by generating more leads and converting leads to leases faster.
This post covers: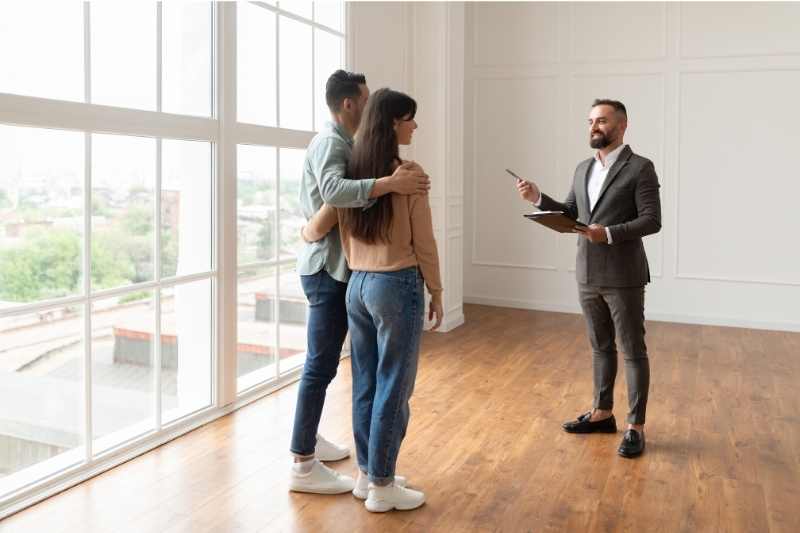 What is self-guided viewing?
Self-guided viewing allows prospects to tour properties without the need for a leasing agent or property manager to physically accompany them.
What's more, prospects often prefer contactless showings in a relaxed environment. This allows them to make an informed decision about whether the property is right for them. Self-showings also benefit managers and agents by speeding up the leasing process and freeing up their schedules to focus on other duties.
Watch how ButterflyMX enables self-guided apartment tours:
What is self-showing technology?
Self-showing technology refers to the software, hardware, tools, and processes that enable self-guided apartment tours. This technology empowers prospects to visit properties without a manager or agent physically being present.
In effect, self-showing technology provides a holistic solution for showing and leasing units. And there are a wide variety of technologies available that make self-guided tours possible.
The most useful self-showing technologies include: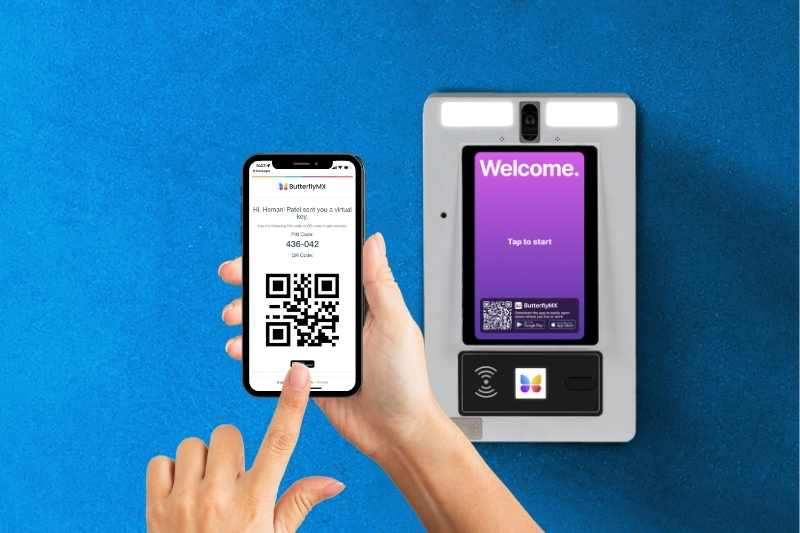 Tour booking software
Tour booking software is the platform that unites all your self-showing technologies and enables prospects to book tours online. With most platforms, you simply place a link on your website to the digital tour booking platform so prospects can schedule a time that works for them.
Property managers and leasing agents use an app or online dashboard to check tour schedules and communicate with prospects. They can also use the app to issue virtual keys for property access, and conduct virtual tours. The best self-showing tour platforms also send prospects automated tour reminders and remind you to follow up with prospects after tours.
Look for tour booking software that requires prospects to provide their ID and credit card information at the time of booking and runs a background check. That way, you can rest assured that prospects who visit your building have been vetted. Plus, having their credit card information protects you in the event that the prospect damages your property during their tour.
Smart video intercom
When prospects arrive at your building for a self-guided tour, they need a way to get inside. A smart video intercom is the perfect solution to ensure convenient yet secure property access.
Property managers and leasing agents can issue digital access codes or virtual keys to prospects. This allows them to gain entry without assistance from on-site staff — all they have to do is enter their PIN code or scan a QR code at the video intercom. So, staff won't have to unlock the door manually or provide physical keys.
What's more, the best smart video intercoms take a photo of everyone who gains access. So, you can verify the identity of the prospect and maintain an audit trail of entry events to ensure building security.
Watch how ButterflyMX works:
Keypads
Once inside your building, prospects will still need access to other rooms and spaces. Keypad access control systems are a great keyless solution for controlling access within your building.
A keypad allows prospects to enter a PIN code to gain entry. For best results, install keypads at shared spaces like fitness centers, pools, and other amenities so that prospects can tour them as well.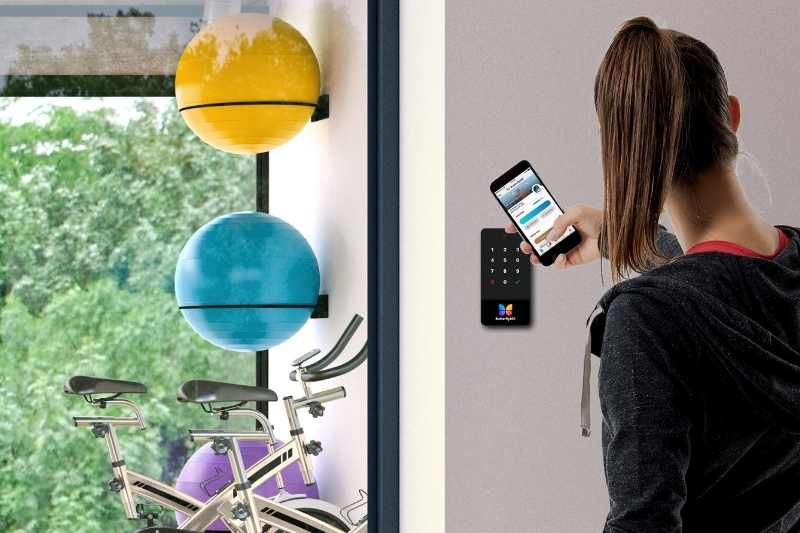 Smart locks
If possible, equip your apartment unit doors with smart locks instead of traditional keyhole locks. Smart locks allow prospects to unlock doors with an assigned PIN code — in some cases, the same one they used to enter the building and view amenity spaces! These codes are unique to each visitor, which allows you to keep track of each unit and shared space the prospect accesses throughout the tour.
The best smart locks support cloud-based management that allows property managers and leasing agents to manage access through a web-based dashboard or mobile app. You should also opt for smart locks that integrate with your building's smart video intercom system for a seamless experience.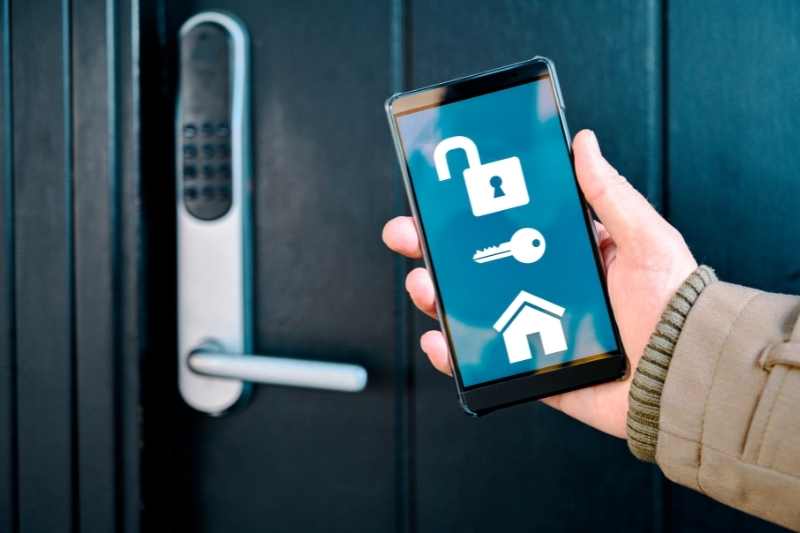 Key locker
Key lockers provide a designated place to store keys that prospects can pick up and use to access the unit. A key locker consists of several small compartments with a computer or access control device (like a keypad) used to unlock the compartments.
By entering a digital code, a prospect can unlock the correct compartment and retrieve a physical key to the unit they want to tour. Then, they can return the key to the locker when they're done touring. The key locker logs the time and date that the prospect opens it, which allows you to keep track of each visitor who views your apartment unit. Key lockers are a great solution for apartments whose units have traditional locks and keys rather than smart locks.
In the past, agents and property managers have relied on lock boxes to store keys. But self-showing lock boxes are cumbersome and difficult to keep organized. Traditional lock boxes also aren't as secure or convenient as key lockers.
In short, key lockers are a great alternative to lock boxes. They boost security and eliminate the need for bulky lock boxes that can easily be tampered with and are difficult to manage.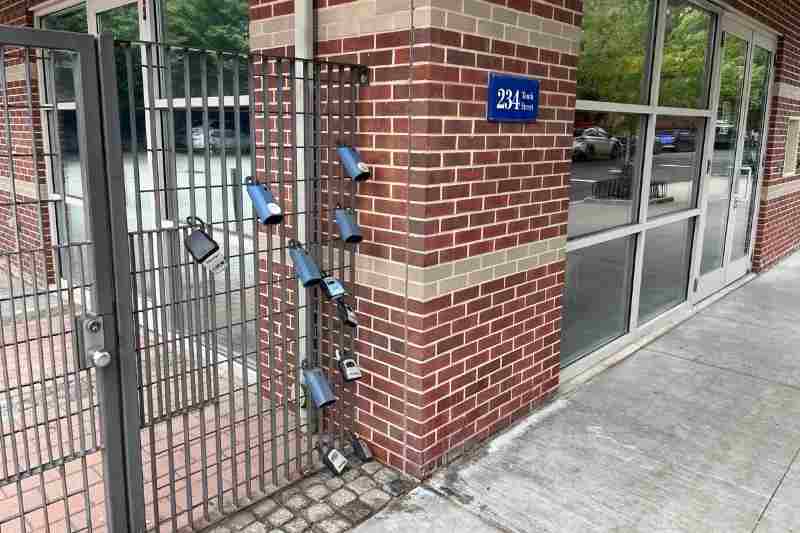 How do I conduct a self-showing?
You may be wondering how you can integrate self-showing technology into your leasing process.
Consider these steps when offering self-guided tours at your building.
Here's how to conduct self-showings at your property:
Adopt tour booking software and include a link on your website to the platform so prospects can book a self-guided tour online.
After a prospect books a self tour, send them an email with all the information they'll need on the day of their tour. Note that your tour booking software may do this automatically.
Upon the prospect's arrival, they'll use the digital access code you sent them to enter your property via the smart video intercom. You'll receive an automatic notification alerting you of the prospect's arrival.
If your building has a fobbed elevator, your video intercom can automatically unlock it so the prospect can access authorized floors on their tour.
If your prospect needs a physical key, they can enter their digital access code at the key locker to retrieve one.
The prospect can tour the unit and amenity spaces, going at their own pace. When they're done, they'll return any physical keys they borrowed. You'll receive an automatic notification alerting you that the key has been returned.
After the tour, you can review the door release log and send a personalized message to the prospect to follow-up and discuss the next steps.
Why should property managers consider self-showing?
Property managers should consider self-showings because they're a convenient way to offer property tours without needing a leasing agent present. This contactless touring method helps you book more tours, converts more leads to leases, and gives leasing agents more time to tackle other tasks. It's a particularly great solution for properties without onsite leasing or management staff.
What's more, self-showing technology empowers the prospect to tour the property in a relaxed environment and gives them a positive first impression of the building.
Is self-showing technology worth it?
Yes, self-showing technology is definitely worth it because it boosts convenience and efficiency for both property managers and prospective residents. Prospects have the freedom to tour the property securely, and property managers have more time to focus on other duties like drafting leases and tending to current residents.
Here are the top 5 benefits of self-showing technology:
Book more tours: Self-showing technology allows you to show vacant units faster by empowering prospects to book self-guided tours. Since prospects can take tours outside of business hours, you can book more tours throughout the day.
Close faster: Since you can book more tours by offering self-showings, you can get more prospects in the door. This converts leads to leases faster.
Boost security: Because most self-touring platforms require prospects to provide their ID and pass a background check, you can ensure that anyone entering your building has been vetted. Plus, self-showing technologies like single-use virtual keys, keypads, and key lockers are a more secure alternative to lock boxes.
Log visitors: With the right technologies, you can keep a digital trail of entry events and review them if needed.
Follow-up efficiently: The best self-showing systems automate various steps of the processes, including automatic follow-up messages to prospects. This boosts your chances of converting a prospect to a resident.
Takeaways
Self-tours are a convenient and contactless solution for showing properties.
Self-showing technologies include smart locks, key lockers, keypads, smart video intercoms, and tour booking software. All of these enable seamless self-guided apartment tours.
With self-showing technology, leasing agents can control property access for prospects with ease.
Offering self-showings can help you gather more leads and convert leads to leases faster.