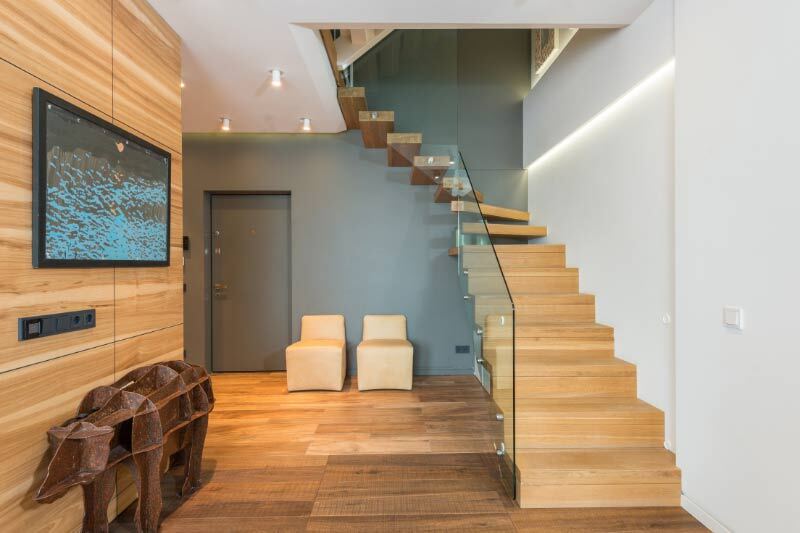 With more and more renters searching for apartments online, having quality real estate photography is massively important to the success of your property marketing. A good photo not only captures the attention of prospective residents but also depicts your property in a way words alone cannot.
In this post, we cover why real estate photography is important. We also share some tips for capturing great photos that can help boost resident acquisition and overall interest in your property.
In this post, we'll discuss:
Why is real estate photography important?
Real estate photography is important because it serves as a prospect's first impression of your property. Since most residents hunt for apartments through rental listing sites, you only have a few seconds to capture their attention. Having great apartment photos may be the deciding factor in a prospect's decision to click on your listing or book a tour of your building.
Real estate photography is particularly important for modern apartment marketing. Many of the processes for renting apartments revolved around in-person interactions in the past. But COVID-related physical distancing measures brought those processes online. While social distancing practices have largely been phased out, prospects still expect the convenience of online resources. So, prospects now expect you to have a digital presence with high-quality, up-to-date photos of your property.
Apartment photography is essential in enticing prospects to take the next step, whether that's submitting an inquiry, booking a tour, or applying to rent a unit.
Should I do my own real estate photography or hire a professional?
You know the importance of real estate photography, but now you might be wondering whether you should take the photos yourself or hire a professional. Ultimately, the decision depends on your budget.
DIY real estate photography requires some time and effort, but it could save you a lot of money. The good news is that DIY photography is more accessible than ever, thanks to technological improvements. These days, you probably have a powerful camera right in your pocket — on your smartphone! With a few tools and some time, you can actually use your smartphone to take high-quality apartment photos. Alternatively, if it's within your budget, you can opt to purchase a more advanced DSLR camera.
On the other hand, you may want to hire a professional real estate photographer if you value convenience and time savings. You'll also get the best quality photos by hiring a professional. So, it may be worth investing in a photographer if you have a large portfolio or manage luxury and Class A apartments.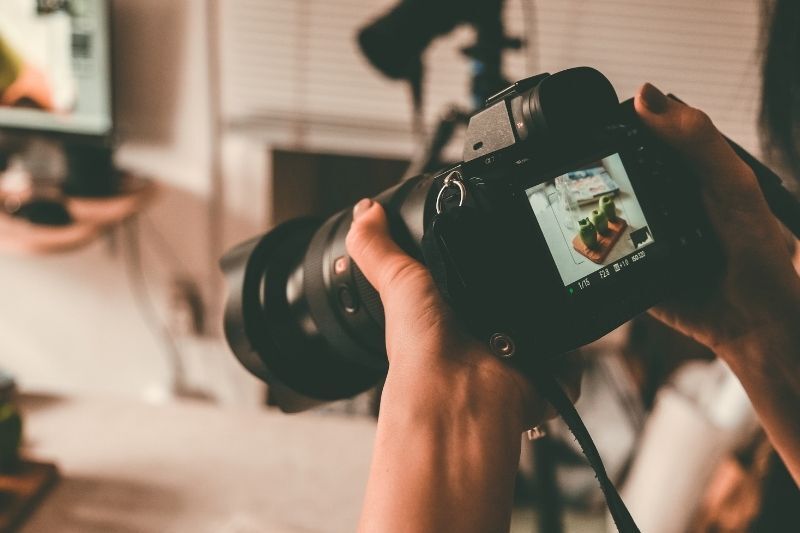 How much does it cost to hire a professional real estate photographer for apartments?
The cost to hire a real estate photographer for professional apartment photos ranges from $100 to $250 per apartment on average. But ultimately, real estate photography pricing depends on how many photos you want and how many apartments you need to shoot.
Some photographers prefer to charge by the hour, in which case you can expect to pay between $100 to $150 per hour or up to $200 per hour for a highly trained professional. Keep in mind that you may also have to pay a fixed or hourly rate for the photographer to edit the photos.
4 real estate photography tips
When photographing your property, make sure they're inviting and taken with deliberation. Shaky, poor-quality images present a lack of care and can sway potential residents to think poorly of your property.
Here are the top four tips for great real estate photography:
1. Use good lighting
Good lighting is essential! A dark or dimly-lit picture can give off a dull, dreary appearance. It's important to always take lighting into account because it helps generate a positive feeling, making a property feel charming, brand new, and welcoming.
You can achieve ideal lighting conditions by turning on all interior lights and opening all blinds and curtains to let in as much natural light as possible. If needed, you can also purchase additional lights, such as ring lights or softboxes.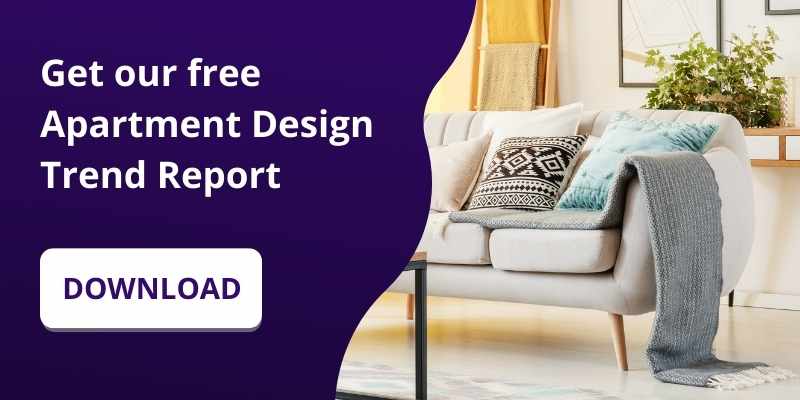 2. Strategize staging techniques
For best results, take photos of your apartment units after they've been staged. Staging the apartment with furniture can help potential residents envision themselves living there while providing a better sense of the unit's proportions.
Although staging can add value to your listings, it can also be overwhelming to viewers if the space is furnished without a consistent theme. Maintaining simple decor and using a neutral, minimalistic design are recommended when staging a space for your real estate photography.
And if apartment staging is out of your budget? Consider virtual staging software to simplify the process. 
3. Capture multiple angles
Taking advantage of angles can improve the appearance of a space and make rooms look bigger. By taking multiple photos of each room from different angles, you can give the prospect a better feel for the space. Remember to take multiple photos of the property's exteriors as well — especially from the curbside.
It's important to keep in mind that photos themselves should not be taken at an angle. Instead, keep the camera vertical or horizontal while taking shots from higher, lower, and eye-level viewpoints. Using a tripod can be helpful in maintaining stability and can prevent images from coming out blurry.
4. Highlight amenities and features
Photos capturing your property's amenities and features are must-haves when presenting your building online. Highlight your building's amenities from the perspective of the viewer as if they were visiting your property in person.
In addition to unit photos, consider taking photos of:
The building exterior
The front entrance
Your leasing office
Amenity spaces like your gym, pool, coworking space, etc.
Your intercom or door entry system
How you can use photography in your marketing efforts
Marketing your property is all about conveying its value to prospective residents. Once you've taken all your incredible photos, use them as part of a coordinated marketing strategy.
Whether you use photos to enhance your website, improve your social media presence, or contribute to your virtual tour experience, establishing familiarity with your property will provide a competitive edge.
3 ways to use photography in your property marketing:
1. Curate a virtual touring experience
Virtual and self-guided tours are now commonplace. They provide a convenient and appealing experience for prospects not just locally but worldwide. Offering virtual tours not only allows prospective residents to view your property at any time but can reduce the need to have someone on staff to provide tours.
When curating a virtual touring experience, use photos and videos to mirror the experience of an in-person tour as much as possible. Supplementing your real estate photography with up-to-date, pre-recorded videos can also give prospects an even better sense of your building.
Watch how self-guided touring works with ButterflyMX:
2. Engage prospects on social media
Photographs of your property should also be used on social media. Posts with your highest-quality apartment photos will not only capture the attention of the viewer but also act as a call to action and encourage followers to inquire about your property. Your posts should deliver a professional impression, yet also be interactive.
Another idea is to use pictures your residents provide in the form of testimonials. This is a wonderful way to engage with residents while increasing brand awareness and building trust.
3. Enhance your property's website
Throughout your apartment website design, use photographs to show off your building while dividing sections of text to improve the user experience. Beautiful photography helps make your website more appealing, interactive, and professional.
As important as it is to update your website with photographs, don't overlook the file size and format of the pictures you upload. If the photos hinder your website's speed or performance, try to reduce the size and quality of the images a bit. Overall, you still want your website to load quickly and be easy to navigate. This will also help improve your website's SEO.
Takeaways
No matter how incredible your community or building may be, no one will ever know its value without marketing efforts — and that starts with real estate photography.
Having a digital presence with great photos helps highlight the outstanding features your property has to offer. Plus, a resident's decision to rent an apartment is based on many factors. And using photography can significantly sway their decision, ultimately leading to more engagement, more tours booked, and more leases signed.