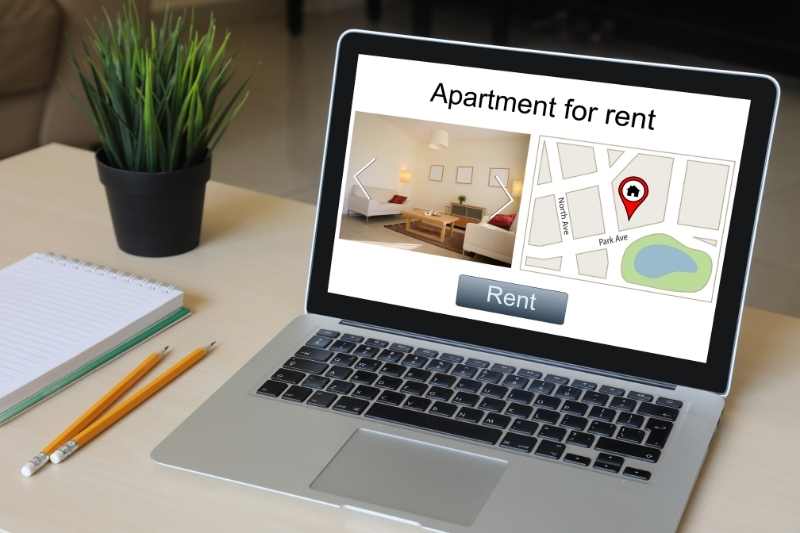 Effectively advertising your apartment for rent is the best way to fill vacancies. But what's the best way to market your building and ensure high-quality leads? Since today's tech-savvy renters turn to the internet to find their new homes, you need to advertise your vacancies on rental listing sites.
Rental listing sites are the perfect place to show off your vacant units, attract more prospective residents, and sign leases faster. Read on to learn more about rental listing sites and the 10 best platforms to list your vacant units online.
Navigate this post:
What are rental listing sites?
A rental listing site is an online platform where property owners and managers can advertise vacant units in their buildings to prospective residents. You can create a listing for an entire building or for each specific vacancy.
Listing sites are also known as Internet Listing Services (ILS). Many property management systems offer ILS services, which means the system will automatically syndicate your listings across several rental search databases and platforms. 
Apartment hunters — especially millennials — visit rental listing websites to find available units for rent. Many platforms also offer a mobile app that prospects download to browse listings.
Listings include information such as:
The building's address
Photos of the property/unit
Details about the unit, like square footage, number of bedrooms, appliances, pet policy, etc.
Building contact information/a way for prospects to request more information or book a tour
Listing your vacancies with an ILS helps you reach a larger audience, book more tours, and sign leases faster.

Why you need to use rental listing sites
Online platforms are the #1 way renters find a new home. If you're not already advertising your apartment units on rental listing sites, you're missing out on thousands of potential leads.
Here's a breakdown of how many people use online listing platforms to find a new home:
88% of Gen Z
90% of millennials
79% of Gen X
70% of baby boomers
41% of the silent generation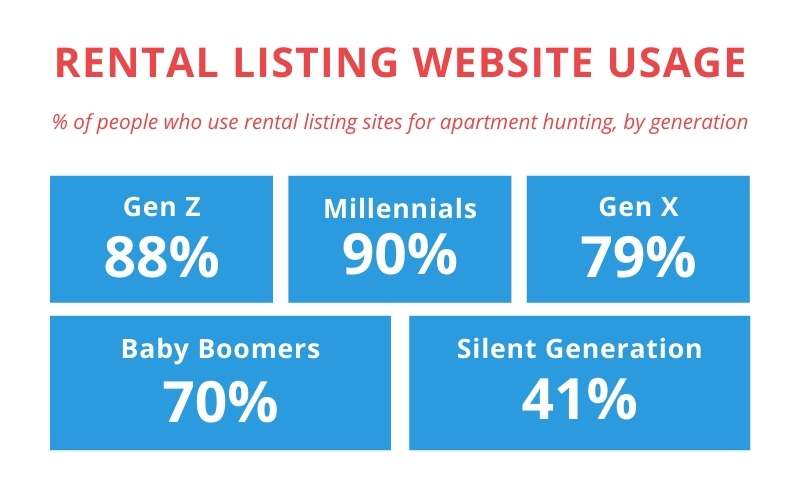 But getting more eyes on your vacancies isn't the only benefit.
Other benefits of listing units on rental websites include:
Increased brand exposure.
Fairly passive marketing efforts — once you create a listing you can reuse it with minor edits and let the listing platform handle the rest.
Many platforms repost listings to other websites using syndication software for greater exposure.
Get more leads from qualified prospects who are serious about finding a rental.
Built-in time-saving services such as tour booking and tenant screening services.
How to list rentals on an apartment listing site
Listing rentals online is simple. In most cases, all you have to do is set up an account. Some platforms are free to use while others charge an annual or monthly membership fee or require a per-listing payment.
Once you've set up an account with the platforms on which you want to advertise, you'll need to write up descriptions of your vacant units with plenty of details. The more detail you provide, the better. Additionally, be sure to gather up plenty of photos of the building and the specific units you're listing.
For best results, you should also include a virtual tour of the unit. A virtual tour could be a video or a more advanced 3D rendering of the unit. Either way, having a virtual tour on your listing will help bring in more leads.
Pro tip: Consider staging your units before you photograph them for online listings. That way, the units look more inviting and allow prospects to imagine themselves living there. And if apartment staging isn't in your budget, consider using virtual staging software to digitally alter photos of your empty units. Don't forget to include photos of your property's exterior for the curb appeal. 
10 best rental listing sites
If you're ready to start attracting more prospects and signing more leases, it's time to start advertising on rental listing websites. But with hundreds of platforms out there, which ones should you list on? We've narrowed down your search to the top 10 best rental websites.
The 10 best rental listing sites are:
1. Apartments.com
Apartments.com is perhaps the biggest and best listing platform for apartment rentals. With over 1.1 million listings, Apartments.com is often the first place renters look for a new home.
For users, Apartments.com is easy to navigate on both a desktop and mobile device. The website is clean, straightforward, and offers simple ways for users to narrow down their search. The mobile app is also powerful — though users report that new app updates can be frustrating or buggy.
Creating a listing is simple, and the platform lets you add tons of filters and tags to set your building or unit apart from others. These filters also make it easier for qualified applicants to find exactly what they're looking for.
When you advertise on Apartments.com, your listings are also syndicated to six other websites:
Forrent.com
Apartment Finder
Apartmenthomeliving.com
Realtor.com
Apartamentos.com
Doorsteps
Watch how ButterflyMX works:
2. Zillow
With over 34 million visitors each month, Zillow is a no-brainer for building owners and managers hoping to get their vacancies in front of more prospects. Although Zillow is extremely popular for single-family home sales, its rental-focused platform — Zillow Rental Manager — is also massive.
When creating a rental listing on Zillow, you have the power to specify amenities, features, pet policies, and plenty of other factors that renters are seeking. The only downside is that you can't categorize your building to a specific neighborhood. The Zillow app and its desktop website have powerful search tools and are easy for users to navigate.
As an added bonus, Zillow is free for property managers with fewer than 50 units. And another huge benefit of listing on Zillow is that your listings are automatically published on two other popular platforms: Hotpads and Trulia.
3. Apartment Finder
As part of the Apartments.com network, Apartment Finder is a popular and powerful platform for rental listings. Both its website and its mobile app are intuitive and user-friendly. Apartment Finder makes it easy for users to qualify their searches by the number of beds, price, pet policy, laundry services, and other amenities. Building contact information is also prominently displayed so that prospects can quickly reach out.
One great feature is that Apartment Finder adds bold labels to listings that catch users' attention. For example, your listing could appear with a "Rent Special" label if you're running a special, or a "Price Drop" label if you've recently lowered the price. These labels can help you get more clicks into your listings.
4. Avail
Avail is the best option for property managers who want to bundle tenant screening services with their rental listings.
It offers a powerful tenant screening process that includes more than just background and credit checks. It also screens prospective residents' eviction history and performs advanced criminal checks. Plus, Avail offers a way to have tenants pay for screening reports, which ensures more qualified applicants.
Although Avail doesn't have an extensive listing inventory, it does syndicate listings to Zillow, Hotpads, Trulia, Zumper, and several other platforms.
5. Craigslist
Craigslist is used for everything under the sun — from selling used cars to finding a job. But don't rule it out as an apartment listing platform!
Craigslist is a wildly popular platform that many people use when apartment hunting. It's easy to create and publish a listing on Craigslist, and it's perfect for targeting prospects in specific cities. Since the majority of users are already familiar with the platform, there's no learning curve. Additionally, many apartment hunters prefer to browse to their heart's content and shoot a quick email to inquire, rather than filling out a form or jumping through other hoops. Plus: It's free!
The downside to Craigslist is that leads may not be as qualified as with other platforms. Additionally, Craigslist doesn't offer as many filtering tools in searches, and there aren't any additional services like tour booking or tenant screening. However, you'll certainly see a lot of traffic and increased views by listing on Craigslist.
6. Facebook Marketplace
With over 800 million monthly users, Facebook Marketplace is a rapidly growing platform. Similar to Craigslist, Facebook Marketplace isn't designed solely for rental listings. However, it has quickly gained popularity as a reliable place to apartment hunt.
Facebook has caught on and made it easier for users to search for apartments by city, price, type of building, number of bedrooms, and more. Just like with Craigslist, there aren't any tools to screen tenants or qualify applicants, but the traffic to your listing is invaluable. Facebook has more than 2.7 billion monthly users, so it's in your best interest to advertise on such a heavily trafficked platform.
7. People with Pets
More than 70% of apartment residents own pets. But pet owners are always at a disadvantage when apartment hunting. Since many buildings aren't pet-friendly, pet owners are excluded from many of the listings they come across. That's why platforms like People with Pets are so popular among renters with pets.
If your building allows pets, it's a great idea to list vacancies on People with Pets to capture a highly qualified audience. After all, the most important amenity for pet owners is a pet-friendly building!
To list an apartment on People with Pets, you'll have to pay a $99 yearly fee or a $9.99 monthly fee. Your listing can include up to 12 photos and unlimited floor plans. The mobile-responsive website also allows you to highlight move-in specials and provide direct links to your website and social media accounts.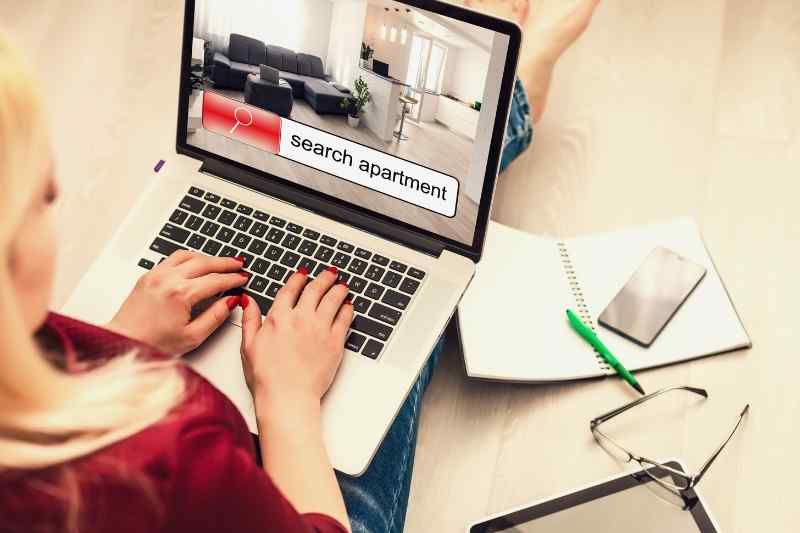 8. Apartment List
Apartment List stands apart from other rental listing sites with its "rental concierge" service. This service appeals to renters who prefer a more hands-off approach to apartment hunting.
Users answer a few questions so the platform can curate a list of top matches based on their preferences. Then, users can quickly skim through the list and add any favorites to their Short List, which further helps Apartment List's algorithm recommend the best listings.
Apartment List's pay-per-performance model means you only pay when a lead becomes a resident. It's easy to create a listing and you can adjust your price or pause at any time. And thanks to its curated concierge approach, the platform generates highly qualified leads.
9. Zumper
Although Zumper's monthly traffic is less than half of sites like Zillow and Apartments.com, it's still a valuable platform with a lot of potential.
If signing leases faster is your highest priority, Zumper is a great option for you. Zumper's Instarent tool (available in about a dozen cities) allows prospects to browse listings, reserve a listing to take it off the market (for a small fee), and digitally sign the lease. That means you could potentially fill a vacant unit within a day!
Listing a unit on Zumper is simple. You can include 3D and video tours in addition to photos. You can also categorize your listing with lots of different tags and features, making it easier for your target audience to find you.
Users searching on Zumper enjoy several filters so that they can refine their search results effectively. Prospects can search by type of property (student housing, income-restricted housing, senior living, etc.) and filter results by price, utilities, amenities, security deposit requirements, and more.
10. PadMapper
Recently acquired by Zumper, PadMapper is a popular platform with relatively high traffic. Both its desktop website and mobile app make it easy for renters to find apartments with specific qualities in the US and Canada.
It's free to create a single listing on Padmapper. However, if you want to list multiple units or buildings, you'll have to sign up for Zumper Pro. Zumper Pro also offers tenant screening and credit check services.
Takeaways
If you only plan to list on one or two platforms, go with Zillow and Apartments.com.
If you manage a pet-friendly building(s), consider listing units on sites targeted specifically at pet owners.
Don't overlook untraditional platforms like Craigslist and Facebook Marketplace.
If your goal is to sign leases quickly, list them on Zumper.