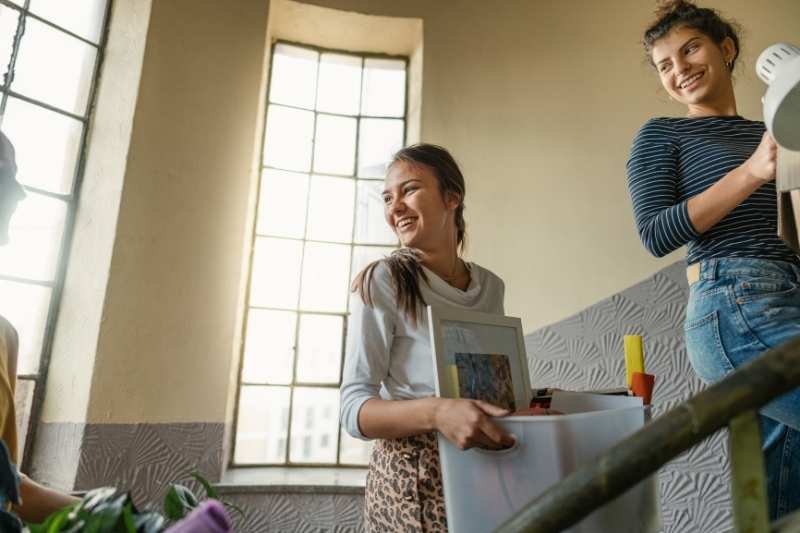 A new wave of renters is hitting the multifamily scene: Gen Z. Now that the oldest Gen Zers are graduating college, entering the workforce, and diving into the rental market, it's time to start thinking about how you as a property developer, owner, or manager can accommodate this next generation and market to Gen Z renters.
So what do Gen Z renters look for in a home? What kinds of apartment amenities and building features do they seek? Read on to learn more about renting to Gen Z.
This post covers:
Who are Gen Z renters?
Generation Z — Gen Z for short — is the generation born between 1997 and 2015, making them between 6 and 24 years old.
In contrast to millennials — whose lives were shaped by the 2008 recession — Gen Zers started coming of age during an economic uptick with low unemployment. Unfortunately, the Covid-19 pandemic derailed the economy and quickly reshaped Gen Z's outlook on the future. Like their predecessors, they now value security and convenience.
Here's what you should know about Gen Zers:
They grew up surrounded by advanced technology — so they have little or no memory of life without smartphones, laptops, and other devices.
Gen Z is the most racially and ethnically diverse generation in the US.
They're highly educated — in fact, they're more likely to graduate high school and enroll in college than millennials and Gen Xers at a similar age.
89% of Gen Zers say they use the internet almost constantly or several times a day. TikTok, YouTube, and Instagram are their most frequented social media platforms.
Although many Gen Zers aren't quite old enough to be renting an apartment, some of the oldest members of the generation are. That's why it's important to get a head start on developing a resident experience with Gen Z in mind.
 Watch how ButterflyMX improves the resident experience:
5 best amenities for Gen Z residents
Choosing the right amenities is the first thing to consider when designing or adapting your building for young residents. If you're not already offering these amenities, consider implementing one or more of them. If needed, you can charge residents an amenity fee to cover the expenses.
Here are the top five apartment amenities for Gen Z renters:
1. High-speed internet
Gen Zers spend more time on the internet than any other generation. On top of that, they're the most accustomed to rapidly advancing technology and have high expectations when it comes to technology.
According to a study by RENTCafe, high-speed internet is more important to Gen Zers than any other amenity, including pools, gyms, and parking lots or garages. Providing free high-speed internet — or including it in the price of rent — is perhaps the easiest way to show Gen Z renters that your building fits their lifestyle.
2. Outdoor amenities
After 2020 left everyone cooped up inside, people started craving the outdoors and green space more than ever. And Gen Zers are no exception.
Adding outdoor amenities to your property will boost its value and provide that highly sought-after green space your residents crave. Additionally, Generation Z values community — and outdoor spaces are the perfect place for groups to gather and mingle.
Examples of outdoor amenities to add include:
Community garden
Rooftop terrace
Outdoor kitchen with grills and dining tables
Community dog park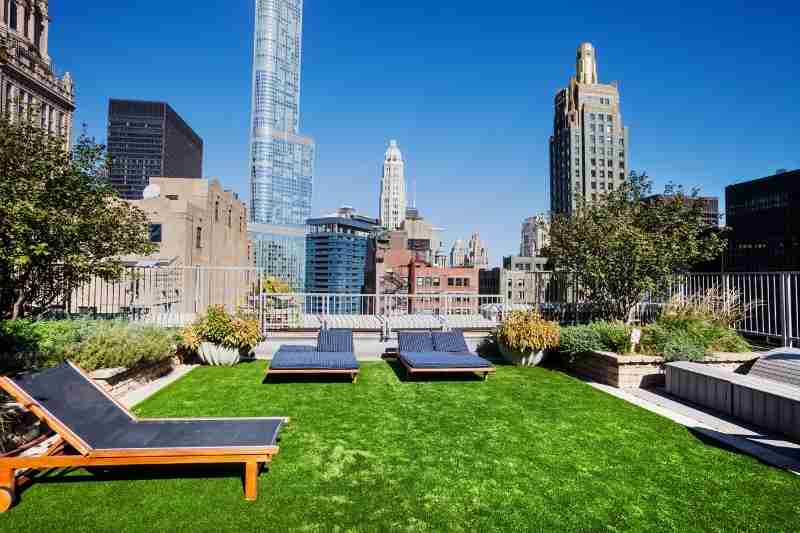 3. Coworking spaces
Although much of Generation Z has yet to enter the workforce, the oldest Gen Zers are already there. And as recent college grads at a time when remote work is the new norm, many Gen Z renters will be working from home. That's why coworking spaces are a highly desired amenity to this incoming generation of apartment residents.
Since remote work is only expected to grow, a coworking space is a wise investment for your building. To add a coworking space, consider converting an unused or existing room. For example, if you have a community lounge, replace the sofas with desks or add tablet arms to the lounge chairs.
4. Property technology
You know that Gen Z renters prioritize high-speed internet. So it shouldn't surprise you that they also seek property technology more than any other generation. In fact, 62% of young renters say that apartment technology is extremely important to them when searching for a new home.
Smart home amenities like smart locks and thermostats are the tech-powered features your Gen Z residents crave. These smart solutions enhance the resident experience by improving convenience and aligning with the Gen Z lifestyle.
Pro tip: To really wow your Gen Z renters, make sure residents can manage all of your building's smart technology from one place. Seek systems that integrate with each other and invest in a unified mobile app solution.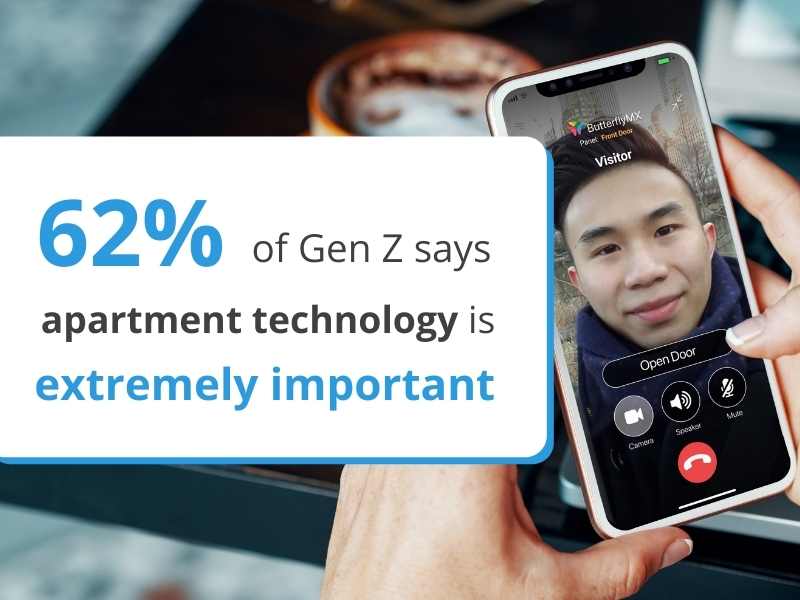 5. Package room
For Gen Zers, shopping online is the norm. Because they order everything from groceries to clothing to furniture online, Gen Z residents seek apartments that ensure secure and accessible deliveries. So, your building needs a reliable package management solution.
The best package management solution is a package room. A package room is a designated room in your building that delivery carriers can access to drop off parcels.
To set up a package room, all you need to do is:
Find an existing space that you can convert to your package room — this could be an unused security closet or space office.
Install a video intercom system at the door so couriers can gain access to the room.
Add shelves to store and organize packages.
How to appeal to Gen Z renters
Amenities aren't the only thing to consider when trying to capture Gen Z's attention.
Beyond investing in the right amenities, here are four ways to appeal to Gen Z renters:
1. Market to them on social media
Nearly 90% of Gen Zers use the internet several times a day. So, capture their attention on the digital platforms they're already using such as social media.
Consider creating an account on platforms including:
Instagram
YouTube
TikTok
LinkedIn
Twitter
Video content tends to resonate most with Gen Zers. But there's no need to hire an expensive videographer. Authentic, low-budget video content for platforms like TikTok and Instagram Reels actually performs better. So, bust out your smartphone and film some simple yet engaging videos around your property.
It's also worth noting that Gen Zers are most likely to search for apartments through a Google search rather than an apartment listing site or actually walking by buildings. So, make sure you have a robust and informative website. Including a link to your website in all of your marketing and posts can help boost your site's Google rankings.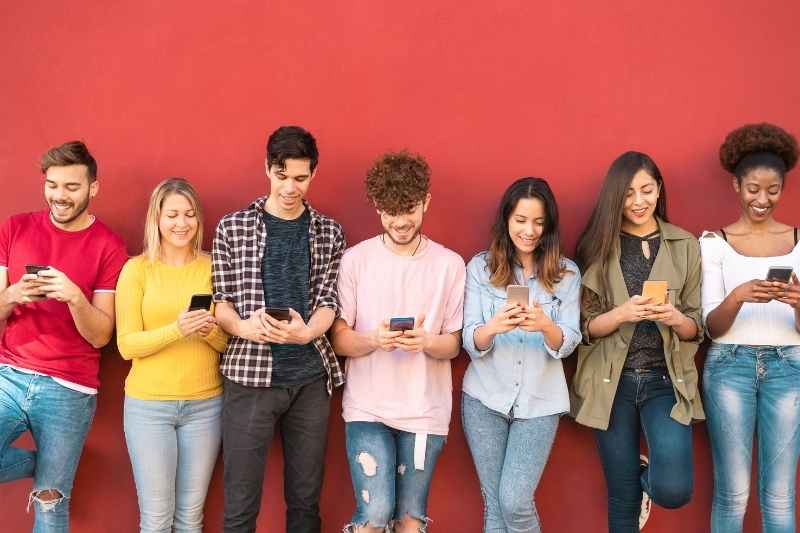 2. Showcase online reviews
Property ratings and reviews are the top factors in a Gen Zer's decision to tour a building. In fact, 30% of Gen Zers said that the first thing they do before booking an apartment tour is check its ratings and reviews.
So, make sure your property has a strong digital presence with plenty of online reviews. There are tons of platforms to use, including Google, Facebook, Yelp, apartment listing sites, and your property's own website.
Here are some ways to earn more positive reviews:
Ask current residents to leave a review. Offer an incentive, like a giveaway drawing or a free Starbucks gift card.
Use existing reviews in your marketing. For example, share positive reviews on your social media and include a link to a website or form where others can leave their own review.
Request reviews during lease renewals, move-outs, and maintenance requests. For example, while finalizing a resident's move-out, ask them to write a review if they enjoyed living at your building.
Of course, receiving positive reviews should be your goal. But if you happen to receive a negative review, don't fret. Instead, reply to the review. Thank the person for their feedback, apologize for their negative experience, and encourage them to contact you directly so you can learn more about their experience and find a way to fix it.
3. Offer virtual and self-guided tours
Young renters are growing up amid the gig economy, where working multiple freelance jobs or unusual hours is par for the course. So, they don't like being forced to tour apartments during restrictive business hours. Instead, Gen Z prefers the flexibility of virtual and self-guided tours.
Offering self-guided tours will help you get more prospects through the door because:
Prospects can view vacant units outside of business hours.
They don't have to coordinate a time when a leasing agent is free.
Prospects can tour an apartment at their own pace without feeling pressure from an agent.
4. Invest in design upgrades
A 2020 study by Multifamily Executive showed that Gen Z renters are willing to pay a higher percentage of their rent than any other generation for apartment design upgrades.
Unit upgrades — such as a spacious balcony, hardwood floors, large showers, and updated kitchen countertops — can make all the difference to Gen Zers. Although they appreciate affordability, Gen Z renters expect modern touches and an updated living space.
So, consider which upgrades you could feasibly make to your units.
Here are some design upgrades that Gen Z renters will appreciate:
Switch out carpeting for hardwood or wood-like laminate flooring.
Replace outdated appliances, like the stove, refrigerator, and dishwasher.
Upgrade the kitchen countertops and, if possible, add a modern breakfast bar.
Change out fixtures — like sink faucets, showerheads, door handles, and cabinet knobs — for trendy, modern ones.
Pro tip: If these upgrades are out of your budget, consider investing instead in apartment staging. Adding modern furniture and some decor to your units can make them more appealing to prospects. Additionally, prospects are willing to pay 10-15% more on average for staged units than empty ones!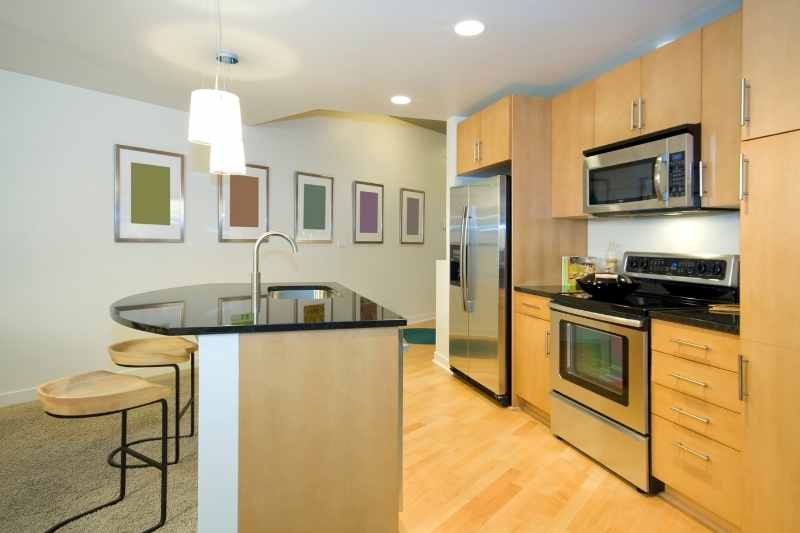 Start upgrading for Gen Z today
Although only a portion of Gen Zers has entered the rental market so far, now is the perfect time to start planning for this next generation of residents. Before you know it, Gen Z will comprise the majority of the rental market!
By educating yourself on what these young residents really want in an apartment, you'll be better positioned to appeal to them. With the right investments and upgrades, you'll be signing more leases and retaining your Gen Z residents longer.