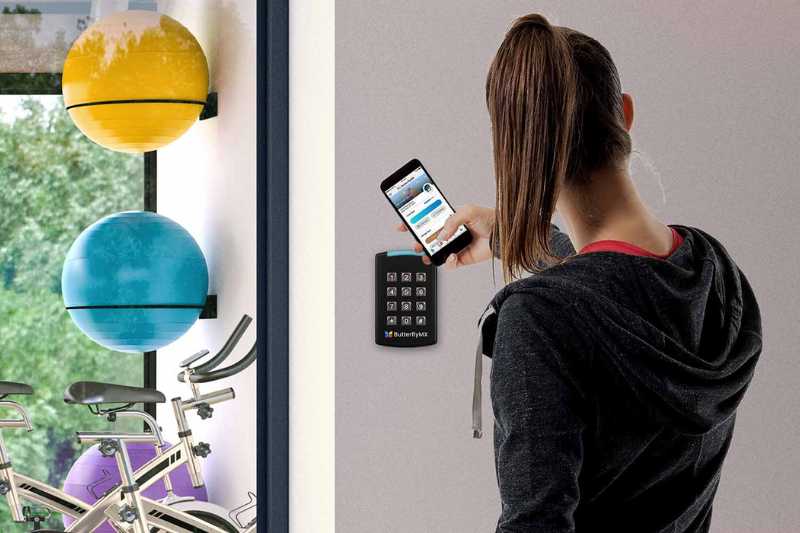 Takeaways
A multi-door access control system provides a door controller for multiple access points on a single property.
Multi-door systems fall into five categories: manual, physical, electronic, mechanical, and mechatronic.
ButterflyMX is the best multi-door access control system on the market because of mobile access, compatibility with multiple doors, easy installation, mobile monitor capabilities, and cloud software technology.
You know how important it is to manage access at doors throughout your property. But how do you keep your building secure and still conveniently accessible? With a multi door access control system, you can manage access regardless of how many entry points you have. The right system will enhance security and convenience for your tenants, visitors, and staff.
This post covers:
The best multi-door access control system
ButterflyMX offers the highest-rated multi-door access control system on the market. More than 1,000,000 apartment units use ButterflyMX every day, and the system now has more than 20,000 five-star ratings. It's the right solution for all kinds of buildings, from apartments to offices.
When you choose ButterflyMX as your multi-door access control system, you get a powerful suite of integrated devices. These devices all work together to provide a secure and convenient system for your multi-tenant property.
ButterflyMX access control products include:
Video intercom for building access: With the video intercom system at your property's front door, tenants can control access for themselves and guests right from their smartphones. Because the intercom is smartphone-based, the only hardware you need to install is the intercom panel itself at the entrance.
Keypads & card readers for interior or secondary entrances: Manage access at service entrances and amenity spaces with a keypad or card/fob reader. For any doors that don't need visitor access, these readers are a convenient solution. Because they still connect to the ButterflyMX mobile app, tenants and staff have multiple ways to gain access: scanning a fob or card, entering a PIN code, or using the app.
Elevator controls: ButterflyMX also offers elevator controls to create a seamless experience at your property. Visitors can use the video intercom to enter the building,; then, elevator controls automatically unlock elevators for a set amount of time.
Vehicle reader & windshield tags: Whether you have a gated property or a parking garage, ButterflyMX's vehicle reader is great for vehicle access control.
Best of all, ButterflyMX products are easy for you to manage through a convenient web-based dashboard. From the online portal, administrators can update the tenant directory, manage access permissions, review door releases, send messages to tenants, and control every other aspect of the system. This is essential to helping your multi-tenant property run smoothly.
What is a multi-door access control system?
A multi-door access control system is a solution for managing who can access the various doors at a property. Consisting of software and various kinds of hardware, a multi-door access system serves as a unified solution to control access into and within a building.
You can install access control hardware at any entrance where you want only authorized people to enter. So, entryways throughout the building can be access-controlled, including the main entrance, service doors, and individual units. Most multi-door access systems don't need multiple door controllers. A single-door controller can control multiple entranceways.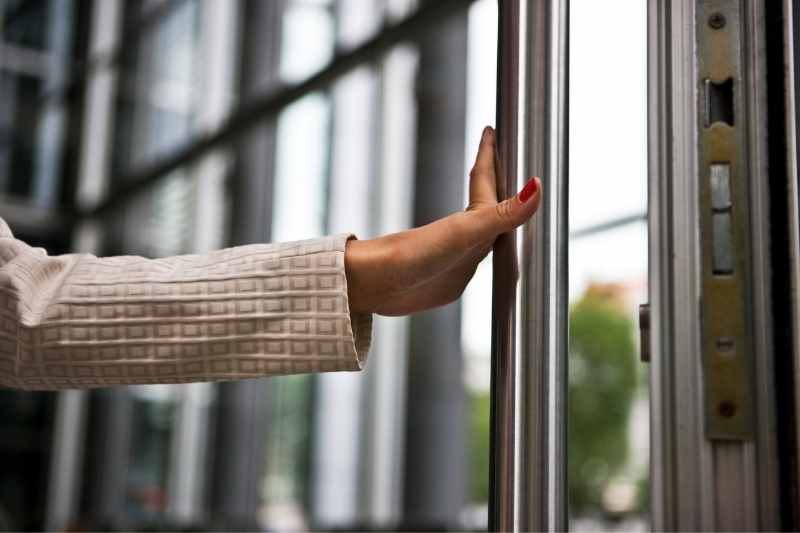 The four key components of a multi door access control system are:
Control panel: The control panel stores data on tenants and their access permissions. Some door access controllers use a physical device on-site while others store this data in the cloud so it's accessible online from anywhere.
Credentials: There are many different types of credentials, including key fobs or cards, mobile devices, and even fingerprints. However, all credentials serve the same purpose of storing data on the user and their access permissions.
Reader: You must install a reader at every door where you want to manage access. Readers work by scanning user credentials then sending encrypted data to the control panel. If the user is authorized to enter, the control panel responds by opening the door.
Door release mechanism: For the control panel to unlock the door, you need a door release mechanism. This device is what actually unlocks the door so tenants, visitors, and staff can enter after scanning their credentials.
Multi-door vs. single-door access control systems
Some access solutions are designed to work at only one door. These are called single-door access control systems, which involve installing hardware in just one location, such as a gate or main entrance. Single-door access systems are usually programmable within the reader itself, which is installed at the door it controls. You may be able to scale a single-door system into a larger system, but it will require additional effort, hardware, and wiring. You will be able to use the same door controller with additional door systems.
In contrast, a multi-door system is a unified solution that connects multiple devices at multiple doors or gates within one system. A multi-door throughout the property, such as package rooms, individual units, service entrances, and more.
Watch how ButterflyMX works:
What are the 5 categories of door access control?
There are many different access control solutions on the market today so there's a perfect fit for every property. However, some access control systems are better than others for multi-door properties.
The five categories of access control include:
Manual: When staff members control access, this is called manual access control. Doormen, customer service agents, security guards, and more can serve as manual access control solutions for a property. However, this isn't an ideal door entry system because paying staff to manage many doors gets expensive quickly.
Physical: Depending on the type of property you manage, physical access control solutions like turnstiles and revolving doors may be useful. These systems are low-tech so they work well at industrial properties that don't have internet access.
Mechanical: A traditional cylindrical lock and key system is the most common type of mechanical access control. These locks are still used in almost every building as a backup in case the electronic system ever fails.
Electronic: Electronic access control is the future of property management. Electronic door locks can be standalone, where the data is stored locally on a server. However, the best solution for a multi door property is to use digital access control systems so you can manage permissions from anywhere.
Mechatronic: This kind of system combines electronic and mechanical access. Mechanical locks can be used to open doors when the electronic system is down for repairs or due to environmental emergencies like power outages. However, the electronic system is the most convenient because it can integrate with other property management software to easily manage many doors at once.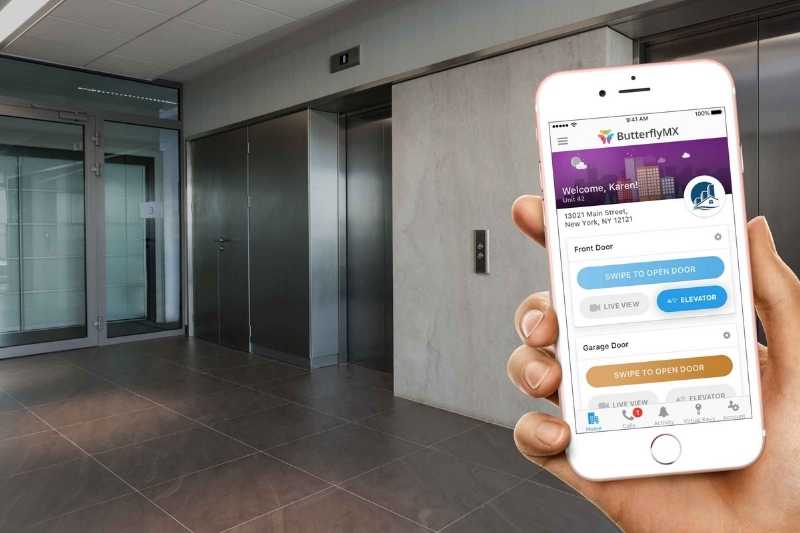 How to choose a multiple door access control system
With so many door access control systems available, it may feel overwhelming to choose one for your property. In the end, the best multi door access control system is the one that makes access easy and secure at your building. So, how do you choose one?
Look for the following features in your multi-door access control system:
Mobile app
Systems with a mobile app allow tenants to open doors from anywhere. That means no more missed deliveries or visitors even when they're not home. Mobile access control also saves you the hassle of replacing keys when tenants forget or lose theirs because they just use the smartphone in their pocket to open doors.
Cloud-based
Access control systems with onsite servers take up a lot of storage space and have to be managed in person. But both residents and property staff benefit from cloud-based access control systems because they can be managed online from anywhere.
Visitor management
Many card entry systems only allow access to tenants and staff who have registered credentials. Without an intercom, visitors can't request access which causes confusion for guests and delivery couriers. Instead of just a key card entry system, choose a multi door access solution that has visitor management features for the best experience at your building.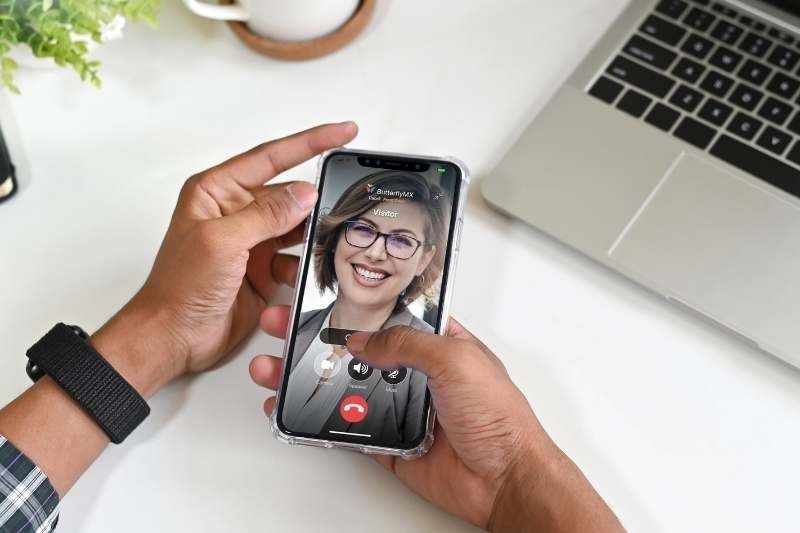 Camera
With a video entry system, your tenants can visually confirm who they're letting into the property. Video systems also take a photo every time someone enters the building and stores all that data in the cloud for easy reference.
Touchless access
Keyless access control has been a trend in property management for years. The best access control solutions have touchless options where users can unlock doors from their smartphones.
Integrations
For maximum efficiency, choose a multi-door access control system that integrates with other software and hardware. This creates a cohesive experience for staff and tenants because the systems all work together, often with just one mobile app or platform.