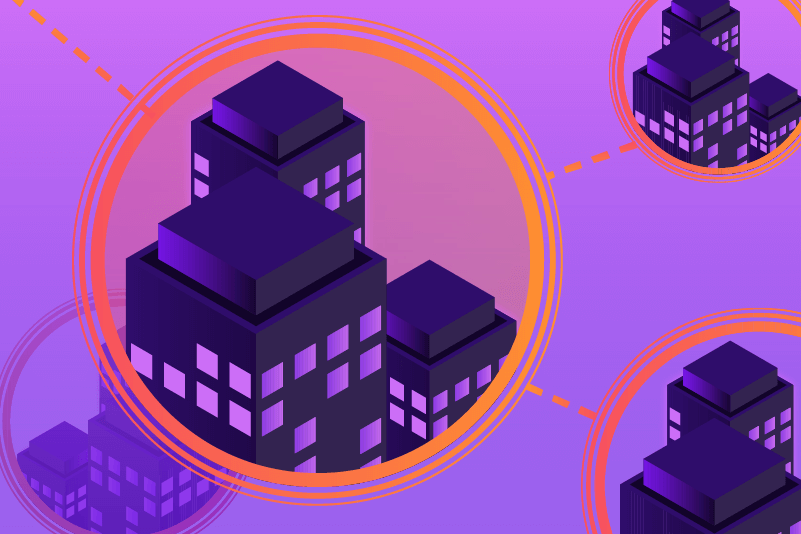 As technology evolves alongside society, nearly all aspects of life increasingly shift to the virtual space. From work and school to conferences and social gatherings — even to group fitness classes and weddings — we can do all of these things from the comfort of our homes through computers, smartphones, and tablets. But a surprising addition to that list is buying NFT real estate properties.
You've probably heard of NFTs and know that it stands for "non-fungible tokens." And you probably already know that NFTs have disrupted the digital art scene, particularly in early- to mid-2021. But you might be shocked to hear that you can also buy blockchain properties that are only available in the digital world.
That's not all: Some NFT properties come with actual, real-life buildings. And these digital buildings are significantly influencing the design and construction of real-life properties.
Read on to learn more about this virtual real estate phenomenon, how it's changing the real estate industry, and what you can do now to prepare for this disruption.
This post covers:
The virtual NFT real estate phenomenon
Back in late 2020, a digital artwork — Mars House by Krista Kim — sold for over $500k during a Sotheby's auction. It was dubbed as the "first NFT digital house" ever to be sold. But that's not the only hot virtual real estate – more commonly known as metaverses – on the market.
According to the NFT tracking site NonFungible.com, a plot on Decentraland sold for $283,567, and a Sommium Space estate for over $500k. In these metaverses, people go to casinos and hit up hip downtown spots with friends – the exact way you'd do in real life.
There are different types of metaverses that attract different groups of people. The metaverses with the most content — like shopping malls and museums — bring in the most digital "foot traffic." Think about how in real life, younger folks tend to like urban cities while families gravitate toward suburbs. It's the same logic behind these virtual worlds!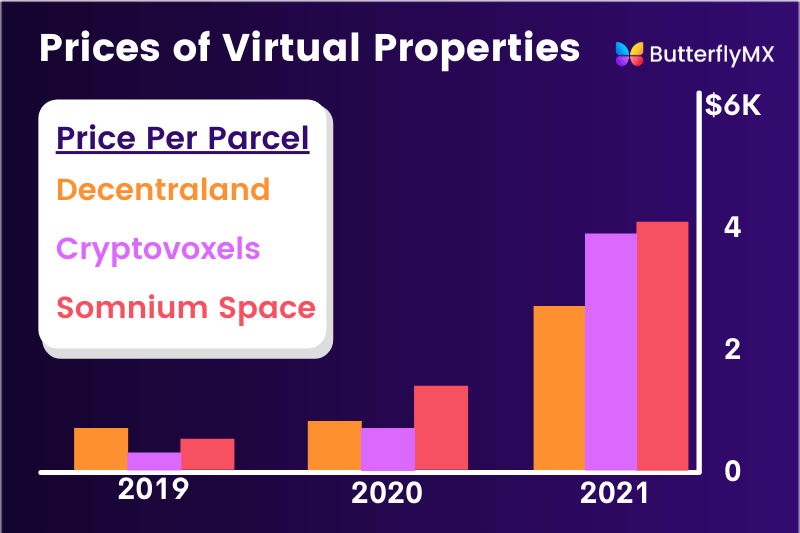 Longing for connection from afar
In 2020, when the Covid-19 pandemic forced the outside world to close down, people struggled with newfound isolation. So, it's no surprise that people turned to these metaverses to socialize and pass the time. Just like gamers increasingly turned to video and online gaming as a social lifeline, tech junkies and real estate enthusiasts sought solace by investing and engaging in these digital worlds.
Krista Kim even opened the Mars House to the public by organizing virtual tours of the digital property. For five days in June 2021, she partnered with Spartial, a virtual reality platform, to host 45-minute self-guided tours of the house for $200 per ticket. There's also an option for people to "rent" the Mars House for weddings and other virtual private events.
It all started with blockchain and cryptocurrency
The concept of blockchain and cryptocurrency was introduced to the public in 2008. Cryptocurrency – like Bitcoin and Dogecoin – is digital money that lives on the blockchain, a virtual ledger system. Real currency, like US dollars and Euros, is exchanged into cryptocurrency; each cryptocurrency has a different exchange rate, similar to international currency exchange rates.

Just like how people adopted mobile devices at an exponential rate over the past 20 years, we see a similar trend with blockchain technology and cryptocurrency. Many blockchain technologies provide a way to safely encrypt and protect transactions that occur online. And as people become increasingly dependent on the Internet of Things (IoT) devices as a way of life, blockchain technology will continue to grow and become mainstream.
Examples of devices on the IoT now:
IP apartment intercoms
Smartphones and smartwatches
Vending machines
HVAC systems
So, it's no surprise that the new trend in the digital space is buying and investing in virtual real estate. Think back to when social media platforms first started to emerge. There was skepticism about the platforms' success and longevity, many declaring it was just a fad. Look at where those social networks are at now. The same boom could happen to metaverses and other digital real estate properties.
Virtual real estate vs. physical real estate
Virtual real estate isn't that different from physical real estate – except for the fact that you can't "physically" live in a house on the metaverse. In virtual worlds such as Decentraland, people engage in the same activities as they would in real life. For example, they decorate their homes with artwork, walk around with friends, visit art galleries and museums, and attend events. People have avatars that closely resemble their real-life selves — sometimes a bit more enhanced.
If you understand real estate, you'll understand the investment approach for the virtual version as well. Just like how you'd want to have a diverse investment portfolio for real-world real estate, the same is true for metaverse properties. Even in its nascent stages, virtual real estate is becoming a comparable asset class to traditional real estate.
Watch how ButterflyMX works:
Real-life and virtual properties are shockingly similar
Currently, the most popular properties in metaverses are in downtown districts. The more content a metaverse has, the busier it is and the more it's worth. The same concept of how real estate in major metropolitan areas like New York City and Los Angeles is much pricier than surrounding suburbs can also be applied to digital real estate. And so, developers of these virtual spaces are paying close attention to the architecture and personality of each virtual city.
Finally, both types of real estate share a major thing in common: scarcity. Each metaverse has a limited number of "parcels," which are basically like acres of land but in the NFT sphere. That's why the popular metaverses come with a hefty price tag — they're a hot commodity, but there aren't enough for everyone who wants them. Surprising to most, a handful of the pricier virtual properties come with mortgages with interest rates.
That's not all:
Owners can "rent" out their virtual homes to tenants. The only difference is that, in metaverses, these financial decisions are based on decentralized finance (DeFi) software, which is blockchain-based financial programs that use automated workflows to help consumers make smart money decisions.
Merging the two worlds
Virtual and real-life properties are so similar that there was an incident of an NFT coming with an actual house. Californian real estate agent Shane Dulgeroff bought and renovated a duplex and then got a graphic artist to make a digitalized replica of it that turned into an NFT. The person who purchased the NFT also got the house that inspired the artwork.
"It's less about the significance of the art as it is the significance of us using a platform like this to sell a home. The significance that the art will carry, it's going to be stored in your digital wallet forever as living proof that you purchased the first home ever that was done through any kind of a crypto platform directly. So that's where the real value is."

— Shane Dulgeroff
An advantage for virtual real estate
Virtual worlds have another – perhaps more significant – advantage than just being a platform for friends (and foes) to come together from anywhere in the world under any circumstances.
Although no one can physically "be in" these spaces, a huge advantage that metaverses have over physical spaces is that they can reach far more people. This is a game-changer for advertisers and large corporations to market their goods and services to demographics they'd usually miss.
For example, IKEA Taiwan recreated its catalog in-game to capitalize on the in-game furniture hype. This provided a link between IKEA-themed islands in video games to its own platform and store, grabbing customers who otherwise wouldn't be interested in buying its furniture in real life.
And since the work-from-home revolution that started in 2020 will be permanent, people may depend more and more on these virtual spaces as their main method for socializing. Additionally, millennials and younger generations grew up with online shopping and purchasing virtual goods, so the metaverse trend might evolve naturally from those habits. Although it costs up to hundreds of thousands of dollars to own a property on these metaverses, anyone with internet access can enter the platforms. This further widens the audience for marketers.
How the virtual world is influencing the real world
One of the major trends the Covid-19 pandemic introduced to the real estate market is virtual tours. Since it was unsafe to meet in person, property owners allowed prospective buyers and renters to tour listings online from the comfort and safety of their homes.
But what if the hike in the metaverse trend opens doors to even more opportunities? Architects already use graphic design software to create realistic renderings of new constructions.
These metaverses could give real estate developers and architects real-time insights on which building designs and amenities tenants really want. In a sense, virtual spaces can act as crowdsourced renderings of real estate properties that could eventually exist in the real world. And without zoning rules in crypto-spaces (yet), consumers' imaginations roam freely, which can spark a wide range of inspiration for real-life real estate.
This NFT real estate hype might prove to be much more than a fad; it could potentially revolutionize real estate for years to come. Having people live in these metaverses can help marry the high-tech revolution with high-touch personalization. As of now, a select few can design their "dream homes" from scratch, but what if these metaverses could make such a dream more accessible and attainable for the masses?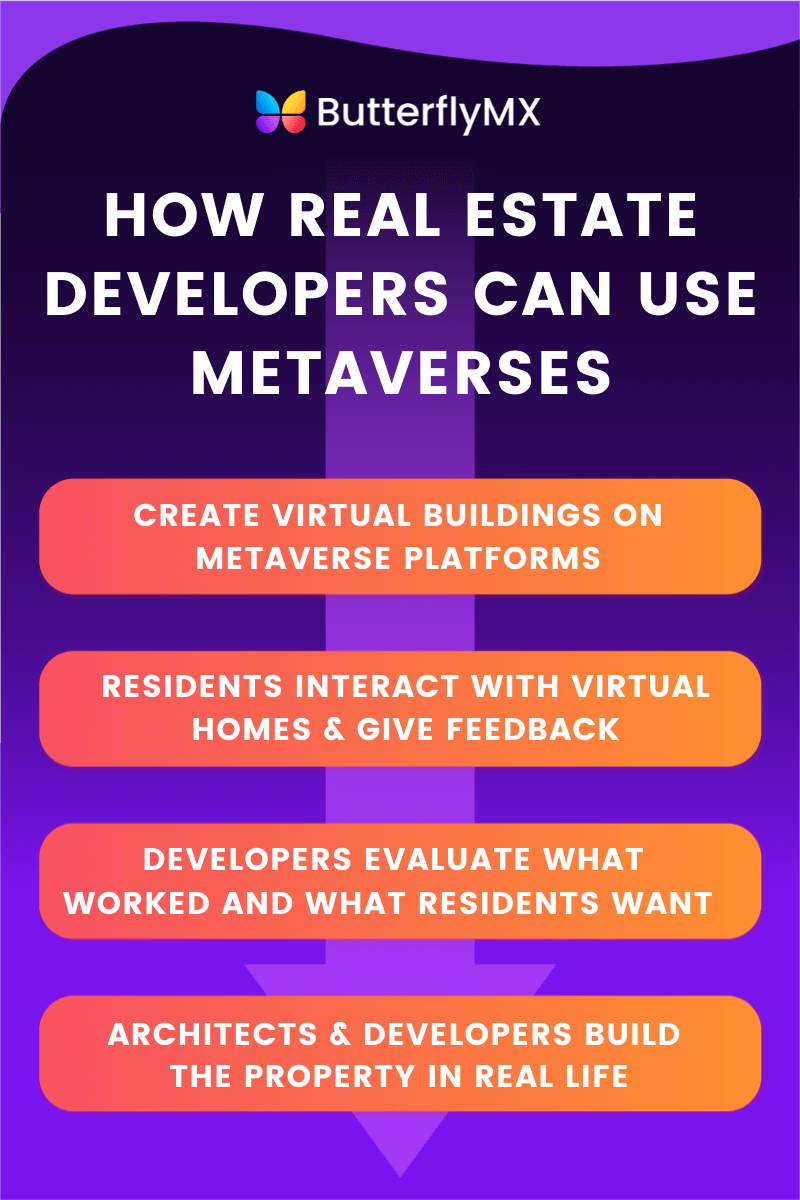 What does all this mean for you?
Regardless of where you stand with this NFT real estate craze, one thing is certain: Technology is driving the future of the real estate industry. As you may know, real estate is one of the longest-standing industries, and it's not going anywhere anytime soon. As long as humans are inhabiting the world, there will be a need for real estate.
To keep up with our technology-dependent society, it's time to start investing in property technology (proptech). Investing in proptech will help your property adapt more quickly to the increasingly tech-forward future.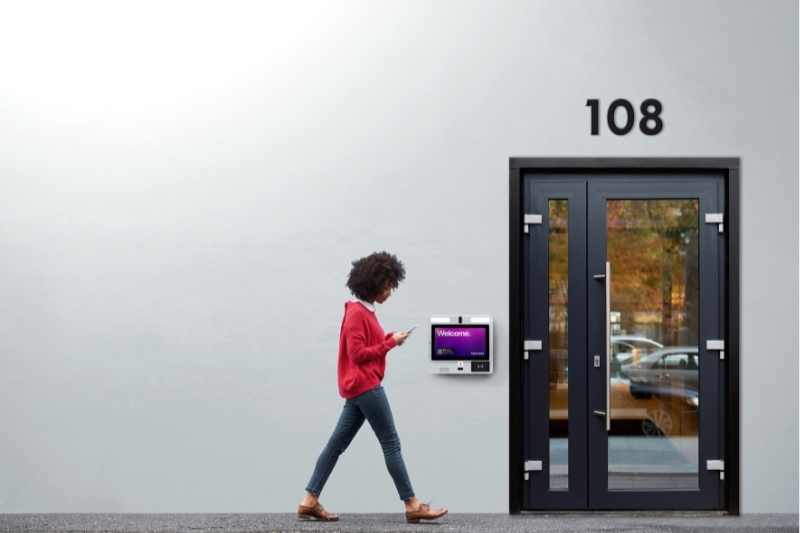 Invest in proptech to be future-proof
The biggest benefit of technology – especially cloud-based technology – is its ability to integrate with each other. Proptech devices like smart locks and video intercoms are already internet-connected. And most resident and property information can easily be transferred onto a secure blockchain, the software that NFTs live on. So, installing proptech throughout your property will put you ahead of the competition.
In the near future, all proptech devices and property management systems will be integrated and operate under the umbrella of one database. Although seemingly far-fetched now, there might be a day when you can modify your live-in home with a few clicks on the metaverse – anything's possible! Embrace the future by adapting all the features and automation that proptech can bring to your building.