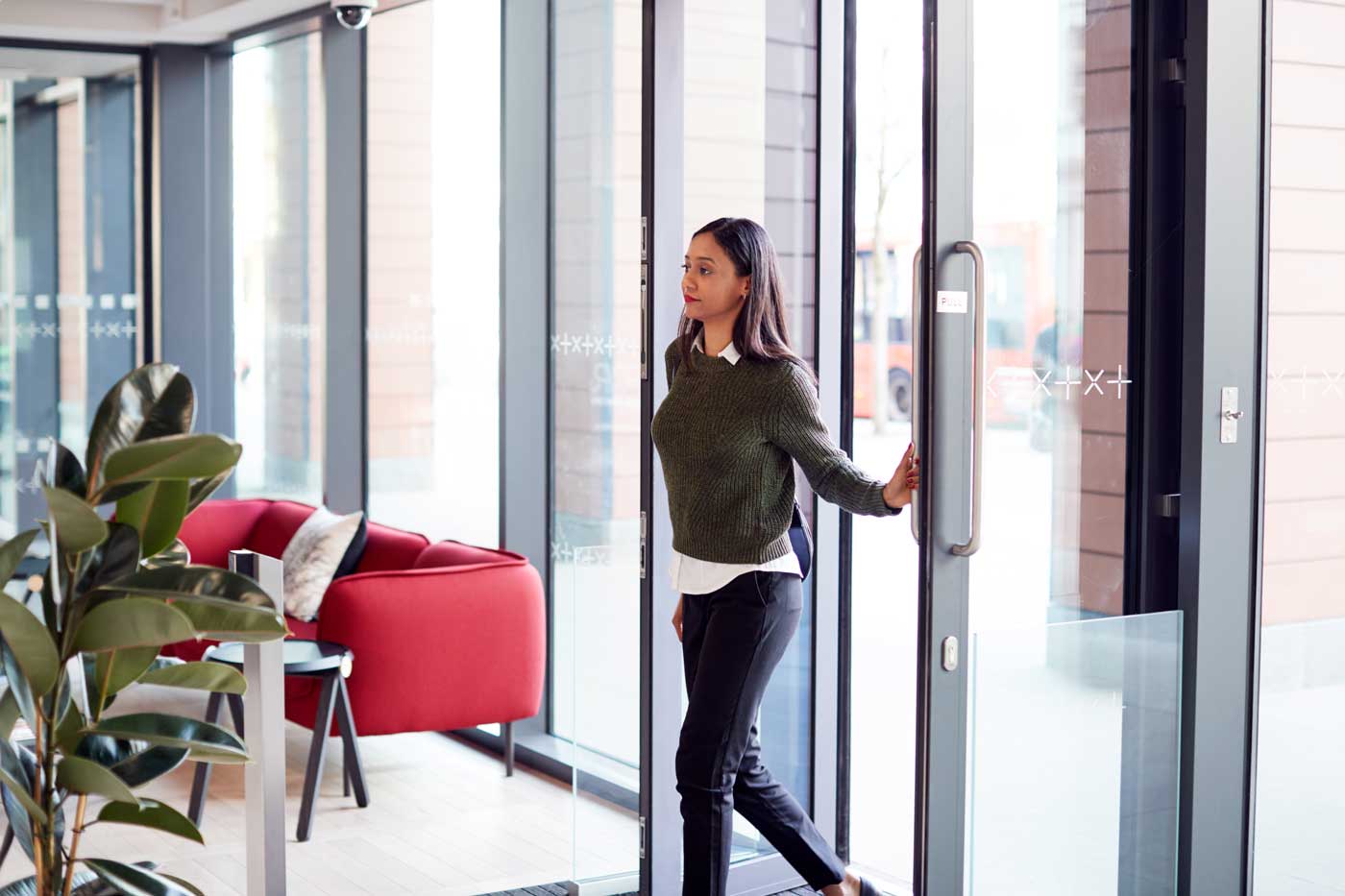 Read this post to learn how to offer self-guided tours with ButterflyMX.
Self-guided tours for prospective tenants has never been more important than it is today, as the benefits are endless.
The benefits of self-guided touring include:
Giving prospective residents the ability to see your property and apartments on their time
Maintaining social distance between residents and building staff
Increasing both efficiency and the number of tours you can provide since your building staff does not need to be physically present
It's safe to say self-guided tours are here to stay; however, offering self-guided tours can require some thought.
Before you make any decisions, consider these three important questions:
How do you maintain security at your property while also enabling access for prospects?
How do you know when to follow up with prospects after they've completed their tour?
How do you offer self-guided tours without replacing your existing infrastructure?
Thankfully, ButterflyMX, makes self-guided apartment tours at your property secure and convenient. Plus, it doesn't require any new infrastructure. Best of all: if you're currently a customer, it's included!
How to Offer Self-Guided Tours at Your Property with ButterflyMX
Step 1: Install a ButterflyMX smart intercom at your property's entryway.
Our smart intercom does a lot of things: It allows residents to open doors and gates from their smartphone; it ensures visitors such as family, friends, and delivery people can always access your property; and it allows property managers and owners to maintain control over all of it. It also enables self-guided tours — here's how:
When a prospective resident approaches the entryway of your property they have two options to gain access: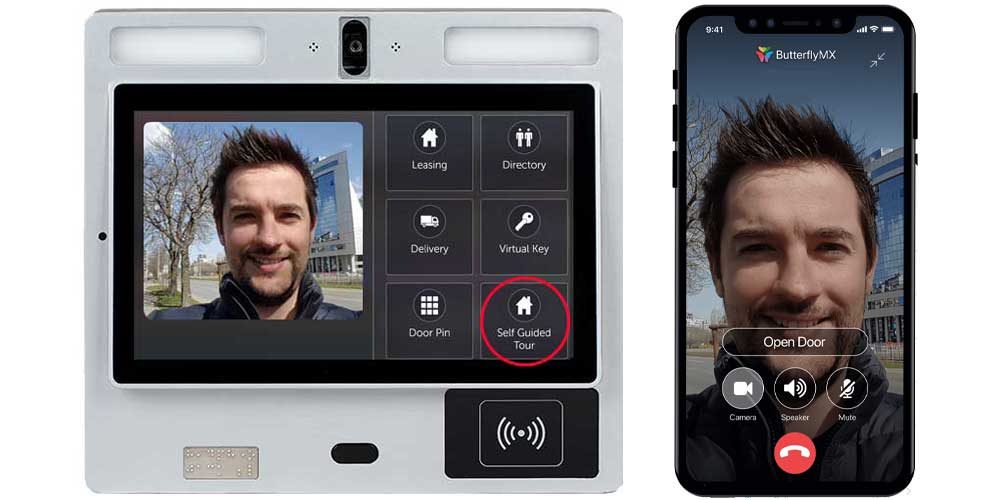 Option 1. They push the 'Self-Guided Tours' button on the smart intercom. Pushing this button calls the predetermined building staff (leasing agent, property manager, etc.) via our mobile app on their smartphone. Your building staff can then see and speak with the prospective resident before granting them access to the property. This is a great opportunity to share useful information with the prospect, such as how to navigate the building, what's special about the property or unit, or simply just a friendly touchpoint before they proceed on their tour.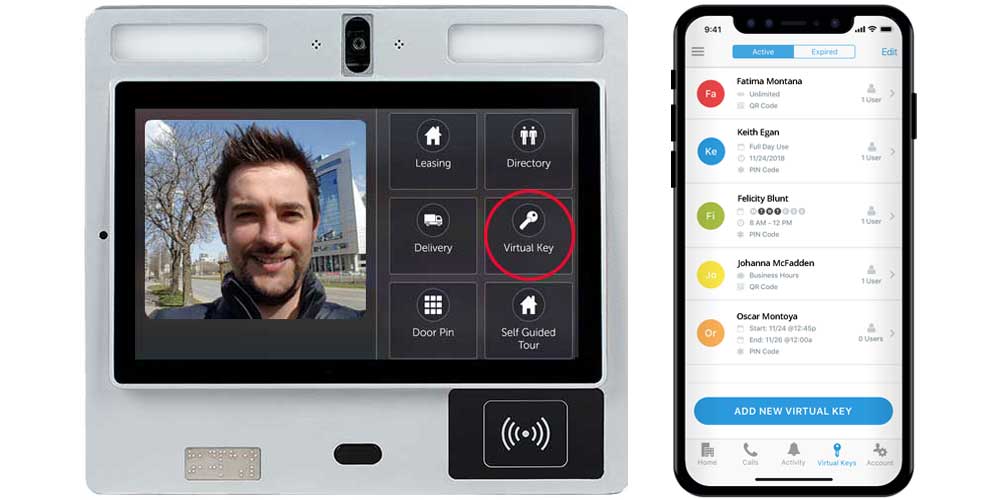 Option 2. They press the "Virtual Key" button and scan a time-limited QR code at the intercom. Your property staff sends them this QR code in advance. Virtual keys provide access to the property only during the times you have selected. What's more, you'll receive a push notification when your prospective resident has used the virtual key, along with a picture of their face to maintain property security. Learn more about how virtual keys work and how to create them.
Step 2: Install a smart lock on your demo unit
Now that you've provided property access for your prospective resident, you need to give them access to your demo unit. The easiest way to do this is with a smart lock.
There are many smart locks available to choose from, each with its own pros and cons. For example, some are hardwired, others are battery-powered. Some still use BlueTooth, while others rely on WiFi. It's important to select a smart lock that makes the most sense for your needs. That said, we do have a favorite for self-guided tours because it's both easy to install and use: the August Smart Lock.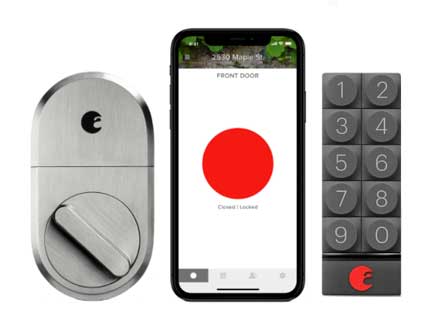 The August Smart Lock is designed to be simple. Keep your existing locking hardware and just place the August Smart Lock directly on top of it. Installation requires only a screwdriver and about 5-10 minutes of your time.
The lock runs for about six months on four AA batteries, meaning there is no need to hire an electrician to cut open walls and run new wiring. Most importantly, the August Smart Lock not only allows you to grant unit access via an app on your smartphone, but it also has an optional Smart Keypad you can place outside your demo unit. Prospective residents can enter a code to get in. Whenever someone enters that code, you get a notification.
Step 3: (Optional but recommended) Place a WiFi camera in your unit for both follow-up and security
Following up with residents after they've toured your property is crucial. Their likelihood to sign a lease falls by the minute, so you have no time to waste. Additionally, it's important to know when a prospect has vacated your demo unit because sometimes you need that peace-of-mind — a WiFi camera gives you both.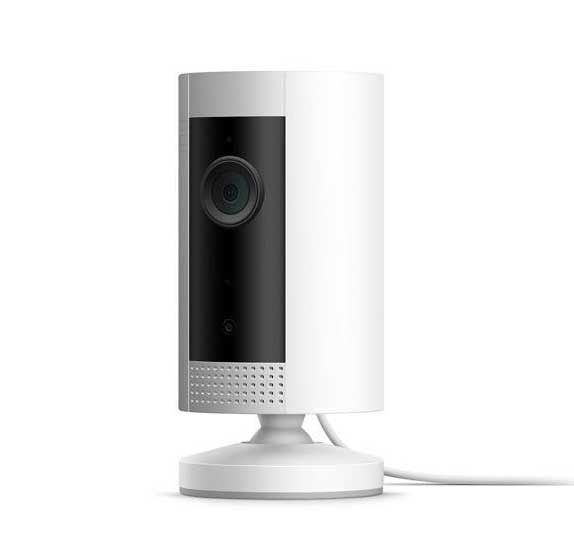 Place a Ring Indoor Cam or Google Nest Cam inside the demo unit pointed at the doorway. These cameras send you and your staff a notification when motion is detected. They also allow you to check-in on the unit after your prospect has left to make sure everything is in order, remotely lock-up, and as final confirmation that it's time to follow-up with your prospect.
Ready to offer self-guided tours at your building?
As renters' preferences continue to change, ButterflyMX is committed to providing our customers with added value and services. If you're a current customer and need assistance setting up your intercom with a 'Self-Guided Touring' button, please reach out to our support team and we'd be happy to set up this functionality for you.
If you're considering ButterflyMX for your property and would like to learn about all the ways our products and services can help you run a smarter building, please reach out to our sales team.