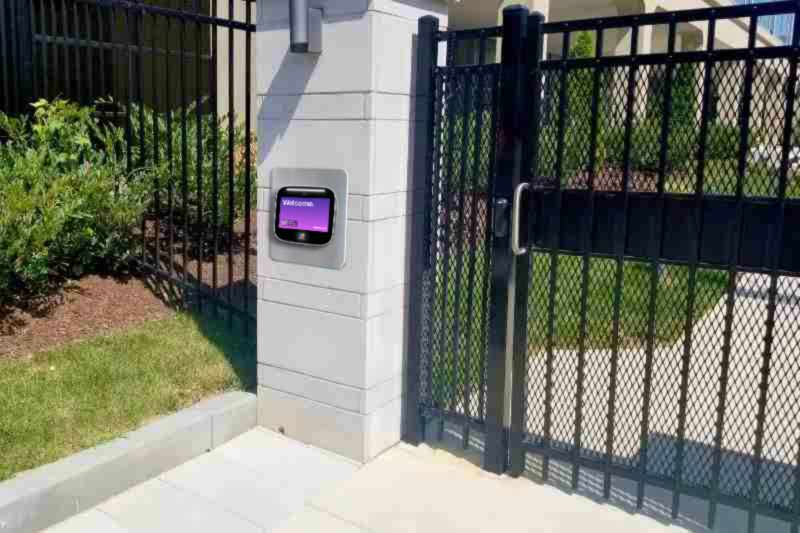 You know how important it is to have an intercom system at your building's entrance. In many cases, intercom hardware must be installed outside, at the property's front door or gate. So, when purchasing or replacing your building's entry system, you may need to choose an outdoor intercom system, which is specifically designed to withstand all types of weather conditions.
In this post, we dive into the specifics of outdoor intercom systems. We discuss what they are, how they work, and what kinds of benefits they offer. Read on to learn all about outdoor intercoms and how to choose the right one for your property.
In this guide, we'll cover:
What is an outdoor intercom system?
An outdoor intercom is a device that facilitates two-way communication between someone in a building and someone outside. Additionally, tenants can open doors or gates for themselves or their guests through the intercom.
Waterproof outdoor intercom systems are placed at exterior entrances, allowing access from outside into the building. A system's weatherproofing standards depend on its weather or IP (ingress protection) rating.
There are four common categories of IP ratings:
IP65 – Dust-tight and protected against water projected from a nozzle.
IP66 – Dust-tight and protected against powerful jets of water.
IP67 – Dust-tight and protected against immersion in water for 30 minutes at depths up to 1000mm.
IP68 – Dust-tight and protected against total and continuous submersion in water.
Outdoor intercom systems have been around throughout history and have evolved with the advancement of technology. However, the introduction of the smartphone has contributed to the design and development of the modern intercom.
Today, you no longer have to install intercom hardware at both the outdoor entrance and within individual apartment units. Instead, tenants' mobile devices can replace in-unit devices. This means that tenants can communicate with visitors and grant building access all from a smartphone app.
Pro tip: If you need an outdoor intercom, choose one that's IP65 rated for protection against rain, snow, and cleaning agents. IP stands for Ingress Protection, referring to a device's protection against elements, such as dust and water. The '6' in IP65 indicates the device is fully protected against dust, and the '5' means it's protected against low-pressure water – like rain – from any angle. An IP65 rated device is much less likely to get damaged by the weather and to need replacing.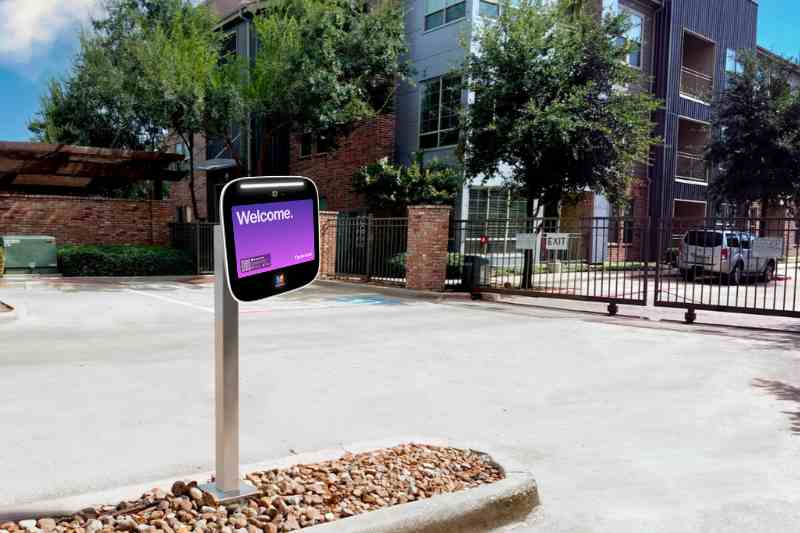 Properties that use outdoor intercoms
You can install an outdoor intercom at any property that needs facilitated access control. This includes multifamily apartments, student housing, office buildings, retail stores, and more.
These properties fall within the following categories:
Outdoor intercom systems for home
At residential properties, like multifamily buildings and gated communities, outdoor intercoms allow residents to communicate with guests before granting them access. They also help keep residents and properties safe while streamlining access for authorized visitors.
To use an outdoor apartment intercom, a visitor searches for the resident in the system's directory and presses the corresponding button to call the resident. Then, the resident can chat with the visitor before granting them access.
Types of residential properties with outdoor intercoms:
Multifamily apartments
Gated residential communities
Senior housing and assisted living facilities
Student housings
Outdoor intercom systems for business
There are many different types of commercial buildings that use outdoor intercoms for business. Since many commercial buildings have multiple tenants, you need an entry system that directs guests to the right office suites or units. With a commercial outdoor intercom, tenants can let guests in without going through the front desk or security.
Intercoms provide effective access control for commercial buildings by ensuring only employees and other authorized tenants can enter the building. Commercial property owners and managers can also take advantage of integrations with platforms like Google Workspace to automatically sync tenant information with the outdoor intercom system. This way, access credentials automatically update whenever an employee is added or removed from the Google Workspace roster.
Types of commercial properties with outdoor intercoms:
Multi-tenant office building
Coworking spaces
Schools
Warehouse facilities
Hospitals
Governmental buildings
Types of outdoor intercom systems
There is a wide range of outdoor intercom systems to choose from. Some are wired, while others are wireless. And some offer video calling capabilities while others don't. In this section, we review the most common types of outdoor intercoms.
Here are the four most common types of outdoor intercom systems:
1. Wireless outdoor intercoms
Wireless outdoor intercoms are the simplest systems to install at all kinds of properties. Most notably, many gated communities rely on wireless outdoor gate intercoms to ensure that residents and visitors can access the property seamlessly — without the hassle of tearing up pavement and laying extensive wiring.
Instead of installing expensive and cumbersome wiring throughout the building, you just need to plug the wireless intercom into a power source. Everything else is completed either over cellular networks, the internet, or Bluetooth.
As such, wireless outdoor gate or door intercoms are often referred to as one of the following:
Outdoor IP intercom: Also known as outdoor PoE (Power over Ethernet) intercoms, outdoor IP intercoms are powered by the internet and the Internet Protocol (IP). IP is a set of rules that devices follow when transferring data over the internet. IP intercoms require PoE cables, which supply both power and an internet connection.
Outdoor WiFi intercom: If you have a strong and reliable WiFi connection throughout your property, consider investing in an outdoor WiFi intercom. Just like any other WiFi-enabled device, the intercom connects to your WiFi router wirelessly. (Note: If the outdoor intercom is far from the building's WiFi range, consider connecting it to the internet via a PoE cable for a reliable internet connection.)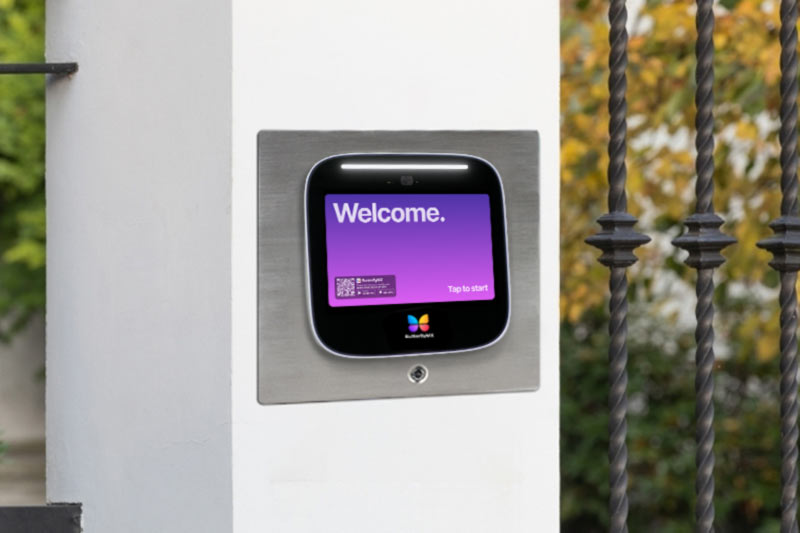 2. Wired outdoor intercoms
In contrast to wireless intercoms, wired outdoor intercoms require the outdoor hardware to be physically connected to each in-unit device throughout the building. In other words, you have to wire the front entry hardware to hardware in every unit. As a result, installing wired intercoms is more expensive than installing wireless ones.
While modern systems tend to be wireless, some buildings still use wired ones, especially older buildings. Wired systems may be more suited for properties without a building-wide internet connection. However, whenever possible, you should choose a wireless outdoor intercom system.
3. Outdoor intercom phones
Also known as a telephone entry system, an outdoor intercom phone operates on telephone lines. The outdoor device has a microphone and speaker, allowing tenants to speak with visitors before granting them access to the property. Usually, tenants need to press '9' on their phones to signal the door release to unlock after the visitor calls.
Some systems require in-unit hardware that's also connected to the telephone line. In contrast, newer systems work with tenants' cell phones. However, some cellular systems require a cellular connection box to enable cell service.
4. Outdoor video intercoms
The most common type of outdoor intercom available today is the video intercom. Outdoor intercoms with cameras transmit both video and audio, which allows tenants and visitors to communicate through a video call. The base station is installed at the property's entrance, and either tenants' smartphones or in-unit devices serve as substations.
Outdoor video intercom systems offer either one-way or two-way video. One-way video intercoms allow tenants to see the visitor during a video call, but the visitor can't see the tenant. Meanwhile, two-way systems allow both the tenant and visitor to see each other.
How outdoor intercoms work
Depending on the type of intercom, it might work a bit differently. But there are a few basic steps that apply to all outdoor intercom systems.
Overview of how an outdoor intercom system works:
A visitor looks up a tenant in the intercom directory and then presses the corresponding button to call the tenant.
The tenant picks up the call — either on their in-unit device or cell phone — and speaks with the visitor before granting them access.
This then triggers the door release mechanism to unlock, allowing the guest to enter the property.
Once the guest closes the door behind them, the door release mechanism locks the door again.
Watch how ButterflyMX works:
4 benefits of outdoor intercom systems
Whether you're looking to upgrade a legacy intercom system or install an intercom at a new development, you've made the right choice! An outdoor intercom system is a great way to facilitate property access and keep tenants safe. In particular, investing in an outdoor video intercom system will help you maximize your returns.
The top four benefits of an outdoor intercom system are:
1. Enhanced building security
Outdoor video intercom systems empower tenants to visually confirm a visitor's identity before granting property access. This helps ensure that only authorized guests enter your property, keeping the building and tenants safe from trespassers and vandalism.
What's more, the video intercom system also keeps date- and time-stamped audit trails of all door entry activities. Since it's real-time footage, you can stop a crime from happening in real-time. Also, for health-related contact tracing, you'll have access to accurate logs of who entered and exited the building and at what times.
2. Seamless tenant and visitor access
A smartphone-enabled intercom system lets tenants open the door with a quick tap or swipe on their phones. This eliminates the need for tenants to carry keys, access cards, or fobs. And as a result, your staff doesn't need to waste time issuing replacement keys or rekeying door locks.
In the same vein, tenants can also open the door for their guests using smartphones. Some systems even allow tenants to let guests into the building while away from home or the office.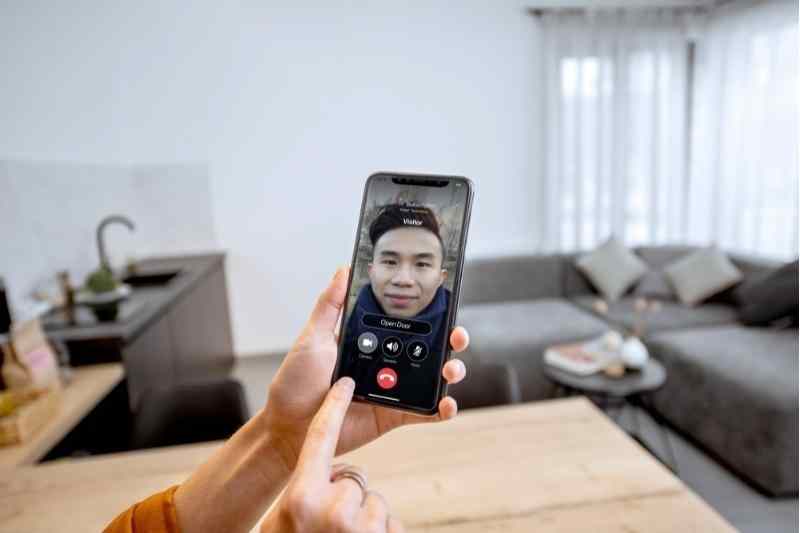 3. Remote property management
Make sure to get a cloud-based outdoor intercom system. With a cloud-based system, the property staff can monitor and manage building access from anywhere with an internet connection. Cloud-based systems also allow you to view door entry audit trails and update tenant information without having to come on-site. All data and software are hosted on the cloud instead of a server at the property itself.
Additionally, cloud-based intercom systems routinely undergo automatic software upgrades. As such, you can rest assured that your intercom is always equipped with the latest software and features produced by the provider.
4. Proptech integrations
To maximize convenience for tenants and staff, choose an outdoor intercom system that integrates with other proptech solutions. For example, integrating the intercom with property management software automates the process of issuing access credentials to new tenants while revoking access when a tenant moves out.
Also, if your building has smart locks installed at every unit inside, you can connect them to your intercom system. This way, residents can open both the entrance door and their office suite or apartment door from one smartphone app.
Choosing the best system for your property
Installing an outdoor intercom system makes property access simple and safe at your building. However, not all intercoms are created equal. To maximize your investment, make sure to choose the best modern intercom system for your property.
Here are four key features to seek out in a modern outdoor intercom system:
Delivery management system: Package and food delivery are on the rise at both residential and commercial properties. So, choose a modern video intercom system that offers features such as virtual keys and delivery passes for one-time building access.
Easy installation: Wireless intercom systems don't require complicated wiring throughout the building. You just need to connect them to a power source and the internet. An easy, wireless installation saves money and prevents headaches.
Multiple ways to open the entrance: Wireless outdoor video intercoms empower tenants to open the door for themselves and their guests in several ways from their smartphones. Entry methods include swiping to open in a mobile app, tapping on an Apple Watch, and asking Siri or Alexa to open the door.
IP65 rated: An outdoor intercom system must withstand the weather, like rain and snow. So, look for a system that's IP65 rated, which indicates the device is waterproof and dust-resistant.