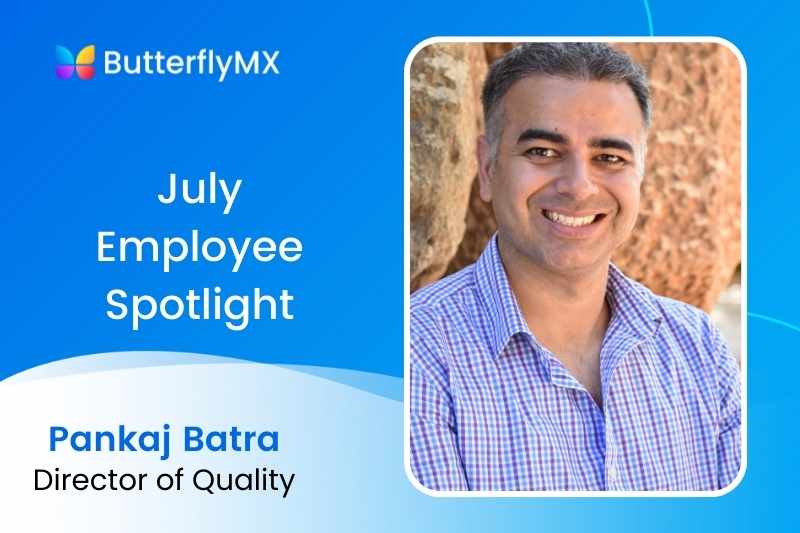 ButterflyMX wouldn't be where it is today without its hardworking employees. Since our company was founded in 2014, our team has grown to include more than 200 diverse and talented individuals worldwide. As of 2022, our team is spread across the United States, Croatia, Ukraine, Spain, Austria, and beyond.
Our excellent work culture and team leadership have been recognized nationally. In 2022, Inc. magazine named ButterflyMX as one of the best places to work in the United States. This monumental recognition wouldn't have been possible without our hardworking employees, and we strive to celebrate them at every opportunity.
So each month, we spotlight an employee who helps facilitate success at ButterflyMX. And this month, we introduce Pankaj Batra, Director of Quality, who shares what it's like to work at ButterflyMX.
This employee spotlight covers:
Meet Pankaj
Location: Edison, New Jersey
Position & Department: Director of Quality
Start Date: December 7, 2020
In a few sentences, tell us about what you do here at ButterflyMX
I lead the quality team. We define and design testing frameworks, and support our testing requirements to ensure that all our applications are working as intended. We make sure we are providing quality features to our property managers and their residents & tenants.
What's your favorite part about working at ButterflyMX?
My favorite parts include the people I work with, the fact that ButterflyMX puts the customer first, and that I have the freedom to do what I am passionate about. We always put our customers first and make sure they get the best service they deserve. I work with some of the best folks in the industry; they're so happy to help, collaborate, and go above and beyond to make life easier for everyone.
Working on solving the access management problem alone is also something I am very excited about.
What's the most significant thing you've learned while working here?
I've learned to work with various technologies, specifically on the hardware side of things.
Working with a diverse, remote team has also been a great learning experience for me. Working remotely has not stopped us from collaborating on every aspect of our tasks in order to reach our goals.

What's your proudest accomplishment so far during your time at ButterflyMX?
My proudest accomplishment has been launching many great products, and also overhauling our existing intercom interface. I got to work on something extraordinary from scratch while also learning new hardware which is something I have not done in the past.
Tell us about your favorite day/event at ButterflyMX. What makes it so special/memorable?
There have been too many.
First, whenever I get a message from my family and friends who get their building upgraded with a ButterflyMX intercom and they tell me how much they love our systems.
Also every time I use the ButterflyMX app to unlock the door or I get to call from the intercom when I visit my friends.
And finally, the LA offsite company event where I got to meet all my team members has been one of the most memorable events so far.

What has been the best part about working remotely? The most challenging?
The best part of working remotely is not having to take the New Jersey Transit trains. It's been life-changing for me; I have done the same commute for over 14 years and have wasted countless hours in train delays.
The most challenging part has been not being able to meet the awesome people I work with on a regular basis.
Learn more about ButterflyMX:
Three fun facts about Pankaj
1. If you could live anywhere in the world, where would it be and why?
It used to be Spain, but I am actually very happy and proud to say that I love my home. Covid has taught me to love my home and enjoy my surroundings as much as possible.
2. Do you have a secret talent (*cough* superpower) you want people to know about?
I used to be a black belt in Karate and kick-boxing (big cough).
3. What is your favorite thing to do after work or on the weekends?
I love spending time with my 7-year-old; we both love to run, go on hikes, and play with legos.
Join the ButterflyMX team
Did you like what Pankaj had to say and do you want to learn more? As a growing company, ButterflyMX constantly has job openings in nearly every department. Check out our careers page to view our latest open positions.