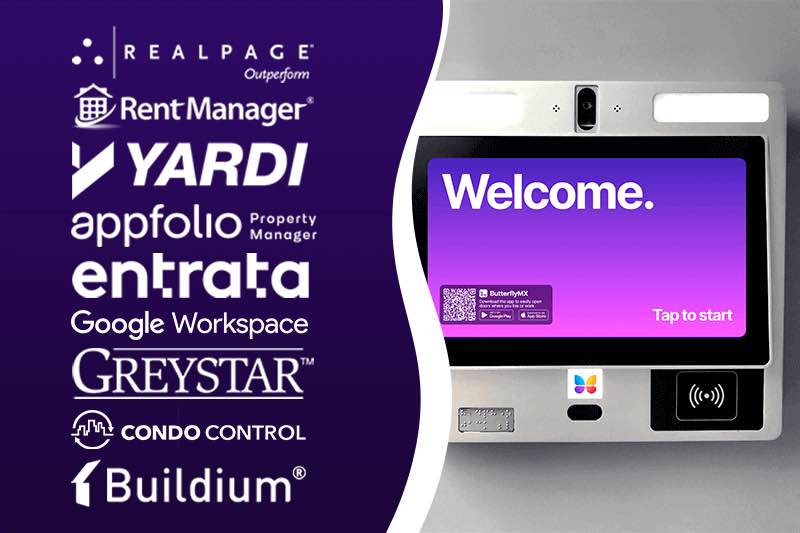 The resident move-in and move-out processes are tedious. Between turning over units and handing out/ collecting keys, there are a lot of steps to juggle.
By integrating ButterflyMX with your property management system, you can skip a few of those steps. Your resident directory automatically syncs with the ButterflyMX directory, meaning new residents are granted property access permission on their move-in date, and former residents' permissions get revoked upon move-out.
Spend less time on manual data entry and managing access credentials and more time delighting tenants.
ButterflyMX Sync
ButterflyMX integrates with your existing property management system (PMS) through a process called Sync. With Sync, every change you make in your PMS automatically pushes to your ButterflyMX video intercom. This eliminates the hassle of both manually adding or removing tenant information as well as handing out and collecting keys, keycards, and fobs when tenants move in or out.
In this post, we cover
The benefits of ButterflyMX Sync
Sync is beneficial to both property managers and tenants because it:
Saves time
Reduces error
Creates a more seamless onboarding experience for tenants (they are granted property access permission as soon as their lease begins)
Keeps tenants' personal information secure and up-to-date
How Sync works
Sync is ButterflyMX's internal web service that updates tenant lists in our system once per day. Once the integration is set up, you won't have to think about it again. Keep updating your PMS as you normally would, and it will sync to the ButterflyMX system automatically.
How Sync updates your ButterflyMX video intercom:
Retrieves the tenant list from your property management system
Compares your property management tenant list with the list in the ButterflyMX database
Updates the tenant list in the ButterflyMX database based upon any changes in your property management system
The property management system integrations we have:
ButterflyMX can sync with any PMS, but we have integrations with:
Entrata
Greystar
RealPage
RentManager
Yardi
AppFolio
Condo Control
Buildium
Learn more ways to use and manage ButterflyMX at your property.