It's a renter's market in cities across the United States. The pressure is on property managers not only to compete for residents but also to retain the ones they have. 
Below are some telling statistics about the urgency surrounding tenant turnover in today's multifamily market. 
Half of all renters leave within one year of moving in. 

Properties can expect to lose approximately $150,000 annually to turnover expenses if half of their renters vacate – representing more than 8 percent of yearly gross operating income.

Reducing tenant turnover by 5 percent improves operating income by $15,000.

The best way to retain existing residents and attract new ones is by offering amenities. This is particularly true in the case of millennials, who are driving the rental market: 60 percent of them choose to rent, and by next year, millennials will constitute one-third of the market.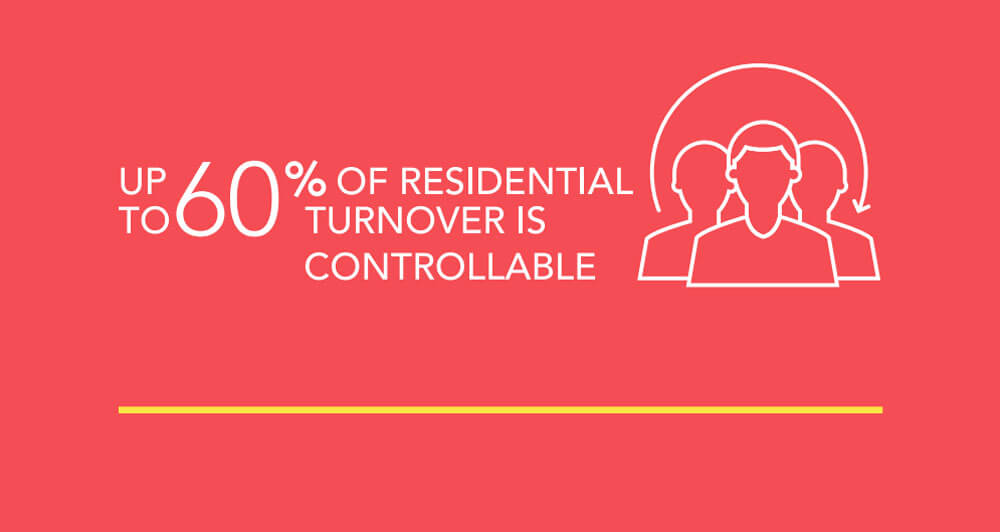 The most sought-after amenities are built on modern technologies that not only make the lives of residents more secure and convenient – they also make property managers more efficient. Property technology, commonly referred to as PropTech, provides a strong foundation on which to build. In fact, 86 percent of millennials were willing to pay more in 2017 if their apartments had smart technology, according to a survey conducted by Schlage, the U.S. lock maker. 
PropTech allows residents to use their smartphone to control various building functions such as doors, locks, and lighting, and property managers can use the same systems to reduce energy costs by turning down the thermostat when the unit is vacant. Simply put, if retaining tenants is a priority, then adding PropTech amenities can represent the wisest investment a property manager can make.
Even in a world of cutting-edge innovations such as artificial intelligence, machine learning, and big data, PropTech represents a relatively new development for residential properties. And as technology continues to permeate every other aspect of our lives, modern residents are expecting it in their buildings, too. This is especially true of older buildings, which need to be modernized in order to remain competitive with newer properties that incorporate PropTech as they're being built. To help you navigate the growing world of PropTech, and ensure you're investing in the right amenities for your property, we've put together an essential buyer's guide.
The next post  in this series will discuss how the right PropTech amenities touch three primary areas:  the property itself, each unit, and a smartphone to interact with them. All designed with one purpose – keep the tenants you have and entice new ones to move in.