Step 1: Know your market
This is a no-brainer – and it's true of every business in every industry – but the first steps to take when making a significant PropTech investment are to understand and know:
Your market
The demographic you're addressing
What their needs are
The type of living experience they expect
Toward that end, both boomers and millennials are comfortable with having the doorman experience of providing secure and convenient access to the building without necessarily having doormen themselves. Millennials want to order products and services delivered to their doorsteps without worrying that the delivery will be sent back when they aren't home to provide building access. Boomers want the assurance that their living spaces are accessible to those who matter and protected from those who don't.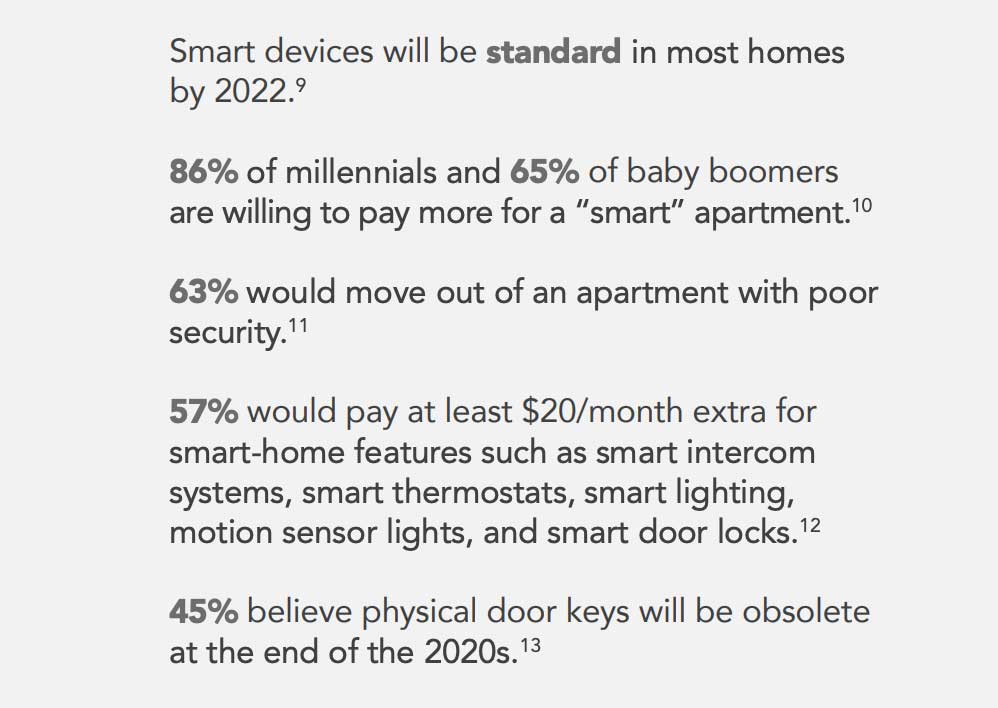 Step 2: Get internal buy-in
Make sure everyone – from upper management to the property staff – is brought in for input and understands the use cases for the PropTech being considered. Make sure the "why" is clear and that you aren't implementing new technologies just because it's trendy, a hot topic, or the reigning buzzword of the day. Make sure to demonstrate or explain the value in terms of:
Operating efficiency
High resident satisfaction and retention
Lower turnover
Positive impact on the building's NOI
One good practice is to cross-train your staff so that each individual knows explicitly what everybody else's duties and responsibilities are and that, in a pinch, they can help manage breakdowns and other issues. And always emphasize that what helps your residents can also benefit your staff.
Step 3: Develop your budget
When you've decided on your target market, then it's time to get cost estimates and a detailed breakdown of your hardware, installation, and ongoing maintenance costs so you can nail down your budget. Some costs may include:
Hardware costs for keyless locks. Keyless locks start at $100 and go up to $300 per lock. For a 100-unit building, this can cost between $10,000 and $30,000.
Installation costs for keyless locks. The installation of these locks can be tricky to calculate because there are many factors to consider, such as whether the locks are battery-powered or if they need wiring. If they are battery powered, then installation will be straightforward and you can budget anywhere between $75 and $150 per unit for the installation of each lock. If wiring is needed and it is a new development, you can expect the material and labor costs to be 3-to-5 times the hardware costs. If wiring is needed and it's an existing building, you will need to get a few quotes because installation costs can depend heavily on the existing infrastructure and whether the installer can leverage it or has to build on top of it.
Ongoing maintenance costs for keyless locks have two components: hardware and software. The ongoing hardware costs are straightforward. Typically, you can expect 5% of the locks to fail every year. If you'd like, you can also calculate the electricity usage/batteries required, though, this cost is usually insignificant. What can be expensive, however, is having someone come out to replace the locks when they fail or to change the batteries. Ongoing software costs are set by the provider and easily determined once they tell you the amount. The only real concern is whether those updates are done remotely or on-premises. If they are done on-premises, this can significantly add to the ongoing maintenance costs.