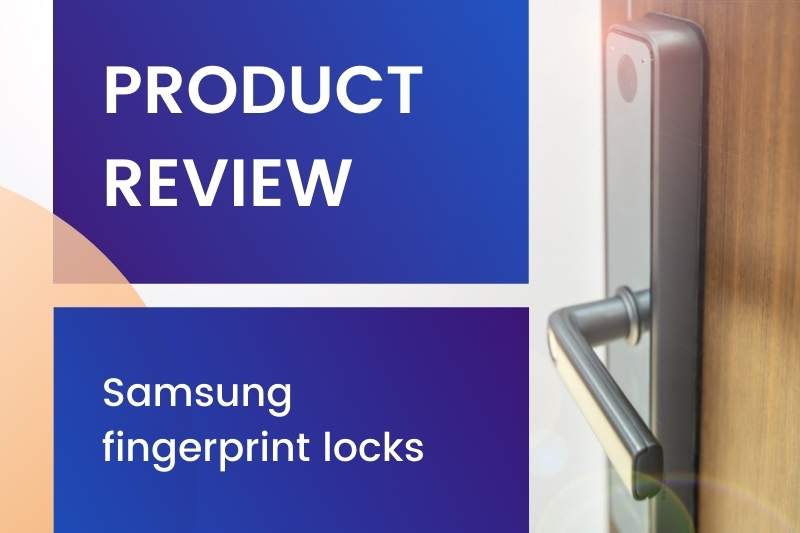 Samsung has been a well-known electronics provider for decades. The company offers a variety of products — including electronic door locks. If you're hoping to upgrade the locks in your building, you might consider a Samsung fingerprint lock.
While Samsung has made a name for itself in the general electronics space, does its reputation hold up when it comes to property access and security solutions? We'll cover that and more in this Samsung fingerprint lock review. Keep reading to learn more about Samsung's biometric locks, their features, pricing, and pros and cons.
This post covers:
About Samsung
In some ways, companies like Samsung don't need much of an introduction. Samsung was founded in 1938 in Korea and is one of the largest technology companies with a global footprint.
Samsung has been a significant player in the electronics industry for decades now, and its product catalog includes everything from cell phones to TVs to batteries and much more. Samsung generally has a positive reputation in the electronics space, and there's definitely a lot of familiarity with the brand.
It's unclear when Samsung launched its line of smart door locks, but it appears to be the company's first foray into property access control.
Watch how to use the ButterflyMX keypad:
Overview of Samsung fingerprint locks
Samsung's digital locks are designed to enhance security using technology. They offer five models of electronic smart locks that work at gates and doors. However, only some models include a fingerprint reader.
Overall, most Samsung fingerprint locks use a push-pull concept and include Bluetooth technology to provide a seamless experience. That said, Samsung does offer one fingerprint lock model — the H705 — with a classic lever handle. The inclusion of the biometric reader on many of Samsung's digital door locks provides an additional layer of security.
Samsung fingerprint lock models include:
SHP-DP609
SHP-DR708
SHP-DP738
SHP-DP728
SHS-P718
SHS-H705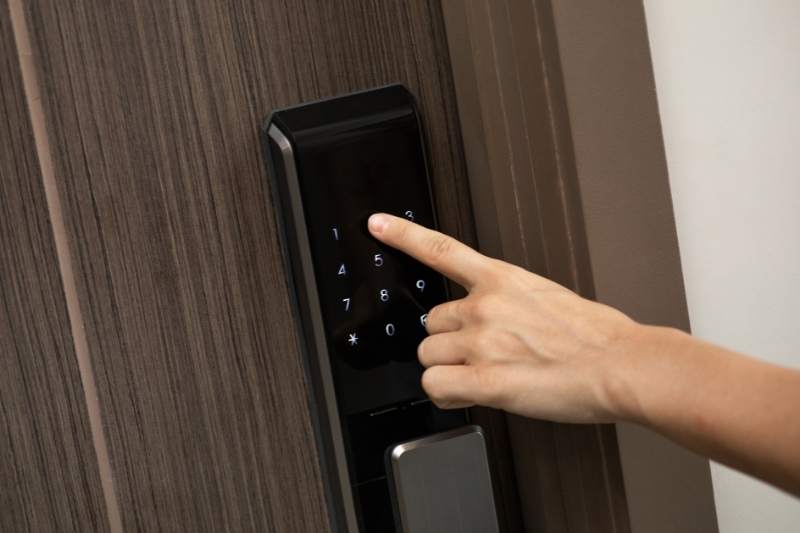 Features
Samsung fingerprint lock features vary based on the specific model you choose. However, each model is fairly similar to the next, so they share many of the same features.
All models include a keypad for numeric access codes
Bluetooth is available on models DP728 and DP738
Mechanical key use is available on the 609, 708, and 738 models
Certain models offer NFC
Locks pair with a mobile app for smartphone-based access and management
Certain models have an RFID card/fob reader
Real-time push notifications regarding door activity
Secure and designed to withstand forced entry
Intrusion prevention
Can store up to 100 fingerprints
Low battery alarm
Average battery life of approximately 10 months
Samsung fingerprint lock pricing
Pricing for Samsung fingerprint locks appears to range from $400 to $600. However, exact pricing varies depending on the model and the retailer. Detailed pricing information can be obtained directly from Samsung or authorized distributors of Samsung fingerprint locks.
Pros & cons
Pros:
Fingerprint recognition: Fingerprint access provides enhanced security and a better experience than dealing with keys.
Multiple entry methods options: Samsung fingerprint locks offer more than just biometric access. You may also be able to unlock them with other credentials such as RFID cards, Bluetooth, NFC, PIN codes, and traditional metal keys.
Smartphone access: Samsung appears to offer a smartphone app from which residents can unlock the door and manage access.
Cons:
Expensive: Samsung fingerprint locks appear to cost at least $400 or more. So, they aren't very cost-effective if you plan to use them for every unit door. You can purchase more comprehensive access control solutions for a similar price.
Privacy concerns: Some residents may be wary of providing their fingerprints for building entry.
No visitor management features: Samsung fingerprint locks don't appear to include any sort of visitor access management features, like digital access codes for guests. There's also no way for visitors to request access through the lock.
No integrations: Samsung fingerprint locks may not integrate with other access control devices or other proptech you already use.
Lacks comprehensive customer support. Samsung is a huge global corporation, so you may have difficulty getting customer support to help you install, set up, or troubleshoot your fingerprint lock.
No camera: Since Samsung fingerprint locks don't have a built-in camera, they won't snap a time- and date-stamped photo of each entry.
Should you get a Samsung fingerprint lock?
Compared to traditional door locks, a Samsung fingerprint lock offers significantly enhanced security and convenience. And compared to other smart locks, Samsung offers a variety of useful features. Namely, users have many entry methods available, which is convenient.
However, Samsung smart locks may lack many of the features you'd find in a more comprehensive access control system. Depending on your building and needs, you may be better off with a different solution.
Instead of a Samsung fingerprint lock, consider instead trying:
Smart locks that integrate with access control systems. If you want smart locks for apartment unit doors, you should choose locks that integrate with your building's access control system. Samsung's fingerprint locks may not integrate with other systems, so you may want to choose different electronic locks for unit doors. For example, ButterflyMX's access control devices integrate with more than 80 smart locks.
The ButterflyMX keypad. If you plan to install a smart lock on the door to a shared space — like an auxiliary entrance or an amenity room — consider instead installing the ButterflyMX keypad. A keypad is a better solution for shared entryways because it's easier to program and manage from a cloud-based dashboard.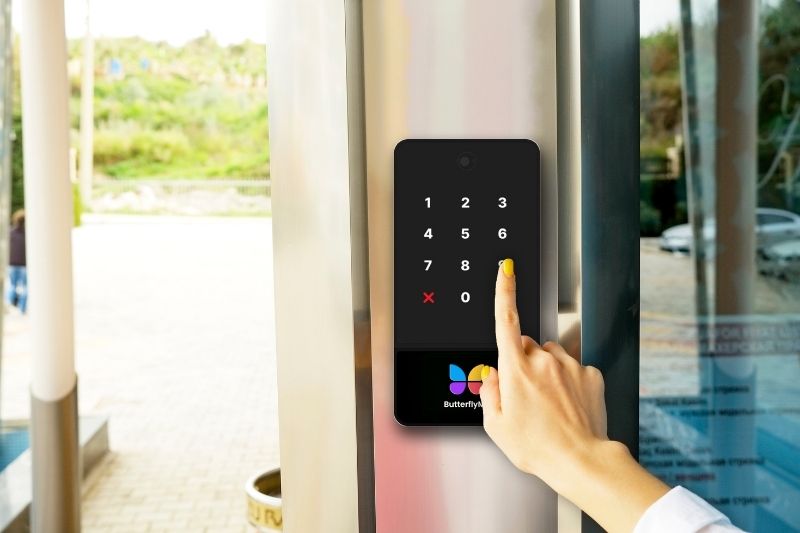 Takeaways
Samsung is a well-known electronics company that offers a few models of fingerprint locks.
Generally speaking, Samsung fingerprint door locks are more than just biometric locks. Instead, they come equipped with various technologies that offer multiple entry methods.
Pricing for a Samsung fingerprint lock may be relatively high compared to other smart locks.
Instead of a Samsung fingerprint lock, you may want to consider a different smart lock that integrates with access control systems. Alternatively, you could instead install a more comprehensive access control system, like the ButterflyMX keypad.
Disclaimer: ButterflyMX provides these blog posts to help our customers and potential customers make the right business decisions for them. Our blog posts are based on the information we have available to us at the time of writing.